BRENDAN RODGERS hit back at Hearts boss Craig Levein and questioned if he was right to play Harry Cochrane in the Edinburgh side's 3-1 loss at Parkhead on Tuesday night.
The midfielder, who is just 16, suffered a bruised collarbone following a challenge by Celtic skipper Scott Brown.
Moaning Levein called for "all players" to be given greater protection from the Hoops star by referees.
Rodgers, though, defended his player and asked whether the Tynecastle gaffer should have played the youngster in such a demanding away fixture.
He said: "Browny is a top player. In my experience working with some of the very best players, they play on the limit in every game.
"That's why he's such a brilliant player for Celtic and Scotland.
"No matter who he plays against, whether they are 16 or 36, he is there to win. He was outstanding the other night.
"I don't think there's any question about Scott. Hearts committed more fouls than us the other night – 21-9 – so I don't go along with that."
Protection.
Graeme Hogg of Hearts being carried off the pitch in 1994 after being punched and having his nose broken…..
In a friendly.
By a team-mate.
By his captain.
By Craig Levein.

Players need protecting.
Yes Craig. They do. pic.twitter.com/IbBuYQ2FVb

— CelticResearch (@CelticResearch) February 1, 2018
Rodgers added: "You could argue or ask the question if a 16-year-old need to be in a game against a Champions League team at home?
"I think he can play in it, but it's a question that may be asked. Can he handle it? I am sure Craig will look at that as well.
"Does the duty of care lie with the manager? Yeah, absolutely. From a talent perspective I could probably put Karamoko Dembele in to the first team right now. But he's coming up to 15.
"I have to think about where he is at in terms of his maturation level. Not just his talent level.
"If you put a 16-year-old in against the champions at home, who play with an aggression like we do, then you know as a manager what's coming.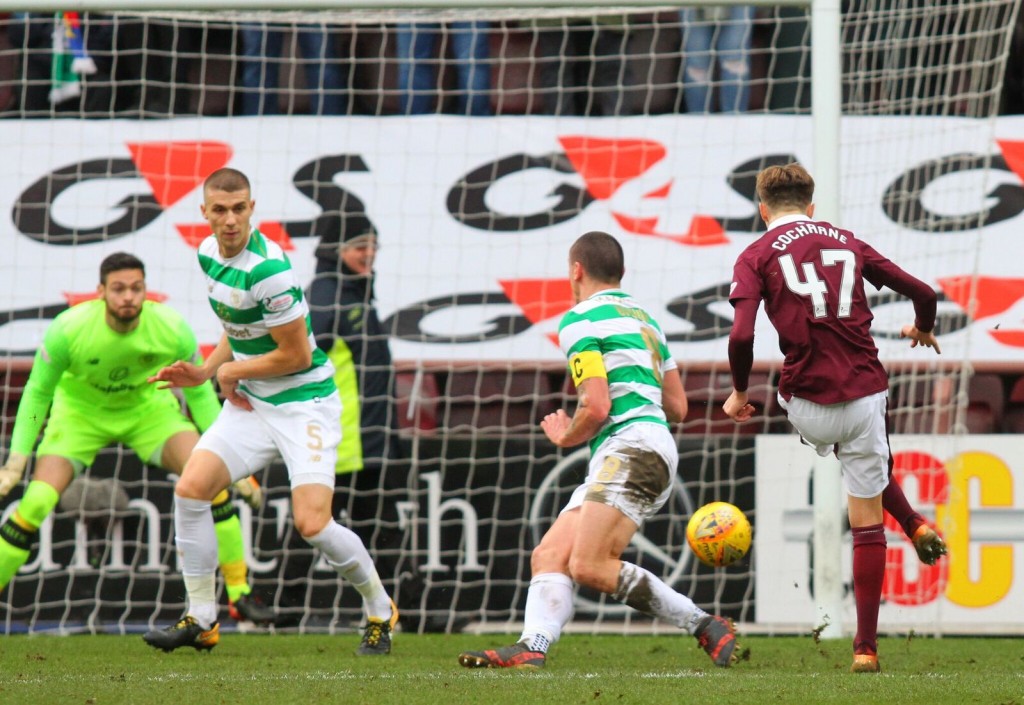 "He is slight, but he plays football at speed, one or two touches. It's just the demand mentality you need to gauge.
"I am sure that's something Craig thinks about, but it makes it harder when they cope each time they get put in.
"You are tempted to keep putting him in again. He's a good talent who's still got a lot to learn, of course.
"But he will have certainly have learnt from playing against Celtic in these last two games, and Scott Brown, in particular.
"I'm not sure what tone Craig was using or whether there was a smile. I suspect it was probably tongue in cheek – because it's definitely not the case with Scott.
"It was unfortunate the boy suffered an injury the other night.
"The pair of them jumped for a challenge in the air and the boy falls awkwardly and unfortunately damaged his shoulder."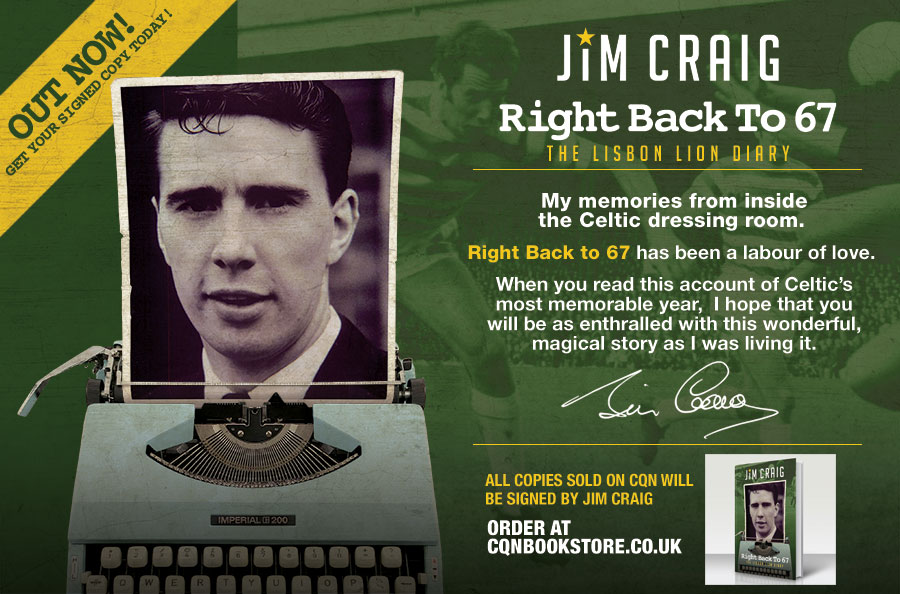 Order Jim Craig's new Lisbon Lion Diary – Right Back to 67 from CQNBookstore.co.uk and you will receive a signed copy from the man himself plus a FREE copy of That Season in Paradise – Ten Months of Celtic Heaven signed by fellow Lisbon Lion Bertie Auld! Simply order Jim Craig – Right Back to 67 and the second book will be sent automatically. Stocks are running very low so hurry! THIS DEAL WILL END IN A FEW DAYS!
Click Here for Comments >