BRENDAN RODGERS admitted that the ever increasing injury list is now stretching his squad as Leigh Griffiths is now added to the list of potential absentees for the resumption of play on Saturday after the winter break.
The Celtic boss was asked if the squad was indeed being stretched by the loss of Rogic – out until March it seems, Roberts and Armstrong – out until end of February and new signing Marvin Compper – out for a month and of course Jonny Hayes, who broke his leg at Dundee on Boxing Day and is out for the rest of the season.
"Yes," Rodgers replied…"but it's OK."
Here's his reasoning.
"We have a good squad, a chance to bring young players up, and see how they cope and develop, then look to get one or two in.
"We know what we want and I'm pretty calm on that. We just need to bring in quality. I'm not concerned about the numbers we bring in.
"The job here is to bring in quality to improve the level we are at — that usually takes time."
It has been an eventual few days in the Celtic camp signing returning to the arctic conditions at Lennoxtown.
Rodgers was prepared to let both Erik Sviatchenko and Liam Henderson leave the club, the former on a loan deal until the end of the season and the latter on a permanent move to Italy. Neither player featured much on Celtic's team-sheets this season and had little chance of convincing the Irishman that they merited a place in his team.
Yesterday Celtic were linked with two defenders as the news of Sviatchenko's loan deal was still fresh in the minds of the support. Then news broke of Compper's injury – which apparently occurred in Dubai.
"Marvin has a calf injury. He will probably be out for four weeks," Brendan said.
"It is unfortunate. He was in Dubai and got injured towards the end of a game we had.
The Celtic manager then ran through his fitness problems one at a time.
"Stuart should be back training in ten days. We've gone for the best treatment possible, so he's gone straight to Munich for his operation.
"He was playing with the problem and it just got worse and worse, so best to operate now.
"We've lost quite a bit of creativity with Patrick Roberts out, too. We'll hopefully identify the right ones and bring them in.
"Rogic could be six to eight weeks and Roberts is not back until February.
"Leigh Griffiths didn't train today, so we'll see how he is. He twisted his ankle a bit, so we'll see how it is over the next couple of days."
The main target appeared to be a creative type rather than another defender, which suggests that none of the rumoured departures are looking likely to happen, so Jozo stays. Rodgers revealed that the club have received NO BIDS for any player at all so far in the window, with only Henderson being allowed to depart without a fee as he neared the end of his contract and was unlikely to feature again.
That means that the target incoming player could be Chelsea's young creative talent Charly Musonda, who Rodgers has admired for a considerable period of time. Zenit looms of course but the Europa league tie is not the be all and end all for the gaffer.
"We bring players in not just for the short-term but for the long-term," he explained.
"You think about Europe, of course, but you can't be governed by it."
Asked if he thought that Celtic would be stronger by the end of the window, Brendan confirmed that is his plan.
"Hopefully that will be the case."
That means that "hopefully" there will be a signing or two!
Slightly irritated, the Celtic boss was then asked to comment on what Kris Commons – who is still being afforded training privileges by Rodgers – had to say about the need for Celtic to strengthen further in central defence ahead of the Zenit tie.
To be fair to Commons his proposition was built around the speculation that there could be further outgoing transfers from the defence. When quoted back to Brendan though, it sounded like a dig that was hardly appreciated.
"I'm about deeds, not words. I've heard some s*** since I've been up here. I'm worried about deeds.
"I have a mountain of things to do rather than talk about speculation, or what Kris Commons or other guys think.
"Everyone has an opinion, but the opinions are not always the reality."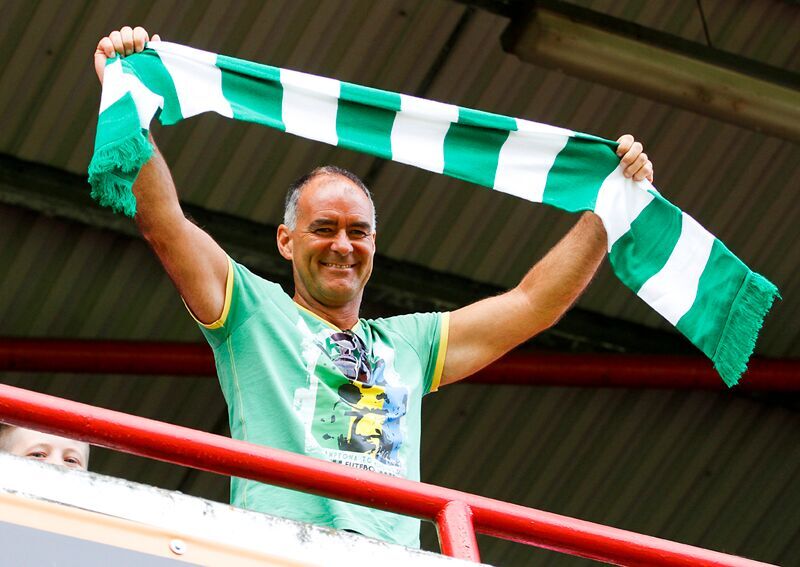 NEW CQN PODCAST OUT NOW FEATURING TOMMY SHERIDAN
A Celtic State of Mind presents its 30th instalment of insightful discussion around the culture of Celtic Football Club, the city of Glasgow, and fans of the reigning treble-winning Scottish champions.
Kevin Graham is joined by Scotty Alcroft to interview Scottish pro-independence politician, Tommy Sheridan, at The Penalty Spot in Glasgow.
The interview took place as part of A Celtic State of Mind's first live event – Five-a-sides at The Penalty Spot – and, as such, there is some background noise (including mobile interference – apologies) from the audience.
The other voice you may hear throughout this episode is that of former Celtic striker, Frank McGarvey, who is a friend of Tommy's, and who was also interviewed separately that day for a future show.
You are sure to enjoy Tommy's eclectic input, as he discusses everything from Catalan independence to Coolio, with a constant undercurrent of that thing called Celtic.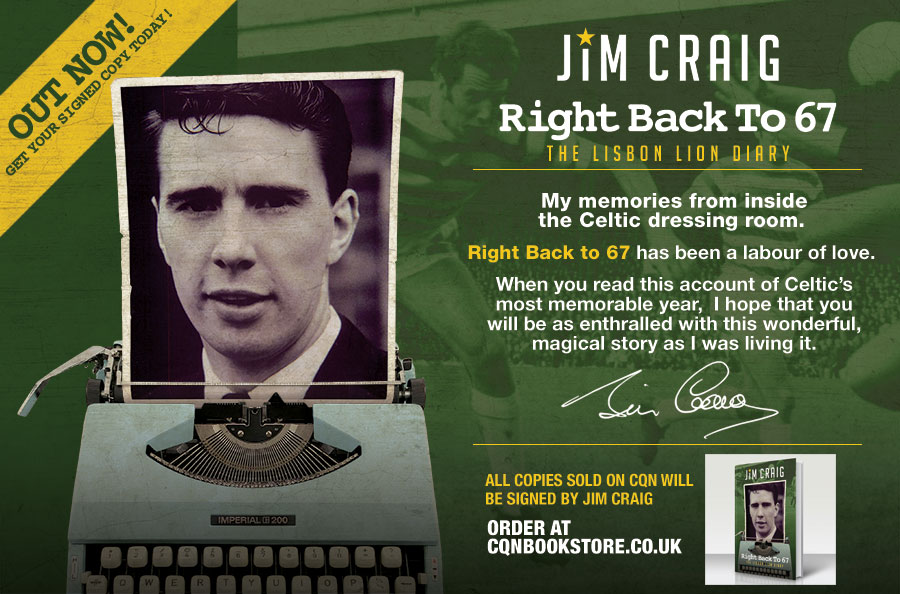 Order Jim Craig's new Lisbon Lion Diary – Right Back to 67 from CQNBookstore.co.uk and you will receive a signed copy from the man himself plus a FREE copy of That Season in Paradise – Ten Months of Celtic Heaven signed by fellow Lisbon Lion Bertie Auld! Simply order Jim Craig – Right Back to 67 and the second book will be sent automatically. Stocks are running very low so hurry!
Click Here for Comments >