BARCELONA superstar Luis Suarez believes Celtic are getting a special boss in Brendan Rodgers.
The fiery Uruguayan has backed the move and insisted: "He is one of the best coaches in Europe and If it was not for Brendan, then I know I would not be the same player that you see at Barcelona today.
"Such a big part of my education is down to him and his management.
"Of course, he works to make the team stronger, but he really works on a one-to-one level with the players.
"He will sit down with each player at the club and work on where you can improve, where you can exploit opposition. He leaves nothing to chance.
"He is a very intelligent man. If the players at his next club listen to his words, they will become better players for sure."
Suarez was signed for Liverpool by Celtic legend Kenny Dalglish from Ajax in 2011 and Rodgers inherited the explosive frontman when he took over a year later.
He added: "When Brendan was appointed, I was excited. I had actually spoken to him in Spanish when he was still at Swansea. I thought that was a good touch.
"He was familiar with the Spanish way of playing, as he'd studied there. He was very clever and told me that Liverpool would play possession football, as it would suit me."Brendan helped me with my runs, arriving in the area at the right time and coming in from wide, which benefited my confidence.
"We worked hard on finding ways I could isolate players and then try to beat them, man on man. That was the only way I could succeed in England.
"If you punt a long ball up towards me and one of these Premier League defenders, I am not going to win it.
"But the way Liverpool played, with the ball on the floor, and being released very fast to my feet, gave me a chance against the big guys.
"I wasn't proven and I had to adapt to the Premier League, which Brendan knew. He knows all about English football and he educated me to become successful."
The news of the appointment of Brendan Rodgers was broken on Celtic Quick News. Where else?
———————————–
Titanbet wants to send you and your mate to France this summer for a dream job opportunity experience following your national team. You can enter the sweepstakes by interacting with Titanbet's social media. By following @Titanbet and retweeting our tweet about the contest on Twitter, you are eligible to win. On Facebook, you can like our page and tell us who you would take with you to enter as well.
What will you win? A trip for two to France where your job will be to follow your national team in three group stage matches. Your job is to take in the atmosphere and report on it. In the package is transportation, accommodation and allowance for you and one mate. The trip will last for 12 days. If you're not chosen as a winner, don't worry, there's plenty of runner up prizes including 55" LED TVs, 'Beers & Bets' packages and much more. For any questions you might have visit http://www.titanbet.co.uk/titanbet-trip.html
 ———————————-
ORDER Charlie Gallagher? What a Player! and you will receive a signed copy and also a FREE copy of The Winds of Change. Order
HERE
or click on the image below.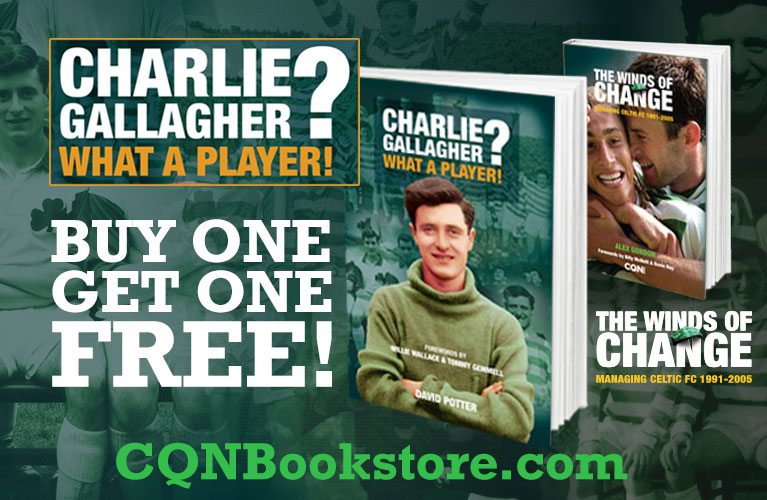 Click Here for Comments >