CELTIC aim to unveil Brendan Rodgers as their new manager early next week.
The Irishman has been offered a salary and benefits package which would make him the highest-paid boss in the club's history.
Rodgers has already had formal talks with the Scottish five-in-a-row champions.
And, while a formal agreement and legalities are still being concluded, Celtic hope to unveil their new manager on Monday or Tuesday.
There could also be a £15million transfer budget for transfer and wages made available to the 43-year-old boyhood Hoops fan.
Major shareholder Dermot Desmond also held lengthy discussions with the likes of David Moyes, Malky Mackay and Roy Keane. After two rounds of talks with Rodgers, however, the Irish billionaire has apparently asked him to take on the job of seeing off any challenge on the domestic front as well as negotiating a safe passage through the Champions League qualifiers.
Mark Warburton, the "Rangers" manager who worked alongside Rodgers at Watford, said: "Brendan brings a wealth of experience having worked at the highest level. He would be a great opponent.
"It raises the profile of the Scottish game which could only be good and brings another level of excitement and interest to the fixtures.
"I worked with him at Watford. I was the academy manager and he came in as manager. So I know Brendan fairly well. He is very organised, very meticulous, very knowledgeable. A good man-manager.
"He almost won the Premier League. He has a good background, coming through the youths with the Chelsea academy and then through Watford and Reading and Swansea and obviously Liverpool. I am sure he will be a big asset for whatever club he joins.
"The first advice I received from a good friend in Scotland was: 'Do not underestimate Scottish players and Scottish football.' It was great advice and that would be my advice to Brendan. It's a fantastic environment. Everyone is combative, competitive and 100 per cent – all of the time. It was a tough environment in the Championship and I'm sure the Premiership will be exactly the same.
"Brendan's no fool. He knows the situation. It's not a walk in the park, far from it."
————————————————————
NOT long until Father's Day. Order Charlie Gallagher? What a Player! and get Winds of Change for FREE. One for your dad, one for you?  Order
HERE
or click on the link below, this promotion will end soon so hurry!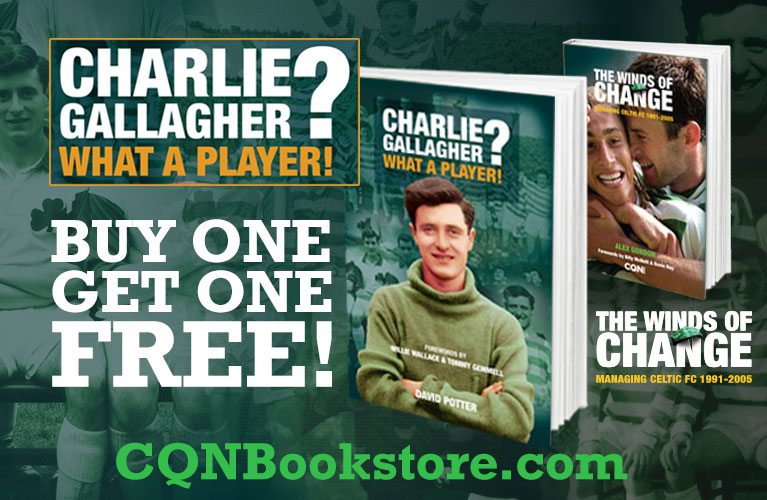 Click Here for Comments >