This Champions League malarkey is becoming about as self-important as sport can get, but Celtic and Barcelona produced two incredible football games in the modest Uefa Cup in 2004.
Barcelona were on the cusp of the greatness which followed. After five years without a league or cup win, they won nine consecutive games, then a club record, before travelling to Celtic Park. Starting the following year, they won eight of the 12 La Liga titles available since, collecting four Champions Leagues along the way.
Celtic won the game 1-0 thanks to an Alan Thompson goal on 59 minutes, but this tells little of the drama which unfolded that night.
Two players were sent off as the teams walked up the tunnel at halftime, Celtic goalkeeper, Rab Douglas, who was by all accounts trying to break-up a fight, and Barcelona's Motta. Suggestions are that Bobo Balde was the Celtic player involved, but the referee didn't have the wherewithal to face down Bobo.
At the game, we knew something had happened, but none of us had any details. Then 19-year-old David Marshall emerged for the second half in the goalkeeper's jersey, a player who had only made one previous professional appearance, in the Scottish Cup against then-lower league St Johnstone.
Four minutes into the second half Saviola was red carded, leaving us with a 10-9 game on a pitch which Barca legend, Hristo Stoichkov referred to as a potato field (it has been a very wet winter).
We have seen many great players at Celtic Park, more than a few from Barcelona, but none have performed as well as Ronaldinho did that night. He put on a performance which was utterly sublime, but despite carving Celtic open repeatedly, neither he nor his team-mates could find a way past the teenage keeper.
A confident performance even saw Marshall leave his area to chip an opponent to find a team-mate with a pass.
Rab was suspended for the return so Martin O'Neill took the opportunity to give David Marshall some game time before heading to the Camp Nou with his novice keeper, hoping to defend a one goal lead. I remember Martin saying "I've every confidence David Marshall will be up to the job" at a media conference. "Based on what?", I thought.
30 seconds into the return leg Marshall dived full length to stop a shot creeping inside the post, as Celtic fans braced themselves for what was clearly going to be 90 minutes of tension.
If Marshall's first leg performance was full of remarkable calmness and maturity, his performance in the Camp Nou was one of the finest displays by any player in a Celtic shirt. Ever. He simply would not be beaten. Barcelona threw everything in their considerably armoury at him from first to last, to be met by a series of remarkable saves.
Everything we know about football suggests David Marshall's performances against Barcelona shouldn't have happened. He was completely unprepared to walk onto Celtic Park at halftime in the first leg, and had little chance to acclimatise for the rigors of Ronaldinho and Co. at the Camp Nou two weeks later, but the episode is now a chapter in our illustrious European history.
So what's the contemporary relevance for this tale? A week from tonight Brendan Rodgers will choose between Craig Gordon and Dorus de Vries to play at the Camp Nou against three of the finest strikers in modern times, de Vries having played one game for the club, Gordon performing below the peak he achieved when he broke into the team two years ago.
This will be Brendan's biggest call in the months ahead. It's not an ideal situation, but he should call it early. Just as Martin did 12 years ago, tell the world that whoever is getting the nod he's going to be perfectly at home at the Camp Nou.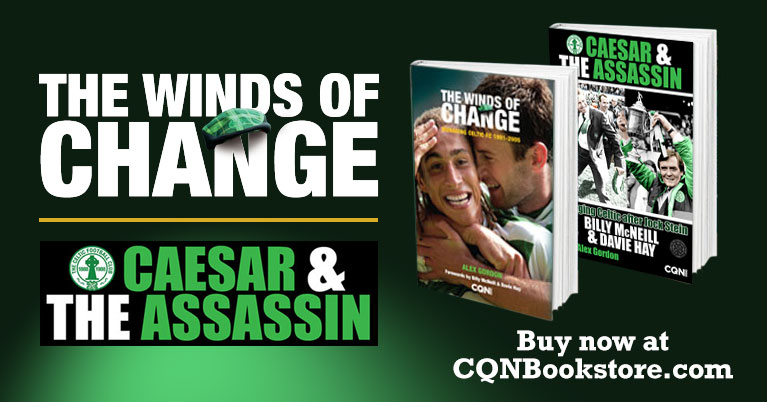 Click Here for Comments >