SCOTT BROWN is determined to give the Celtic fans something to cheer – even if they are not inside the ground to show their appreciation.
The Hoops skipper is adamant the champions will not allow their standards to drop as they prepare to make history with a tenth successive title.
Brown insists Neil Lennon's men aim to carry on winning AND entertaining in the new season with the Premiership scheduled to kick off on August 1.
The 34-year-old midfield powerhouse is back in open-air training at Lennoxtown with his team-mates and insisted it is business as usual with Scotland's title kings.
Brown, speaking to club website, said: "It's been good seeing some of the lads and it's been good getting back into to do what we want to do. We've been non-contact, we've been doing a lot of individual running and we've been able to get a wee touch of the ball as well, so it's been good.
"Hopefully, things are now starting to get back to normal, but just now we're just making sure we're doing everything by the book. It's an important season ahead, but there's pressure on us to win every single game – whether that's Barcelona, St Mirren or Hearts.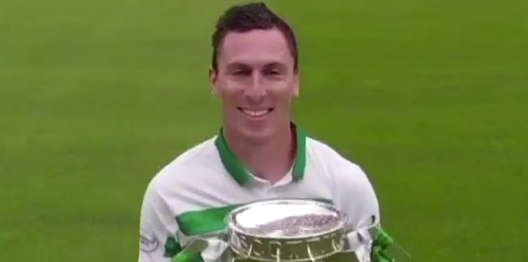 SILVER SMILES…Scott Brown with the Premiership trophy. Picture courtesy Celtic Football Club.
"We've always got that pressure and that's why us as players signed here, we want to win games and win trophies, we want to win every single game. That pressure comes from our fans, they demand to see top-quality standards and proper football – and that's what we try to do week in and week out.
"We just want everyone to get through it, we want the best for Scottish football and we want everyone to be in a good place. All the fans want to come back, as well, and we'll eventually do so safely, with all the boxes ticked.
"Until we do, we need to make sure that we entertain, that we get everything on TV, and show that this league is as good as most leagues in Europe."
Brown and Co have been out of action since beating St Mirren 5-0 at Parkhead on March 7 when comeback striker Leigh Griffiths brought down the premature curtain on the campaign with a dazzling hat-trick.
Click Here for Comments >