IT was fifty-five years ago today that Celtic claimed the first trophy in their unforgettable clean sweep in the spectacularly successful campaign of 1966/67.
There was no stopping Jock Stein's relentless, rollicking and ruthless green machine as the club won everything in sight, including the European Cup in Lisbon on May 25 1967.
The beginning of something special in the breathtaking trophy collection kicked off on October 29 1966 on a grey Saturday afternoon at Hampden.
Author Alex Gordon, whose fifteenth Celtic book, '50 Flags Plus One', is out now, turns back the clock to a memorable day on the south side of Glasgow.
In another CQN EXCLUSIVE, Alex delves into his files to present an edited extract from his tribute publication, 'That Season In Paradise', published by CQN in 2016. 
Enjoy…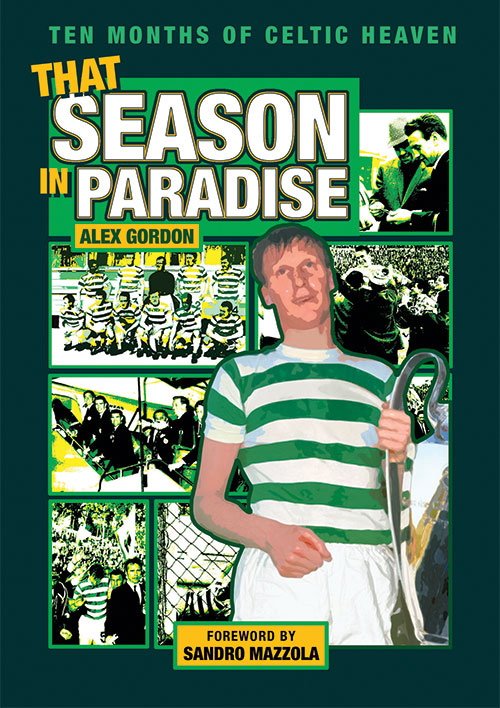 THE first piece of silverware in Celtic's all-conquering season arrived after Bobby Lennox's whiplash strike had defeated Rangers in the League Cup Final on October 29 1966. The Hampden triumph brought down the curtain on an astonishingly successful month for Jock Stein's side.
They had played eight games in four different competitions, had won the lot and had scored an extraordinary total of TWENTY-SEVEN goals throughout their ruthless rampage. Ronnie Simpson had been required to fish the ball out of the back of his net on only five occasions – and three of them were conceded in one rollicking encounter against Hibs.
It was clear this Celtic team were on the verge of something special even this early in what was developing into a stellar campaign.
Jock Stein's men overcame a stubborn Airdrie side 2-0 in the League Cup semi-final, but they would have to wait to learn their Hampden opponents at the end of the month. Rangers and Aberdeen fought out a 2-2 draw in the first game, but the Ibrox side won 2-0 in the replay five nights later.
MY BALL…Joe McBride is thwarted by Rangers keeper Norrie Martin.
So, for the third successive season, it would be an Old Firm head-to-head conflict to decide the destination of the League Cup at a damp, colourless Hampden Park on Saturday afternoon October 29.
Celtic returned to the national stadium, the scene of their Scottish Cup Final demise in April. Now the League Cup was up for grabs against the same opponents and Bertie Auld recalled, 'We had been tipped by many the previous season to win the national competition and, of course, the bookies rarely got it wrong. We just shaded the odds, but the favourites don't always win, as was the case that painful night in Mount Florida.
'So, the turf accountants once again put their mouth where the punters put their money and had us as odds-on to win the League Cup. I was acquainted with a few bookies, of course, and I didn't know any who had difficulty finding the cash to put petrol in their Rolls-Royces. They weren't wrong too often. They had confidence in us not to fall twice at the final hurdle. We were fairly confident ourselves, as a matter of fact.'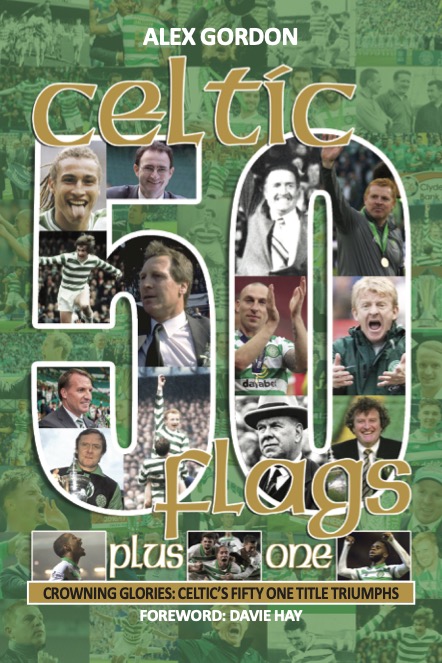 Rangers, following back-to-back embarrassing reversals from their venerable rivals, were in determined mode and desperate to turn events on their head. The Ibrox side were only too aware of the startling progress that was being made across the Clyde and realised the Jock Stein express had to be derailed; the sooner the better.
Long-serving keeper Billy Ritchie, after conceding six goals in two Old Firm confrontations, was brutally axed to make way for Norrie Martin, who had played in the 2-0 replay triumph over Aberdeen.
There were also indications that the new boys, Davie and Alex Smith, were beginning to settle into their roles within the team structure. The ever-dangerous Willie Henderson and Willie Johnston, two pacy flankers, were beginning to motor while a lot of the goalscoring onus was put on the unpredictable George McLean, the forward who infuriated the club's followers with his particular mixture of wonderful and woeful.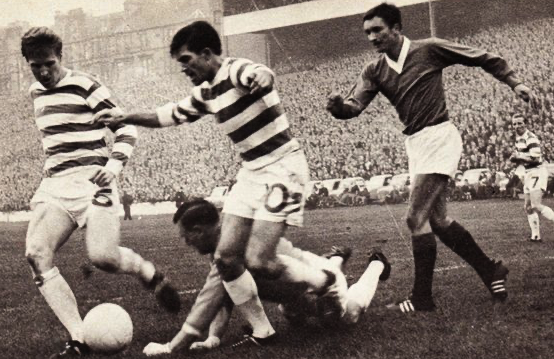 ON GUARD…Billy McNeill and Bertie Auld help out keeper Ronnie Simpson as Rangers striker Alex Smith hovers in close attendance.
Tommy Gemmell reflected, 'I had a lot of admiration for Willie Henderson and, as a matter of fact, he is still a very good friend to this day. He was so fast and elusive when he got into his stride. I always tried to encourage him to go inside when we were face to face and I was playing at left-back. If I could coax him in there, I knew John Clark and Billy McNeill could take care of business.
'But you knew you were in trouble when Henderson got his head down and went straight for the bye-line. Big Jock was always happy to play Willie O'Neill against the winger. Willie's great strength was his tackling, his timing was excellent. Henderson would show him the ball and our man would jockey along beside him, refusing to rush into a rash tackle. If you did that, you would find yourself swiping at nothing and the wee Rangers player would be on his way, haring down the touchline.
'Big Jock again chose Willie O'Neill at left-back for the League Cup Final and I played at right-back. I was up against Willie Johnston and he could be real handful, too. Like Henderson, he was speedy, direct and could deliver a good cross. Willie O'Neill and I knew we had our work cut out that afternoon.'
WALLOP…Bobby Lennox fires the matchwinner beyond helpless Norrie Martin as centre-half Ronnie McKinnon gets a good view.
HAMPDEN HERO…Bobby Lennox is hugged by Jimmy Johnstone as Willie O'Neill and Bobby Murdoch prepare to join in.
And so it proved. Rangers rose to the occasion and performed diligently throughout, a fact acknowledged afterwards by Jock Stein. However, the Final was settled as early as the nineteenth minute when Bobby Lennox, with his usual lightning-swift reactions, put the Ibrox side to the sword. Bertie Auld clipped over a cross to the edge of the penalty box and Joe McBride back-headed the ball into the tracks of his striking team-mate.
Lennox, racing at top speed, was perfectly balanced to receive the pass and fizzed an unstoppable drive past the helpless Martin from eight yards. The move had developed at such bewildering pace the Rangers defence resembled exhibits at Madame Tussaud's as it was speedily constructed around them.
That was the solitary goal of a tension-laden, rain-drenched, sodden afternoon at the national stadium. The nearest Celtic came to adding to Lennox's strike came when John Greig scooped away a shot from Jimmy Johnstone that had eluded Martin.
NICK OF TIME…Willie O'Neill clears the ball off the line after Alex Smith had squeezed an effort beyond Ronnie Simpson.
Rangers claimed a goal when Bobby Watson battered the ball into the net, but referee Tiny Wharton blew for a foul after detecting a sly nudge by Alex Smith on Ronnie Simpson as the Celtic keeper came for a swinging high ball. Ibrox manager Scot Symon was asked for his verdict on the match official's call. He sniffed, 'The referee is the judge. What I think doesn't count.'
The nearest Rangers got to scoring a legitimate goal against Celtic in four-and-half hours of football that season arrived in the fading moments when Alex Smith scrambled the ball beyond the grounded Simpson. It was rolling, apparently inexorably, towards the net when Willie O'Neill arrived on the scene.
Gemmell recalled, 'I got a good close-up view of the incident and I have to say I thought the ball was going over the line. Willie seemed to appear from nowhere. It called for a right-footed clearance, but we all realised Willie was all left foot.
THE CUP THAT CHEERS…Billy McNeill 'crowns' goal-line hero Willie O'Neill as Celtic celebrate the first trophy of the 1966/67 season.
'If he had swung at it with his right, goodness only knows where the ball would have landed! Thankfully, he slid in with his left and hooked it to safety. Willie normally shunned the spotlight and never bothered with praise, but that was an extremely important piece of defending from a very reliable professional.'
Stein accepted his team had not fired on all cylinders, but said with a measure of defiance in his tones, 'We won the Cup and that's what we set out to do. Naturally, we are delighted. We didn't play as well as we can and I think everyone who saw this game would agree with that.'
One newspaper reporter noted, 'If Rangers don't know where their trouble lies, they should all be using white sticks. At centre-forward, George McLean had no idea how to beat Billy McNeill without fouling him.
'Every high ball was the property of the Celtic centre-half and captain – and nearly every low one, too.'
One trophy down – and four to go.
Click Here for Comments >