CALLUM McGREGOR and JAMES FORREST both were given a well earned rest yesterday afternoon in the 3-0 victory over Aberdeen at Celtic Park. Injuries to Tom Rogic and Paddy Roberts have meant that both players have had to contribute more than most in recent weeks so yesterday it was their turn to start in the bench.
Neither player was dropped and both came on to make impressive contributions in what has been an impressive season so far for both products of the Celtic youth academy. Indeed Forrest must be in the running for the Player of the Year awards, at the half way stage he has certainly built up a lead.
It was Calmac who was the focus of the manager's attention yesterday as Brendan went out of his way to praise the Scottish internationalist.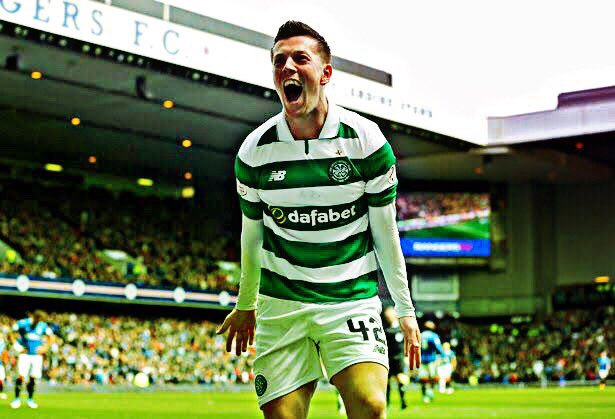 "He's got an incredible football brain," said Rodgers.
"He can play in every position. He can play as a full-back, he's played in midfield, he's played off one of the sides, he's played as a No 10, he's played in all three positions in midfield.
"That type of player is priceless for me because of all the tactical innovations we try to play and impose on the group. I know wherever he is playing, he can play it.
"That type of player, a player who can pass without complicating things, that's the most difficult part of the game, to play simple football.
"I've worked with players who played with ruthless simplicity like Leon Britton at Swansea. He could only pass it over 15 to 20 yards. But he ticked the game over. He wasn't big, he was 5' 4", but he was a big player on the pitch.
"I also had Emre Can at Liverpool who could play at centre-half, right-back or midfield. He had a brain.
"Callum has that too. That's the joy of working with him. He never misses a day of training, he never complains. I think people are a lot more appreciative of him now. The number of people now who will come to me now and say 'bloody hell, that McGregor is a good player'."
Next weekend Celtic will come up against Sevco Rangers and Calmac will be looking for a positive result and maybe another goal or two. He certainly enjoyed his goals against them in the 2-0 Scottish Cup semi-final and the 5-1 hammering that Celtic dished out a week later at Ibrox.
Yet McGregor has been on the wrong end of a result against Sevco Rangers, that 2-2 draw in the previous season's Scottish Cup Semi which was lost on a penalty shoot-out.
That's not a feeling that Calmac wants to experience again.
"When you lose games like that it's sore to take," he said.
"When you go into the next one you remember the way you felt, and realise you don't want to go through it again. It's the only one we've lost to (Sevco) Rangers since. You harness that feeling and use it to do better."
Celtic ended 2016 on a high with a 2-1 victory at Ibrox and Calmac is keen to repeat the trick as 2017 draws to a close.Looking back on the win last year, where the scorers were Moussa Dembele who equalised after Miller had put the home side into the lead. Then Scotty Sinclair got the winner in a match Celtic controlled.
"That was a big win and it set us up with the belief we could really kick on," Calmac said.
"It's the same scenario this year. No matter how well we've done this far, to finish it on a high before the break would be great."
Yes it would be great!
NEW CQN PODCAST OUT TODAY! CHRISTMAS JUMPERS FOR GOALPOSTS
Paul John Dykes and Kevin Graham are joined by Celtic authors, Stephen Sullivan and Stevie Murray for a special festive episode – Christmas Jumpers for Goal-Posts.
Stephen Sullivan is a former Celtic View reporter who wrote the much-lauded Sean Fallon biography, 'Iron Man'. He is now the editor of FIFA.com.
Stevie Murray has now written two books on Celtic – 'Ten Men Won The League' and 'Kenny of the Celtic' – and he is a respected and authoritative voice on the club.
Connect with A Celtic State of Mind @PaulDykes, @acsom and @CQNMagazine and subscribe to the podcast via iTunes or through your podcast player.
Treat yourself to a signed copy of Jim Craig – Right Back to 67 and you will receive a copy of That Season on Paradise signed by Bertie Auld, just order the Jim Craig book at CQNbookstore.co.uk and we'll do the rest…
Click Here for Comments >