DAVE KING has made the remarkable claim that Celtic's financial dominance could collapse "like a pack of cards".
The Ibrox chairman has stated he believes if Steven Gerrard wins one league title it will send the seven-in-a-row champions into meltdown.
King, who hopes to raise £6million in a share issue, admitted there was no new external investment currently in the pipeline.
The South Africa-based businessman accepted the Govan outfit are unlikely to make a profit until they are playing in the Champions League.
For that to happen during Gerrard's four-year contract, Brendan Rodgers' former Liverpool captain will have to get past a Celtic side who have banked more than £60million in European revenues during the last two campaigns.
The Ibrox gaffer insisted that denying the Hoops Champions League income for a SINGLE season could have a significant impact on the monetary strength of the Parkhead club.
ENJOY IT WHILE YOU CAN? Scott Brown celebrates at Tynecastle on Sunday.
Asked how his club could bridge the yawning financial chasm, King answered: "We appoint a manager who can win games, with more resources, and we take one league away from Celtic.
"We only need one league. We don't need two or three. We need one. Once we take one away, it's a pack of cards.
"Celtic's costs structure is more like we were 10 years ago. We needed Champions League football and if we went into the Europa League we were in trouble because the cost structure was so high.
"Take that away for one season and it will change the numbers in the Celtic side very, very quickly.
"They have the comfort levels we once had of knowing we were going to get Champions League money.
"We have to take that away from them and, hopefully, we have started that process on Friday."
King was making a reference to the appointment of Gerrard, 37, as the club's fourth manager in two years as he tries to find a way to be successful against Rodgers where Mark Warburton, Pedro Caixinha and caretaker Graeme Murty, ruthlessly sacked a week ago, have so spectacularly failed.
He said: "It depends if they decide to invest or how well they invest. One would expect a reaction from Celtic to the appointment of Steven – we will have to wait and see what it is.
WAVE GOODBYE TO ALL THIS? Mikale Lustig, Kristoffer Ajer and Scott Sinclair enjoy their day in the Edinburgh sun.
"With all Celtic's resources they are not a million points away from Aberdeen or Hibs. They have resources that are far less than what we have at the moment.
"We are bringing in a manager we think can tip the balance in our favour. Celtic might be over-resourced, but you can still only play 11 players. They have a big squad earning a lot of wages, but these wages are not all getting on the pitch. There are opportunities there.
"We have seen the cycle. I was with Rangers when we thought Celtic would never catch up – never in 100 years. Dick Advocaat said they would never, ever catch up. I think it lasted 11 minutes into the next game we played against them when we went 3-0 down.
"They caught up and then went past us because Martin O'Neill came in and figured out a different way to do it.
"You need the right management structure to do it. At the moment, we've gone more top-heavy on management because we have invested in the squad and struggled with stability in the manager's office.
"We have now gone very, very strong in the management squad."
KIng, though, was unwilling to put a figure on the sort of transfer budget his new rookie team boss can expect.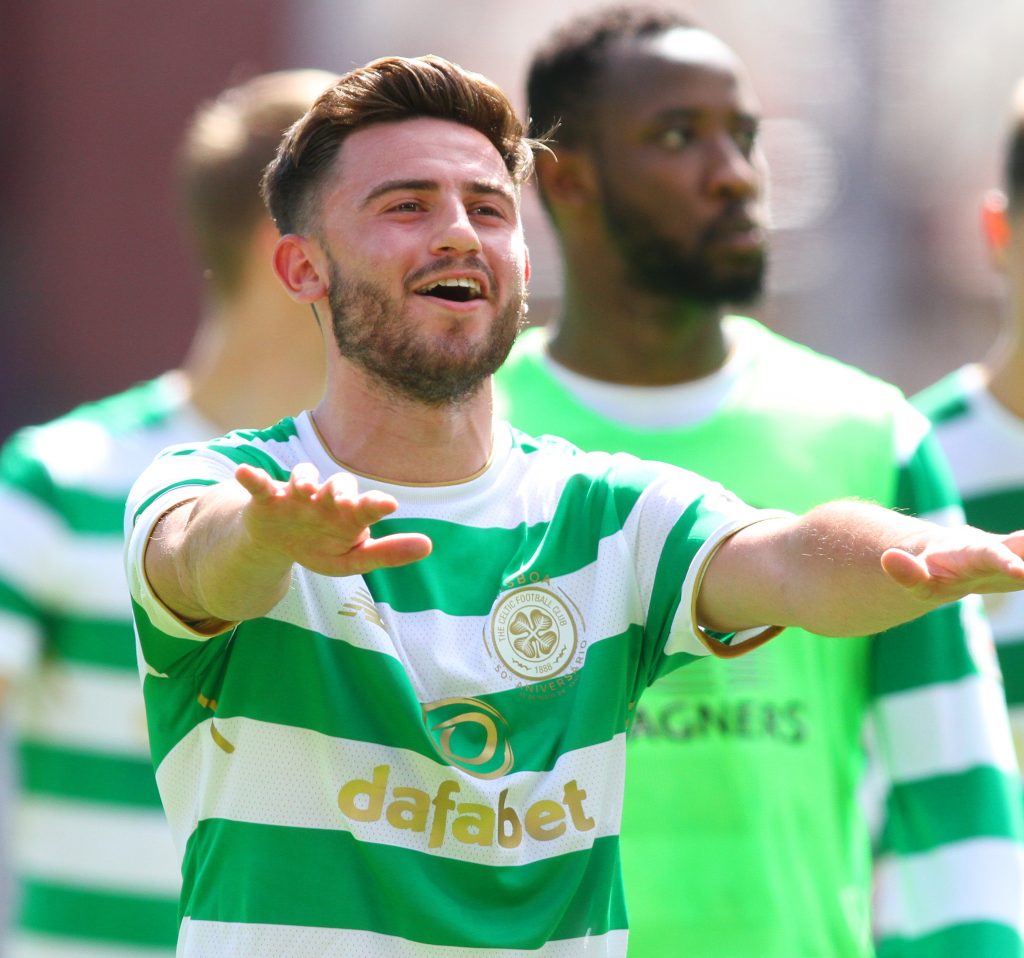 THIS COULD BE THE LAST TIME? Patrick Roberts salutes the fans after the 3-1 win over Hearts. Pics: Geo.
He added: "There is a limit to what any manager gets. There is a limit to what Real Madrid get to spend.
"But in terms of what he thinks needs to be done to the squad – to challenge and to win games and get three points every week – then we've committed to support that with the necessary funds.
"What that will be depends on the player plan when he sits down with Mark Allen. They'll come up with a whole plan and then say: 'This is what we need from the close season.'
"We'll then say fine, approve it and provide the funds."
The bad news for Gerrard is the funds might not even be as much as £6million.
Mind you, they could always sell Alfredo Morelos to some unknown club in the Far East for something like £12million.
The sun was blotted out by flying pigs while King made his statement.
Read more from Celtic Quick News …
Catch up with Pau67's Blog here …
Click Here for Comments >