CELTIC'S league form during Tommy Burns' first season in charge was nothing short of an embarrassment. The team careered wildly from catastrophe to calamity. Chaos lurked in every fixture, despair was a weekly condition. Mishap followed setback; grief piled upon misery.
Admittedly, the team would not have been aided by the fact they did not play a game at Celtic Park while the stadium was being totally rebuilt and Hampden Park became 'home' for the campaign. Nevertheless, the final Premier Division table was x-certificate material as far as the downcast support was concerned.
Reconstruction had trimmed the league from twelve teams to ten and three points would now be awarded for a win. Burns' team hobbled into fourth place with fifty-one points from thirty-six games, shedding an alarming fifty-seven points in the painful process. Rangers collected the crown for the seventh successive campaign, eighteen points ahead of their fiercest rivals. Motherwell and Hibs also had the luxury of looking down on Celtic.
Unbelievably, Burns saw his players fail to win a solitary match in the months of October and November. The shambolic run was only halted on December 18 when, mercifully, goals from Peter Grant and Andy Walker defeated Falkirk 2-0 in Glasgow. The club had set an all-time appalling record by failing to register a victory in a woeful sequence of eleven games – three lost and eight drawn – as they were summarily and disdainfully dismissed as genuine title contenders long before the turn of the year. It was grim stuff for despondent, weary followers brought up on flair and adventure.
Celtic failed to score a solitary goal on ten occasions and their highest total was three which they managed in one game, the 3-0 triumph over Rangers at Hampden in the third last outing of the campaign when it was far too late and the trophy was already destined for Ibrox. The team claimed two strikes in eleven other outings and one on fourteen occasions. In total, Celtic notched thirty-nine goals, just a decimal point better than one a game. The top league marksman was John Collins with eight strikes. Jimmy McGrory once scored eight goals in one game against Dunfermline in 1928. Between them, Pat Bonner and Gordon Marshall combined to concede thirty-three. The League Cup – masquerading under its latest guise as the Coca-Cola Cup – proved to be another disaster area ultimately providing one of the most shocking outcomes in Celtic's history.
And, yet, when the final whistle shrilled on the last day of the season, Paul McStay and Peter Grant, unashamedly, wept tears of happiness as they led the merry band who cavorted around Hampden Park in the midst of the most joyous scenes the national stadium had ever witnessed following a nailbiting Scottish Cup Final success against an Airdrie team well up for the occasion and the challenge. However, there was a fairly harrowing season to endure before Celtic reached that wonderful stage of exultation.
There was expectation in the air when Celtic kicked off their League Cup campaign against Ayr United at quaint Somerset Park on Tuesday August 16. I spoke to the First Division side's manager Simon Stainrod before the tie and he was quite happy to reveal he would be keeping his tactics simple; the Celtic defence could expect a sustained aerial bombardment throughout the ninety minutes. Stainrod, who was quite a classy middle-of-the-park performer with Queens Park Rangers and Aston Villa, among others, during his playing days, abandoned his previous values and had transformed a tiny part of Ayrshire into the 'Land of the Giants'. He had assembled a fearsome line-up of six-footers with his burly striker Ian Gilzean, son of former Scotland international Alan, as his squadron leader. Stainrod promised that 'Celtic will know they've been in a game'. He didn't need to draw any pictures.
I attended the game along with Pat McGinlay, sidelined through injury, and Stevie Archibald, my old mate who knew a thing or two about the more scientific approach to the beautiful game after playing for Scotland, Spurs, Barcelona and Aberdeen under the guidance of Jock Stein, Alex Ferguson, Terry Venables and Johan Cruyff. We wondered what to expect that balmy evening. Peter Grant scored early on and, despite frantic and monotonous high balls thrown haphazardly into the visitors' penalty area, Tony Mowbray, Mike Galloway and Mark McNally held firm. It wasn't pretty to watch, but it was progress. 
Next up, was the altogether more intriguing encounter against Dundee at Dens Park just over a fortnight later. Paul McStay has a reason to remember a towsy, rough-and-tumble affair on Tayside – he was sent off for the first time in his career. Thankfully, it didn't impact on the final outcome of 2-1 in favour of Burns' side. Before the game, there had been intense media speculation about Arsenal pondering a £3million bid for John Collins, a hefty fee in 1994. Fergus McCann earned more kudos with the Celtic support by ordering the club to take the unusual step of issuing an official denial. In short, Collins was staying put.
Certainly, the rumours, informed or otherwise, didn't blur the focus of the elegant midfielder and he emphasised that point with the opening goal in the eighth minute, a magnificently-struck left-foot angled drive from twenty-five yards that hurtled into the top corner with French keeper Michel Pagaeud a spectator. However, some slack defensive play allowed Ray Farningham to nullify that effort with a glancing header from a Neil McCann cross in the nineteenth minute. It was stalemated until twelve minutes from time when Andy Walker, who had just returned to the Scotland international set-up, provided a virtuoso reason why he was back in favour. The dapper little attacker collected the ball in the middle of the park and embarked on a slalom-like run through the retreating Dundee defence before sliding in the winner.
Referee Jim McCluskey had the distinction of flashing an unwanted debut red card at Celtic skipper Paul McStay who was banished along with Dundee's Czechoslovakian tough guy Dusan Vrto. A newspaper report put it thus, 'The defender held back McStay as he bore down on goal and, as both players got to their feet, McStay made contact with his opponent.' I suppose we could read between the lines. There was no appeal from Celtic and McStay served his punishment. Equally, there were no complaints from manager Tommy Burns.
Celtic were given the opportunity of completing a Tayside double knock-out when they were paired with Dundee United on September 21, this time the tie being played at the national stadium in Glasgow. Ivan Golac, who had lost out to Liam Brady for the manager's job in the summer of 1991, was now in charge at the Tannadice outfit with Jim McLean, at last, gravitating from dug-out to boardroom as chairman. Golac had succeeded in bringing the Scottish Cup to the club in his first year, beating favourites Rangers 1-0 with a Craig Brewster goal. McLean had failed in six previous attempts to annex the silverware.
A solitary goal four minutes from time by John Collins in a quarter-final tie watched by 28,859 fans made certain Golac wouldn't be adding the League Cup to the national trophy on his CV. The Yugoslav, in fact, was sacked in March the following year and never returned to Scotland with his managerial travels taking him to Iceland, Serbia and Ukraine. It had been a strange year for United as they were relegated for the first time since the inception of the Premier League in 1975.
Aberdeen had managed a goalless draw against Celtic in Glasgow on league business on October 8 before they returned for the League Cup semi-final later in the month. The game was played at neutral Ibrox and it was a nerve-shredding head-to-head. Pittodrie gaffer Willie Miller was under pressure to deliver in his third year in charge and the League Cup looked his best bet for silverware. The former Dons favourite had seen the club knocked out of Europe at the first stage by the Latvians of Skonto Riga and the mood of the support was turning against him. How quickly in football heroes can become zeroes. The last-four encounter plodded its way to a goalless ninety minutes with both teams failing to ignite. It was obvious one goal was going to settle such a finely-balanced confrontation. With the clock ticking down, Brian O'Neil threw himself at a high cross, outjumped startled defender David Winnie, and flashed an unstoppable header high past the flailing Theo Snelders.
Celtic were in the Final where they would meet First Division side Raith Rovers at Ibrox on November 27. The Kirkcaldy outfit had struggled against Airdrie in their semi-final at McDiarmid Park and had to rely on penalty-kicks to advance on a 5-4 shoot-out victory. Tommy Burns was now ninety minutes from Celtic's first trophy success in five years. Despite indifferent form in the league, the Parkhead men were massive favourites to stop the rot against Jimmy Nicholl's mixture of journeymen and eager youngsters.
I was among a few of the Press gang who were invited for a chat with the Celtic manager a few days before the game. It was a fairly informal meeting in a Glasgow hotel and Burns took it in turn to sit in with the scribes at a couple of the tables to discuss the game. I realise it is all too easy to be wise after the event and, yes, hindsight does offer you twenty/twenty vision. But I got the distinct impression Burns was dwelling a little too much on the prospect of failure. As you would expect from a worthy sportsman, he refused to write off his opponents, but I detected more than just a hint of good manners. Burns was never the bombastic sort, in any case, but, over lunch that afternoon, I saw him fret more than I would have anticipated. It looked as though he was distinctly uncomfortable at the sheer weight of responsibility that had been heaped upon his slender shoulders.
Remember, this was going to be only his nineteenth competitive game in charge of the club. Maybe, just maybe, he was TOO close to the man on the terracing. He didn't have to imagine the despair and the disgrace a defeat against Raith Rovers would bring to Celtic. He would feel the hurt more than most. Being a deep-thinker, he couldn't have helped but stray towards the worst-case scenario. In normal circumstances, the Celtic manager would throw in a joke or two, an off-the-wall observation. Not on this occasion, though. He was deadly serious throughout our conversation. Unusually, it was a mirthless interlude. Burns realised, also, he could not betray even an iota of his innermost feelings to his players. He had to appear upbeat as he led the team towards Ibrox that grey, bleak Sunday afternoon.
It was Celtic's first appearance in a showpiece occasion since they lost 9-8 on penalty-kicks in the Scottish Cup Final against Aberdeen in 1990. Lightning couldn't strike twice, could it?
A sell-out crowd of 45, 384 welcomed both teams onto the field and Burns went with this line-up: Gordon Marshall; Mike Galloway, Mark McNally, Tony Mowbray, Tommy Boyd; Simon Donnelly, Paul McStay, Brian O'Neil, John Collins; Charlie Nicholas and Andy Walker. On the substitutes' bench were Pat Bonner, Paul Byrne and Willie Falconer. Raith manager Jimmy Nicholl had no such riches of talent at his disposal and was attempting to get the best out of the thirty-eight-year-old legs of veteran defender David Narey after his twenty-one years of sterling service at Dundee United. The ever-busy Colin Cameron was in midfield and a youthful Stephen Crawford was making a name for himself as a regular goalscorer in the First Division.
And it was the future Scotland international who gave Celtic a rude awakening in the nineteenth minute after a strangely tentative start from Burns' men. The defence, after failing to clear a routine left-wing corner-kick, allowed the Raith striker far too much time and space to get the ball under control on the edge of the penalty area. He took aim and fired. His low drive might have lacked pace, but there was nothing wrong with the precision as it escaped Gordon Marshall's dive at his right-hand post.
It took Celtic only thirteen minutes to shake themselves from their disturbing lethargy and make it all-square again. Boyd hit an accurate cross from the right, Galloway knocked it back into the mix and Walker dived to head solidly behind Scott Thomson. Strangely, Celtic didn't go for the jugular. Half-time came and went without any additional scoring and the game rolled through the second-half. Thomson was hardly being overworked in the Raith goal and the same could be said for Marshall at the other end. Celtic pushed forward, but there was precious little inspiration. McStay and Collins struggled for a pocket of room in which to work as enthusiastic opponents went about their jobs with a hungry zeal.
With six minutes to go, Tommy Burns clenched both fists, raised his gaze to the heavens and yelled, 'Yes!' He had just watched Celtic take the lead. After neat lead-up play from Collins, Walker swivelled and slammed a ferocious effort against the left-hand post and Nicholas, still retaining that opportunistic penalty-box awareness, was first to react to lash the ball over the line. Ibrox was awash with green and white as the fans partied, so close to bringing a delightful and noisy halt to the so-called 'barren years'. Two minutes later, they were silenced when the Kirkcaldy outfit equalised. Jason Dair swept in a low left foot shot from twenty yards and it looked a simple catch for Marshall. Distressingly, the keeper allowed the ball to escape his frantic grasp and it hit Gordon Dalziel before bouncing into the net.
I have yet to see evidence the Raith forward was onside when Dair hit his shot. To me, he looked at least a yard ahead of Galloway and McNally. Referee Jim McCluskey, Paul Mcstay's acquaintance from the earlier round at Dens Park, didn't hesitate, neither did his linesman and I believe the Celtic players were simply too shell-shocked to even protest. The goal was given. A few days later, I was with a couple of friends in the office pub on the Broomielaw and Davie Cooper, of Rangers and Scotland fame, was in the vicinity. Don Morrison, my old Sunday Mail colleague, had since moved to the Sunday Mirror and 'ghosted' Cooper's column. They would meet once a week and Don would jot down the thoughts of the player, who was at Motherwell at the time. Cooper overheard my remarks about Dalziel's goal being illegal. 'You're the first guy I've heard say that,' chipped in Cooper, who was, as everyone realised, Rangers through and through. There was a pause before he added, 'You're spot on, he was miles offside.'
Celtic made no headway in the extra half-an-hour while Narey, almost unbelievably, and Shaun Dennis provided an unassailable double barrier. The ball was hoofed skywards time and again and it was impossible for Celtic to find any kind of rhythm in those thirty minutes. I was in the Press Box that afternoon and Stuart Gray, son of former Scotland and Leeds United star Eddie, caught my eye. He was seen as a promising youngster at Parkhead and had already made a few first team appearances. We looked at each and grimaced. Somehow, we just knew what was coming next.
The first five penalty-kicks were taken and scored. Marshall went the wrong way as Raith's sixth successive attempt was thumped behind him. All eyes were now on skipper Paul McStay as the shoot-out went to sudden death. 'It's unthinkable, surely, for the skipper to miss,' said the TV commentator. The captain struck the ball firmly enough, but it lacked accuracy. Thomson threw himself across his goal to his right, got his hands to the effort and beat it away. McStay looked devastated as the Fifers wildly celebrated the upset.
Narey deservedly won the sponsors' Man of the Match award and another defensive stalwart that afternoon was Stephen McAnespie. Afterwards, he revealed, 'When we got to our dressing room, two guys came in behind us. It was John Greig and Ally McCoist and they presented us with a case of Rangers champagne.' Strange, that. In all my years of reporting, I have to admit I hadn't realised either Greig or McCoist had any sort of affinity with the club from Stark's Park, Kirkcaldy. At the Press Conference afterwards, manager Jimmy Nicholl, a former Rangers player, had the good grace to look absolutely stunned at the outcome. Scott Thomson was also invited to meet the media. Someone asked him, 'Is that the best penalty save you've ever made, Scott?' The keeper didn't have to ponder too long with his reply. 'It's the ONLY penalty save I've ever made,' he answered. No-one could have faulted his timing. Gordon Dalziel was asked about his goal. He, too, was candid. 'I think it came off my nose,' he said.
Tommy Burns' worst nightmare had materialised at the home of the club's bitterest rivals. Football can be a cruel game and there were the expected recriminations afterwards. Some of the criticism was merited, of course, but some of it was way over the top. No-one escaped the blanket scorn as the disappointment hit home that an ideal opportunity to put some silverware in the Parkhead trophy cabinet after an absence of five years had been carelessly dismissed.
The league had already been blown. It took Celtic four attempts to win another game after the Raith Rovers debacle. There were draws against Hibs (1-1), Motherwell (2-2) and Aberdeen (0-0) before a 2-0 triumph over Falkirk in Glasgow. Somewhere in that run, Burns had taken his team to Liverpool for Ian Rush's Testimonial Match. The final scoreline of 6-0 did not flatter the Anfield men. Old Hoops favourite Kenny Dalglish came on as a substitute at the interval and played the entire second-half without breaking sweat. In fact, he set up the last two goals. Dalglish was forty-three years old at the time. Burns lamented, 'We're in a different world entirely. We have a long way back to get into that league.'
Only the Scottish Cup remained as a viable target. Did Tommy Burns – and Celtic – dare to dream?
*From The Winds of Change, Managing Celtic FC 1991-2005 by Alex Gordon. Published by CQN Books, November 2015. Order your copy at www.cqnbookstore.com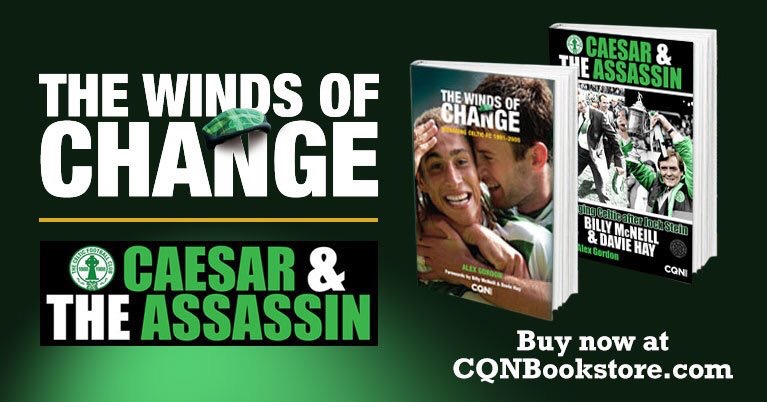 Click Here for Comments >