CELTIC gave Aberdeen, what their own manager Derek McInnes called "a footballing lesson" last night with an awesome performance at Pittodrie. The score was only 3-0. It could have been double that.
This is what Aberdeen legend Willie Miller had to say about the Celtic performance after the game.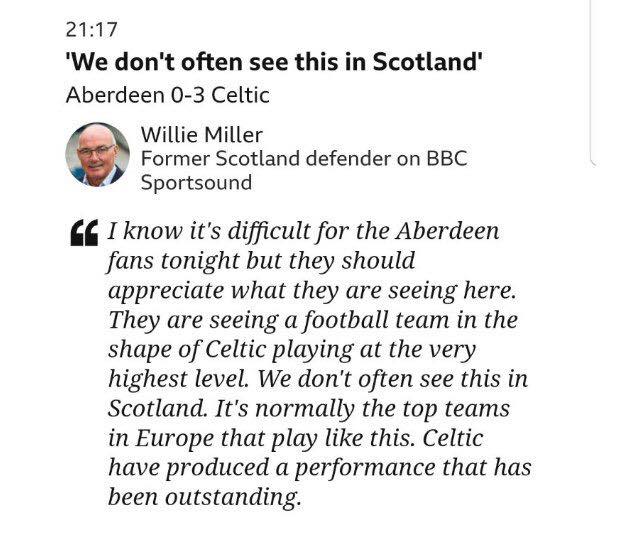 Meanwhile on CQN through the night, one of the fine posters on the blog, Sandman, decided to contribute his own player ratings from Pittodrie. Here's what he wrote…
DEFINITIVE RATINGS
The only ones you'll ever need.
"Nobody writes sh*te like the Sandman" – testimony of anonymous CQN regular.
"Buy whatever he is selling!" – another one.
GORDON – 8/10
Safe-in-the-hands-of-Jesus moments in the first 10 to steady the ship as bearded hobbit Shittie – so small he doesn't run; he 'scampers' – sprung from their midfield to unleash a couple of troublesome efforts.
Fair play to the big guy for sticking rigidly to the BR edit of playing it out from the back at all times despite the situation often looking precarious; tactic failed in Munich but he is learning, and will improve his ability to time and pick the right pass with every game. This is a SCOTTISH goalkeeper who, in the last 18 months, has had to completely redefine a major dimension of the way he learned to play the position. Not easy; but I believe his miraculous comeback to top-level football displays the strength of will needed.
Lustig 9/10
Relentlessly defying every snipe and naysayer. Brilliant influence on the team. Incredibly steady defensive stalwart. And a fine nutter into the bargain; his interaction with the ball-boy in the opening minutes was superb.
Bitton 8/10
Big guy can play. and he is a lethal addition to defence at SPL level – able to work those silky feet and step out with a killer pass to switch defence to counter.
Dedryck 9/10
Always there. Blocking, hustling, offering a daunting physical presence in both boxes, looking more comfortable with the ball at his feet every game.
KT- 10/10
What can you say about everybody's favourite Celtic kid? Quality street superstar in the making – perfect attitude, perfect ego, perfect application. Ran the left like some mad scientist had combined the genetic code of Gemmell, McGrain, Lham and Bale.
McGregor 8/10
Proving me wrong with every exquisite touch and turn, slipping lovely passes through impossible gaps. Wee guy's played his way into a Celtic shirt more than anyone I can recall in the last decade. Don't stop, Callum – keep shoving my past criticism right down my uneducated gullet.
Armstrong 8/10
Great hair. F#cking really great hair that seemed to not only flout the elements' attempts to dim its glory but to actually enhance his performance – tremendous industrious energy, constantly looking for the ball, knowing his next movement, rolling his opponents into space. Back to what we hoped for carried over from last season; incessant dynamic and dangerous running, affecting the shape of the game both on and off the ball – a very difficult thing for a midfielder of his type to command; lesser players fade out of the match.
Prestwick Pele 7.5/10
So very direct and potent when he's up for it; confidence the only aspect lacking in Jamsie's game – he's certainly given Paddy a thing or two to consider in the last few games – an exciting weapon (relax, Prestwick ladies, he stays indoors most of the season) to utilise down that right channel. If anything tonight we didn't give him quite enough to run onto – he looked like he'd tear them up every time as they tired.
Broon 10/10
Imperious. Cheeky, gallus and antagonist; perfect skipper for these times. Takes no bull, dishes out the punishment, superb disciline on and off the ball, dictating the tempo, voicing the gameplan; steadying the ship. Bhoys grown into a legend. Hope he stays fit and lifts the TEN.
Rogic 9/10
Mad Tam the Aussie bagman; cliche-rolling-out irresistible temptation – he waltzes (Matilda) around that space between the backline and mid like a deceptive Koala, lazily destroying defences with the grace of Elle MacPherson and the bite of a Great White, exciting us like some swashbuckling surfer and delivering the gruff melodic impact of a Tom Waits take on a classic bush ballad. You think there's nothing on, then he appears with some tribal incantation and it's suddenly like seeing a mirage of Jenny Agutter in the desolate heat of the outback. I may have stretched that a bit far; I need to Walkabout a bit…
Moussa 9/10
Bang. Bang again. Big man's back and looking to ragdoll anything that gets in his way. A joy to see the confirmation of last season's miracle marauding about the Aberdeen backline again and knocking them in. The bhoy's superstar talents pop up like this when he's on fire and you notice the difference that has him talked about in such elevated terms. He's a beast with enthusiasm and tremendous ability; I pray he stays fit and we get another 2 seasons from him – he'll score us barrowloads, win us trophies and decimate the black souls of O B everywhere; they'll wake up greeting into their sashes about him; he'll haunt their lives like the King of Kings and make their knuckles dig deeper into the tarmac until bone and bedrock are indistinguishable.
Everyone else in the squad – keep on clicking on; we can achieve the hundred undefeated.
BR 9/10
Shook up the team selection and surprised everyone with the tactical adjustment. Certainly caught – the unusually gracious – McInnes with it as KT's higher positioning nullified their right wing offence. A subtle bit of magic from the boss let down ONLY by his extremely poor attention to in-game detail – taking Moussa off on two goals is CRIMINAL, particularly when you neglect to phone for the opinion of a longtime CQN poster who might just have had a fiver on him for a hat-trick at 22/1; BR may blame the poor cellphone signal in Sheepland, me I call it SHODDY.
OVERALL – 9/10
The big Bhoys turned up and kicked sand in the face of the wee SMSM bullies who've been increasingly snide about the Hoops since the CL began.
Well, there's the gulf, you vacuous servile, Hun scum – you'll need one of the Arizona Grand Canyon helicopter tours to span it. We might never get the proper credit for the sheer tsunami of relentless pure football we're flooding this blighted wee bigotfest with, but their tears sure do taste SWEET enough to temper the frustration.
More, please, Celtic. Play them all into the ground. More, more, more.
Oh, and LOL a@ the H*ns.
Again.
WRITTEN BY SANDMAN on CQN….but how did he only award 9/10 for the OVERALL performance? Harsh…
PS to the Aberdeen FC media folk who denied Geo a photo pass, GIRUY.
Meanwhile in Govania…
— Li'l Ze (@LilZe8) October 25, 2017
ORDER Charlie Gallagher? What a Player! and we'll send you a copy of The Winds of Change for FREE only at www.cqnbookstore.com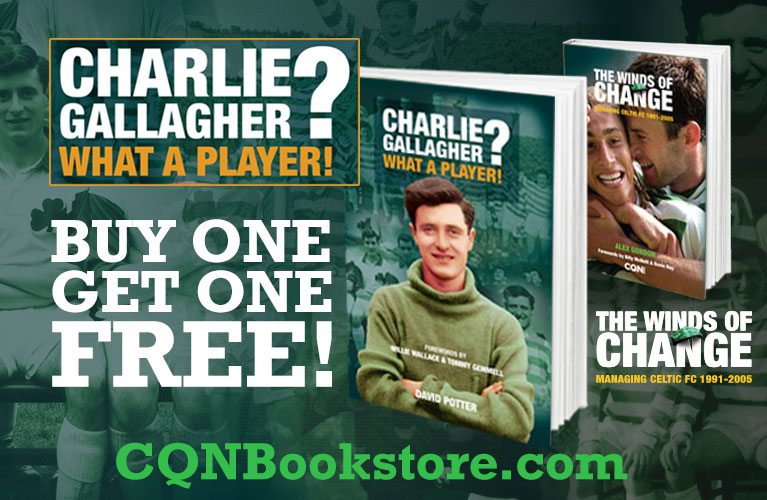 Click Here for Comments >