Mary's Meals were in touch with photographs and information from the Sean Devereux Primary School, Montserrado County, Liberia, the seventh school we have funded through Mary's Meals. We started to raise money for this school at Christmas. Each school day, 253 pupils are fed a vitamin-enriched meal, paid for by you.
Liberia has chronic problems, exacerbated by the recent Ebola outbreak. Only 38% of primary aged children attend school, largely as a consequence of the economic necessity to work in order to eat. The meals you provide address this central problem, but importantly, it ensures children attend school for what is often their only daily meal. This access to education provides life chances which carry decades worth of benefits.
Daniel Folley, deputy head of Sean Devereux Primary, said, "The school's population has increased [because of the Mary's Meals kitchen], and academic performance is at a peak. Hunger used to rive children down, when teachers used to speak, they were not paying attention. Now they are able to learn more."
In 15 years Mary's Meals has grown from a shed in Scotland into a force which feeds over 1.2 million children each day. As they work in the poorest areas, your money goes far. It costs an average of just £13.90 to feed a child for an entire year.
The other big reason we like Mary's Meals is that 93% of funds raised reaches the recipient. The organisation runs on just a 7% overhead, which is exceptional in the aid sector.
Online communities get a bad press, but you share this blog with a lot of great people.  See below.  This is how it feels to be Celtic!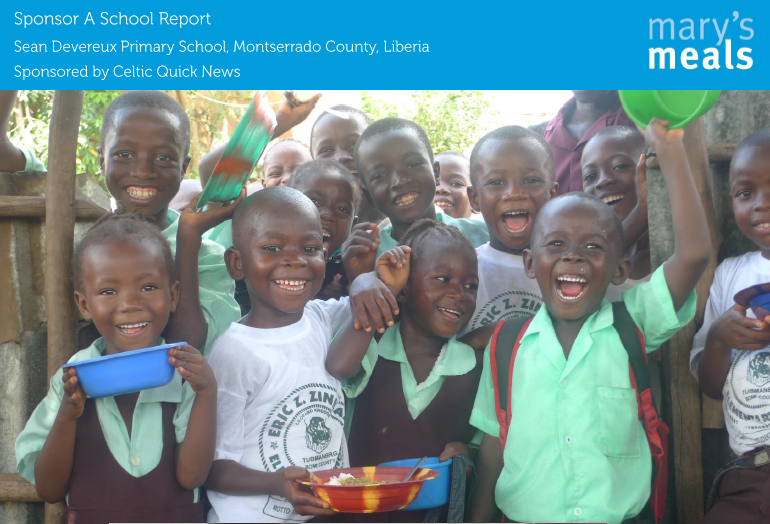 Click Here for Comments >