THE Roaring 1980s was a golden era for Scottish football, a time of change, challenge and loss, and fortune and glory for Celtic. We entered the new decade on the back of the glorious, '4-2, Ten Men Won The League' high, where Billy McNeill's warriors defeated Rangers in unlikely circumstances. Goals from Roy Aitken, George McCluskey, a Colin Jackson OG and a Murdo MacLeod's blockbuster brought the Flag to Paradise to wrap up the 1970s with Celtic as Champions.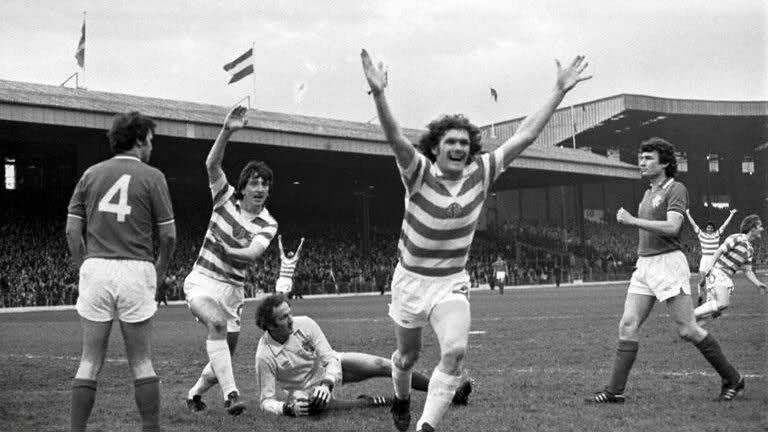 In 1980, Alex Ferguson's Aberdeen took the title, beating Celtic to it by a single point, and the genius had set his marker down. We failed to conjure a winning run, dropping mystifying points, and paid the price. Amidst this, along came Real Madrid. The lure of the Spanish matadors saw us pack out Parkhead in the hope of perhaps, a draw? George McCluskey and Johnny Doyle had a grander vision though, and the roars when the Celtic bulls turned their horns onto their tormentors to score and win 2-0, are yet to be matched in my seasoned opinion. We lost the replay 3-0 in the Bernabau in controversial circumstances, but what an occasion we had witnessed. Celtic also had a goal wrongly disallowed in the home game.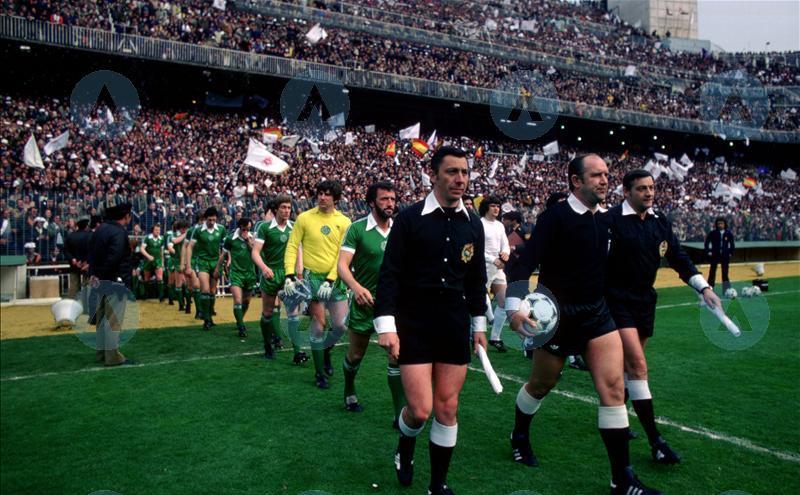 En-route to the season's conclusion, Celtic purchased Frank McGarvey from St. Mirren, and he scored the winner against Rangers four minutes from time in his Celtic/Rangers debut. His delight at that goal showed us his true colours, and what a mark he would make on HIS club! We licked our wounds at the title loss and went to Hampden to take it out on Rangers, and that Final changed the course of Scottish footballing history. George McCluskey back-heeled the Cup winning goal, but in the on-field celebrations afterwards, the Rangers fans attacked us en-masse, and the 'Hampden riot' is now the cause of dry stadia around Scotland. A Jim McLean-inspired Dundee United won the League Cup as a sign of things to come.
CHAMPIONS AGAIN!
The 80/81 season brought great things. Celtic won the league by seven points from the 'Dandy Dons', with Rangers floundering 12 points behind. Danny McGrain, the world's greatest full-back at his peak had his testimonial against Manchester United on an emotional night.
We had an inconsistent  season, but McGarvey's hat-trick in a 7-0 romp V St. Mirren, and a 6-0 drubbing of Hearts showed what we were capable of. Rangers beat us twice with the McAdam brothers facing each other, (our Tom and their Colin who sadly passed away recently), but we equalled them overall. A dodgy referee put paid to our European dream when we lost on away goals to Romanians, Politehnica Timosoara, so we had to re-group and bring the silverware from elsewhere.
A young goal machine called Charlie Nicholas was promoted from the reserves, and was thrown into a home game against Rangers. He equalised a Derek Johnstone opener, and blasted home a second to delirium from the faithful, and put me into orbit! Roy Aitken's late solo won the game and what a night we had. As for Charlie? The Cannonball Kid was born! We went to Ibrox to virtually tie up the title. Who scored? 'Champagne Charlie' in a 1-0 victory, but 'Caesar' McNeill refused to acknowledge the league was won as we still needed a point. When we beat Dundee united 3-2 at Tannadice, the mask was off, and the celebrations plentiful. The fluent and crafty Dundee United won the League Cup-again.
FLY THE FLAG!
The 81/82 season was another fine year. Celtic retained their flag, forging two points clear of Aberdeen and 12 ahead of the Ibrox third-placers, again. Alex McLeish's Aberdeen showed their consistency and guile by hammering Rangers 4-1 in the Scottish Cup Final, with big Eck scoring the goal of the game. We loved watching that.
A 3-3 draw against Rangers at home was significant for the introduction of our new centre-half, one David Moyes. We drew Italian giants Juventus in the European Cup, and Liam Brady in black and white did a jig in front of the 'Jungle' to the tune of 'The Soldier's Song', before succumbing to a Murdo winner, and it was another night in Paradise. A 2-0 reverse in Turin was expected, but still hurt. We lost 1-0 to a Jim Bett penalty at Ibrox before taking revenge at Parkhead. Danny Crainie (in 30 seconds) and Tom McAdam had us in raptures. The big finish was in sight, but not before some drama. We drew and lost before having to win at home v St. Mirren. Get this! Aberdeen had to win by 5 against Rangers should we falter, and they were 4-0 up at half-time. Against Rangers. Go figure! We'd read this story before, and a brace from George McCluskey and Tom McAdam's goal had Parkhead bouncing once again. The Flag was ours! Danny McGrain left the field on the shoulders of the players and the acclaim of the fans.
GLORY IN AMSTERDAM
In 82/83, we had to console ourselves with a League Cup Final victory against Rangers. Dundee United beat Dundee to seal the league in fine style, and Aberdeen did us all a favour by beating Rangers 1-0 in the Scottish Cup Final. They did Scottish football a favour also, as they famously beat Real Madrid 2-1 in the European Cup-Winners-Cup Final in Gothenburg. We were all Dons fans that night, (for 1 night only!) This spawned the 'New Firm' tag for The Dons and Dundee United.
We got Johan Cruyff's Ajax in Europe, and a 2-2 draw at home looked to see us off, but in a remarkable night in Amsterdam, George McCluskey and Charlie Nicholas humbled the Dutch masters, and another record went into the books. Nicholas was on fire and goals were regular. The brilliant Paul McStay destroyed Rangers in a 3-2 win, but Real Sociedad put us out of Europe 3-2.
We beat Rangers again 2-1 with Paul McStay and a Charlie wonder-goal silencing the Copeland Road. Our losses and draws therein meant we had to win the final game at Ibrox whilst hoping Dundee Utd lost to Dundee. We did, they didn't. We were two behind when we exploded onto the scene. A Charlie Nicholas double helped us hammer them 4-2 in their own backyard, again and the Broomloan bounced.
We did win the League Cup however, and how better than against the old enemy. Charlie Nick scored a clever drive, before Murdo almost burst the net with a trademark piledriver, and both at the Celtic End. That gave us our trophy that year and how sweet it was! We were singing in the rain that day.
THREE SECONDS
83/84 should be glossed over. We lost the Glasgow Cup derby to a Sandy Clark goal which pre-empted our season. Aberdeen took the top honour again whilst Rangers languished in 4th spot. Davie Hay took the reins from Caesar, beating Rangers 2-1 in his first managerial derby. The McStay brothers played together, and Paul ripped the Gers apart. McCoist scored in 30 seconds, but big Roy Aitken put them in their place before McGarvey won it for us four minutes from time.
Sporting Lisbon beat us 2-0 in Portugal, but in one of our finest ever comebacks, we hammered them 5-0 at Parkhead. Tommy Burns was immense. John Greig resigned as their manager, and stand-in boss Tommy McLean gave us extra tickets to fill his listless Ibrox. We took the tix, filled two thirds of Ibrox and McGarvey and Burns compounded their pain. Great stuff.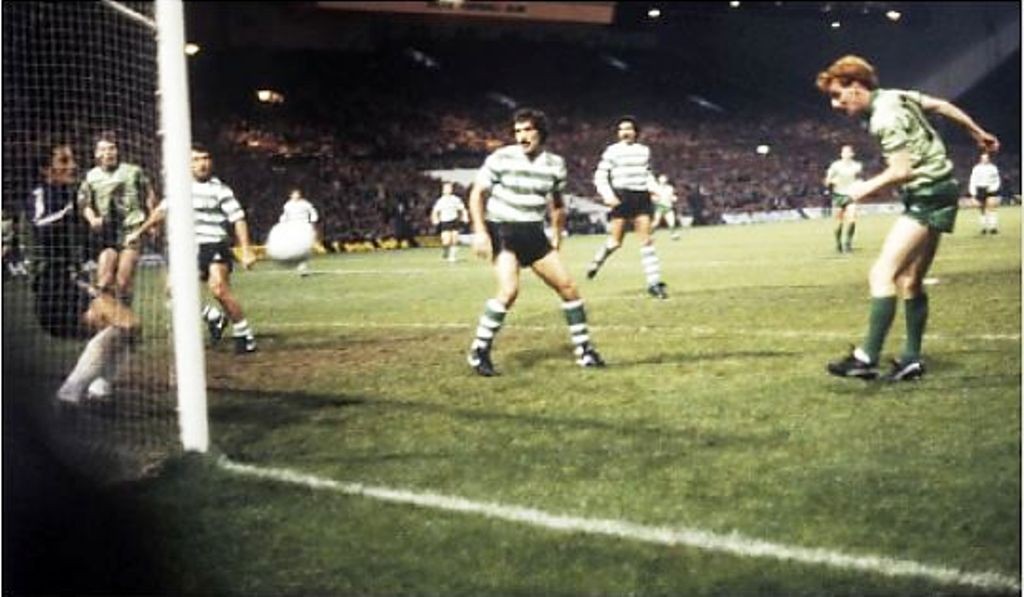 Brian Clough entertained us as we drew 0-0 down in Nottingham in the UEFA Cup. We played them off the park, but couldn't score. Clough brought his superstars to Parkhead, and the wily old fox eked out a 2-1 win. Ref Valentine handed Rangers the League Cup with two penalties in a 3-2 debacle, but the next week we took them apart at home in a 3-0 spectacular, famous for both Paul and Willie McStay both scoring, and Davy Provan twisting the knife. We lost 1-0 to them at Ibrox in Peter Grant's debut, and our draws with Hearts and Dundee United gave Aberdeen the title. The Dons featuring Gordon Strachan and Mark McGhee beat us 2-1 in the Scottish Cup Final and left us with nothing.
UP FOR THE CUP
84/85 saw Aberdeen take the Flag again, and produced a few shocks. Not least when Rapid Vienna scammed us out of Europe. We'd beaten KAA Gent 3-1 on aggregate, and when we went to Austria, Rapid took a 3-1 lead into the 2nd leg. At Parkhead, inspired by Tommy Burns, we destroyed them 3-0. Some clown threw a wee bottle which landed nowhere, but the trainer threw tomato sauce onto the head of a Vienna player and he went off. UEFA ordered a replay, (I know, I know,) and we lost 1-0 at Old Trafford which descended into a brawl. It was a complete farce and showed UEFA up as the corrupt organisation they are.
We beat Hearts 5-1 (McClair hat-trick) and St. Mirren 7-1 (McGarvey hat-trick), before drawing 1-1 at home to Rangers. We beat Rangers 2-1 at Ibrox at New Year with Johnston and McClair scoring, but the season declined from there with some poor results. Rangers held us to a 1-1 draw at Parkhead, and confirmed Aberdeen as champions. We went to Hampden to finish the season on a high, but went behind to a classic Ralph Milne strike. It took a fantastic late free-kick from Provan and a flying header from McGarvey minutes after to quell the tangerines, and Celtic had won the Cup in exciting fashion.
RADIO GAGA
Season 85/86 was one we will never forget. Most notably, the great Jock Stein gave up his life as he watched his Scotland side qualify for the World Cup. If he was asked beforehand how would like to go, this would be it. We were all in shock. Some of us still are.
We started the season with a 1-1 draw with Rangers at home, but went up and down from there. We drew old hated foes Atletico Madrid in the Cup-Winners Cup, and succumbed to them 3-2 on aggregate. Our home game with the Spaniards was a closed doors affair after UEFA picked on us again after Rapid. We lost to Hearts, Dundee United, Rangers and Aberdeen before picking up and forging ahead. We beat Rangers 2-0 (McGuigan and McClair) before declining again. Hearts were on the march, and leading the pack all the way. Hibs beat us 4-3 in the Scottish Cup before a blockbuster at Ibrox yielded a 4-4 draw. (Johnston, McClair, Burns and a Murdo special to equalise.)
Celtic went on a seven game run until, on the last day of the season, we had to beat St. Mirren by three clear goals and hope rampant Hearts lost away to lowly Dundee. Couldn't happen, could it? Celtic cut a swathe through the Saints defence time and again, and McClair and Johnston with 2 gems, and Paul McStay with a rocket put us 4-0 up at half-time. We were playing fantasy football and the place was going wild. 'Choccy' McClair scored a fifth in the second half and the game was played out in relative silence from then in, as radios were huddled around waiting to hear about Hearts who were drawing 0-0. That would have done them, but the immortal Albert Kidd came on for Dundee and scored two of the greatest goals of our lives. The celebrations that ensued were of European Cup proportions, and it remains one of our greatest ever days. Davie Hay smoked a cigar.
MOVING TO ENGLAND
86/87 was largely forgettable as Rangers, with Graeme Souness in charge as player manager, and Terry Butcher at the back won the League and League Cup. St. Mirren won the Scottish Cup. Ian Durrant saw us off at Ibrox first up, and we went on a winning run until late October. We beat plucky Shamrock Rovers 3-0 in Europe and drew 1-1 with the brilliant Dynamo Kiev. We were unlucky not to win the away leg, but we went out. Rangers scammed another League Cup when we lost 2-1 and Butcher got them a penalty for jumping into Roy! Mo Johnston got sent off and blessed himself to the Rangers support as he went. He'd pay for that later! Davie Hay said Celtic should move to England as Rangers were always scamming us, and was fined.
We were rubbish that year, but Brian McClair got us a home draw against moneybags Rangers – where did that money come from? We lost 2-0 to them at Ibrox at New Year, but Brian McClair's double, and Owen Archdeacon's classic gave us a grand day out.
CENTENARY SUCCESS!
Lisbon aside, season 1987/88 was one of our finest in my opinion, and Billy McNeill was brought back to inspire us to glory. We brought English international-laden Rangers to Parkhead, and a Billy Stark pile driver sent us into raptures, more so when Souness was sent off for an assault on our goalscorer. Although we valiantly succumbed to Murdo MacLeod's new club Borussia Dortmund in Europe, we went on a roll. A tempestuous 2-2 draw at Ibrox which featured McAvennie, Woods and Butcher being sent off, ended in the courts with thug Graeme Roberts joining them before the beaks. Great servant Davy Provan had his testimonial against Nottingham Forest on a great night.
New Year brought late Christmas presents as we roasted Rangers 2-0, and 60,000 toasted McAvennie's double and McStay's majestic dominance at a packed and bouncing Celtic Park. We went on an 11 game unbeaten run until meeting our adversaries again on their home turf. On a highly charged day, Paul McStay did the damage before Jan Bartram deflected an equaliser. Although Rangers played well, we pressured them like never before until a corner from Tommy Burns was nodded down by Anton Rogan, and Andy Walker chested the ball into the net as the eruption in front of him continued seemingly forever. The game was won, and the title was almost in our grasp. The three games thereafter are ones of legend.
We played Hearts at Hampden in the Scottish Cup semi-final when a freak Dave McPherson goal gave them the lead. We battered the door down with McStay playing a blinder, but McAvennie was having an off day and couldn't hit the net. Two minutes from time as the Jambos fans were ready to celebrate but then Mark McGhee struck and Celtic were level. One minute later, 'keeper Henry Smith dropped a corner, and Andy Walker smashed into the roof of the net. Hampden went ballistic. We were in the Final.
HAPPY BIRTHDAY DEAR CELTIC
We needed to beat Dundee at home to win the League in our centenary year. It was a massive day, and around 80,000 Celtic fans crammed inside Parkhead to witness the event. So many that thousands were sat on the track around the perimeter of the pitch to avoid crushing. It was Cornishman, Chris Morris who opened the scoring for us and the place went wild. The second half was just a huge party as we sang them to the title, 'Happy Birthday Dear Celtic!' went the lullaby. Andy Walker waltzed round the 'keeper to make it two, before smashing home just one minute later to seal the deal and you need to watch the video to understand how good a day that was. It was a frenzy, a mass love-in.
Scottish Cup Final day was massive. I could only get a ticket for the Dundee United end courtesy of my brother Martin, and Hampden was heaving. We went into shock as Kevin Gallagher rifled past Allan McKnight. Much as we tried, the score remained the same until two minutes before the whistle. Then God said, 'Hang on a minute. I was looking for a good Centenary party tonight!' Rogan crossed from the left and McAvennie headed strongly into the net. Pandemonium! We were back. We set about them again and with the last kick, Frank McAvennie smashed home to give Celtic the League and Cup double in extraordinary fashion, and in our year of years. Nobody does it quite like Celtic!
THE BRIDE AND SUPER JOE
Season 88/89 was the season Rangers' credit card kicked in, and they took the title. Still, we hammered them 3-1 at home, and won a few games by 6, 7 and 8 goals. We significantly participated in a very poignant memorial match for the Hillsborough Disaster Victims when we hosted Liverpool. The 'You'll Never Walk Alone' was a tearjerker as green and red scarves combines as one, and Dalglish brought his stars to the celebration of lives which were cruelly snuffed out in a game we all love. The unity and bond forged that day will last forever and overshadowed anything which could take place on a football field.
There was one crowning glory to that season. We took on the might and force of Rangers, and wee Joe Miller sent the Celtic fans home in delirious celebration when he smashed the ball into the Rangers net to win the Scottish Cup for Celtic. It was a great, great day, and at my sister Katie's wedding, the Groom, Craig, stood up as if to toast her, and chanted, 'To someone who has made me very, very happy, Joe Miller!' That brought the house down. ONLY IN GLASGOW!
JUDAS
I'll draw the decade to a close by saying it was not a pleasant ending. That last season yielded nothing for us, but there were moments. The best we got was a 1-1 draw with Rangers at home, a game which sensationally featured Maurice Johnston in a Rangers strip. It was a sickening sight and still is. He didn't score though and was berated throughout. Darius Dziekinowski was our man then, and our playboy superstar scored against Rangers to the delight of the faithful. He famously scored four against Partizan Belgrade, but our sieve ensured he went home a loser that night. Maurice Johnston struck a last gasp winner in his 1st game against us at Ibrox, and he almost cried with joy. I'll leave you to your own thoughts there.
THIS IS YOURS
The final thought on that season, and the decade just gone. Celtic played Ajax in a friendly game, and playing for Ajax was the peerless Denis Bergkamp. We beat them that night and a player ran to throw his boots into the 'Jungle' for the very last time. His name was Tommy Burns, and our Tommy will forever be synonymous with our decade of glory, especially when he ran to we Celtic fans stranded in the Dundee United end after the Cup win at Hampden in 1988. He jumped up and down in front of us holding up the Cup and shouted, "See this? This is yours, this is yours!".
In memory of our much loved and greatly missed Tommy Burns.
Written by Eddie Murray for CQN Magazine
To read more about Celtic in the 1980s get a copy of Caesar & The Assassin – Managing Celtic After Jock Stein by Alex Gordon with Billy McNeill and Davie Hay available from www.cqnbookstore.co.uk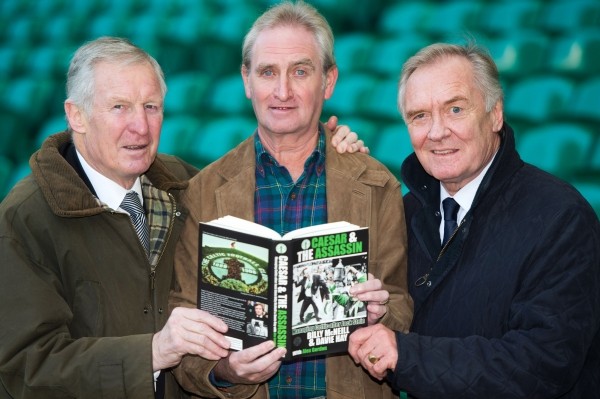 NEW CQN PODCAST OUT NOW! CHRISTMAS JUMPERS FOR GOALPOSTS
Paul John Dykes and Kevin Graham are joined by Celtic authors, Stephen Sullivan and Stevie Murray for a special festive episode – Christmas Jumpers for Goal-Posts.
Stephen Sullivan is a former Celtic View reporter who wrote the much-lauded Sean Fallon biography, 'Iron Man'. He is now the editor of FIFA.com.
Stevie Murray has now written two books on Celtic – 'Ten Men Won The League' and 'Kenny of the Celtic' – and he is a respected and authoritative voice on the club.
Treat yourself to a signed copy of Jim Craig – Right Back to 67 and you will receive a copy of That Season on Paradise signed by Bertie Auld, just order the Jim Craig book at CQNbookstore.co.uk and we'll do the rest…
Click Here for Comments >