We hoped that Celtic's anaemic 57 minutes against St Mirren last week would serve as an indication that performance levels needed to improve ahead of yesterday's game against Newco, but many of the same facets were in evidence.
Anytime I have seen Newco this season they seem to start brightly. By contrast, Celtic tend to feel their way into games in a low-energy manner.  This was evident yesterday.  The game was moments old when Erik Sviatchenko was pressurised into a mistake, which brought Newco deep into Celtic territory.  It was 3 minutes before we crossed the halfway line again.
Erik's next two touches were also unassured, which interrupted the flow of the ball.  It looked like Newco had decided he was the Celtic player to press.  His central defensive partner was caught flat when a touch by Miller saw the ball pass through him, allowing Waghorn the first of his great opportunities to score.
Passing was clearly ineffective.  Celtic simply didn't keep possession throughout the game.  The pitch seemed fast, how many times did you see a through ball run out of play?  I wondered if Brendan decided to pull back groundsmen on watering duties?
Scott Brown opened in an advanced central midfield position, often ahead of Stewart Armstrong, with Nir Bitton the only one of the midfield three consistently playing his regular role.  While the objective was clearly to pressurise the Newco defence, it came at a cost of ball retention.
Callum McGregor brought composure to Celtic's play when he replaced Bitton at halftime.  He was prepared to hold the ball, draw opponents in, and pass or move.  This served to underline how poorly we were in this respect during the first half.
Stewart Armstrong created and scored a goal out of nothing.  When he went off we not only missed his edge around the Newco penalty area, we became porous in midfield.  Ball retention then took a further downturn and we lacked tightness.
Newco deserved their goal and, at that point, I thought deserved their point.  They neutered the left flank threat of Sinclair and Tierney, which isolated Dembele.  With Celtic unable to circulate the ball to any effect, which was the crucial tactical element of the game.
The psychology of refereeing is a weighty subject.  Bobby Madden booked four Newco players before cautioning Scott Brown, but the real test isn't applying a player's first yellow card.  After his booking, Waghorn twice tumbled theatrically inside the box in a blatant attempt to win a penalty.  Both should have resulted in a second caution, but having booked so many Newco players, Madden froze.
Pointing to the penalty spot in added time of a tied game is a big decision for a referee.  For whatever reason, Madden didn't want to do this when Hill took Leigh Griffiths down with a waist-high challenge.
I could debate the reasons why he didn't want to do this with you all week, but we both know why.  At least the manager and players know what to expect in the semi-final.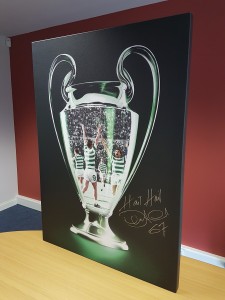 Our raffle for Alzheimer Scotland to win this magnificent canvas (above) ends at 14:00 TODAY, so you've less than two hours to enter.
We ask for a minimum donation of £5.
You can enter through this MyDonate page, with the money going straight to Alzheimer Scotland.
Please make sure I have contact details from you (email me at celticquicknews@gmail.com with the word "Canvas" in the subject, just in case) to make sure I can get in touch if you win.
I can deliver in central Scotland, at Celtic Park, or by collection in Lanarkshire.
Good luck!
Click Here for Comments >