BRENDAN RODGERS should have taken the time to praise Aberdeen for dominating the majority of the match and was talking nonsense in saying that Celtic defended well. That was how Aberdeen legend Willie Miller saw the Celtic manager's post match interview with BBC Sportsound last night.
We have just written about this HERE and said we'd have a look to see what the Aberdeen manager Derek McInnes had to say about Celtic. Whatever he did or didn't say – at the time making our way down the road from the game and listening to the radio – we must have missed McInnes' speaking.
So what did he say about Celtic? Here's what McInnes said after the game…
"I was actually pleased with the start, middle to front. I thought we implemented what we wanted to do.
"We gave away the corner. The set play, I think we had a chance not to give that away. At some point in the build up, I thought we could have dealt with it. Still, in the game as good as you are between both boxes you still have to defend set plays so it was such a cheap goal.
"Yes there is a block there, but we've got to be better than that and not allow ourselves to be blocked. We know the threat of Boyata and we know the threat from the delivery from Griffiths. It was a poor goal to lose. Then there was bewilderment.
"I think we actually had a decent opportunity at the edge of the box and they've countered on us. Joe would have made the save but I think Shay has blocked it. I think Celtic can bring that speed to their counter attack very quickly and you can get pulled all over so obviously that's a poor goal for us to lose.
"Then the third goal, I felt it was a coming together. We spoke about not allowing Griffiths on to his left side, he doesn't need any second invitation. I thought we were a wee bit hesitant in making sure we deal with that first ball up, it spills out to him and he hits it. We should be saving that.
"We were on the ropes. We really needed some sort of adrenaline hit and some inspiration and wee Jonny gives us it. He was absolutely magnificent, the best player on the park. I thought the better players on the pitch had red shirts on tonight, but Jonny Hayes was the one that carried the fight and we all got behind him.
"The crowd needed lifted, the players needed that shot of adrenaline and Hayes gave it to us. What a goal, it was a top class, really calm finish. He usually smashes them and generates a lot of power but he's curled it into the top corner.
"From then on we did well but you can't give Celtic a three goal lead and then expect to get something from the game. But if you actually analyse the game, we still could of. We had the better chances.
"Whilst we were negligent at times in front of goal the penalty kick incident is ridiculous, it's a penalty kick. It's a foul every day of the week anywhere else on the pitch. Gordon's hesitant, Shinnie's determination gets the touch and knocks it past him and (Gordon) just clatters into him.
"It was a big decision, you need a big referee to give it and we didn't get it.
"I don't think it's a red card as the ball going away from goal, but it is a foul and it's a penalty. At that stage if we had got a second, I thought we could have cranked it up even more.
"From kick off after the third goal, we were excellent.
"There's lots we can be encouraged by, there's lots we need to learn from. I said before the game, the result was something we were after tonight but the performance was what I was keener to see.
"Celtic needed to know we were there, they needed to know in two weeks time they are facing a confident Aberdeen team and that's exactly what we'll be.
"I thought we were excellent. We imposed ourselves, we were aggressive, I thought we defended well and I thought the quality of our play was excellent. We shifted it side to side, we exposed them on the outside, we were positive. I thought McGinn, Hayes, McLean carried the fight for us. Stockley took some treatment up there but gave us a focal point. And I thought in the middle of the park we got on top of them. It allowed us to go forward.
"But ultimately we got beat. I am not here for glorious failures but I recognise the performance from the team."
Not much praise for Celtic in there. Should have  been a penalty blah blah blah…as we said, dry your eyes Willie Miller. We'll see you at Hampden!
ALSO ON CQN TODAY – The story of the Celtic supporter in Lisbon with THAT Jock Stein t-shirt on, CQN tracks him down to Vietnam! read the interview HERE.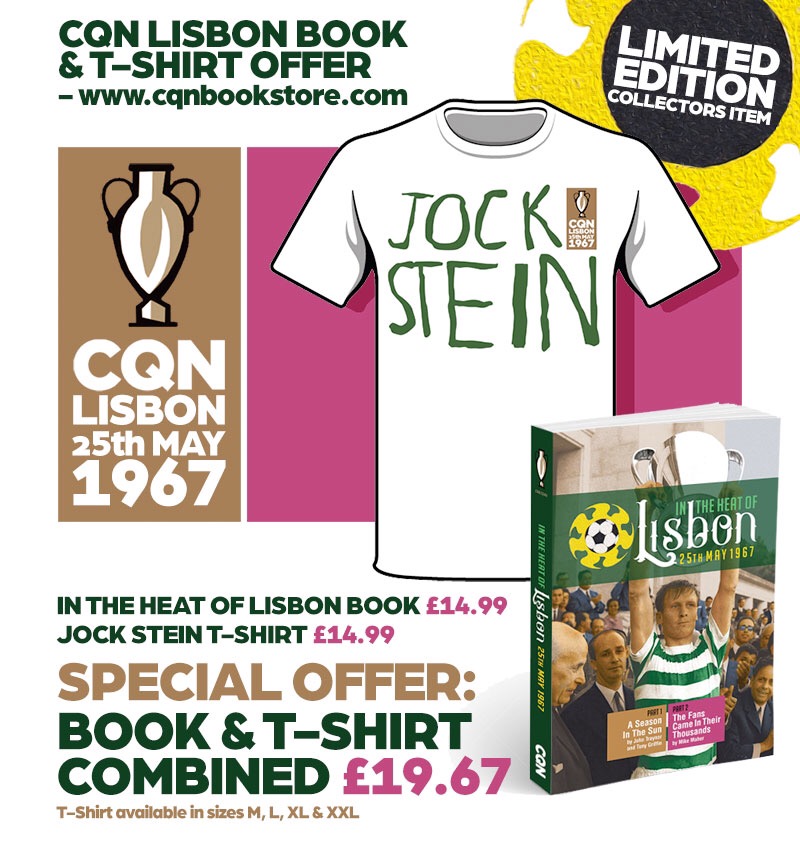 Click Here for Comments >