BRECHIN CITY, who brought more supporters to Celtic Park than the vast majority of visiting SPFL sides so far this season, are set for a significant financial windfall as their share of the gate from Saturday's 5-0 defeat to cup holders Celtic.
CQN estimated the crowd at 25,000 as the match kicked off on Saturday and that turned out to be fairly accurate as the official attendance was 24,879.
Brechin's Chairman Ken Ferguson has been speaking to The Courier about their big day in Paradise and how the much needed financial windfall can assist in the running of the club, which he disclosed has overspent over the last few years.
"We had nearly 1,200 fans at the game which was magnificent and we were very grateful for the backing," Ferguson said.
"There were a total of 24,879 inside Celtic Park which was about what we expected.
"There are still costs and other things to take into account.
"We are a careful committee but we have probably overspent in the last two or three years.
"So it is maybe time for a bit more safety."
Any hopes that Ferguson and his board had of causing an upset were quickly gone – even before a Brechin player had managed to get a touch on the ball.
Celtic stroked the ball around from kick-off, with the pass count reaching 47, Kieran Tierney played Scotty Sinclair in and his cut back to James Forrest was casually rolled into the Brechin net.
"It was a bit dispiriting when that first goal went in so early in the game," Ferguson admitted.
"The second goal was disappointing after one of our players played a looser pass than he would normally but I felt we got into the game after that.
"However, we then conceded after half-time and Celtic added two more but I was just hoping that we could have got a goal for the fans who had travelled through.
"We did have chances but could not take them.
The Brechin Chairman appreciated the fact that Celtic paid the visitors the maximum respect throughout and this was apparent by looking at the Celtic team sheet, which revealed that Brendan Rodgers had picked pretty much the strongest side from the available players in his squad.
"Celtic put out an incredibly-strong team and speaking to Peter Lawwell, he said that Brendan Rodgers knew the tie was a banana skin and he was determined to show Brechin all respect," the Brechin Chairman said.
"Obviously we are disappointed with the result but it was a great experience, especially for the younger players.
"Our lads are of course all part-time which is something that is easily forgotten.
"They all have day jobs and train twice a week unlike the full-time sides who are in working every day.
Ferguson knows that Brechin have their work cut out as incredibly they have still to register a win in the league this season, having won promotion last season to the Championship via the play-offs. They have not found the jump in quality to be easy.
"We always knew the Championship was going to be difficult but it has been even tougher than we anticipated," Ferguson admitted.
"I believe we have a better team and are playing better football than we were last season.
"We have only lost in a lot of games by the odd goal.
"However, we are up against superior opposition week in, week out and it is really hard.
"We have backed the manager this month with the addition of Callum Tapping and hopefully another player will be arriving soon to further freshen things up.
"Hopefully it is only a matter of time before we get that first win."
Looking back on Brechin's performance at Celtic Park, which he hopes will give the players a decent springboard for the remainder of the season, the Chairman had the last word about his player.
"We are very proud of them."
Quite right too.
NEW CQN PODCAST OUT TONIGHT WITH THE ORIGINAL HOLY GOALIE, JOHN FALLON
A Celtic State of Mind presents its 31st instalment of insightful discussion around the culture of Celtic Football Club, the city of Glasgow, and fans of the reigning treble-winning Scottish champions.
Paul John Dykes and Kevin Graham are joined by Lisbon Lion, John Fallon, at The Penalty Spot in Glasgow.
The interview took place as part of A Celtic State of Mind's first live event – Five-a-sides at The Penalty Spot – and, as such, there is some background noise (including mobile interference – apologies) from the audience.
John – The Original Holy Goalie – discusses pay disputes, bonus rows, cigarettes & alcohol at Seamill, breaking up The Lisbon Lions and The Quality Street Gang, the battle of Montevideo, his volatile relationship with Jock Stein, and he finally tells the full story behind his European Cup winners' medal.
The CQN Podcast has gone from strength-to-strength over the last few months, and there are many more guests lined up in the months ahead from the world of sport, music, film, art, broadcasting, literature and politics.
Our first two editions of 2018 have attracted huge audiences for the interviews with former Celtic Director Tom Grant them politician and life long Celtic supporter Tommy Sheridan, who likes a rant!
Talking about rants, we hand over to the Original Holy Goalie, when it comes to matters concerning Celtic, he has an opinion on everything. Legend!
Connect with A Celtic State of Mind @PaulDykes, @anorthernprose and @CQNMagazine and subscribe to the podcast via iTunes or through your podcast player.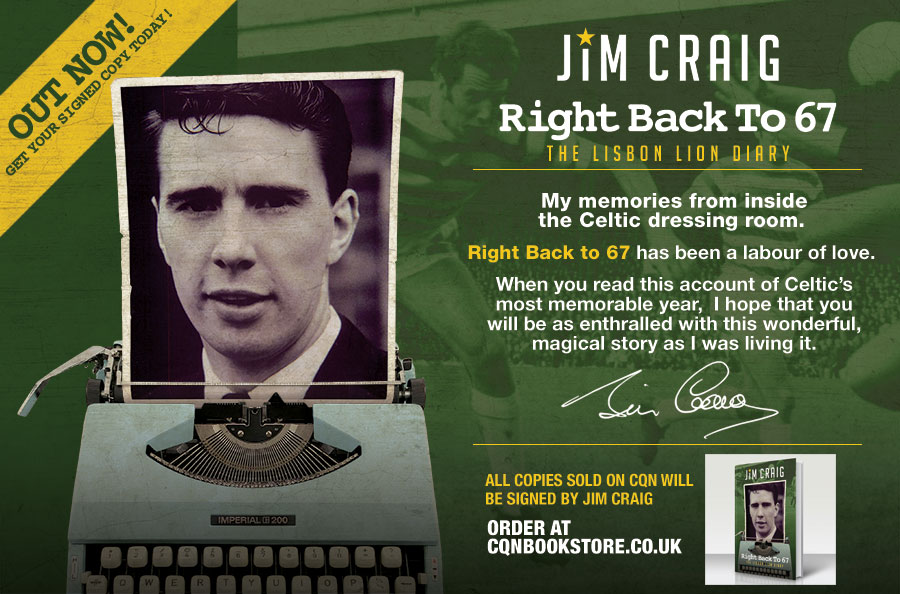 Order Jim Craig's new Lisbon Lion Diary – Right Back to 67 from CQNBookstore.co.uk and you will receive a signed copy from the man himself plus a FREE copy of That Season in Paradise – Ten Months of Celtic Heaven signed by fellow Lisbon Lion Bertie Auld! Simply order Jim Craig – Right Back to 67 and the second book will be sent automatically. Stocks are running very low so hurry!
Click Here for Comments >