TODAY CQN brings you the twentieth EXCLUSIVE extract from Alex Gordon's book, 'CELTIC: The Awakening', which was published by Mainstream in 2013.
The book covers the most amazing decade in the club's history, the Sixties, an extraordinary period when the team were transformed from east end misfits to European masters.
CELTIC PARK was awash with nostalgia on Saturday, 1 May 1971. After making certain of the championship, Jock Stein had selected the final game against Clyde as the last hurrah of the Lisbon Lions.
A crowd of 35,000, paying thirty pence admission, turned up at the ground, minus a main stand, for the event. The players, delicately avoiding all sorts of rubble, made their way from the dressing room, down the steps and onto the pitch. Ronnie Simpson, of course, had already been forced into retirement with his recurring shoulder injury, but he also took a bow before Evan Williams went into goal.
At kick-off time, there was hardly a dry eye in the house. Celtic followers realised they were watching the curtain coming down on the club's most magical line-up, a collection of colourful characters it had been their privilege to witness through the spectacular turnaround during the turbulent sixties and into the seventies. It was the end of a golden era and, as you might expect, the players said cheerio to the adoring crowd with a fair degree of aplomb.
Bobby Lennox fired in a hat-trick, Willie Wallace added two and, fittingly, Stevie Chalmers, the matchwinner in Portugal four years earlier, added another. The Lions were paraded at the end of the 6-1 victory. If the old main stand hadn't already been razed to the ground, the raucous applause of the fans could have saved the demolition crew the bother of looking out the wrecking ball. The place rocked with raw emotion.
Bertie Auld was lifted onto the shoulders of Billy McNeill and Tommy Gemmell and five days later the thirty-four-year-old midfield man, who had typified the spirit of the club as they re-emerged as a genuine power in the game, was on his way to Hibs on a free transfer. In the summer, Chalmers, 34, and John Clark, 30, joined Morton and, within a year, Jim Craig, who had just turned twenty-nine, went to South African side Hellenic.
Tommy Gemmell, at twenty-eight, moved to Nottingham Forest in December for £40,000 which would have been a down payment for his services only four-and-a-half years beforehand. John Hughes, 28, and Willie Wallace, 31, joined Crystal Palace two months ahead of him in a bargain £50,000 double deal.
BYE BYE BERTIE…midfield maestro Auld is carried off in triumph after his final appearance.
Auld is among those who is of the belief Jock Stein emptied the dressing room too swiftly. He said, 'I often wonder what would have happened if we had won the European Cup in 1970. I ask because I believe Big Jock was just a bit too hasty in breaking up a team that had been good enough to reach soccer's summit, beating Leeds United twice along the way, but was dismantled a year later. Some of the lads were still young enough and in their prime to do a turn for the club.
'Look, I know when the time is right to make way for new players and Jock had bought the likes of Harry Hood, Tommy Callaghan and Stevie Murray. There was the emerging talent of Kenny Dalglish, Davie Hay, Danny McGrain, George Connelly and Lou Macari, among others, coming through from the reserves. Time catches up with everyone, but I still find it difficult to get my head around the fact that so many left over such a short period of time. We hadn't all become duds in the space of twelve months or so.'
Hughes, popular with the support, doesn't hold back. 'Jock Stein wrecked my career. I didn't want to leave Celtic, like so many other players before me. I was still young enough to finish my career at the club. That's what I wanted. Jock had other ideas. I was told I had to speak to Crystal Palace, but I didn't want to know. Frankly, Jock was pushing me out the door against my wishes. I believed I was being treated very badly considering all the time I had been at the club. I had always given my very best and, in fact, I am still the seventh highest-scoring player in the club's history with 188 goals.
'But, back then, Jock had made up his mind and that was the end of it. If I didn't sign for Palace he told me he wouldn't pick me again for the first team and I would be in the stand for the next nine months. I have little doubt he would have carried out the threat. My basic take-home pay at the time was £33 after tax and other deductions and, without bonuses, it would have stayed that way.
'I was extremely hurt and I wanted the fans to know how I was being treated. I didn't go to Jock's funeral. That would have been hypocritical because I didn't like what he had done to me. Eventually, I did move to the London side, but I was far from happy. One thing was certain, though, I was going to be professional at my new club. As I had done with Celtic, I would give it my all for Crystal Palace. Their manager, Bert Head, still had faith in me and I was going to repay him. I discovered later that Everton were interested, too, but I wasn't told. They had lifted the English championship the previous season, but I'm sure it suited Jock better if I went to an unfashionable club that were unlikely to win anything and where I would be out of the spotlight.'
Hughes interrupted our interview to roll up a trouser leg to display a plainly visible scar on his right shin. 'I recall another incident when we were playing St.Johnstone in Perth in February 1971. The Muirton Park pitch was cutting up fairly badly. I received a terrible injury during the first-half when I got a gash down my leg that needed twelve stitches at the interval. As you can see, it's still a bit of a mess to this day. I couldn't possibly go out for the second-half. The stitches would have burst, no doubt about it.
'I told Jock I couldn't cope with another forty-five minutes. Stevie Chalmers was stripped and ready to go as a substitute, so it wasn't as though I was leaving the team a man short. Jock hit the roof. I was sitting there with a mangled leg and he wanted me to go out and play. We lost 3-2 and guess who got the blame? Me. There was little point in arguing with Jock when he was being so unreasonable.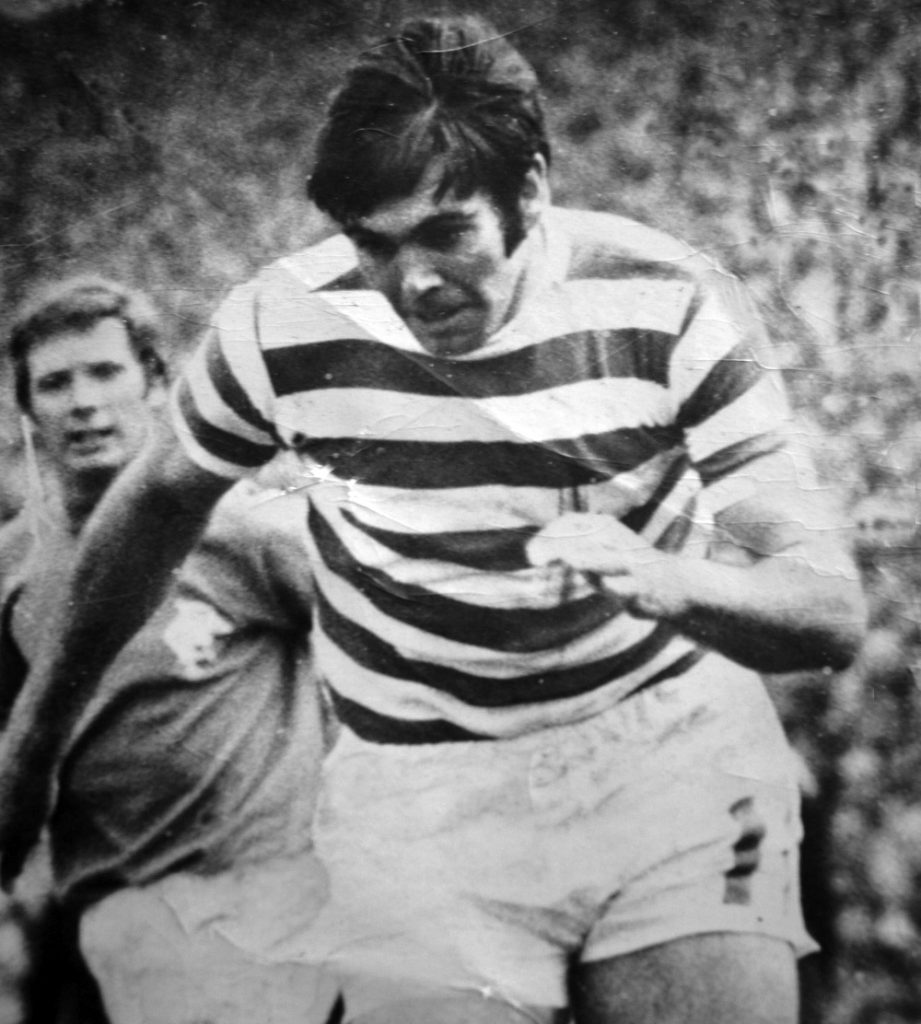 YOGI ON THE RAMPAGE…John Hughes in the heat of an Old Firm confrontation.
'I don't think he ever forgave me for a miss I had against Feyenoord in the European Cup Final the previous year. I was through early on in extra-time, but their keeper made a save at my feet. Jock saw it as a sitter and told me I should have scored. Yes, it was an opportunity, but it was hardly a cert goal. I'll tell you this, if I had had a chance like that in a game where we were leading, 1-0 or 2-0 and had missed, no-one would have mentioned it. But I genuinely believe Jock never forgot it or forgave me.'
Hughes hit the headlines in England when he scored a sensational goal in one of his first games for the club. The giant winger raced about fifty yards down the left wing before cutting inside and thundering an unstoppable drive high past helpless Sheffield United keeper John Hope. Match of the Day featured the strike in their credits for the remainder of the campaign and Hughes recalled, 'It was in the running for Goal of the Season, but there was one reason it didn't win – Jock Stein was one of the judges on their panel. There's no way he would have voted for that goal. It would have had people querying his decision to sell me and he wouldn't have tolerated that. I really mean it. There's absolutely no way I would have got his vote.
'Actually, that goal for Palace was one of my fondest memories of my time in London. I received an injury after a couple of months or so that refused to heal and I signed for Sunderland to play alongside my brother Billy. I think I lasted about fifteen minutes with them before I received another setback. That was my comeback over. Short and sharp. You look back and wonder if things would have been so much different if I had remained at Celtic.
'Until my injury at Palace, I always felt fit. I was an athlete at school and hadn't lost too much of my pace. I never wanted to leave Celtic, everyone should know that.'
That Jock Stein could be confrontational with his players should never be doubted. Another on the receiving end was Tommy Callaghan. He remembered, 'We were getting ready to travel to Seamill as we prepared for the second leg of the 1970 European Cup semi-final against Leeds United. Willie Wallace, who lived in Condorrat, agreed to pick up Tommy Gemmell in Kirkintilloch and then swing by Bishopbriggs and give me a lift to the ground.
'We hit all sorts of terrible traffic congestion and the situation wasn't helped when Tommy wasn't ready when we arrived at his place. Time dragged on and we knew we were going to be late for the coach. Eventually, we got to Parkhead about forty-five minutes late and all the other players were on the bus and ready to go. Jock was raging and, unfortunately for me, he singled me out for his criticism.
'As he shouted and bawled, Big Tommy was honest enough to put his hands up. "Boss, it was my fault," he said. "I delayed us at Kirkintilloch." Jock wasn't listening. He turned to Tommy and Willie and shouted, "Get on the coach, you two." Then he looked at me and said, "You can get stripped. We're playing a reserve game tonight and you're playing." It was unjust and unnecessary. Suddenly, through no fault of my own and with another player prepared to take the blame, I was out of a European Cup semi-final squad. I was totally embarrassed and, to be honest, I never forgave Jock for that. I had my pride and I didn't think I needed to be treated so harshly. I had so many happy times under Jock at Celtic, but that wasn't one of them.'
SAFE HANDS…Evan Williams got into trouble with Jock Stein.
Evan Williams also has an interesting tale to tell about a run-in with Stein. The goalkeeper said, 'It was a winter's day and games were getting called off all over the place. The snow had been falling for about twenty-four hours and it looked as though there wouldn't be a game anywhere in Scotland. I can't remember who Celtic were due to play, but I received a telephone call to tell me, as I expected, the game was off. My wife Anna was pregnant at the time and needed to use the family car that afternoon.
'Then I got another call to say Jock had arranged a bounce game with Raith Rovers and I was to get to the park. Easier said than done, unfortunately. I lived in Alexandria and I raced to the railway station and was amazed there was actually a train ready to head for Glasgow. I jumped on it, but we only got as far as Yoker when we were forced to stop. Continuing the journey was impossible in such treacherous conditions.
'The train reversed to another station where we were told buses would be laid on to take us to Glasgow. A mobile phone would have been handy in those days. I trekked onto the bus, winced as I looked at my watch and realised I was going to be about an hour late, but still well in time for a 3pm kick-off. Jock was a stickler for good time-keeping, but I knew I had a good reason for running late and, hopefully, he would be sympathetic.
'No chance. He was fuming. "What if it had been a Cup Final? Would you have been late then?" he demanded. I told him he could check with the railway and he would discover the train couldn't make it past Yoker. "I'll see you on Monday morning," he said. He was still ranting and raving forty-eight hours later. I was fined two weeks' wages. You could never argue with Jock.'
Hay, known as The Quiet Assassin in his playing days, admitted Stein could strike fear into the hearts of the strongest man. 'He had a considerable physical presence,' said Hay. 'He must have built up his muscles in his days working down the mines and, of course, he was a fairly rugged centre-half as a player. I remember Lou Macari and I were scared to tell him we wore contact lenses when we just breaking through. We both believed it was tough enough trying to get into the first team and if Jock had the hint of a suspicion you had a deformity of any kind, including weak eyesight, you could have been bombed out. We kept up our deception for years!'
Jim Craig said, 'I fully admit to making life difficult for Big Jock and I'm sure he found me a bit awkward. Right from the start, Jock could never get his head round the fact I had a job outside football. I was a qualified dentist – surely the only one who ever won a European Cup medal! – and he wasn't prepared to accept that I could concentrate 100 per cent on being a footballer while I had outside interests. I told him many times that I could, indeed, do both jobs equally well, but he was never convinced. It would be fair to say we had a few run-ins during our time together.
'Don't get me wrong – Big Jock was a very talented man. An exceptional, ground-breaking manager. Football to him was everything and if you weren't eating, drinking, sleeping football, too, he believed there was something wrong with you. You got the impression you should park your brain at the door outside Celtic Park and pick it up on your way home. I had other interests, but I would defy anyone to say I wasn't committed to the Celtic cause.
THE PROFESSIONAL TOUCH…Jim Craig never gave anything less than 100 per cent.
'When I pulled on that green and white shirt, I was as ready to go as anyone. Jock and I had a problem, though, because of our differing attitudes. I'll admit I could be deliberately obstinate. I had an inquisitive mind – still do, I hope – and I would ask questions. This was something that was new to Big Jock and something he didn't embrace with any enthusiasm, believe me.
'I was the guy who would query this, that and the next thing while most of my colleagues bit their tongue and kept quiet. He would point to the tactics board and go through a lengthy routine. Some of us took it in and others didn't. How could you tell Jimmy Johnstone how to play? I would ask a few questions and make a point or two and our manager plainly didn't welcome such intrusions.
'He was a meticulous planner – probably the first of his kind. He would go through our line-up and tell us exactly what he expected us to do. He rarely dwelt on the opposition. He concentrated mainly on us and how we should perform. I thought it was only right and proper that I should ask a question or two just to clear up any possible misunderstanding. If Plan A wasn't working, what was Plan B? Jock didn't like that.
'He was a big fan of the master-servant relationship and, naturally, I didn't agree with that mode of thinking. For a start, I was halfway through my dental studies and that's a job where, quite literally, you have to think on your feet. You have to make decisions very quickly. You are very much your own man. So, I have to admit, when I turned up at Celtic Park and found I didn't have a mind of my own, it was extremely difficult to accept. Big Jock would wave you away with that big left hand of his. "Och, just do as you're told," he would say. Okay, he was the boss, but that didn't mean I had to touch my forelock every time I spoke to him. In fact, I was never a massive admirer of authority figures. I'm afraid that still applies!'
One player who did blow his top at the Celtic manager and lived to tell the tale was Harry Hood. He remembered an incident at the end of a game. 'I still don't know what came over me that day,' said Hood. 'I just lost it completely when Jock accused me of refusing to pass the ball to George Connelly on one occasion. Normally, things like that can sweep over you and the boss can make another observation to another player. I completely respected Jock Stein and he knew that. However, in an instant, I flared up and that, as everyone would no doubt tell you, was hardly my style.
'I would always like to think of myself as a level-headed individual who could take on board some criticism. I wasn't having this, though. I stood up and yelled, "How dare you accuse me of that! I wouldn't do such a thing. If I thought George was in a better position then I would have passed the ball to him." And so it continued for another minute or so. Jock just looked at me and said nothing.
'I went to have a shower and Roy Aitken said to me, "Are you alright, Harry?" I was still shaking when I answered, "Yes, of course, I am. Why?" Roy just laughed, "Because you're still wearing your kit!" In all the commotion, I had stormed off and forgotten to get stripped. It was the one and only time I had raged at Jock Stein.'
Hood, though, was convinced Stein tried to get his own back before a Scottish Cup-tie in 1971. 'We had drawn 1-1 with Dunfermline in the first game at our place and Jock was fizzing. We were due to face them in the replay four days later at East End Park, never the easiest of venues to visit. I had a pub at the time and Jock must have known his future son-in-law was having his stag night at my place twenty-four hours before the game in Fife. Obviously, it was impossible for anyone to reschedule and we had planned for a blank midweek.
'The replay put paid to that. I stayed until closing-up time about 2am and cleared the place before going home. I think I had one pint of lager all night. Jock might just have thought I was going to have a few and join in the revelries. No chance. Now, Jock rarely swore, so when he did utter an oath it made an impact and had the desired effect.
ON THE RUN…Harry Hood had to prove Big Jock wrong.
'As we were getting ready at East End Park, the manager opened up. "You bastards have got us into this mess," he bellowed. "Now get us out of it. You were all hopeless on Saturday, the worst ever. Get out there and get the job done." I was sitting among the rest of the players when I was aware there was a giant shadow cast over me. I looked up and realised Jock was directing most of his diatribe in my direction. So I was "the bastards" who had got us into this mess? Only thing to do was go out there, perform and make sure Celtic's name was in the hat for the next round's draw.
'It was a very tough game as I recall and Jock might have wondered where all my stamina was coming from. On that score, he had nothing to worry about. I would never indulge a day before a game. Or even a couple of days. Thankfully, I got the only goal of the game and, equally satisfying, I scored a penalty-kick in a 2-1 final replay win over Rangers later in the season. At the end of the East End Park encounter, Jock eyed me suspiciously as I came into the dressing room. I'm sure I detected a slight smile. Mind you, it could have been wind!'
However, Stein did have the pleasure of verbal blast at Hood some time later. 'We were playing Cowdenbeath and we were four goals up inside twenty minutes or so and were cruising,' said Hood. 'It was only a month after our win over Dunfermline and the manager saw his opening. "How dare you play like that?" came the roar from the touchline. Okay, we were knocking the ball about at a rather leisurely pace and, of course, the job was done. Jock, though, was on his high horse. "The punters want entertained. There's still over an hour to play and they've paid good money to watch you. Get your finger out." Eventually, we won 5-1 and I scored two goals. Jock was still growling on the team bus all the way back from Fife.'
Callaghan was part of the revolution at Celtic when he was bought from Dunfermline and he said, 'I used to get ribbed by some of the Lisbon Lions, especially Bobby Lennox. "Where's your European Cup medal, Tommy?" I was asked on more than one occasion. I would always reply, "Just remember that Jock Stein bought me to STRENGTHEN this squad."
'That would shut them up. For a second or two!'
* TOMORROW: Don't miss part two of 'FAREWELL TO THE LIONS', another dramatic instalment from Alex Gordon's book, 'CELTIC: The Awakening' – only in your champion CQN.
Click Here for Comments >