TODAY CQN brings you the thirteenth EXCLUSIVE extract from Alex Gordon's book, 'CELTIC: The Awakening', which was published by Mainstream in 2013.
The book covers the most amazing decade in the club's history, the Sixties, an extraordinary period when the team were transformed from east end misfits to European masters.
JOCK STEIN'S family were staunch Protestants from Burnbank and his father George was a fervent Rangers supporter. The family hoped Jock, adept at performing at centre-half or left-half, would one day sign for the Ibrox side.
That was the aim and wish of his father. His son should play in the blue-red-and-white of Junior side Blantyre Vics before swapping it for the blue-red-and-white of Rangers. Jock, though, displayed a very independent streak early in life. He was not rebellious and never displayed the slightest bit of curiosity concerning the religious divides of a small mining community, where the majority, Protestants, would have their meeting place at Burnbank Cross and the minority, Catholics, would meet at Glenlee Street at a spot known locally as 'Pope's Corner'.
Later in life, Jock Stein also never made any attempt to disguise the fact he thoroughly enjoyed beating Rangers.
According to Celtic players, Stein had been somewhat irked by the media coverage carved out for Davie White who had taken over from Scot Symon as Rangers manager in 1968. At thirty-four, White was the same age as Stein when a London specialist informed the Celtic centre-half his playing career was over, that his damaged ankle would stubbornly resist repair.
White had won all of his eight league games, his stock was on the rise, praise was avalanching his way and a new-found status was being carefully cultivated. He was seen as the brash Young Pretender, not quite viewed in the same more sedate and sombre manner as that of his predecessor, but a tracksuited man of the sixties, an image more in keeping with the evolving social lifestyle of the time.
Stein was not about to be overshadowed and was determined to leave White's so-called new standing in tatters after the Old Firm head-to-head on the second day of the new year in 1968. As ever, he wanted to win this game. More than ever, though, he was eager to triumph while rubbing Rangers' noses in it.
THE BIG MAN…Jock Stein plots the way ahead.
First, though, White's former club Clyde had to be taken care of at Shawfield on New Year's Day in 1968. Celtic made heavy weather of it before scraping  a 3-2 victory. Stein rested Jimmy Johnstone, keeping his extrovert winger in mothballs before being unleashed on Rangers twenty-four hours later. Goalkeeper John Fallon had been told he would be playing with Ronnie Simpson getting a rest.
Stein, without explanation, changed his mind about two hours before kick-off; Fallon was out, Simpson was in. It was a decision that was to have dramatic consequences the following afternoon. Celtic toiled on a difficult surface, but two opportunist goals from Stevie Chalmers and another from Joe McBride got the job done. Simpson twisted an ankle on a ground that would never become one of his favourites. Stein, though, said he fully expected the veteran custodian to be fit for the following day. The manager's prophesy was cast in stone as far as understudy Fallon was concerned. At the same time across at Ibrox, White was piloting his charges to his ninth consecutive success; Rangers overcoming Partick Thistle 5-2.
Now it was showtime. Celtic v. Rangers; Jock Stein v. Davie White. Bertie Auld recalled, 'Publicly, Big Jock would inform everyone that a meeting with Rangers was just another game. Privately, the players all knew just how much he enjoyed putting one over our old rivals. I would go as far as to say he detested Rangers. I don't think that is too strong a word. He really disliked them. We all knew his background, we realised where his roots lay, but we also saw him after a win over Rangers.
'You would have needed plastic surgery to get the smile off his face. We could beat any other team 2-0, 3-0, 4-0, you name it and we could still get a rollicking when we turned up for training on Monday. If he had seen something that upset him, irrespective of the winning margin, he would give us pelters. However, we could play awful, get a lucky goal and beat Rangers and we never heard a thing; not a murmur. Lose, though, and life wasn't worth living.
'He rarely, if ever, talked about the sectarian divide. He was a Protestant managing a club with Catholic origins and he had Protestant players such as Ronnie Simpson, Willie Wallace, Tommy Gemmell and myself playing for him. Religion didn't come into it as far as he and Celtic were concerned. It did across the Clyde, though. For long enough Rangers would not sign a Catholic.
'It was well-known that they were put off signing a young player who would go on to become world class because of his name, Danny McGrain. If only they had known. Jock used to insist if there were two players of equal ability and one was a Catholic and one was a Protestant, he would sign the latter. He would say, "Well, Rangers can't sign the Catholic, can they?" Sadly, that was the case back then. Jock found it extremely distasteful. He was only interested in a guy's playing ability and not the school he had gone to. Maybe that fired him up just that little bit more for games against Rangers.'
BOLD FIRM…Bertie Auld loved the cut and thrust of Glasgow derbies against Rangers.
Auld also recalled Stein preparing for the visit of Davie White on the second day of 1968. 'I think Jock sensed panic in Rangers' decision to dismiss Scot Symon after his thirteen-year reign and appoint a much younger man. The press had talked up Davie White as a new breed of manager, one for the future with fresh, wonderful, innovative ideas, all that sort of thing. So far, though, as the Rangers manager, he hadn't come up against Jock Stein or Celtic.
'As you would expect, Jock would show every respect and every courtesy to a fellow professional sportsman, but, deep down, we all got the message he was eager for Rangers' new boss to understand what pressure, real pressure, was like. As a footballer at Clyde, White had played against Celtic and, as a manager of the same club, he would also have faced Celtic. Anything he had encountered in the past, though, could only be considered infinitesimal as to what awaited him in an Old Firm encounter. Especially that first one against Big Jock and we knew The Boss was looking forward to the match with even more than the usual enthusiasm he seemed to reserve for these encounters. On this occasion, he didn't just want to dent the younger man's credibility or  popularity with his growing admirers among the Rangers board, the Ibrox supporters and the Scottish media – he wanted to obliterate it.'
He might have succeeded, too, if Ronnie Simpson had overcome the ankle injury sustained at Shawfield. John Fallon fully believed the biggest problem he would encounter that afternoon would be to fight off frostbite sitting in the stand with Jimmy Quinn the designated substitute. 'I was in the table tennis room when the door was kicked open and in rushed Big Jock,' recalled Fallon. 'He grabbed me. "You're playing," he said and hurled me through the door. All the other players were stripped and ready to go. The referee, Bobby Davidson, was waiting for me to change and get my boots on, he checked them and we were ready to go. One minute I'm playing table tennis with a couple of reserve players and the next I'm out there in an Old Firm game with 75,000 looking on.'
In the full expectation that he would not be required to perform anything more strenuous than trying to avoid splinters in his backside on a wooden bench, Fallon admitted he had a bit of a late night followed by a huge breakfast before the game. Hardly ideal preparation. And so it proved. It was another severe winter's afternoon in the east end of Glasgow when the Arctic chill invaded the very marrow of your bones. Supporters stood on the terracings with stiffened limbs and did their best to get the blood corpuscles moving around their system.
'It was a day for the wee half bottle or the hip flask to come into action for the fans,' said Gemmell. 'Lucky beggars!' Auld had his manager – and the Celtic followers – smiling when he got the opening goal. 'I remember it well,' said the midfield orchestrator. 'We were awarded a direct free-kick about five yards from the edge of their box on our right. It was the ideal strike for a left-footed player and, as Big Jock never tired of telling me, I only possessed a left foot. They erected their usual defensive wall in front of goalkeeper Erik Sorensen. Bobby Murdoch stood beside me, but I knew I would be taking it. Sometimes it was good to wait that wee bit longer and crank up the tension. You look at the opponents in front of you and they are wondering what is coming next. You've got the upper hand because you know exactly what's about to happen.
'The ref blew for the kick to be taken, but I still lingered just that little bit longer. Then I stepped forward, struck it sweetly enough and it took the merest of nicks off a defender and flew into the net. Sorensen didn't even move. The Celtic support went crazy. The Rangers end was silent. We were 1-0 up and, as ever, we would want to add to that as swiftly as possible.'
OOPS…Rangers striker Willie Johnston hits a shot past John Clark. Moments later, John Fallon was picking the ball from the net after a lapse in concentration.
Fallon then dropped an awful clanger to allow Rangers back into the contest before the interval. The keeper must have anticipated a stronger hooked shot from Willie Johnston, but the Ibrox striker merely mishit his effort from about ten yards. Fallon didn't look comfortable as he tried to scoop the ball into his arms and, to the consternation of his manager, his team-mates and the Celtic fans, allowed the ball to trickle through his legs and over the line. It was overcast with a heavy mist settling on the east end of Glasgow and it appeared to take the Rangers support, down at the other end, some time to realise their team had drawn level.
A couple of seconds later and it was their turn to go wild with delight. Fallon knelt as if in prayer. Gemmell fished the ball out of the net. 'I felt sorry for John,' he recalled. 'It's the same old story about goalkeepers, isn't it? They make one mistake and it's normally fatal. Outfield performers can make error after error and it won't affect the scoreline. But there is no way back for the poor old goalie. They are rarely remembered for the ones they stop, but the ones they let in. At that particular moment, John looked distraught. You had to feel for him.'
With a minute to go, it looked as though Stein would get his wish of a victory over his young managerial challenger. Celtic were ahead again with a superb curling drive from Murdoch from about twenty-five yards on the right. Murdoch, like Gemmell, knew how to punch a hole in the net with a shot of devastating power, but he also possessed the extraordinary ability, especially for such a well-built man, to delicately glide the ball around with a range of stunning versatility.
Sorensen, steeling himself on his line for the anticipated thunderbolt, was bamboozled when the midfielder checked slightly before deftly striking the ball. It arced round the keeper at his right hand side and settled in the net. The Celtic support, behind that goal, rose as one for the second time that day. Fallon, at the other end, breathed a sigh of relief. With sixty seconds remaining, the keeper must have been counting down the clock.
Kai Johansen, who never seemed to be anonymous in Old Firm confrontations, broke from his own half down the right. He peered through the deteriorating conditions before trying his luck from long range. He didn't connect properly and the ball seemed to bounce weakly towards Fallon. He couldn't do it again, could he? The answer came when the Rangers crowd behind him rose in unison with the Celtic fans, one hundred or so yards away, wondering what all the commotion was about until the horrible realisation dawned that their keeper had blundered for a second time. Fallon had allowed Johansen's effort to crawl under his body and barely cross the line. 'I must admit it was a howler,' said Fallon. 'After the game, Big Jock looked as though he wanted to strangle me.'
'Strangle him? I wanted to string him up!' said Auld. 'He was a dejected figure in the dressing room and didn't need to be told he had performed miserably. I don't think either of the shots carried enough oomph to even hit the net. At the same time we were aware the dropped point could have catastrophic consequences at the end of the season. We were two points adrift and that was the second and last Old Firm game of the campaign. Basically, that meant we could win every game between now and the end of the season and still not win the league. Rangers could even afford the luxury of a draw in their remaining fixtures.
'We needed someone to do us a favour because it was now out of our hands. It's incredible how things swing about in football. By the way, John's nickname was Peter and, at least, he had lived up to his moniker that day. Peter? We christened him after a character called Peter Brady who starred in the popular sixties TV programme The Invisible Man. Fallon had that ability to go AWOL at times. Brady used to be swathed in bandages and, after they had unravelled, there was nothing there. We weren't too pleased with Peter, but we didn't want to see him in bandages. I wasn't too sure about Big Jock, though!'
After all the meticulous planning by Stein, two horrendous goalkeeping mistakes had let Rangers and White off the hook. Celtic were by far the superior outfit on the day; there could be no argument about that. What was also undeniably true was the fact that the new Ibrox man in charge had left Celtic Park still unbeaten after ten games and with Rangers remaining two points ahead in the race for the championship after overcoming their most difficult obstacle. Neither Stein nor Celtic received too much praise in the following day's newspapers. They had played well, controlled the match for almost its entirety and restricted Rangers to two shots on target. Unfortunately, they both eluded Fallon, who would not be chosen for the remaining sixteen league games of the season.
'I was sent to Coventry,' said the keeper. One of the more cynical among the players in the Celtic dressing room observed, 'Big Jock would have preferred to have played himself in goal rather than let John anywhere near the first team again.' It should never be underestimated what this particular Glasgow derby meant to the Celtic manager. Stein was still seething as he left Parkhead hours later that evening. It would have been either a brave man or a fool to have wished him a belated Happy New Year.
With Scotland in the icy grip of winter once again, Celtic had to wait until a 20 January trip to face Hibs at Easter Road for their next fixture. It had been a frustrating eighteen days for Stein, especially with Rangers' two games against Falkirk at Ibrox and Hearts at Tynecastle going ahead during Celtic's enforced lay-off. It didn't help, either, that White's team had won both encounters. So, the champions were trailing by six points, an alarming amount, by the time they travelled through to the capital for what was clearly a must-win game. There was no way Celtic could afford to surrender more ground at the top to Rangers.
Simpson, to Stein's relief, returned to face his former team and Willie Wallace and Stevie Chalmers, missing from the 2 January line-up, were also back in attack. Right-back Bobby Duncan turned one beyond his keeper, Willie Wilson, and Bobby Lennox wrapped up a thoroughly professional performance with the second. How had Rangers fared that afternoon against Motherwell at Ibrox? Goals from Alex Willoughby and John Greig (pen) had given them the identical 2-0 scoreline. The pressure was relentless.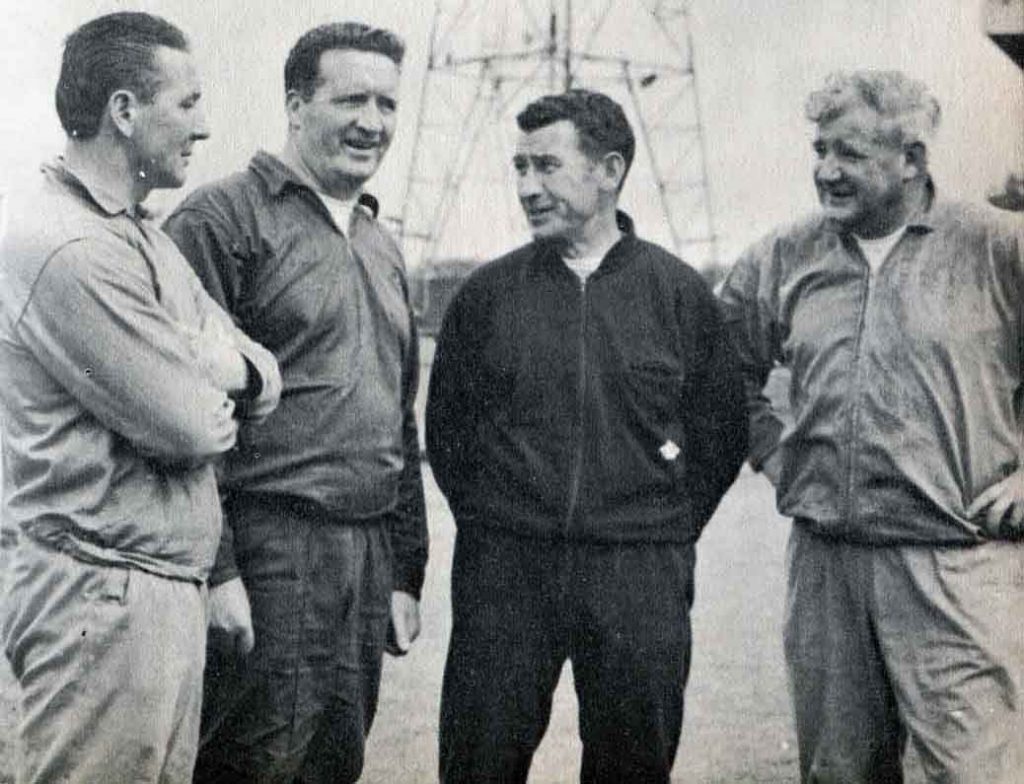 THE BACKROOM BHOYS…Jock Stein in discussion with his trusted team of Neil Mochan, Sean Fallon and Bob Rooney.
Celtic were given a break from chasing league points for their first defence of their Scottish Cup against Dunfermline at Parkhead the following Saturday. Stein was confident enough to give Joe McBride a place in his starting line-up. There was little doubt the marksman had lost a little bit of his sharpness, the quickness that allowed him to turn an opponent and rifle an effort at goal.
Auld said, 'Joe had taken a terrible injury and, back then, it was career threatening. Even today, with much more sophisticated technology, a cruciate knee injury is a delicate matter. You had to admire Joe, though. He put himself through it in the gym, did extra training sessions on his own, lapping the track at Celtic Park with no-one in sight and not once did he complain.'
McBride didn't know it at the time, but, as he lined up with the Fifers in his sights, he would play only two more games for Celtic before joining Hibs in November later that year. The Cup-tie against Dunfermline was laced with controversy, especially when it looked as though Celtic had equalised a Hugh Robertson goal for the visitors. Jim Brogan caught the ball sweetly from about twenty-five yards and his first-time drive left his former team-mate Bent Martin motionless as it thumped into the net.
Celtic Park erupted and not one Fife player complained, but, mysteriously, it was ruled out. Later the referee explained that Lennox was in an offside position. That was correct, but it was also accurate to point out that the player was in no way interfering with play. He was wide to the left of the penalty box and not even involved in the ruck of players in front of Martin. Celtic protested, but the match official stuck to his bewildering decision. In these enlightened times, that decision would have been poured over and the referee's judgement would have been shredded. Back then, unhappily, you could make such a call in the knowledge very little would have been done about it.
If McBride's Celtic career was coming to an end that afternoon, that also appeared to be the case of Davie Cattenach, one of the original Quality Street Gang, the young reserves who were being lined up by Stein to become the Celtic of the future. Youngsters such as Kenny Dalglish, Davie Hay, Danny McGrain, George Connelly, Lou Macari, Jimmy Quinn and Vic Davidson were being nudged gently along the conveyor belt awaiting their opportunity to make an impact on the big-time.
However, for one, Cattenach, the future was hardly bright on that freezing Saturday afternoon in the grim east end of Glasgow. A wayward pass in the second-half from the youngster was seized upon by Dunfermline striker Pat Gardner, Simpson's late rush from goal couldn't avert disaster and the ball was carefully knocked into the inviting net. Cattenach looked on in horror.
'I believe that was the beginning of the end for Davie,' said his young team-mate Davie Hay. 'Jock didn't say anything after the game. However, I don't think it was ever the same for my pal after that. One bad pass and goodnight Celtic. Winning wasn't everything to Jock – it was the ONLY thing.'
The Scottish Cup trail, like the European crusade, hadn't managed to survive the first test. That bleak January afternoon saw the Dunfermline players celebrate like they had won the tournament and, in fact, they managed that feat late in April when they beat Hearts 3-1 in the final at Hampden on an extraordinary day, not only for them, but also Celtic.
Rangers had toppled at the quarter-final stage of the competition after drawing 1-1 at Ibrox with Hearts before a goal from Donald Ford ousted them in the replay. Rangers' interest in Europe would also end in March when they lost 2-0 on aggregate to Leeds United  at the quarter-final stage.
That meant, like Celtic, their priority was the league championship, both clubs zeroing in on that particular piece of silverware to have something to celebrate at the end of a somewhat intriguing campaign. Stein's remit to his side was simple: win every game from now until the end of the season.
No doubt White was sending out the same message to his troops in Govan. Who would crack first in this exhilarating pursuit of the flag?
* TOMORROW: JOCK v RANGERS (Part Two): The remarkable title race for the 1968 First Division title takes some unexpected twists and turns. The next dramatic instalment of Alex Gordon's book, 'Celtic: The Awakening', continues – ONLY in your champion CQN.
Click Here for Comments >