TODAY CQN brings you the tenth EXCLUSIVE extract from Alex Gordon's book, 'CELTIC: The Awakening', which was published by Mainstream in 2013.
The book covers the most amazing decade in the club's history, the Sixties, an extraordinary period when the team were transformed from east end misfits to European masters.
TOMMY GEMMELL has, like most of us, been forced to overcome the obstacles that fortune and fate so often scatter around our path through life. So, when the smile on that beaming Danny Kaye face of his lights up even the darkest place, you realise this character is far removed from being that of someone with the merest hint of a pessimistic outlook.
Tommy has always been respected for his forthright honesty. On occasion, that quality can jar with some people, but it will never stop a genuine footballing legend from telling it like it is. Candid as ever, he says, 'I can't see Celtic ever emulating what they achieved in 1967. There is every likelihood that will remain the greatest year in the club's history.' Then he grins, offers hope to the Celtic legions and adds, 'Never say never, though.'
It was the year when the jigsaw came together so spectacularly. How could a team that had been soundly hammered 6-2 by Falkirk, humbled 5-1 by Dunfermline, destroyed 5-2 by Kilmarnock and embarrassed 3-0 by St.Johnstone two seasons previously ever expect to achieve the honour of being crowned the best side in Europe, the first British club to conquer all to win the European Cup?
It was a completely unexpected and stunning turnaround in Celtic's fortunes. Instead of being humbled by some nondescript opposition, Billy McNeill, in that wonderful Caesar-like pose, was standing  on what appeared to be a podium holding aloft the most glittering and sought-after trophy European football had to offer in sun-kissed Lisbon on that extraordinary day of 25 May 1967. Has there ever been a more iconic image?
TOMMY GEMMELL…Celtic's goalscoring full-backs leaves the field with Rangers rival Andy Penman. Billy McNeill (in background) is about to shake hands with Ibrox skipper John Greig.
The honour of scoring Celtic's first goal in the European Cup fell to Gemmell and only his blistering effort in the Portuguese capital some eight months later would better it. The club's first sortie as Scotland's ambassadors at football's top table had kicked off against Swiss side FC Zurich at Parkhead on 28 September the previous year. It was an evening in Glasgow that was riddled with anxiety, a blanket of tension settling on proceedings.
Gemmell said, 'Our Swiss opponents weren't quite as revered as, say, the giants of Europe such as Real Madrid, the Milan sides, Inter and AC, or the Benfica of Euesbio's era. We discovered, though, that they were a well-drilled workmanlike outfit who, it must be said, were making life somewhat uncomfortable for us that night. Although we had played in the European Cup-Winners' Cup and the Fairs Cup in previous years and had a taste for the game at that level, this was the first time we had taken on the actual champions of another country in competitive encounters.
'We could only guess at the standard of football in Switzerland. They didn't possess a lot of individual star names, but it should be remembered that the Swiss international side had played in the World Cup Finals in England just that summer. Those were the days before the influx of foreigners plying their trade all over the place.
'Therefore, it could be reasoned that a fair percentage of the FC Zurich side, their nation's title winners, would have been included in their international squad. We knew they would be no mugs and they were impressive in the tidy manner in which they went about their business. Big Jock had warned us of their speed while hitting on the break. We were desperate to win at our place, but, under no circumstances, could we allow opportunities to be presented behind us. We realised that would have disastrous consequences.'
Nerve-ends were jangling among the fans when the hour mark passed and there was still no breakthrough goal. The Swiss defenders were doing an excellent job of blunting the main menace of Joe McBride and Stevie Chalmers. Wingers Jimmy Johnstone and John Hughes were offered no encouragement by two pacy full-backs to advance down the flanks. The skills of Bobby Murdoch and Bertie Auld were being suffocated in a congested midfield. Cometh the hour, cometh the man and up stepped Gemmell.
As the clock ticked round to the 64th minute, John Clark thwarted a breakaway attempt and flicked a neat ball out to Gemmell, playing at right-back with Willie O'Neill on the left. Gemmell, a few yards inside enemy territory, nodded the ball down and must have been pleasantly surprised there was no posse of Swiss defenders swarming around him as he prepared to surge further forward. You got the impression there and then that something special was about to happen. The opposition clearly didn't know about the awesome shooting power of the full-back. The defenders backed off and Gemmell, as the whole of Europe would soon get to know, never needed to be asked twice about having a pop at goal.
Celtic fans, knowing what was about to happen, held their breath in collective anticipation. Gemmell assessed the situation developing around him in an instant, composed himself and then thumped in a mighty right-foot effort from about twenty-five yards. The ball was a mere blur. Goalkeeper Steffen Iten, safe and sound all evening, didn't move a muscle as the missile zeroed in on its target before smashing into the net at his top left-hand corner. It was hit with such frightening pace that the Zurich No.1 probably did himself a huge favour by not going anywhere near it. Jock Stein, only four days before his forty-fourth birthday, bounded out of the dug-out to acclaim the barrier-breaking goal.
Gemmell said, 'Most of the statisticians timed the goal at sixty-four minutes – just sixty seconds off my effort in Lisbon. So that might just give you a hint of why we were successful. We were extremely fit, very fast and every single individual possessed a wonderfully resilient, never-say-die spirit. Big Jock always had us primed for ninety minutes, or another thirty if extra-time might be required.
'There were no slackers in that 1967 squad. If there had been, they would have been right out the door. There was no messing with the manager. Jock insisted you could possess all the talent in the world, but if you couldn't ally that to fitness then you were wasting your time. Teams must have loathed playing us back then because they knew they would have to put in a full shift. There would be no wee rest periods while both sets of players took a breather.'
JOE McBRIDE…the powerhouse striker was on target against Zurich.
It got better for Celtic only five minutes after Gemmell's counter when McBride netted with a low drive from the edge of the box. The game ended on a controversial note that saw 47,604 supporters rather perplexed as they streamed out of the stadium. 'What was the final score?' they queried. 'Was it 2-0? Or was it 3-0?' McBride had left Iten helpless again with a typical poacher's goal. It certainly was not offside and the tannoy announcer must have been as puzzled as everyone else because there was no information coming from his vantage point in the main stand.
It later transpired an over-fussy match official had blown for time-up just before the ball had hit the net. In the end in didn't matter, Celtic winning 3-0 in the second leg with Gemmell adding two more, one a penalty-kick, and Stevie Chalmers claiming the other. Gemmell revealed, 'Big Jock told us it would be easier for us in Zurich than it had been in Glasgow. He reasoned we would have more space to work in and they would have to leave gaps as they searched for goals. And so it proved, he was bang on the money yet again.
'The Swiss weren't as disciplined as they had been in Glasgow and, in truth, their heads went down when I got the opener and then Stevie got on the end of a Bobby Lennox flick from a corner-kick to fire under the keeper's body to make it an uncatchable 4-0 aggregate. I was delighted to get the third from the spot and become the first Celtic player to get a European Cup hat-trick for the club. Okay, it wasn't technically a hat-trick with the goals spread over two games, but you wouldn't take that away from me now, would you?'
The French champions of Nantes were the next to fall on a 6-2 aggregate in the second round; both ties finishing 3-1. France's finest were convinced the Scots would not be celebrating St.Andrews Day on 30 November at their Malakoff Stadium. They gave Jock Stein's men a fright by taking the lead through Jean Magny in the twentieth minute, but the response was instantaneous and McBride levelled four minutes later. Jimmy Johnstone had already won over the home support as they christened him La Puce Volante – The Flying Flea – as he shredded his direct opponent, the unfortunate Gabriel De Michele.
GLORY BHOYS…Jimmy Johnstone and Tommy Gemmell celebrate after the goalless draw against Dukla Prague in Czechoslovakia.
The outside-right was a darting threat as he put on a solo show for the 15,464 crowd and, with the Celtic players' superior stamina and fitness, Stein told them to kill off their opponents after the interval. Bobby Murdoch picked out Bobby Lennox with one of his trademark through passes and the speedy raider was onto it in a flash to wallop in the second. Late in the match, Chalmers fired in the third. The second leg was in Glasgow only a week later and Stein promised the fans, 'We may be 3-1 ahead, but we are committed to attacking, entertaining football and I can assure everyone that again will be the case on this occasion.'
La Puce Volante, aka Jimmy Johnstone, decided to stage an encore and got the opening goal in the thirteenth minute, Robert Georgin equalised on the night and, after the interval, Chalmers headed in a Johnstone cross and, it was deja vu for the French, when the little winger skipped down the right again and sizzled in a low cross that was tucked away by Lennox from close range. Celtic could now take a breather in the competition until March 1967 when they would meet Yugoslavia's Vojvodina Novi Sad in the quarter-finals.
The league continued at the turn of the year and icy conditions meant a postponement of the traditional New Year's Day fixture. After dropping three points in the last two games of December, drawing 1-1 with Aberdeen and then losing 3-2 to Dundee United, Celtic got back on track on 7 January with an excellent 5-1 triumph over Dundee in Glasgow. The club gleefully romped to another five successive triumphs with Stevie Chalmers scoring eight of his side's nineteen goals. He was dovetailing nicely with Willie Wallace as the attack's spearhead in the absence of the unfortunate Joe McBride. Stirling Albion, on their own little trim Anfield pitch, halted the green and white juggernaut for the second successive season with a 1-1 draw.
ON THE BALL AND ON THE RUN…Bertie Auld, the midfield maestro.
It was another scrappy performance on a playing surface that left a lot to be desired. Auld said, 'Yes, I played that day, too. In fact, ten of the team that faced Stirling Albion at their place would play in the European Cup Final with the curious exception of John Hughes who actually got our goal that afternoon. He was replaced by Bobby Lennox, of course, against Inter Milan. It's just as well they didn't hold the big game in Stirling instead of Lisbon, we could still be playing and trying to win!'
After the stalemate in Stirling, Jock Stein read the riot act once more to his troops and they responded with six consecutive successes as they homed in on their second title triumph in a row. The surge shuddered to a full stop in a goalless draw against Aberdeen in Glasgow.
The Pittodrie side's manager Eddie Turnbull, who, while playing for Hibs, regularly faced Stein, was as ruthless as his counterpart in aiming to achieve success for his club. He was a committed character who, it must be said, would never become a close confidant of the Celtic boss. They would go head-to-head at Hampden again in the Scottish Cup Final ten days later and the dour Turnbull, who never required a second invitation to scowl, would not leave the national stadium the picture of sweetness and light. Stein made sure of that.
However, there was a fright along the Hampden trail. Tommy Gemmell recalled, 'We were all on a high after beating Vojovodina Novi Sad to book our place in the European Cup semi-final. Three days later we played Queen's Park in the Scottish Cup at our place. The fans, including James Bond, Sean Connery himself, rolled in to see goals galore and they got one in the first minute from me.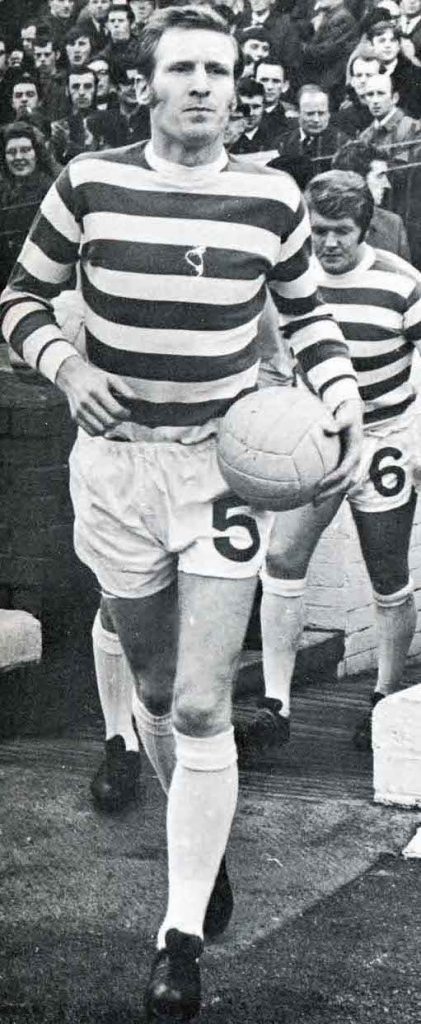 BILLY McNEILL…Celtic's onfield leader emerges from the tunnel. Davie Cattenach follows.
'Unfortunately, I placed the ball behind Ronnie Simpson. Oops! I'm glad to say I made amends by hitting the equaliser and then Stevie Chalmers, Willie Wallace, Bobby Murdoch and Bobby Lennox, in that order, I believe, took over as we won 5-3. Queen's Park really surprised us that afternoon by getting in about it. At the end of the day, we had played three Scottish Cup-ties, had scored sixteen goals and were in the semi-finals.' Billy McNeill added. 'The Queen's Park tie was a game that hammered into us the fact that, if we were to do anything in football, concentration would have to be our watchword. It acted as a wake-up call.'
Celtic were then held to a goalless draw by Clyde in the semi-final, but won the replay 2-0 with efforts from Lennox and Auld. Things were getting quite hectic around this period. The European Cup was rolling along in nerve-shredding manner, the Scottish Cup Final was due on 29 April by which time the club had cemented their place in Lisbon. As far as the league was concerned, Celtic had three games left to play against Dundee United, Rangers and Kilmarnock, all in Glasgow.
The pressure must have been getting to Rangers, too, in the run-in. They had lost 1-0 at home to Dunfermline, scraped a 1-0 win at Stirling Albion and then had two 1-1 draws with Clyde and Dundee. Unexpectedly, though, Celtic lost again to Dundee United by 3-2, the same score as the December game at Tannadice. Celtic were leading 2-1 with ten minutes to go before their stunning collapse. Celtic, watched by Inter Milan's cunning manager Helenio Herrera, travelled to rain-lashed Ibrox Stadium on 6 May with a game in hand over their rivals and in the knowledge a draw would be good to enough to be crowned champions of Scotland for a second successive season.
Gemmell once more takes up the story, 'The performance from Wee Jinky that afternoon was simply unbelievable. Helenio Herrera's first act when he left his seat in the stand afterwards must have been to change his trousers! The pitch was an absolute sea of mud and there was our 5ft Nothing outside-right terrorising the Rangers defence. That surface plus the fact the heavens opened up from start to finish made it difficult for even big guys such as myself, Jim Craig and Billy McNeill, all six-footers, to wade through the quagmire.
'It was exhausting stuff, I can tell you. Old Firm games were always difficult enough, but Rangers, who were a very good team back then, were doubly determined that we would not win the league on their ground. To emphasise the enormity of the task we faced, you only have to note that our old foes had also won through to the Final of the European Cup-Winners' Cup and would face Bayern Munich in Nuremberg only a week after we had played Inter Milan. Imagine that – both the major European trophies could have ended up in Glasgow in 1967. The Ibrox lads lost 1-0, but they took an excellent Bayern team to extra-time before they were beaten.
'So all guns were blazing when we turned up that day. The league was their last hope of domestic success because, after beating us 1-0 in the Scottish Cup Final replay the previous year, they had crashed 1-0 at the first hurdle to Berwick Rangers. After that game, I recall the Ibrox chairman John Lawrence saying, "There are individuals who will never play for this club again." Front players Jim Forrest and George McLean, in fact, never turned out for Rangers again. A bit harsh you might think, but, once again, it just showed how determined Rangers were to topple Celtic. Failure wasn't an option for a club who had got used to being the nation's top side.
RONNIE SIMPSON…Celtic's safe pair of hands.
'They might have thought they were on their way to avenging the earlier league and League Cup defeats that season when Sandy Jardine lashed an unstoppable shot high past Ronnie Simpson. Their advantage was nullified minutes later when Bobby Lennox struck the post and Wee Jinky skipped through the rain and glaur to prod the rebound past Norrie Martin.
'Into the second-half and the conditions continued to be miserable, the rain still teeming down. And, yet in this impossible situation, Wee Jinky conjured up a magical moment that is still as vivid today as it was back then. Our wee winger weaved his way in from the right. Their left-back Davie Provan seemed quite happy to see our winger meander across the pitch as opposed to attacking him down the flank. Jinky was on his 'weaker' left foot and the defence didn't come out to meet him. They must have wondered who he was going to pass to. Then the Wee Man took aim from about twenty-five yards and sent a scorching left-foot drive high past Martin into the roof of the net. I have absolutely no idea where he summoned up that energy or power from.
'It was extraordinary. The wee chap was soaked through, his jersey was flapping outside his shorts, his socks were round about his ankles and he still managed to dredge up such a fabulous feat of strength. Herrera must have felt sick! Rangers got a late equaliser through Roger Hynd, but the game remained at 2-2 and we celebrated the title on the ground of our oldest enemy. Happy days!'
Celtic went through the motions of completing their league commitments on 15 May when they beat Kilmarnock 2-0 with Wallace and Lennox on target. A concerned Inter Milan slipped another spy into the stand and he must have been confused to see John Fallon taking over from Ronnie Simpson in goal, an unknown in John Cushley playing at centre-half and skipper Billy McNeill turning out in the No.8 shorts. All kidology from Big Jock, of course.
It worked, too. The Scottish Cup had been claimed against Aberdeen the week before Wee Jinky dazzled in the downpour in Govan. The Pittodrie side had been impressive in getting to Mount Florida. Celtic had reached the final by claiming eighteen goals while their opponents had scored sixteen. A fine game was in prospect. There might even have been the flicker of a smile of the countenance of Eddie Turnbull. Well, before the game, anyway. Jock Stein went with the line-up that would make history just under a month later in Lisbon. A goal in either half from the prolific Wallace gave Celtic a 2-0 triumph in a Cup Final that was a lot more comfortable than the club might have anticipated.
So the league championship, the Scottish Cup and League Cup had all been won in the 1966/67 season. The players very graciously also threw in the Glasgow Cup with three successive 4-0 wins over Rangers, Queen's Park and Partick Thistle. Now all eyes were on Portugal. However, let's turn the clock back to a freezing cold evening in the old Yugoslavia and a European Cup quarter-final collision with Vojvodina on 1 March.
Billy McNeill said, 'I know the manager and the lads all rated the Slavs as by far the best team we had met that year, including Inter Milan. They were superb technically, but were also quite adept in what you might call the not-so-finer arts in the game. There were also some memorable mind games going on off the pitch between The Boss and their manager Vujadin Boskov, who went on to coach at some of the biggest teams in Europe, including Real Madrid two years after playing us.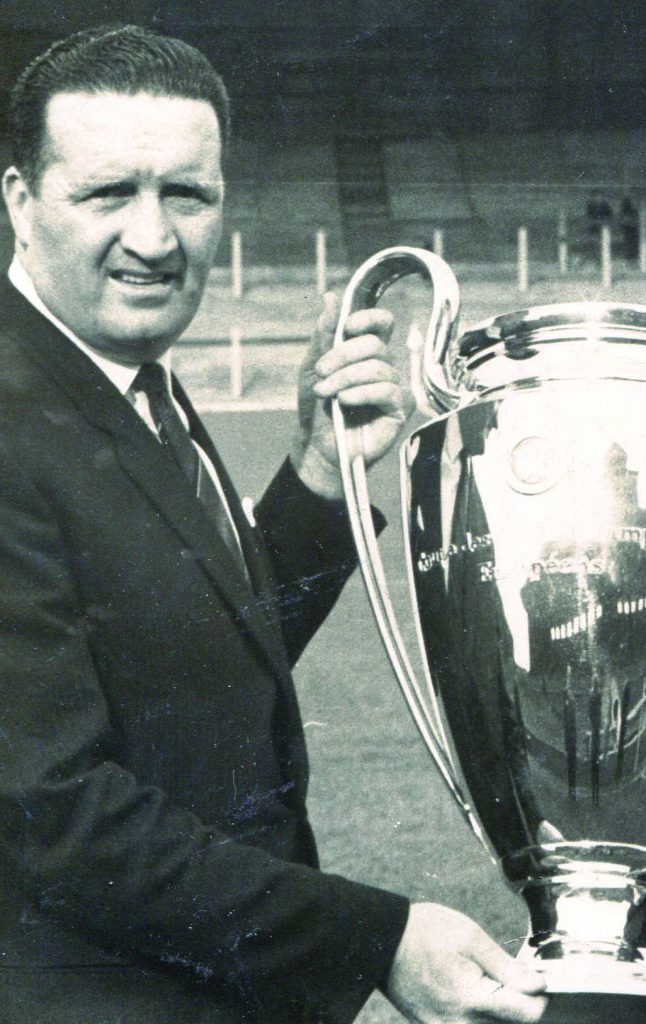 JOCK STEIN…proudly holding the European Cup.
'Big Jock clearly wasn't impressed by Boskov's pre-match prediction. The Slav boss stated quite clearly and emphatically that he believed Vojvodina would win by "at least two goals". Jock countered, "Oh, really? We'll see about that." When they won the first leg by a solitary effort, Boskov came out again and declared he hadn't been too impressed by Celtic and he fully expected his team to win again in Glasgow. Now if Boskov was trying to get Jock fired up for the return, he couldn't have done a better job. "We'll be ready for them," Jock said. He went public, too, with the Yugoslav press, saying, "Vojvodina are a very good team, but we are better and, take my word for it, we will win in the second leg." There was a little element of bravado because we all knew how difficult the Slavs would be in Glasgow.'
Boskov and his team turned up at Celtic Park the night before the match because they wanted a work-out on the pitch under the floodlights. It was normal practice for teams to go through this routine as it made a lot of sense for them to get a feel for the conditions they would encounter twenty-four hours later. Boskov, then, wasn't best pleased when Big Jock informed him neither he nor his team would be placing a foot on the pitch at Celtic Park.
Jock told him, 'Sorry, there's been too much rain recently and we can't take the chance of the pitch cutting up.' McNeill added, 'To be honest, the adverse weather conditions hadn't been too kind to Glasgow around the time of the game. Boskov was far from convinced. He made all sorts of protestations. "I'll take it up with your chairman," he threatened. Jock waved it away in his usual fashion. "You can train at Barrowfield and I'll make sure the lights are switched on. Off you go." No wonder my wee pal Bertie Auld would often insist, "When Jock Stein was in town the foxes fled for the hills!"
'To say Boskov was not amused would be putting it rather mildly. They were fizzing, but, at least, Boskov and his boys got the drift that Jock Stein was, indeed, the man in charge at Celtic. As far as football matters went, there was no higher power. Vojvodina, who had beaten a strong Atletico Madrid team to reach the quarter-finals, warned us they would have the last word on the matter at Celtic Park during the game. We gave them credit for being an extremely talented and resilient outfit, but we knew they weren't slow to hand out a wee bit of retribution every now and then. If they were trying to scare anyone at Celtic they were wasting their time.'
Gemmell had accepted most of the blame for the first leg defeat when, in dodgy conditions, he tried a passback that fell between Murdoch and Clark twenty minutes from time just when it looked as though the Slavs were running out of ideas on how to get through a resolute Celtic back lot with McNeill and sidekick Clark in imperious form. Gemmell remembered, 'I didn't make any excuses then and I'm certainly not going to do so now, but I underestimated two things that night – the flint-hard surface and the pace of a player called Djordic.
The pass might have looked like a lost cause to the Slav, but he didn't give it up and his sheer acceleration defied the elements. He got to the ball first, squared for Stanic and he thumped it past Ronnie, who was helpless. I got an earful from my goalkeeper and I put up my hands. "Sorry, lads," I said, "My fault."'I felt dreadful. One slack pass and we were smack in trouble – all our good work had gone for precisely nothing. I knew we would be up against it in Glasgow.'
As everyone knows, Celtic Park can be a special place on European nights with the stadium heaving, throbbing and rocking, the ground packed to the rafters as dramatic, breathtaking spectacles unfold before your very eyes. Could there ever have been one more memorable than the fraught, nail-biting encounter on the evening 8 March, a game that had everything when Vojvodina provided the opposition? Even that cinematic genius and Master of Suspense Alfred Hitchcock couldn't have scripted that ninety minutes with more skill or cunning. It was a bitterly cold, frosty evening in the east end of Glasgow, but no-one of the Celtic persuasion was complaining.
Gemmell said, 'How could I rectify my first leg mistake? Simple, really – I had to play out of my skin in Glasgow and, as usual, give my everything. I wanted to bomb forward at every opportunity, but Big Jock had drilled into us the need for discipline and concentration. We were up against a team with the ability to pick us off with laser-beam passes if we left any gaps at the back. Vojvodina were excellent at possession football and every outfield player looked comfortable with the ball at his feet, even in the tightest of situations. I remember we were reaching the hour mark in the tie and, to be honest, it was getting a bit exasperating. No towels were being thrown in, but we were beginning to wonder where the goal would come from. Then I saw a chance to use John Hughes as a decoy. Yogi came inside, taking a defender with him, giving me the opportunity to travel down the flank.
'I took a quick look up, saw Stevie Chalmers lurking with intent, as ever, and I fired over a cross. Their keeper, the highly-rated Ilija Pantelic, tried to cut it out, but Stevie was as brave as a lion, got in a challenge and then swiftly banged the ball over the line as the Vojvodina defence, for once, froze. Obviously, they had expected their goalie to deal with the danger, but they reckoned without the fearlessness of our striker. There were 69,374 fans crammed into Celtic Park that evening and you might just have heard my sigh of relief above the din.'
STEVIE CHALMERS…crucial leveller against Vojvodina.
Celtic saved the best to last. Billy McNeill said, 'I've always been a great believer that the best time to get an important goal is as near to that final whistle as possible. You can get off to a great start in a game and score in the first minute, but, logically, that gives your opponents another eighty-nine minutes to hit back. God knows Celtic gave away enough early goals to the opposition back then, but, to a man, we thought, "There's still eighty-odd minutes to go and plenty of time to turn things around."
'It's in the history books now that I headed the winner against Vojvodina in the last minute, but I have been told that the referee blew for time-up two seconds after the restart following that effort. Now that is a late, late goal. At 1-1 on aggregate, I'll always recall Big Jock waving us all up for one final assault on Pantelic when Charlie Gallagher raced over to take a right-wing corner-kick. In those days there was no extra-time, so if we wanted the job done in Glasgow, it was now or never. The game would have gone to a replay and I believe it would have taken place in Rotterdam. Anyway, I think Charlie was about to take a short corner-kick, but changed his mind. Thank goodness!
'There was the usual barging and jostling as I made my way forward. The Slavs had marked me very well at set-pieces and I hadn't really had a sniff at goal. On this occasion, though, my timing was absolutely spot-on. Charlie swung it in, I kept my run going, the ball hung in the air, I got a good leap and made superb contact. The next thing I saw was the effort soaring high into the net. Pantelic had strayed a bit – I think Stevie blocked his run – and they had a defender on the line who did a fair impersonation of goalkeeper as he tried to paw the ball away with his left hand. He was wasting his time – that was a goal all the way as soon as it came off my napper.'

WILLIE WALLACE…the striker shows how it's done with a neat close-range flick against Kilmarnock keeper Sandy McLaughlin. Jimmy Johnstone gets a close-up view.
The elegant Josef Masopust and his talented Dukla Prague team-mates now stood between Celtic and their date with destiny. The Czechoslovakian international captain had been voted European Footballer of the Year in 1962, but it was a bloke who used to play for Kilsyth Rangers, Stenhousemuir and Raith Rovers who took the spotlight in two highly-differing semi-final encounters. Willie Wallace, playing in his first-ever European Cup-tie, was on target twice in the 3-1 triumph in the first leg at a highly-charged Celtic Park on 12 April. It was a still evening in Glasgow, the wind a mere whisper, when Billy McNeill and Josef Masopust led their teams out of the tunnel onto the park to be greeted by 74,406 expectant fans. Supporters who used to worry about League Cup-ties against Queen of the South only a few years beforehand were being catapulted into a new stratosphere of excitement.
Stein brought back Bertie Auld in place of Charlie Gallagher. Curiously enough, Gallagher's last kick of the ball in European Cup football that season was to set up Billy McNeill's winning goal with his astute corner-kick against Vojvodina. Wallace recalled, 'I was in the Parkhead stand for that game. Apparently, I hadn't been registered in time with UEFA after signing from Hearts in December. I had been sitting alongside the injured Joe McBride.
'The atmosphere was electric and I thought,"Wispy, this is the place for you!" I was well up for the Dukla game. I had anticipated it for weeks and just hoped I would get the nod from Big Jock to play. Thankfully, I got my wish and everything went so well for me that night. We won 3-1 and I scored two goals. Okay, it would have been nice to have claimed a hat-trick, but I wasn't grumbling. I came close, you know. I actually hit the crossbar near the end.
'Big Jock told us beforehand, "Get a two-goal advantage and I'm sure we'll get through." My first goal came just before the hour mark when Tommy Gemmell launched the ball downfield. It might have been a clearance, but he has always assured me it was an inch-perfect pass. I'll take my big pal's word for it! Anyway, suddenly, I had a bit of freedom in the Dukla penalty area and managed to flick the ball with the outside of my right foot and it carried past their keeper Ivo Viktor.
THOU SHALT NOT PASS…Tommy Gemmell, with keeper Ronnie Simpson grounded, blocks an effort from a Falkirk forward. Jim Brogan helps out.
'About five minutes or so later, Celtic Park just went crazy when I scored again. It was all down to the cunning antics and quick-thinking of Bertie Auld. He stepped up to take a free-kick, paused, bent down, put his hand out and looked as though he was about to re-centre the ball. I knew what was coming next, though. Bertie merely slipped the ball to the right and I was coming in from behind him to hit it first time. The ball flew threw their defensive wall and was in the net even before Viktor could move.
'It looked like an impromptu bit of skill from Wee Bertie, but, take my word for it, that little bit of trickery came straight off the training ground. We practised that move every day. It was an idea by Big Jock who was always looking at ways of developing free-kicks and corner-kicks to take opponents by surprise. He always urged us to put variety into deadball situations and Wee Bertie seized the moment against Dukla.'
Stevie Chalmers had the ball in the Czechs' net early in the game after heading in a cross from Johnstone at the near post, but the referee cut the cheers short within seconds when he ruled the Celtic winger's boot was too high when he collected the original pass from Chalmers. There and then, everyone witnessing the spectacle realised the match official was certainly no 'homer'.
Johnstone, however, had the answer in the twenty-eighth minute when he netted one that did stand. It was a goal that started with a kick-out from Simpson. The keeper thumped one down the middle, Chalmers, busy as ever, got a flick and it fell for Auld who teed it up for Wallace. His shot deflected off a defender into the path of the inrushing Johnstone and, ignoring the menacing advances of Viktor charging from his goal-line, he gleefully lifted the ball over the keeper's head and into the net. Celtic Park was in bedlam, but it was silenced when the defence gifted Dukla a most uncharacteristic goal right on the stroke of half-time.
The Celtic back lot got into a real muddle on their own eighteen-yard line. The ball bounced around, boots were swung at it, but that spherical object stubbornly refused to leave the danger zone. Strunc, a beanpole striker who always looked menacing with his unorthodox style, pounced, dragged the ball wide to give himself a clear shooting chance and stroked it low past Simpson. The veteran No.1 was known to have a healthy sense of humour, but it deserted him at that moment as he berated the men in front of him. Heads were bowed as Celtic, after having so much of the play, headed for the dressing room level at half-time.
Gemmell said, 'We got the usual pep talk from Big Jock, but losing a goal right before the interval is a horrible time to concede and you must not dwell on it and concentrate fully on what is still to come. "Just play like you did in the first-half and we'll win," urged The Boss. Actually, we were already thinking along those lines, anyway. I know I was.'
Celtic took the 3-1 advantage to Prague, but, really, the tie could have been out of sight after a relentless second-half onslaught in Glasgow swept down on the exhausted Viktor and the men in front of him. Dukla were pinned back and, following Wallace's second goal, Celtic went for the jugular. Chalmers slashed one just past the upright, Wallace missed by inches, Murdoch sent a left-foot sizzler just over the crossbar with Viktor well beaten and then Wallace knocked one against the bar after some great work by Chalmers. Jock had asked for a two-goal first-leg lead and his players had responded. But it could have been a more handsome advantage Celtic carried with them for the return leg a fortnight later.
LISBON HERE WE COME…Jock Stein and Bertie Auld after the second leg of the semi-final against Dukla Prague.
The Celtic manager took everyone by surprise with his tactics for this game. Celtic, even the bad Celtic teams of the early sixties, were always adventurous, a free attacking force. They had scored sixteen goals from seven games – six away from home – in their run to Prague, but for the one and only time in his life, the manager ordered his players to defend in depth. He was shutting up shop with Lisbon only ninety minutes away. It was a temptation that was to prove too irresistible to ignore. Celtic did not go to Czechoslovakia to entertain.
Willie Wallace, two-goal hero in Glasgow, said, 'Big Jock pulled me aside before the game and gave me my instructions – I was to stick like a limpet to Masopust. Where he went, I went. An early goal for them in front of their own support could have made all the difference. Big Jock just wasn't prepared to give them that opportunity. Hence, he took me aside and told me about my new role in the side. He assured me it was a complete one-off and I was happy to hear that. At the same time, I was also determined to get the job done properly. Masopust was clearly the key figure in their side, their inspiration.
'By the time the kick-off came around I was ready for the challenge. I think I did fairly well, even if I do say so myself. Masopust had a quiet game with me at his side throughout. I could sense he was getting frustrated as the game wore on. I must have done okay because Masopust refused to shake my hand at the final whistle. I shrugged my shoulders and walked away. To be fair, this wonderful footballer did come into our dressing room afterwards to apologise for his actions and offered me his hand and wished us the best of luck in the final. I think that proved him to be a true gentleman and sportsman because he was in his mid-thirties by then and he must have realised he would never get the opportunity again to play in a European Cup Final.
'And, to their credit, the Czechs put a lot into that encounter. We had surrendered possession as we picked up their forward players and, consequently, they had a lot of the ball. However, we were determined they were not going to make good use of it. Ronnie had a couple of super saves in the first-half that helped settle the nerves. In Prague, it was all about getting the job done. I recall Ronnie screaming at his defence in a rare lapse in concentration by someone. There was only about a minute to go, but our keeper wasn't going to tolerate anyone switching off at any time. '
The game, of course, ended goalless and the man with the most thankless role in the line-up was without question Stevie Chalmers, told to play up front as a one-man forward line. Chalmers recalled, 'That was the solitary occasion I was banned from coming back into my own team's half of the field. Big Jock laid it one the line, "Keep busy, Stevie," he said. "Let them know you're out there." Okay, Boss! I was never afraid to put myself about and, as I recall, a few of their players bumped into my elbows that afternoon. It's a man's game, after all.
'I just kept going for the entire ninety minutes and the Dukla back lot weren't pleased. It was one of the hardest shifts I ever put in, but we were so close to that final place and, if that doesn't give you momentum, then nothing will. I got in about their defence to make sure they were stretched. Not the most glamorous role in the team, I'm sure you'll agree, but one that was vital in that game. They liked to build from the back and it was my job to make sure they didn't get too much time on the ball.'
There was an amusing moment late in the game with Dukla realising their European Cup dream was fading fast. Chalmers raced after a ball down the left wing and three frustrated Czechs descended on him. There was a melee and other defenders joined in. Bertie Auld sidled up to Billy McNeill and asked, 'Do you think we should go down there and give him a hand? He looks to be in a bit of bother.' The captain didn't hesitate, 'Naw, he'll be fine.' Then it was off to Lisbon, a chapter in Celtic's history that surely deserves a chapter of its own.
The League Cup, as in the previous two seasons, had already been deposited in the trophy cabinet before October was out. The Cup looked as though it was taking up permanent residence in the east end of Glasgow. Celtic recorded nine wins out of ten in the section, the only hiccup coming at Ibrox when they drew 1-1. As Tommy Gemmell quite rightly pointed out, Rangers would never be content to be second best to Celtic.
As they had done the previous year by spending a joint £100,000 on Alex Smith, from Dunfermline, and Davie Smith, from Aberdeen, they again got the cheque book out in the summer of 1967. They paid a Scottish record transfer fee of £65,000 to sign Alex Ferguson from Dunfermline, £50,000 to Dundee for midfielder Andy Penman, £50,000 plus veteran winger Davie Wilson and midfielder Wilson Wood to Dundee United for Swedish outside-left Orjan Persson and £30,000 to Morton for Danish goalkeeper Erik Sorensen. It was a remarkable piece of splashing the cash from the Ibrox bosses. 'They were flexing their financial muscle,' mused Gemmell. 'We weren't that bothered.'
'This is a new era for Rangers,' trumpeted the club and, after spending almost £300,000 in the space of twelve months, their supporters believed it. They would get an early chance to prove their point with three Old Firm meetings scheduled in a month. A goal from Johnstone was enough to get Celtic off to a winning start as they beat Dundee United in the opening group game before Gemmell drove in a penalty-kick in the 1-1 draw at Ibrox. The adventurous left-back was on target again along with Auld and Lennox as Aberdeen were beaten 3-1 in Glasgow.
Celtic kept up the good work with a 1-0 victory over Dundee United at Tannadice with Lennox on target. That set up one of the most exhilarating and exciting Old Firm confrontations in decades when Rangers visited Celtic on Wednesday 30 August. It is doubtful if there had ever been such a dramatic conclusion to any meeting between the two Glasgow giants in the previous seventy-nine year feud between the clubs.
Jock Stein's men were sitting on seven points while Scot Symon's side had six as they approached what would turn out to be a momentous occasion. The group table was, therefore, finely and delicately balanced. A Rangers triumph would tip the advantage in their direction with only one game left to play for both clubs. Unthinkable? With fourteen minutes to go and with 75,000 fans holding their breath – one section anticipating delight, the other dreading despair – Rangers, a goal ahead in eight minutes from Willie Henderson, were awarded a penalty-kick.
BOBBY MURDOCH…the master blaster was on target against Rangers in a sensational League Cup victory at Parkhead.
Kai Johansen, the Rangers right-back who had netted the Scottish Cup winner the previous year, strode forward to take the kick. He fired it high past Ronnie Simpson and then watched in horror as the ball clattered off the underside of the crossbar and bounced down three yards from the goal-line. The Dane then took a rush of blood to the head as he raced forward to nod the ball goalwards. The headed attempt was, of course, null and void because the keeper hadn't touched the ball and referee Tiny Wharton gave the free-kick.
The Ibrox players must still have been in a state of shock when Willie Wallace bundled in a left-wing corner-kick two minutes later for the equaliser. Parkhead was enveloped in pandemonium as Celtic surged forward, the players sensing blood. In the last seven pulsating minutes, Bobby Murdoch pummelled an unstoppable eighteen-yarder beyond Erik Sorensen and Bobby Lennox raced through a startled rearguard to slide the third under the keeper. It wasn't a great night for Danes around Parkhead that evening.
'We realised we had been given a reprieve when that Johansen penalty-kick struck the woodwork,' admitted Gemmell. 'In fact, goodness knows what might have happened if he hadn't touched it a second time. There was the usual scrum of players charging into the penalty area in pursuit of the rebound. One of their guys might have got there first, we'll never know. What was certain was that we had been given a 'Get out of jail' card and we were going to take full advantage of the situation.
'We were actually inspired in those closing minutes. Our fans were roaring us on as we had Rangers on the ropes. Our opponents had played well for most of that evening, but now they were panicking. The entire complexion of the game changed in that instant. It was an extremely important victory for us. A defeat could have seen the first of the season's silverware possibly heading for Ibrox and that would have given them a massive boost in confidence. As I recall, they had all four summer signings – Sorensen, Ferguson, Penman and Persson – playing that night, too, and it wouldn't have done them any harm to pick up a winner's medal only a few months into their new careers. Make no mistake about it, that was a big win for us.'
Pat McMahon, Jock Stein's first signing for the club after the European Cup victory, scored in a 5-1 win over a demoralised Aberdeen at Pittodrie in the next game. While Rangers signed huge cheques, McMahon arrived from Junior club Kilsyth Rangers as a host of big-name English teams, Manchester United and Chelsea among them, also chased his signature. He was a slender right-sided midfielder of whom much was expected. In fact, he looked very much like a young Slim Jim Baxter in appearance, but, for whatever reason, he failed to realise his potential and was later sold to Aston Villa. Bertie Auld recalled, 'The lad could play, no doubt about it, but he was very quiet. He used to enjoy reading books and playing his guitar after training.'
Next up were Ayr United in the quarter-final and they were clobbered 8-2 on aggregate and the goals continued to flow against Morton in the semi-final. Old Celtic warhorse Jim Kennedy played at left-back that night for the Cappielow side and, after years of threats from Sean Fallon, was programmed into showing no interest in crossing the halfway line. Mind you, he had enough trying to contend with the skills of a more mature Jimmy Johnstone, a vastly different player from the one he witnessed being introduced four years earlier. The finishing touch had now been applied to the touchline trickery. The Parkhead side coasted to a 7-1 victory – a memorable scoreline for many Celtic fans.
There was to be another eight goals scored in the October final against Dundee, just four days before the infamous World Club Championship second leg against Racing Club of Buenos Aires, but that's another story for another chapter. The Tayside outfit had romped to Hampden, claiming twenty-two goals on their journey to Glasgow, seven fewer than Celtic. Bobby Davidson was a referee who never courted popularity with the Celtic fans – 'It seemed to everyone at the club he had a deep dislike of Big Jock and I'm not sure he liked us, either,' said Tommy Gemmell – and he was put in charge of the League Cup Final meeting on a crisp, clear Saturday afternoon. 'Get one goal and go and get another,' Stein would often tell his players. 'Then there's nothing anyone can do to stop you winning. If they pull one back, go and get a third. Always remain in control.'
JOHN HUGHES…Big Yogi netted in thrilling 5-3 League Cup Final triumph over Dundee.
A crowd of 66,603 turned out at Hampden to wave a fond farewell to their South America-bound heroes while hoping to witness another spectacle. Neither Celtic nor Dundee, for that matter, failed them. It was a topsy-turvy encounter, but, heeding the words of their manager, Celtic always remained a couple of steps ahead of their rivals. Goals from Chalmers (2), Hughes, Lennox and Wallace gave the Parkhead side a 5-3 victory in a game they were never going to lose, despite some bizarre interventions by the match official. On the same afternoon at Ibrox, Rangers were booed off the field after being held to a goalless draw by Dunfermline, a result that was to figure heavily in another dramatic turn of events in Glasgow.
On the day Celtic prepared for the game against Racing Club, the Ibrox side ruthlessly sacked Scot Symon and replaced him with an ambitious young track-suited manager in Davie White, who had previously had a year in charge of part-time Clyde. The Rangers board believed a thirty-four-year-old rookie had the tactical knowledge and all-round nous to take on Jock Stein. They were to be proved wrong; very wrong. Symon, who had taken White to Ibrox from Shawfield only six months earlier, had won ten trophies for Rangers during the first five years of the barren sixties for Celtic – three league championships, three Scottish Cups and four League Cups. In truth, it was a praiseworthy haul most at Parkhead back then, especially the board, envied.
Rangers defeated Celtic 1-0 with an Orjan Persson goal in the league encounter at Ibrox on 16 September 1967 in front of 90,000 fans. Symon, who, like his old adversary Jimmy McGrory, was a three-piece suit, shirt-and-tie, hat-wearing manager, didn't get too much time to savour the triumph, shown the door precisely forty-five days later.
Gemmell, forthright as ever, made no excuses for the stumble at Ibrox. He said, 'There were ten Lisbon Lions out on the field that day (Davie Cattenach was in at right-back for the injured Jim Craig) and we just didn't get started. Possibly there might have been a bit of over-confidence among our ranks and that is lethal in these sort of games. Often if you start on the back-foot, it's difficult to get back into your stride. It gave us a jolt, though. Do you know we never lost another league game that season? Amazing! Thirty-two games, twenty-nine victories and three draws. I suppose you could say we responded pretty well to that Rangers defeat.'
There was a surprise early Christmas present for the Celtic supporters with the first league start of the season for Joe McBride against Morton on 23 December. It got better – McBride fired in a hat-trick almost a year to the day his career was put in jeopardy at Pittodrie. Hughes netted the other in a 4-0 romp. It had been a vigorous and relentless surge since the dip against Rangers way back in September.
Making it one of the most memorable championship chases in decades, Rangers, with Davie White settling in at the helm, had also embarked on an unbeaten run until 1967 came to a halt. Astonishingly, they had dropped a mere two points from a possible thirty-two, the draws against Hearts (1-1) and the goalless stalemate against Dunfermline, the result which was to end abruptly Scot Symon's thirteen-year tenure as manager of the club. White came in and, against the odds, produced a winning sequence of eight games. Jock Stein, with his champions trailing by two points, looked forward to ending the run in 2 January in the first Old Firm game of 1968.
However, there was still much of the best – and worst – of 1967 to reflect upon.
* TOMORROW: CQN's exclusive extracts of Alex Gordon's book. 'CELTIC: The Awakening', will continue with the team conquering Europe in 1967, the most glorious year in the club's history. Don't miss the next dramatic instalment – only in your champion CQN.
Click Here for Comments >