BERTIE AULD and Bobby Murdoch produced a midfield masterclass as Celtic overwhelmed Inter Milan in the European Cup Final triumph in May 25 1967.
The Italian champions simply had no answer to the awesome Hoops double-act as they masterminded the historic triumph in Lisbon.
Here, in another CQN Magazine special, is Wee Bertie's view on that unforgettable occasion…
ONE major disappointment for yours truly on our big day in Lisbon was the fact that I did not get the opportunity to pit my wits against Inter Milan's Luis Suarez.
Injury forced him out of their team and, immediately in the aftermath of our triumph, the Italians pointed out they would have picked up the trophy again if their much-vaunted Spanish midfielder had been playing. Believe me, that is utter nonsense. Suarez? They could have fielded Superman and they wouldn't have prevented us from winning that day!
The Italians, as ever, we just a bit too quick to delve into that well-thumbed tome, 'The Big Book of Football Excuses', although, to be fair, their manager, Helenio Herrera, and a few of their players were just as swift to congratulate us. They knew they had been  outplayed, outfought and outwitted.
But I really would have loved to have squared up to Suarez. I was on the left hand side of the Celtic midfield and his favoured position was the right-hand side of the Inter midline. It would have been very intriguing to see how we got on, to say the least. These days you can get pictures of players and watch them in action at the flick of a button thanks to satellite television.
Forty years ago, of course, that was not the case. You rarely saw up-to-date film of foreign players and you had to take what your boss told you about so-and-so's strengths and weaknesses. They were all a bit mythical back then and you had to take someone's else's word about their ability.
Of course, you could catch up with reports in the newspapers, but there was nothing quite like matching up with the guy in the flesh. Genuinely, I welcomed that opportunity in Suarez's case.
Suarez was one of the first football superstars. We all took a a sharp intake of breath when we were told Inter Milan had paid a mind-boggling £214,000 to sign the player from Barcelona in 1961. That was massive money all those years ago; easily the world record transfer.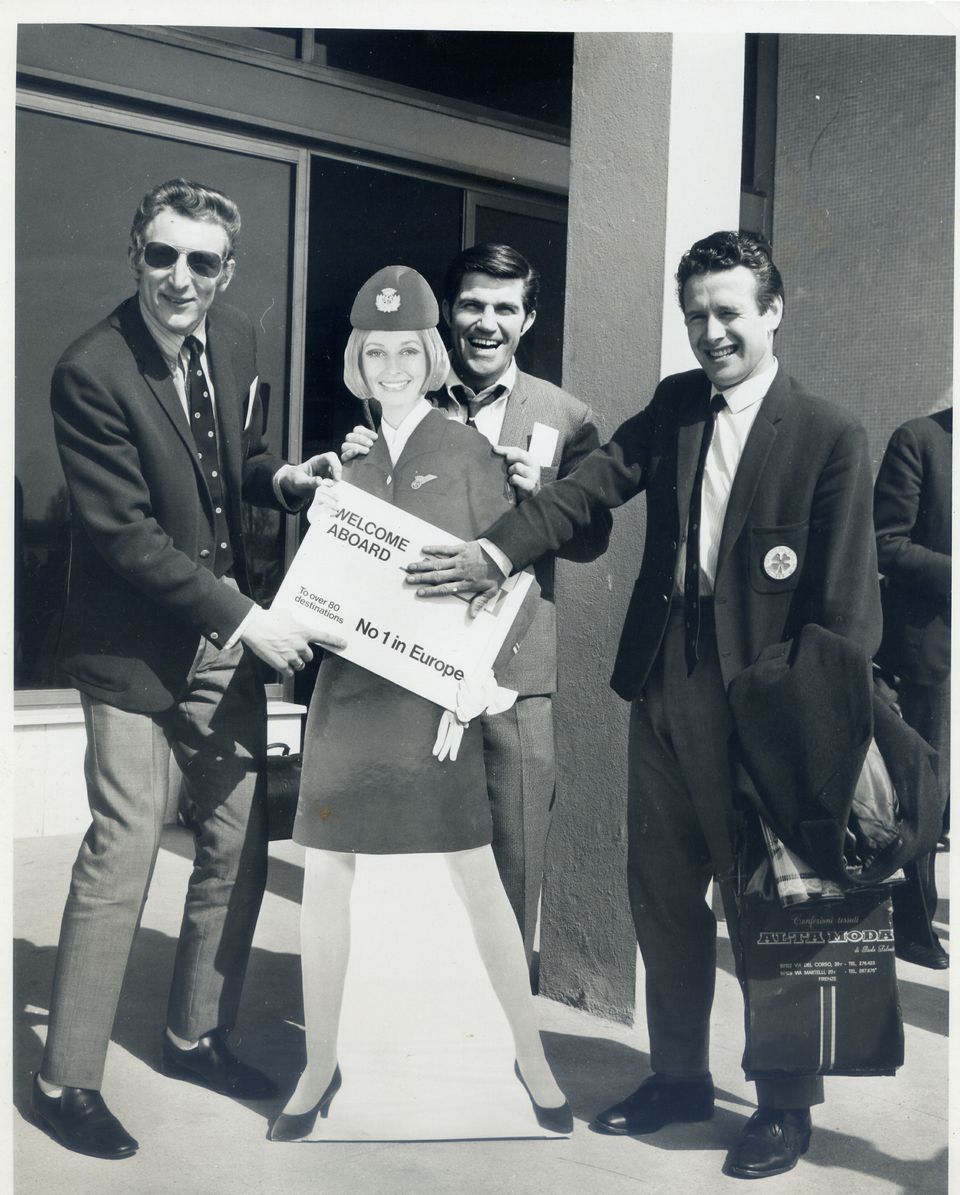 Look at the Celtic team that took the field at the Estadio Nacional six years later – it cost a total of £42,000, a mere fraction of what Suarez had signed for. We were also informed the Spaniard had negotiated a signing-on fee of £60,000 for himself. I didn't think there had been that much money printed.
The player was said to be picking up around £7,000-per-year in wages. Okay, I know an average player in the SPL can now command a figure like that on a weekly basis, but back in the Sixties that was massive dough. If I've got my sums right, the Celtic players were lifting something in the region of £1,300 in those heady financial days.
So, can anyone blame a wee chap from Maryhill for wanting to go toe-to-toe with this bloke? I would have loved it. I would have thrived on it. Apparently, Suarez was said to be suffering from a thigh strain in the run-in to Lisbon, but we did hear other suggestions that, at 32, he might not fancy playing against Celtic.
He would have known about our high energy levels. He would have heard about our fitness and our willingness to go flat out for 90 minutes. He was a cultured playmaker, of course, but this might not have been a setting for him to show those skills. I'm not say he chickened out, but what I will say is that it did not matter one jot whether or not he was on the field of play on Thursday, May 25, 1967 – we would have still won the European Cup.
Think about this, too. Suarez was not known for enjoying defensive duties. He did all his playing facing the opponents' goal from middle to front. Would he have chased Tommy Gemmell into corners? Would he have made runs to block off Bobby Lennox? Would he have trailed all over the place alongside yours truly? I doubt it.
His replacement was a guy called Bilic and he was actually more of a defensively-minded player and, naturally enough, Inter needed those sort of performers the way that particular 90 minutes turned out. Maybe, then, we might have won a bit more comfortably than 2-1 if Suarez had turned out.
I was also disappointed to read about the Italians saying they had struggled for a replacement. They were having a laugh, weren't they? Inter Milan with their many millions, the most expensively-structured line-up in the world could not find a suitable player to take over from Suarez? A team that had won the European Cup in two out of the previous three years and had also lifted the World Club Championship twice at the same time? Pull the other one!
So many fabulous memories come flooding back about that day. I'll tell you this, though – I'm totally convinced there was no need to kick-off in Lisbon. We won that game in the tunnel, believe me.
I will always, always remember the horrified look on the faces of their players when I belted out the Celtic Song and all my team-mates joined in. There was a fair distance to walk to the tunnel from the dressing room and we were all left standing there in this cramped space waiting for the go-ahead to come out and walk into that glorious sunshine en route to the lavish green grass of the pitch.
The timing had to be absolutely right because, of course, the match was being beamed live throughout Europe and some networks would have timed it to start only five minutes or so before the kick-off, giving them time to list the teams, referee etc.
Anyway, we were in the tunnel and these guys from Inter Milan looked like gods, never mind footballers. I recall they were all immaculate, there wasn't a hair out of place anywhere. They oozed glamour. Their blue-and-black tops had been hand-pressed by an expert. A lot of us were standing there minus our false teeth. It didn't look like a fair fight.
I looked at Giacinto Facchetti, their world-famous left-back. He was about 6ft 3in and was such an imposing figure. He looked as though he had stepped straight out of a sportswear catalogue. He could have been the guy you would often see standing there in a perfect location pointing to something or other while posing away madly.
I turned to Wee Jinky and motioned towards one of their players with my head. "Hey, wee man did I not see that bloke in that movie with Marcello Mastroianni? Did he not get off with Anita Ekberg in La Dolce Vita?" Wee Jinky looked back, puzzled. I indicated another of their players: "Did he not used to go out with that Sophia Loren?" We were all having a good laugh and the Italians simply looked bemused.
I heard mutterings of 'loco, loco' among their ranks. They really didn't know what they were up against. "Hail! Hail! The Celts are here", bounced around the walls of the tunnel. We kept it up all the way until we got the okay to, at last, emerge from the tunnel.
Big Billy, of course, was first out, chest proudly expanded to its maximum. In order, our captain was followed by Ronnie Simpson, Tommy Gemmell, John Clark, yours truly, Bobby Lennox, Stevie Chalmers, Jimmy Johnstone, Willie Wallace, Jim Craig and Bobby Murdoch. Reserve keeper John Fallon came next with his lucky teddy bear and then out strode Jock Stein alongside Neilly Mochan, our trainer, with assistant boss Sean Fallon and physiotherapist Bob Rooney following on.
If you get the opportunity to watch footage of the teams strolling out onto the track and then onto the playing surface have a look at the Italians. A lot of them are actually eyeing us up and down and shaking their heads. They were just a tad bemused. They were going to get a lot more bemused by time-up, that was certain!
A lot of people don't realise this, but Lisbon was actually my second appearance in a European Final, the first being for Birmingham City back in 1960 when we played Barcelona over two legs in the Inter-Cities Fairs Cup, which, of course, became the UEFA Cup in the Seventies. It was a two-legged affair back then and we drew 0-0 at St.Andrews, but were well and truly put in our place at the Nou Camp with the Spaniards triumphing 4-1. Strangely enough, I don't have too many memories of those games. Let's get back to Lisbon!
I hit their crossbar with a run and shot as we swept down on them looking for a first-half equaliser. I've often been asked if I intended a cross, but the ball took a strange swerve and ended up heading for goal. Take it from me, that was an attempt at goal. I put a little bend on the ball as I hared into their box and I thought it looked good.
Well, it would have had to be good to beat their keeper Sarti who was unbelievable. However, the woodwork got in the way of me and glory and the ball bounced to safety. Thankfully, Tommy and Stevie had better fortune later on.
We weren't exactly a cosmopolitan bunch in 1967. For a start, we were all born within 30 miles of Celtic Park with myself, Ronnie Simpson, Jim Craig, and Stevie Chalmers being allowed to boast that we were, indeed, true Glaswegians! The others came from places such as Bellshill, Bothwell, Kirkintilloch and, in Bobby Lennox's case, Saltcoats. I always throught that was just a place people went for their holidays; I had no idea people actually lived there.
Anyway, the Glaswegians among the lads used to kid the others on about being hicks from the sticks. Big Billy, from Bellshill, was often fond of saying: "Don't ask me, I'm just a lad from the country, you better ask Bertie." But we were one big happy bunch, you can believe that. There is genuine camaraderie among us and nothing will ever split that up.
Back then, Jock Stein used to taunt me about my "useless" right foot. "What a player you might have been, Bertie, if only you had two feet", he was fond of saying. I would retort: "When you've got a left foot like mine, boss, you don't need another one!" And, with that, he would just walk away shaking his head.
What was so special about our team? Well, the word team gives you a clue. We may have had some excellent individuals such as Jimmy Johnstone, Tommy Gemmell and Bobby Murdoch, but we all fitted into a structure. We trusted each other and that was so important. It was comforting to go out on the field on matchday and know you had so many good players around you.
Take Ronnie Simpson, in goal, for a start. How reliable was he? You instinctively knew he would do a good job. He may not have looked like your typical goalkeeper, but, to me, there was none better. He may have been on the small side, but Ronnie always insisted he was close to 6ft. He must have been using a different measuring tape from anyone else in the world, that's all I can say! But he was a brilliant shotstopper and was extremely agile.
Do you know, of the team that faced Inter Milan, only Ronnie and myself had played football outside Scotland. Amazing. Ronnie, of course, won two FA Cup medals with Newcastle United while I had my stint at Birmingham City before I returned to Paradise. Jim Craig, Tommy Gemmell, Bobby Murdoch, Billy McNeill, Jimmy Johnstone, Stevie Chalmers and Bobby Lennox had all been brought up through the ranks at Celtic Park and Willie Wallace had previously played for Stenhousemuir, Raith Rovers and Hearts. I believe John Clark may have been on the books at my old club at St.Andrews very briefly. See what I mean about hardly being cosmopolitan!
Jock Stein is the man who deserves all the credit for what Celtic achieved and quite rightly so. He was way ahead of all the other managers of that era with his thinking and planning. He would develop wee things in training and opponents and supporters alike might have thought we were improvising on the pitch during a match, but, believe me, we had gone over these things meticulously in training at Barrowfield.
Jock would keep hammering away at you and wouldn't let it rest until he was convinced you knew exactly what you had to do in any given set of circumstances that may emerge during 90 minutes. He was naturally a great believer in the old adage: Fail to prepare, then prepare to fail.
To be honest, I can't remember how much we actually received for lifting the European Cup. Big Tommy assures me it was £1,500-per-man and, as he is a financial consultant these days and presumably better with figures than me, I'll take his word for it.
I do recall, though, carpeting Chez Auld, at that time situated in Giffnock, from just about top to bottom and I know that wasn't cheap. We had a fairly expansive living area and dining room. All that was carepted and we did the hallway and the stairs, too. Doesn't seem too exciting, does it?
I wonder what George Best did with his bonus for winning the European Cup with Manchester United the year later. Can't see him decorating his house, can you! Actually, we met George a fair bit when we on the road to celebrate the 25th Anniversary of the Lisbon triumph. He would pop at a few of our functions and I can tell you he really rated our team of 1967. He gave us great credit for knocking down barriers. He once told me: "You made it easier for Manchester United to win it in 1968. You showed us it could be done." Well said, Georgie!
The Lisbon Lions became a familiy. We grew up together and we are like a bunch of schoolkids when we meet up again. We hand out stick and we take it, but it is all good fun. I'm sure we must astonish other people who are in the vicinity when we go for a walk down memory lane. It's great fun because there are so many special memories. Of course, Wee Jinky was a central figure in so many of our recollections. He was a real one-off, but a genuine character who would give you his last.
Celebrating 40 years as a Lisbon Lion has been extraordinary, but how I wish the wee man, Bobby Murdoch and Ronnie Simpson were here, too, to throw in their tuppence worth. They have all played major parts in the life of Bertie Auld.
* Adapted from 'The Lisbon Lions: The 40th Anniversary' by Alex Gordon. Published in 2007. More on Celtic v Inter Milan throughout the week on 
www.CQNMagazine.com
.
Click Here for Comments >