CELTIC goalkeeper Craig Gordon has, in recent months, been playing the best football of his career.
Brendan Rodgers hasn't got much wrong since becoming Celtic manager in May but even when he does make a mistake he still seems to come up smelling of roses.
Take Craig Gordon. After a super impressive first season his form dipped in Ronny Deila's second season as Celtic manager. While he wasn't exactly poor in the Celtic goal, he seemed to have lost something that was there the season before.
Rodgers gave everyone – or practically everyone their chance when his Celtic side started playing competitive games in July. And for the way he wanted his side to play the new sweeping role for his goalkeeper was essential.
The early season form from Gordon was good but this sweeper keeper role was something new. Rodgers wanted to teach the old dog some new tricks and it was proving a difficult task for the former keeper that Sunderland splashed out £9m for from Hearts.
Not entirely convinced, Rodgers went into the market himself to bring back to Scotland the former Dunfermline 'keeper Dorus de Vries, who was the current Player of the Year at Nottingham Forest.
De Vries knew what Rodgers wanted from his keeper but maybe under estimated what it takes to play for Celtic.
De Vries shipped seven at Barcelona in the Champions League. A shaky performance at Inverness in mid-September followed when the Dutchman wasn't blameless in either of the Inverness goals in a 2-2 draw in a match that Celtic dominated.
While De Vries couldn't be blamed for the side missing a barrow load of chances he could have done much better at both Inverness goal.
By the next weekend Kilmarnock had obviously figured out that the Celtic keeper was vulnerable and a speculative forty yard shot from close to where Brendan Rodgers was standing flew past the Dutchman to put Celtic behind for the first time in the league campaign.
Rodgers had seen enough. A chest injury was given as the reason for De Vries being replaced at half-time as Craig Gordon appeared and set off on an impressive run without conceding in domestic football which was only ended in December when Motherwell took a 2 goal lead in at the interval.
Celtic fought back to win the match 4-3 but it was the end of the clean sheet run put together by a goalkeeper playing the best football of his career.
"We just have to make sure we're putting in the performances and do what we're good at," Gordon said ahead of tomorrow evening's visit to the east end of Glasgow by Ross County.
"If we do that then we know we've got a chance of winning most matches.
"Ross County are a very difficult team to play against. We've done well against them in recent times but you don't have to look too far back to the one at Hampden where they managed to beat us, so we know if we don't play to our standards then we're in for a tough game.
"We'll have to concentrate fully on that one and get our preparation right, and go in with the confidence off the back of what is an incredible unbeaten run."
Gordon was back to keeping a clean sheet at Hamilton on Christmas Eve. While he didn't have a great deal to do he did pull off one or two good saves and crucially for Rodgers he reveled in his sweeper keeper role. In fact he is quite the playmaker these days!
Gordon is happier looking forward to the next challenge.
"We're very focused on the next one. We've done that the whole way along and will continue to do that.
"We've used a big number of players in the last few weeks when the fixtures have been really heavy and everyone's contributing and just looking towards the next game.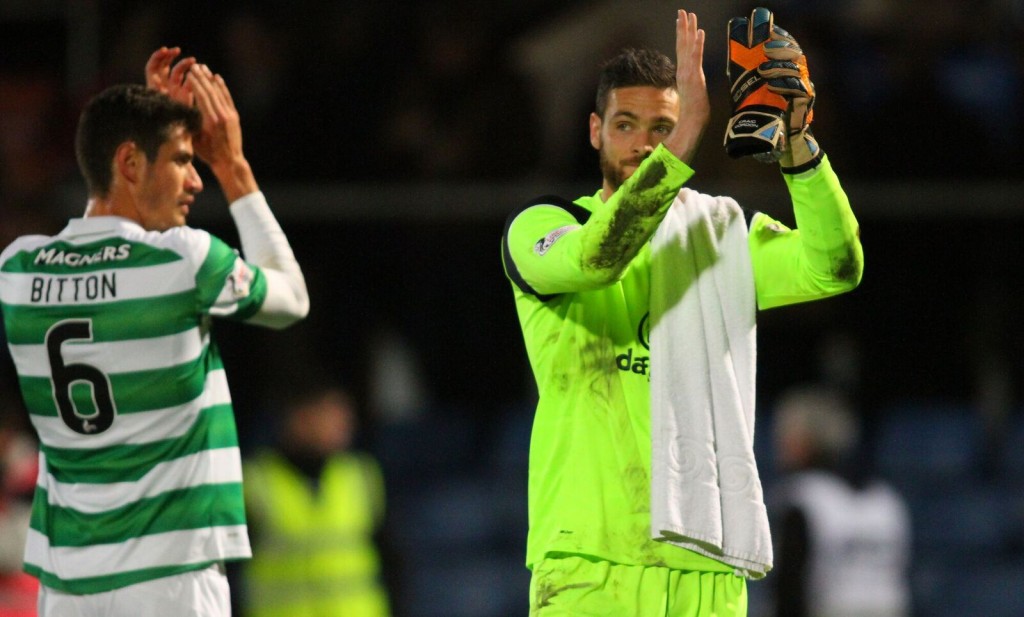 "Everyone that's come in has stepped up and continued to win games so if we can keep doing that for the next few games then we'll give ourselves a good chance to finish the month unbeaten."
It was a big ask to negotiate a hectic month of December with Celtic already having played 7 games with victories secured in each league match. Only a 1-1 draw at Manchester City in the Champions League has impacted on a perfect record.
It's a case of 7 down and two to go. After Ross County Celtic travel across the city for the first time since Rangers passed away in 2012 to face the 2012 version. While the club might be new it will be the same old hostility from three stands and an atmosphere where many a Celtic goalkeeper used to struggle in.
Can anyone recall Pat Bonner having a decent game at Ibrox? Maybe it's just the memory playing tricks but him and other Celtic keepers always seemed to have their weaknesses in that bigotry fuelled atmosphere.
Yet crucially for Brendan Rodgers and Celtic, Craig Gordon has been there plenty of times with Hearts and knows what to expect. He is unlikely to be intimidated by the hatred from a hostile home support.
And given the way Celtic are playing, the composure shown by Craig Gordon will be a huge obstacle for the Ibrox side to overcome.
It's re-assuring, even rather unusual,  going there with such a good goalkeeper.
Click Here for Comments >