Tony Jensen tells the story of one Celtic's great championship winning sides 1905-1910…
One of the most remarkable sides in Celtic's history is the one that won six consecutive championships between 1904-05 and 1909-10. The League recognised this triumph by the presentation of a shield to Celtic.  However, this in itself proved controversial as the Rangers side that won all their matches and four consecutive championships a decade earlier were not recognised in the same way.
It is incredible to think how such great achievements can start with very humble beginnings. The first of these six championships would have been won by Rangers had the title been decided by goal difference or goal average. These methods were used to decide championships later. Some countries, like Italy, prefer to decide titles using head-to-head results.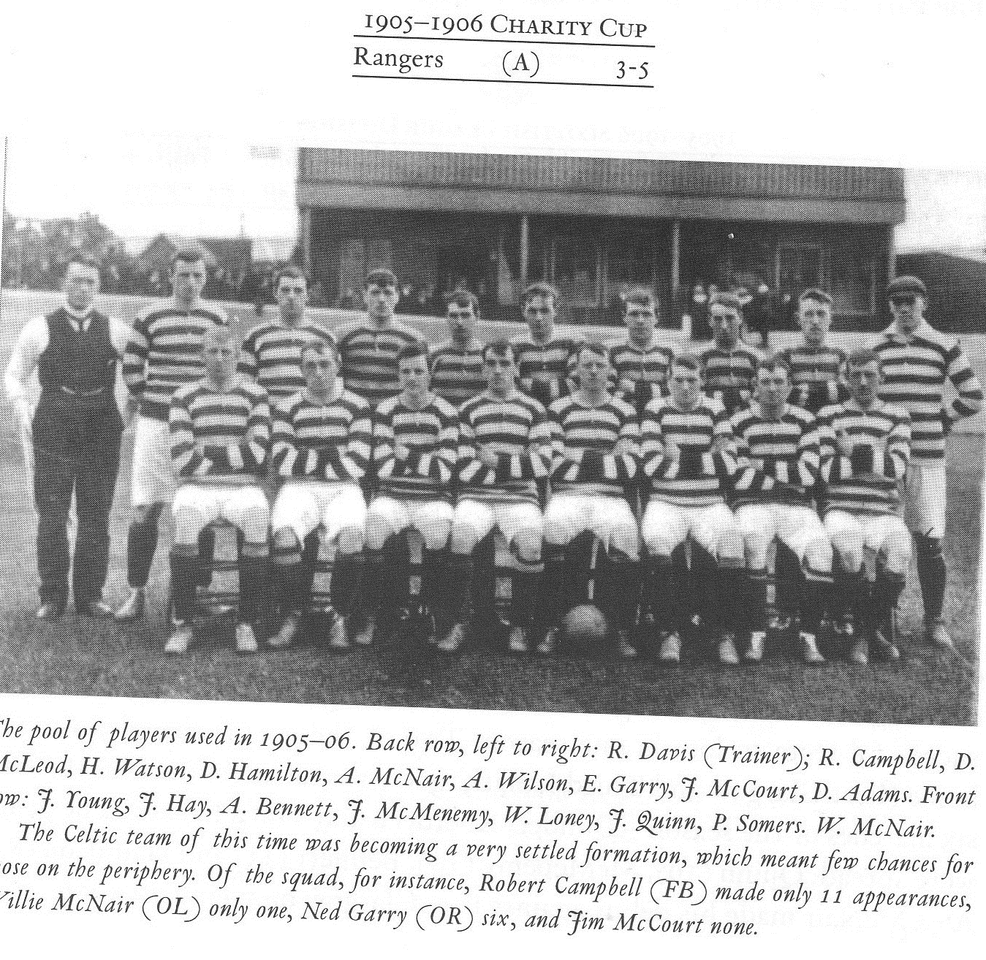 This method would have suited Celtic as they drew 2-2 at Celtic Park and won 4-1 (at Ibrox). This was Celtic's first victory in the new century at Ibrox and their most convincing league win at that ground in their history. (Celtic beat Rangers 4-1 at Ibrox in the League Cup in 1955.) The goals were scored by two players, David Hamilton got two as did Jimmy Quinn. Quinn was playing for Smithston Albion, near Croy when Willie Maley first made moves to sign him. However, Quinn was not interested in becoming a professional footballer and declined the offer. Maley persevered and eventually Quinn signed on Hogmanay 1900.
He went on to score 221 goals in 329 league and Cup matches. He was the potent force in establishing Celtic's then record of 6 championships in a row. His status became legendary at Celtic after scoring a hat-trick in the Scottish Cup Final of 1904 against Rangers. After scoring against England in a 2-0 win at Hampden Park in 1910, the Daily Mail wrote: 'In Quinn Scotland have undoubtedly the finest centre in the four countries – strong, resolute and dashing, sometimes opening the game up for his wings and on other occasions going right through himself.'
League Table as at 18 February 1905
                      P       W      D       L       F       A       Pts
Celtic          25     17     5       3       62     29      39
Rangers    23     16     3       4       71      27      35
Rangers could still equal Celtic's points total to force a play-off match but the excitement of the league run in would have to wait. At this stage in the season all matters football turned to the international stage. Celtic played, and won, their final match on 4 March and sat now on 41 points. Rangers had two players, Robertson and Alec Smith, in the Scotland team that lost 3-1 Wales in Wrexham on 6 March.  Then Rangers had to play two outstanding fixtures on the same day as international games. Both matches were won 5-1 and 5-0 leaving Rangers with a nervous trip to Morton to level with Celtic. Just 3,000 spectators saw Rangers win 2-0 and reach 41 points. It is interesting to note how many players might have lost out winning a cap for their country because of clashes with league fixtures.
With the teams tied on points the league rule of using a play-off to settle the championship was invoked. It was probably the most satisfactory way to determine the outcome. Had either goal average or goal difference been the determining factor, Rangers would have won. Rangers' goals for and against in 1904-05 was 83:28 [goal average 2.96]. Celtic's goals for and against in 1904-05 was 68:31 [goal average 2.19].
Nonetheless, it all meant that for the second time in the history of the league a championship would be decided by a play-off. The match took place at Hampden Park on 6 May 1905 with a certain Mr Kirkham being invited from Preston, England to officiate. He may be the only non-Scottish referee to have taken charge of an Old firm match.
May 6 1905 – Hampden      
Celtic 2 Rangers 1
(Hamilton, McMenemy)(Robertson)
The teams:
Celtic: Adams, Watson, Orr, McNair, Loney, Hay, Bennett, McMenemy, Quinn, Somers, Hamilton
Rangers: Sinclair, Fraser, Craig, Gourlay, Stark, May, Robertson, Speedie, McColl, Donnachie*, Smith A
*The spelling of the name Donnachie may in actual fact have been Donaghy. This was his only Old Firm match which is also the case for Gourlay.
The match also doubled as Rangers' home game in the Glasgow League! This was an on-off competition that was scrapped by 1912.
Ten players of the Celtic line up are in the top 20 of Old Firm appearances for this period. Over half of these players played over 200 games for the club with McNair (583) and McMenemy (453) being among Celtic's greatest players. In the six seasons Celtic used only another 8 players in Old Firm matches with MacLeod, Weir and Young being the most celebrated. The league record was a remarkable one and the statistics below show the consistency:
                              P       W      D       L       F       A       Pts
1904-05              26     18     5       3       68     31     41
1905-061             30     24     1       5       76     19     49
1906-072             34     23     9       2       80     30     55    
1907-08              34     24     7       3       86     27     55
1908-09              34     23     5       6       71     24     51
1909-10              34     24     6       4       63     22     54
1 League reconstruction altered for this season and 16 teams were in the First Division.
2 League reconstruction altered for this season and 18 teams were in the First Division.
As one would expect with a club side progressing towards six consecutive titles, some of the players were to go down in history as the club's greatest, among them Jimmy McMenemy. He made his debut against Port Glasgow Athletic in November 1902 in a team that included Quinn and Johnnie Campbell. His last match for Celtic was in April 1920 some 456 league appearances and 144 league goals later. He won an astonishing 11 championship badges and 6 Scottish Cup medals including a winner's medal for Partick Thistle in 1921. He played for Scotland on 12 occasions. He played inside right for Celtic until 1912 and the appearance of another great Celt, Patsy Gallagher. On Gallagher's arrival, McMenemy moved to inside left and in that position he played for the rest of his career.
Having pushed Celtic so close in 1904/05, Rangers failed to come even second to them in the next five seasons. Both Falkirk and Dundee were twice second to Celtic and Hearts on one other occasion. Rangers were 12, 10, 5, 6 and 8 points behind Celtic in these seasons. Rangers' highest goal scorer in their 30 matches of the 1905/06 campaign was the nine times capped RC Hamilton with just 9 goals before he left Ibrox for Fulham. His place was taken the following season (1906/07) by James Speirs of Maryhill, (Celtic and Rangers often unearthed excellent players in the Junior ranks) who was joint top scorer with Archie Kyle on 13 goals.
However, a very shrewd signing was made at the end of that season. RG Campbell joined Rangers from Celtic and played for the Light Blues for a further eight seasons. He was comfortable at right back, centre half and even centre forward, hence the 12 goals in 1906/07. He scored an incredible 25 goals from 32 games in 1907/08 when the next highest scoring Ranger was Kyle on 12. His tally of 25 was the only time a Rangers player scored over 20 league goals in a season between 1904 and 1911. As far as Celtic was concerned, Campbell really was the one that got away. By contrast, Celtic had Jimmy Quinn whose goals tally in the championship years was:
| | | |
| --- | --- | --- |
| Season | Apps. | Goals |
| 1904-05 | 20 | 19 |
| 1905-06 | 27 | 20 |
| 1906-07 | 26 | 28 |
| 1907-08 | 24 | 19 |
| 1908-09 | 30 | 22 |
| 1909-10 | 28 | 24 |
Quinn's overall total was 132 league goals in 159 matches but he was not alone in scoring for Celtic. Jimmy McMenemy, Peter Somers and Alec Bennett all scored at least ten in one or two seasons in this period. Celtic lost only 23 matches of 192 over the six seasons and in three of the years did not lose at Celtic Park.
Oct 21 1905
Rangers 3 Celtic 2
(Kyle, Shaw, May) (Somers, Orr p)
Peter Somers made his debut for Celtic in December 1897. He went on loan to Clyde and Blackburn Rovers before becoming a regular in the team in the 1902/03 season. He was nicknamed 'the powder monkey' because he supplied the ammunition for the likes of Jimmy Quinn (remember the England manager Roy Hodgson's comment just a few weeks ago!) Somers was recognised by Scotland and made four appearances between 1905 and 1909. Nonetheless, he was capable of scoring goals and bagged over 40 in the league while collecting 5 consecutive championship medals. Willie Orr achieved the distinction of scoring the first penalty for Celtic in the league at Ibrox. In his three international matches for Scotland he played in all the half back positions. He later became manager at Airdrieonians and under his leadership they were runners-up for four consecutive years in the early twenties.
Jan 1 1906                 
Celtic 1 Rangers 0
(Hamilton)
This victory increased Celtic's lead over Rangers to 10 points and effectively killed Rangers' chances of a championship. Hamilton and McColl could muster only 15 goals between them that season.
Oct 27 1906               
Celtic 2  Rangers 1
(Templeton, Somers) (Kyle)
———————-
Jan 1 1907        
Rangers 2 Celtic 1
(Dickie, Kivlichan) (Somers)
———————-
Jan 1 1908        
Celtic 2 Rangers 1
(Hamilton, McMenemy) (Kyle)
———————–
Apr 25 1908               
Rangers 0 Celtic 1
(Bennett)
————————-
This was Rangers' final match of the season at Ibrox and they still had a slim chance of winning the championship. Celtic had three games left including this one and were on 51 points, just one point clear of Rangers. For the previous 16 home league matches, Rangers' average attendance had been 11,700 but for this match 40,000 spectators thronged Ibrox Park to witness the destination of the title. Alec Bennett, whose next match at Ibrox would be in the blue of Rangers, scored the only goal of the game.
Jan 1 1909                 
Rangers 1 Celtic 3
(Murray) (Hamilton, McMenemy, Munro)
This was an extraordinary season that saw Celtic play 8 matches in 12 days in April. Going in to this match Rangers were 6 points ahead of Celtic but Celtic had four matches in hand. Celtic closed the gap to 4 points with one of their most convincing victories at Ibrox.
Table as at Jan 1 1909        P       Pts
                            Rangers       20     30   
                             Celtic           16     26
————————–
Mar 13 1909               
Celtic 2 Rangers 3
(Munro, Quinn) (Yuille, McDonald, Murray)
The teams met just two months later and Rangers won their second league match of the decade at Celtic Park. This victory was key to their championship ambitions and opened a five-point gap at the top, Celtic having three games in hand.
Table as at Mar 31 1909     P       Pts
Rangers                               26     37    
Celtic                                   23     32
Rangers won their next two matches convincingly against Aberdeen (3-0) and Hamilton Accies (4-1) while Celtic kept pace with narrow 1-0 wins against bottom club Partick Thistle and St Mirren. However, Rangers went into their worst run of form all season. Tom Murray, the English-born player bought from Aberdeen returned whence he came after scoring 11 goals in 14 league matches. RG Campbell, who had helped Rangers to a five-game winning start to the season at centre half replaced Murray at centre forward. With two draws and three defeats in the last 6 matches Rangers league campaign fell away to nothing and they finished in fourth place behind Dundee and Clyde.
Celtic, however, did not have the easiest of run-ins. Because the league had to be concluded by April 30, Celtic had to play, starting on 19 April, Monday, Wednesday, Thursday, Saturday, Monday, Wednesday, Thursday and Friday. This was where the cover players mentioned alongside Alec Bennett earlier came in to their own. Players such as McLean, Kivlichan, Mitchell and Craig were able to cover for the inevitable injuries. One strange signing at that time for Celtic was a young medical student by the name of John Atkinson. He played against Celtic for Hamilton Accies in a 1-1 draw on the first Wednesday of the run. That evening David Hamilton, Celtic's excellent outside left, got injured and was unable to play on the Thursday evening against Morton. Willie Maley's answer to the problem was to invite the young Atkinson to play for Celtic. He agreed and scored twice in the 5-1 victory over the men from Greenock. On the last day of the month in the last match of the season Celtic beat Hamilton Accies, yet again, by 2-1 to snatch the league by a point form Dundee.
Oct 30 1909               
Rangers 0 Celtic 0
Jan 1 1910        
Celtic 1 Rangers 1
(Hamilton) (Hogg)
Despite signing two English greats of the day, Herbert Lock and Billy Hogg from Southampton and Sunderland respectively, Rangers came a disappointing third in 1910, eight points behind Celtic and six behind Falkirk who had been runners-up in 1908.
A crowd of 47,000 spectators watched this Ne'er Day fixture in which Billy Hogg became the first foreign player to score in a Celtic v Rangers match.
Patsy Gallagher was the first foreign player to score for Celtic in this fixture.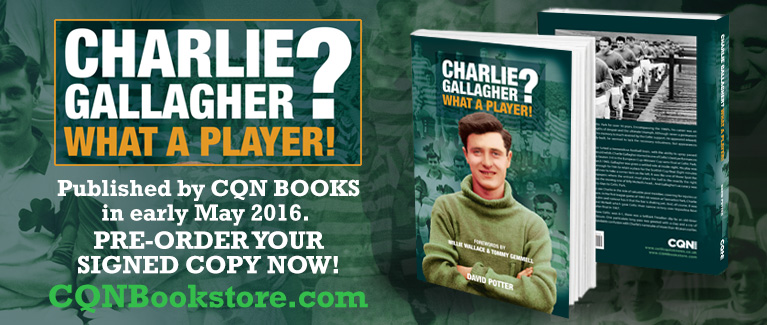 Click Here for Comments >