JOHN CLARK insisted practice made perfect with his fellow-Lisbon Lion Stevie Chalmers' winning goal in the European Cup Final against Inter Milan in the Portuguese capital on May 25 1967.
While the ultra-professional defender teamed up with skipper Billy McNeill in the heart of the rearguard, the frontmen did the business as Jock Stein's men conquered all before them in the 1966/67 campaign.
Clark, speaking of Chalmers following the likeable personality's sad passing on Monday at the age of 83 after a long battle with dementia, told Celtic TV: "You cannot forget that goal, it's as simple as that. It was a typical, off-the-cuff striker's goal.
"Stevie was alert, he was sharp, he was fast and you we'd spent time practising that sort of move at training. We knew that if you played balls from wide positions, getting bodies into the box could result in a goal.
"The best thing about a goalscorer like Stevie is that they're always alert. That's what makes them good forwards and that's what made Stevie such a special player.
"Look at last weekend against Kilmarnock, too. Our number five, Jozo Simunovic, scored a header that Billy himself would have been proud of, on the 67th minute.
"I think The Big Man must have some pull upstairs! Both Billy and Stevie are such a huge part of Celtic's history, they'll never be forgotten. They're in the history books forever."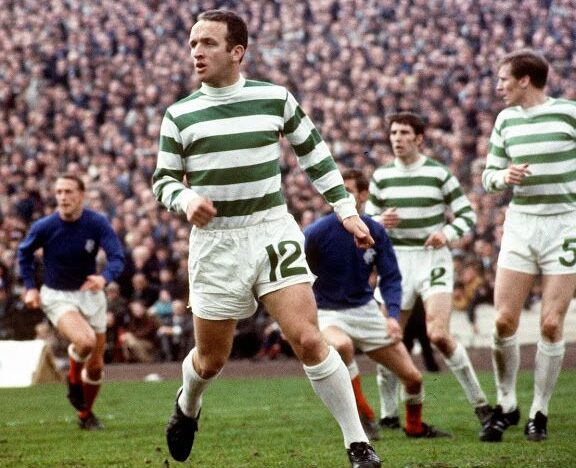 THE BRUSH…John Clark sweeps up alongside Jim Craig and Billy McNeill against Rangers.
Clark, nicknamed "The Brush" because of all the sweeping up he did in defence alongside McNeill, added: "Although Stevie was ill for some time, it was still a real blow when I first heard the news. With Stevie, I think it was especially shocking because your mind is still there with Billy. But it's really hard for his wife Sadie and the Chalmers family.
"When you think of everything that makes someone a good guy, that was Stevie. He was also a great golfer and I genuinely believe if he hadn't become a footballer, there was a career in there for him in golf."
Chalmers was extraordinarily proud of the fact he was one of seven Celtic players to be selected by Jock Stein to play in every round of the successful European Cup campaign.
The fleet-footed forward lined up alongside Ronnie Simpson, Tommy Gemmell, Bobby Murdoch, Billy McNeill, John Clark and Jimmy Johnstone for all nine games.
Including Lisbon, Chalmers scored five goals in Europe's top-flight competition – one in the 3-0 win over Zurich in Switzerland in the opening round, one each at home and away in the 6-2 aggregate triumph over Nantes in the next stage and one versus Vojvodina in the quarter-final to set up Billy McNeill's unforgettable last-minute headed winner.
Then came Stevie Chalmers' own special contribution to a marvellous European adventure for Celtic.
Click Here for Comments >