NEW Bhoy Matt O'Riley has revealed he knew Celtic were the only club for him after a brief chat with Ange Postecoglou.
The highly-rated MK Dons midfielder became the Hoops' fifth signing on the January transfer window when he agreed a four-and-a-half year deal in the £1.5million switch.
O'Riley was wanted by other clubs in England as well as Italy and Belgium, but once Postecoglou outlined his plans for the Parkhead club, the former Fulham prospect was on his way to Glasgow.
WELCOME, MATT…new Bhoy Matt O'Riley holds aloft his new Celtic shirt.
The gifted 21-year-old playmaker admitted: "It feels amazing. It's the first time taking the stadium in and it's even better than I thought it would be. To put it simply, I'm just really happy to be here. It's a massive club and I'm just really excited to get going.
"There were other options, ones that I thought were the only ones before Celtic, and then Celtic came out of the blue.
"I found out quite late, and then I had a phone call with Ange. He came across really, really well and he was the one who really sold it to me.
"Obviously, the club itself is massive, but just speaking to him really sorted it out for me. With the style he plays, and all that surrounds it, and him as a person, as soon as I got off the phone I was ready to come, to be honest."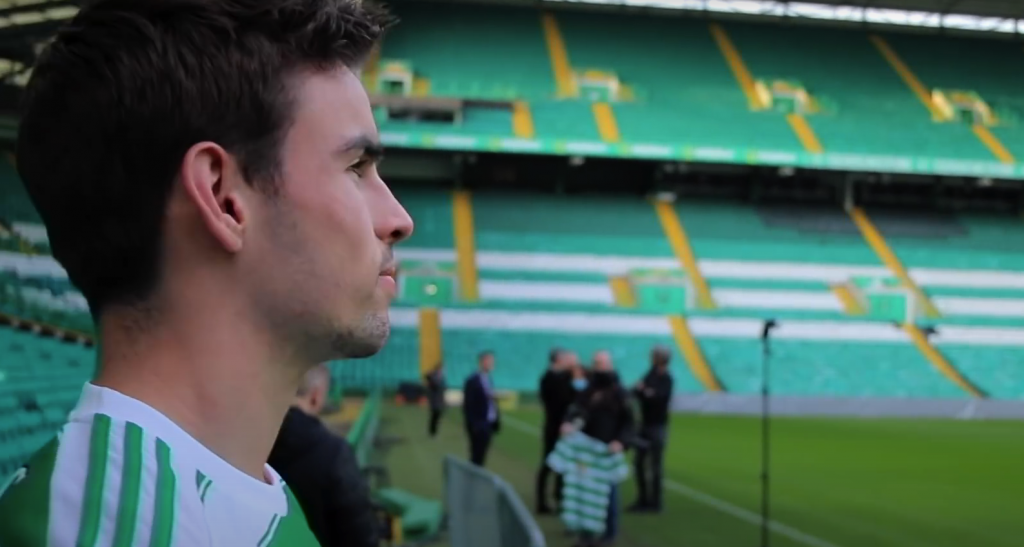 FIELD OF DREAMS…Matt O'Riley discovers Celtic Park for the first time.
O'Riley kicked off his career at Craven Cottage and made his first-team debut at the age of 16. At the London club, he worked with Hoops legend Peter Grant and played alongside one-time fans' favourite Patrick Roberts and Norwegian international Stefan Johansen.
Speaking to Celtic TV, he continued: "Peter Grant coached me during my time at Fulham in the Under-23s. He's a really nice guy and he helped me develop during my time at Fulham.
"I went to school with Pat. He's a little bit older than me, so we didn't speak much, but at the time he was someone I looked up to at the club. He was doing really well at the time, so that's another one for the storybooks.
"I got to know Stef, too, so I'm good mates with all of them. But it just shows you that a club like Celtic can attract players like Stef and Pat, and Peter, of course, and it's nice to just follow the same route as such."
GREEN FOR GO…Matt O'Riley takes in the atmosphere in the board room. Images courtesy Celtic TV.
Postecoglou's refreshing style of play also attracted O'Riley and he added: "That's another thing that was massive in terms of my decision to come here. I always said that I wouldn't just join a club if they paid me a certain amount of money if the style wasn't right.
"I'm not that kind of guy. The style is right here and, again, that's one of the main reasons why I've come.
"Ange said to me on the phone that, of course, we want to win – the expectation is to win – but win the right way, win by playing proper football and that's what I have come here to do.
"The big stage is what I want as a player and that's one of the main reasons I've come here – the fanbase, the size of the club.
"I mean, 40,000 sounds like a lot to me, so the fact that it's close to 60,000 people here is pretty incredible and it's something I'm really excited about."
O'Riley has followed Japanese trio Daizen Maeda, Reo Hatate and Yosuke Ideguchi and Irish teenage striker Johnny Kenny in pledging his future to the club.
Postecoglou must now ponder when the time will be right to unleash the player in the hoops.
Click Here for Comments >