ALAN McINALLY, it could be argued, made more of an impact as a Bayern Munich striker than as a Celtic player. Christened Rambo by the Celtic support, he struggled to get a regular start for the Bhoys but his move to Bayern Munich via Aston Villa meant that he had a career to be proud of. Rambo is the only Celtic player to also move on to play for our opponents on Wednesday night. Accordingly we're having a wee look back to the interview CQN did with Rambo last December just after our last Champions League Group stage match at Manchester City. Here's the story…

Alan McInally signed for Celtic from Ayr United in the summer of 1984 for a fee of £100,000 as manager Davie Hay attempted to add strength to a sophisticated but rather light-weight Celtic attack. The son of Kilmarnock legend Jackie McInally, Alan had some family pedigree to live up to.
You might remember  a goal he scored in the 1-1 draw with Rangers in May 1985 on the night that Police horses controversially charged down a packed Janefield Street, full of departing Celtic fans, and it is with God's grace that no one was killed in that incident. This unprovoked and reckless charge of Police horses into a narrow street was never explained and received much less coverage that the unfortunate Police horse skelped with a Hamburger one Tuesday night in December down at Manchester. Our luck was in though for those who opted for the Celts to get a point at City and with the Unibet Bonus Code 2018 we might repeat the trick this Wednesday in Munich.
Just after that game against Manchester City, CQN caught up with the player that the Celtic supporters called Rambo for a chat about his time at the club and how he sees thing progressing for Celtic under Brendan Rodgers. Rambo has some words of wisdom for young Paddy Roberts and delivers a message to Peter Lawwell that will disappoint the Celtic Chief Executive who has hopes of seeing Celtic move to play in the English/Welsh set-up in the coming years.
Here's how our conversation went with big Rambo…
Hi Alan, first question has to be how much of an inspiration was your dad Jackie, who was a forward with Kilmarnock and Motherwell? Did you attempt to copy his style?
The one and only person who was my inspiration to become a professional footballer was always my dad. The Scots always say that you'll never as good as dad and in this instance they were correct! He gave me great advice and encouragement yet he was also my harshest critic. We had different styles – my dad was more of an inside forward – but certainly he was my main inspirational to become a professional footballer.
Were you surprised when Davie Hay brought you to Celtic in a £100,000 deal from Ayr United in 1984?
No I was not surprised at all. My contract at Ayr United was coming end and I had numerous options to sign for clubs down south and both Celtic and Rangers came in for me. I weighed things up with my dad and decided to join Celtic. Gerry Collins, who was a great pal of the late great Tommy Burns – I loved that man – was at Ayr and he made me train in a Celtic top that he gave me and did some real hard selling to get me to go to Celtic. I was glad that I did. So I was wearing the hoops long before I joined Celtic!
Speculation persisted that you had been a boyhood Rangers fan – true or false?
Definitely false! No, I was never a Rangers fan or indeed a Celtic supporter. My parents were never religious people so there was nothing doing in that regard regarding picking sides. I'd put myself down as an Ayr United fan or even a Killie supporter, just because my dad played at Rugby Park. As far as Celtic or Rangers are concerned as I boy I don't think I ever went to see either side play other than when they visited Somerset Park. So I didn't support them then and I don't support them now!
What was it like to play alongside Brian McClair, (Judas)Mo Johnston, Frank McGarvey and Mark McGhee in a team with an abundance of striking talent?
It was fantastic, actually it was a real highlight of career to be at Celtic, playing and training with the players that were at the club at that time and working with a great manager like Davie Hay. Mark McGhee came to the club a little later when he returned from his time playing in Germany – he is a really good friend of mine and incidentally I think that he's a really good manager. I believe that he could get a top job in England again at some stage and that he'll do very well at Motherwell, who are lucky to have him.
Playing with striking talent like that during my time at Celtic was brilliant. We all had our own goals and ambitions in the game but we were always working for the team. It was a pleasure training every day and playing alongside players of that quality.
How difficult was it for Celtic to compete with a Rangers team splashing record amounts of cash in the transfer market at the time?
We had had it our own way for a long time. Celtic were clearly the best team in Glasgow for many years and the rivalry was with Aberdeen and even Dundee United rather than Rangers in terms of winning honours. Then Souness came in and bought big, bringing in all the English lads like Butcher, Wilkins, Walters and so on. It became increasing hard for us to compete with this level of spending that was a completely new thing in Scottish football. At that time Celtic could not spend money like that – the club simply didn't have that type of money. Aberdeen and Dundee United couldn't either so it was a real game changer for Scottish football.
All we could do as Celtic players was to role up our sleeves and get stuck in. There was a league Cup Final that we lost to them that had little to do with the money they had been spending and more to do with them getting, let's call it the rub of the green. So it was a challenging time for Celtic in more ways than just on the money front.
Were you frustrated at the lack of trophy success at Celtic?
Not really, we won title at that never to be forgotten afternoon at St Mirren and we won a very good Scottish Cup Final when Davie Provan put that free kick into the top corner and Frank McGarvey scored a wonderful winner. In football competition is a healthy thing and if there are more teams capable of winning trophies then that had to be good for the game, although all sorts of issues later emerged to make you think again about that. It has to be said that the frustration among the Celtic support at the big spending at Ibrox was not vented towards the Celtic players but to the Celtic board who simply weren't up to the challenges facing the club at that time.
You left Celtic in 1987 for Aston Villa at the same time Johnston, McClair and Murdo MacLeod left the club. Why the mass exodus?
Celtic did offer me a new contract, a two year deal whereas I wanted a three year deal. But it was an offer that wasn't anywhere near what I was looking for. However that wasn't the main reason that I left Celtic. I left because I felt that they didn't want me to stay. (Judas) Mo Johnston and Brian McClair had already left and I was therefore surprised and also a little disappointed that Mr McNeill didn't make the necessary effort needed to keep me at the club. If they had offered me a 3 year contract I would have stayed. I wasn't looking for a move, indeed I wanted to stay and play for the club, believing we could win the league and do well in Europe. I loved playing for Celtic. However it wasn't to be and Celtic actually made it an easy decision for me as I didn't feel particularly wanted. Every player likes a pat on the back, to feel wanted and I simply wasn't getting that after Davie Hay was sacked so I signed for Aston Villa, when I was given the opportunity.
Frank McGarvey told CQN that when Charlie Nicholas signed for Arsenal a few years before, he increased his wages by a multiple of 23 times. What was the difference in pay you received from Villa and also from Villa to Bayern Munich?
Well I can tell you it wasn't 23 times more! I think it increased by a factor of 2.5 times at that stage from Celtic to Villa and when I signed for Bayern Munich the wages increased tenfold, which was incredible!
Murdo went to Borussia Dortmund and you eventually caught up with him in Germany when you signed for Bayern Munich in 1989. How did that come about?
Bayern wanted a big centre forward for quite a long time and had looked at different players but none of them fitted the bill. Their scouts saw me playing for Scotland a few times and were impressed. They started to come to watch me play for Villa and that was of interest to the club because the manager at the time Graham Taylor had said to me that he wouldn't sell me to club in England. He wanted to get me a move to the continent as he didn't want me coming back to score against Villa. At the time there were very few players for the English league moving to the continent, I think it was only Chris Waddle who was playing for Marseille and then myself at Bayern Munich. As you say Murdo was also playing in Germany. Bayern made me an offer that I simply offer couldn't turn down – as I have already said they offered me 10 times the wages I was on – so for 4 years in total it was simply stellar football and a wonderful,wonderful experience both at the club and in the country learning the language and the culture. It was a life changing experience for me.
Any regrets about not getting the chance to return to Celtic when you came back to Scotland in 1993 to sign for your dad's old team Kilmarnock?
It would have been nice but to be perfectly honest I was simply not fit enough to go back to play for a club like Celtic. I only went to Kilmarnock because Tommy Burns was the manager – god bless him. I was relatively fit but perhaps only at 75% the player I had been due to the injuries. I went to Killie for Tommy and Danny Crainey George McCluskey and Billy Stark were all there too. Tommy had his own mini Celtic there and it was great to be part of it. Looking back on it now, it is a particularly special time, given that we have lost Tommy.
A newspaper reporter christened you 'Rambo' after the muscle-bound character in the Sylverster Stallone movie. How did you feel about the nickname?  
Rambo! That came from the Jungle, so I've got to give them full credit for that. I'd scored a good solo goal in pre-season where I ran through the defence knocking players out of the way and putting the ball in the net. A journalist described the run as being a Rambo style goal. When we got home to Scotland and came out to play, funnily enough Aston Villa, in pre-season match the whole Jungle started signing Rambo, Rambo; Rambo Rambo. It was a sign of real respect from our supporters who were always first class, it was a nice compliment – some of the players still call me it even to this day! Anywhere I go in the world there will always be someone shouting 'Hey Rambo big man, how are you doing?" and I'll know it's a Celtic supporter. At the time the Celtic players called me Al, but they'd tease me by calling me Rambo when it suited them. I loved the humour of it all.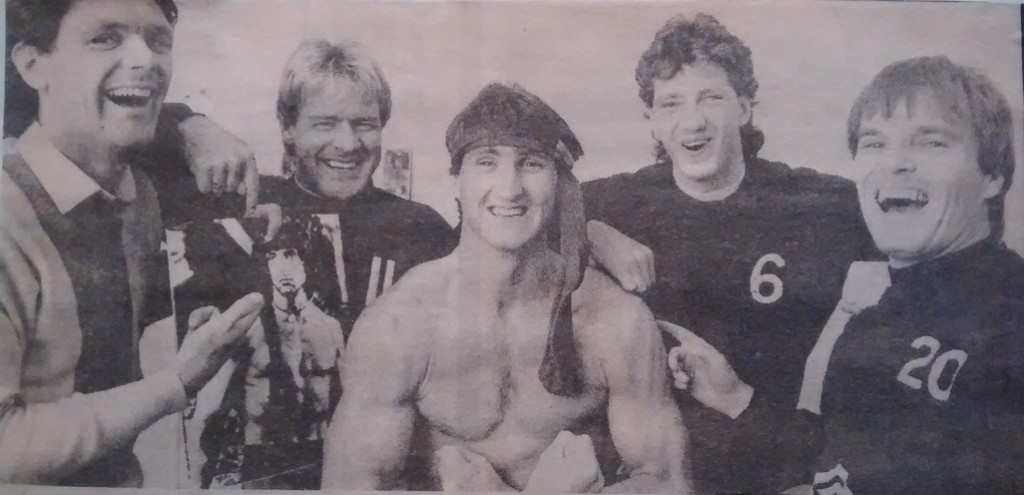 On the current Celtic side, did you see the game on Tuesday evening? How did you think Celtic coped with Manchester City?
Yes I did see the match. Celtic coped very well indeed and I am delighted about that. Listen, I live down in England and I can assure you that all the chat I was hearing before the game was that Manchester City were were going to win 10-0 or 9-0 and how easy it was going to be for City. They simply under-estimated Celtic – as the English always tend to do – and in the end I am disappointed that Celtic didn't win the match because they certainly deserved to. To be honest I am a little disappointed to be out of Europe because had they got into the Europa League then I think that Brendan could have taken his team very far in that competition. As far as doing something in the Champions League I don't think that Celtic currently are at that level and with their lack of spending power due to the poor television money they get in Scotland then it is going to be a challenge to turn that around. But they can work hard and give as good as they get as they proved this season especially against Manchester City. With Brendan as manager I think that Celtic will be taken a lot more seriously in years to come in the Champions League.
Paddy Roberts, who is on loan from Manchester City, scored Celtic's goal on Tuesday evening. What advice would you give him regarding returning to City or staying a little longer at Celtic?
Realistically he has little or no chance of getting into the Manchester City team. The best he can expect is to shine the bench with his bum and even that might be a challenge. A brilliant young player like that needs to play to get better. He doesn't need my advice as he will have the right people advising him but for what it's worth I would tell him to stay at Celtic, play in games and develop, win trophies, enjoy his football and build up his Champions League experience. If he goes back to City his career will stall, that would be a great shame. Look at the route Moussa Dembele has followed through making the intelligent move in the summer in joining Celtic. He is now one of the hottest young strikers in Europe. I would advise Patrick Roberts to stay at Celtic for a few years and forget all about being a bit player at City.
Have you been impressed by Brendan Rodgers in his time at Celtic and before that in the Premier League with Liverpool and Swansea?
Brendan is a top, top manager. He has gone to Celtic and has done what he had to do – he added pace into team. He added bite. Celtic, strangely had become rather tame in recent years and couldn't put teams away or deal with certain situations. The supporters saw that themselves. So big credit to Brendan, they are a 100% better as a team with him as manager with mostly the same players. People down in England don't appreciate just how how big a job managing Celtic is but it is a huge job. Brendan is limited in what he can do regarding signing top players – Messi etc won't be turning up in Scottish football to sign for Celtic  anytime soon– but he can be an intelligent manager when it comes to signings so he will improve the team year on year. I expect Celtic to win league every year he's there and compete in Europe in a more meaningful way.
Peter Lawwell said this week that Celtic could be the biggest club in Britain if we had access to the English/Welsh leagues. Do you agree with him?
Did he say that? Listen, I don't think one minute that the fan base at Celtic isn't as big as any club in world football and I include Manchester United in that. As for the story about Celtic or Celtic and Rangers managing to get into Premier League – I don't think that is going to happen, certainly not in my lifetime, so that's a non-starter. What I would say is that Celtic are watched globally and have supporters all over the world. There are very few sides as famous around the world as Celtic with the green and white hoops.
Do you think Celtic can complete the season undefeated in domestic football?
Saturday at Motherwell looked difficult for a period in the game but they turned it round and all credit to the players for doing that. Only Arsenal have done it so it is a very difficult thing to achieve in any league. I know that there will be Celtic supporters rushing into the bookies betting on them going the season without losing a domestic match but personally I doubt it will happen. The fact that they are now out of Europe could help but I think there will be at least one slip up. It's up to Brendan and his boys to prove me wrong!
Finally what was your own favourite personal memory of playing for Celtic?
That's a hard one. I think it has to be the noise, it's something pretty unique to Celtic in my experience. At Parkhead the support is very knowledgeable and they really do get behind the team, this is even more apparent in the magnificent new stadium but we had the Jungle, which was great. The expectancy of the Celtic support is fantastic. It's unbelievable really, even if we won a throw in or a corner the decibels went up sharply. The fans support their team at Celtic – Celtic supporters stick with you as a player. That makes it a grand old team to play for. That's why I loved playing for Celtic.
Thanks Rambo.
Hail Hail!
Special thanks to Will and Ian at Savile Rogue, suppliers of Luxury Football Wear for organising the interview with Alan McInally. 
NEW CQN PODCAST – A Celtic State of Mind is available to enjoy now. Paul Dykes speaks to Celtic writer David Potter about the Invincible season and even sings a song for us!
Click Here for Comments >