CHIC CHARNLEY will be at Firhill this evening to watch his old club Partick Thistle take on his lifelong favourites Celtic.
The skilful midfielder became a legend at the Maryhill outfit, but his heart always lay in the east end of Glasgow.
Charnley came so close to realising his boyhood ambition of playing for his idols in the mid-nineties. This is the remarkable story of how the player missed out on his extraordinary opportunity.
CQN is publishing a complete chapter in Chic's autobiography 'SEEING RED' which was co-authored by Alex Gordon and was published in 2009.
Have a Saturday sitdown and enjoy reading the engrossing tale that appeared in the book under the headline: THE DREAM THAT DIED
There is only one person to blame for Chic Charnley never realising his boyhood dream of signing for Celtic. Me.
It was my lifelong ambition to play in those world famous green-and-white hoops. I managed to do so once and only once. However, it  was entirely my own fault that my solitary appearance wasn't followed by many more. I can't point the finger at anyone else. It was all down to me. The opportunity was there and I managed to blow it big-style.
Lou Macari was the Celtic manager in 1994 when I was invited to play for Celtic in a Testimonial Match against Manchester United at Old Trafford. I received the telephone call from Partick Thistle boss John Lambie and I thought he was pulling my leg. I knew him well enough over the years to realise he was prone to the odd prank or two.
READ ALL ABOUT IT…Chic Charnley with his autobiography, 'Seeing Red', published in 2009.
There had been no advance warning and, as it was the end of the season, I had gone out with my mates for a few beers. Well, more than a few, as I recall. But the new season was a long way off and I knew a lot of my fellow-professionals really let their hair down at the completion of a long, arduous campaign. I was no different.
So, I wasn't in the best of nick when John Lambie made that call. Once he had persuaded me he was not winding me up, I thought, 'Oh God! I can't play in this condition.' The game was the next evening and I was told I had to turn up to get the coach to Manchester with the rest of the Celtic players. There was no way I was getting on that coach. I was certain they would detect I would be reeking of booze from the night before. They would have slung me off at Parkhead Cross!
I concocted some sort of story that went along the lines of me making my own way to Old Trafford and catching up with the rest of the team before the game. Celtic accepted my explanation and I breathed a sigh of relief. My mates and I had already arranged to go down to the game, anyway, to support Celtic.
Now I had the chance of actually playing at Old Trafford. It was unbelievable. I took everything that was possible to get rid of the smell of stale beer. You name it, I drank it, sucked it, sprayed it. I fretted all the way to Manchester in the car with my pals. The only football equipment I had with me were my boots, wrapped in a plastic bag.
We made a couple of stops on the way to the game and we passed several Celtic supporters' buses heading for Manchester. My mates were pointing at me and saying, 'See that guy there? He's playing for Celtic tonight.' The fans nodded their heads and replied, 'Aye, so he is!'
We got to Manchester and I had to change in the car to get out of my travelling clothes and get into my best suit. Then I met up with Lou Macari and the Celtic players. I was so proud to be in their company. I wasn't visualising the big picture, though. I couldn't look beyond simply playing in this one game. I didn't fully appreciate that I was being handed the opportunity of a lifetime to realise my dream.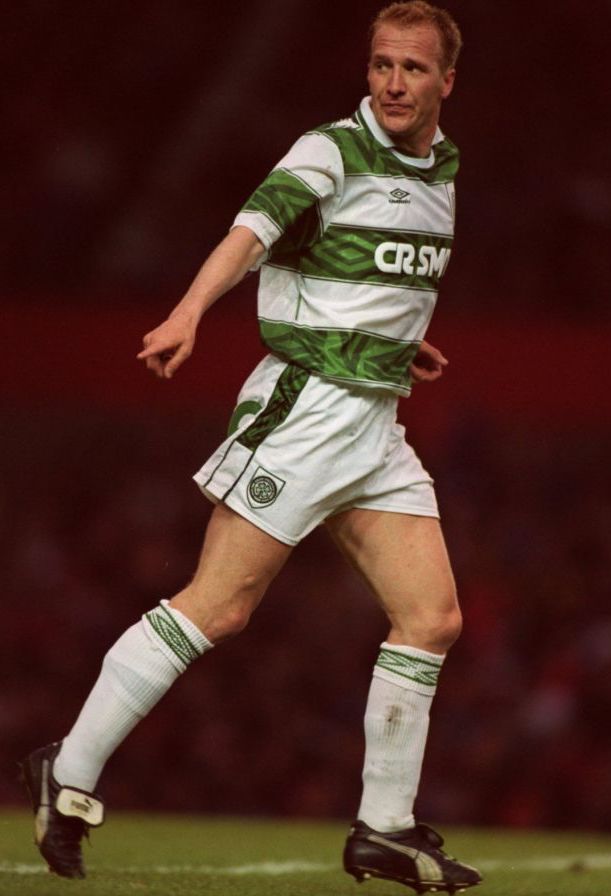 HOOP HOOP HOORAY…Chic Charnley in his solitary Celtic appearance against Manchester United at Old Trafford in 1994.
It was a Testimonial and I thought it was a one-off occasion. However, I did realise that Lou Macari rated me. But I thought it was a gesture by Celtic because I had never hidden my passion for the club. It was well-known where my affections lay – just ask any Rangers fan! No matter who I was playing for, they always gave me stick. To be fair, I wound them up at every opportunity, too. All good fun!
I boarded the coach with the rest of my new team-mates and I am not afraid to admit that my eyes filled up as we made our way through the thousands of Celtic supporters on our way to Old Trafford. Me? Crying like a baby? Given my so-called reputation that may be difficult to imagine, maybe, but it's the truth nevertheless.
Eventually the players were escorted to the away dressing room and the moment I had waited for all my life was only minutes away – I was about to pull that coveted hooped shirt over my head. My chest was pumping up and my heart was beating like never before. I was going to play for Celtic and I was going to enjoy every minute of it. And I did.
As we kicked the ball about in the warm-up I looked up the vast stands of Manchester United's superb stadium and all I could see were green-and-white scarves everywhere. This was a Testimonial Match for United's Mark Hughes, but there seemed to be more Celtic fans in the ground than their United counterparts. It was a truly amazing experience. Awesome and unforgettable.
Suddenly I was aware the Celtic support were chanting, 'There's only once Chic Charnley…there's only one Chic Charnley.' To be absolutely honest, I was so overcome I started to cry. I couldn't prevent the tears from streaming down my face. Those wonderful fans had just taken me to a place I could only dream about. Lou Macari was so concerned about my welfare and ability to carry on that he sent on Frank Connor, one of his assistants, to see if I was okay. 'Chic, can you play?' asked Frank. 'Just try and stop me,' I answered.
This was the biggest moment in my entire career and I wasn't going to miss out. I reassured him I would be fine. I have a tape of the supporters chanting my name and I still feel as emotional today as I did all those years ago.
JAGS JOY…Chic Charnley celebrates a Partick Thistle goal against Celtic.
What a night it became as Celtic won 3-1 and I set up one of the goals for Simon Donnelly with a through pass into his tracks and he stuck it away with a fair amount of style. As I recall, he scored two that evening. My son Gary had asked me before the game to get Ryan Giggs's autograph as he was a big fan of the Welsh ace. His request popped into my head with about ten minutes to go and I went over to Ryan to ask him if he would exchange shirts with me at the end. He very kindly agreed and, sure enough, we traded our jerseys on the pitch at full-time.
However, there is always a snag with me. I didn't want to part with my Celtic shirt because it meant so much to me. I made my way to the United dressing room afterwards, explained the situation to Ryan and, thankfully, he returned the jersey.
There's a photograph of me running away from Eric Cantona with a broad smile on my face that evening  I've been asked countless times what I was laughing at. Eric, a genuine world famous superstar, had tried to play the ball through my legs, a nutmeg as it's known in football. I wasn't having any of that. I snapped my legs shut, got the ball under control and swerved past the Frenchman.
I looked at the Celtic dug-out and caught the eye of Brian Scott, the club's physiotherapist. 'Who does he think he is?' I said and the Celtic bench dissolved into laughter. It was a magic moment and I was so happy that a snapper had caught the image perfectly. I friend of mine is a bit of an artist and he painted the picture for me and it is now framed and proudly hanging on a wallat home. It's a constant reminder of the night I played for Celtic.
I was still bubbling with enthusiasm and emotion afterwards when Lou Macari pulled me aside and asked me if I wanted to go on tour with Celtic. They were due to head out for a three-week trip to Canada and North America. It was yet another occasion for me to demonstrate so capably that I have the unerring ability to make the wrong decision. Looking back, of course, I should have leapt at the invitation. There should have been no hesitation whatsoever. As ever, there was a problem.
Partick Thistle had organised a week's end-of-season holiday for the players in The Algarve. I would have had to miss out to go with Celtic. Really, there was no decision to make, was there? I should have binned the seven-day jolly in Portugal to take the chance to show Lou Macari he should make me a permanent fixture in his first team squad. So, what did it do? I went with the Thistle lads, of course. To be honest, I don't think Lou actually wanted to sign me. Deep down, that was the impression I had.
The Celtic manager didn't push me to go with them. He didn't attempt to persuade me it would be better for my career if I travelled with the club. If he had informed me any chance of joining Celtic would end there and then if I did not agree to travel with them  there would have been no alternative. I would have been waiting for the rest of the squad at the airport on the day of departure. I would have been there a day early.
CRUNCH…Chic Charnley makes a solid challenge on Celtic's Paul Byrne.
I was still on a high at Old Trafford and probably wasn't thinking straight. If Lou Macari had been more forceful I would have been on the flight with the rest of the Celtic lads. Although, as I have said, I didn't think Lou Macari really wanted me I still believed there would be some sort of offer made to me when Celtic came home. In fact, Lou Macari, despite my impressions, said as much and I know I don't have defective hearing. Off I went to The Algarve with my Firhill buddies and wondered what lay ahead for yours truly during the summer break. I could hardly take my mind off the thought of finally signing for Celtic.
Lou Macari never did get back to me and I heard afterwards from a sports journalist friend that he had said something along the lines of, 'If Chic Charnley really wanted to be a Celtic player he should have been on the trip.' If only the Celtic manager had said those words to me in Manchester. I was hurt when I was informed of this statement. However, as I said right at the start,
I blame no-one but myself. It was an opportunity spectacularly spurned and I never got the call to play in those hoops again. I have absolutely no doubt, though, that Lou Macari played a part in my decision-making at Old Trafford. If he had laid everything on the line I would have been packing my travelling gear seconds after getting home.
Ironically, I wouldn't have played for Macari, anyway, because he was sacked during the summer after a fall-out with the club's owner Fergus McCann. Tommy Burns, of course, took over and I might just have been his sort of player. Tommy, a true Celtic legend who lost his gallant battle against cancer in 2008, was an elegant left-sided midfielder during his glorious playing days. I know he appreciated my style of play.
Tommy actually once tried to sign me for Kilmarnock when I came back from my stint in Sweden with Djurgaardens in 1993. I had already had talks with John Lambie and chairman Jim Oliver at Partick Thistle just before Tommy came in. I was in a sweat. I really fancied playing for such a great sportsman and wonderful gentleman as Tommy at Rugby Park, but I had given me word to John and Jim I would accept their offer. I couldn't go back on that and, unfortunately,
I had to tell Tommy. He fully understood and wished me the best of luck. How ironic is football, though? I signed on the Friday for Thistle and made me second debut for them the following day at Firhill against Killie, of all clubs. I also managed to set up the winning goal. Unfortunately, it was for Killie! I passed the ball straight to their striker Danny Crainie and he whacked an effort into the back of our net. I heard John Lambie mutter in that gravel voice of his, 'We should have let the hopeless bastard sign for Kilmarnock!'
History now tells you I never did get the chance to play for Tommy Burns. A year after turning out at Old Trafford I might have been performing in the Scottish Cup Final in the hoops against Airdrie at Hampden in the showpiece game at the end of the season. It's a hearwarming thought, but the reality of the situation was vastly different. Instead, I was out of work, freed by Partick Thistle. A sports reporter telephoned me to ask how I felt about the situation. I felt like crying.
I don't think Liam Brady fancied me, either. Well, his missus certainly didn't. John Lambie and Gerry Collins went to the World Cup Finals in America in 1994 and were sitting in the stand beside Brady and his wife watching one of the games. Somehow the conversation came round to yours truly when Mrs Brady chimed in with, 'Chic Charnley? He's just a pub team player.' John Lambie, quick as a flash, replied, 'If your man had eleven pub team players like Chic Charnley he might still be Celtic manager today!' Thanks, John.
Celtic, of course, remain special to me, the club I adored and supported as a boy. I'm still a season-ticket holder at Parkhead to this day. And, yes, I often wonder what might have happened if I had taken an attack of brains that May evening at Old Trafford back in 1994 and Lou Macari had spelled out everything clearly without any ambiguity.
I remember once saying to Billy McNeill, who was the Celtic boss at the time, 'Why have you never signed me?' Billy didn't even blink as he replied, 'Chic, son, I like to sleep at night!' However, there was one evening when we were both at a function and Billy told me, 'You know, Chic, my  right hand tells me to sign you and the left hand says no.' Unfortunately, the left hand won, but the Celtic manager, like everyone else, knew I would have done anything to sign for that club.
When Billy McNeill went through his quadruple heart bypass in the mid-nineties I sent him a message, saying, 'You could have had that operation years ago if you had signed me.' I hope he saw the funny side.
* DON'T miss the unbeatable match report and action images from tonight's Partick Thistle v Celtic game at Firhill – only in your champion CQN.
Click Here for Comments >