CHRIS SUTTON wasn't named, but there can be little doubt it was the former Celtic striker who was in direct line of ire when Michael Beale let loose with a verbal volley yesterday.
The Ibrox boss was fuming at the unidentified figure, but he referred to some media pundits as "comedy acts" and there was a major clue in his diatribe.
The Englishman flagged up one of the individuals as "the worst-ever player to play for Chelsea" and that was why he wouldn't mention his name "because I try to forget him".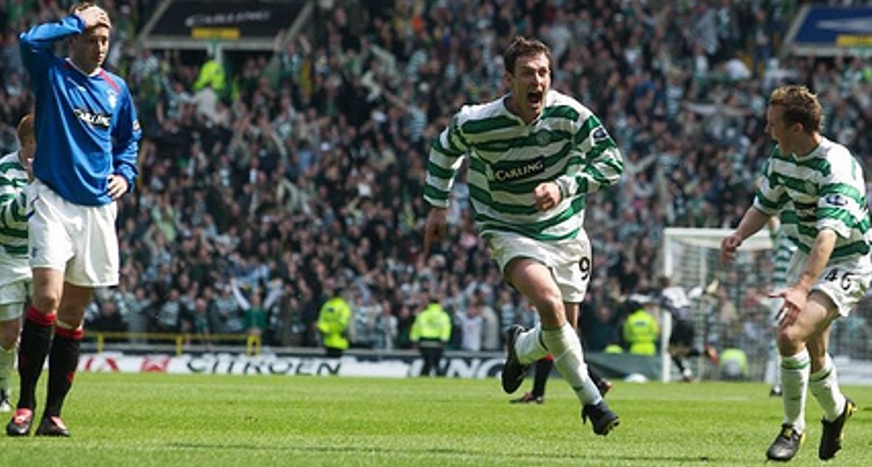 THE WINNER…Chris Sutton is about to be congratulated by Stilyan Petrov after smashing in the points-clincher against Rangers at Parkhead in May 2004.
Sutton, of course, played for the Stamford Bridge club for a solitary season in 2019/20 following a £10million move from Blackburn Rovers.
Admittedly, the English striker struggled in London, scoring one league goal in 28 appearances and was Martin O'Neill's first buy for Celtic in the summer of 2000 when he played a key role in the Hoops revival as he dovetailed brilliantly with Henrik Larsson.
Sutton had praised Beale for his act of sportsmanship when he allowed Partick Thistle to score an equaliser in the Scottish Cup fifth round match in Govan on Sunday.
The gesture was made in the immediate aftermath of a controversial goal from Malik Tillman who had misread the attempts of the opposition to return the ball to his club further downfield after play had been stopped to allow treatment for a home player.
From the kick-off, Scott Tiffoney was allowed to walk straight through – apart from a piece of daft mild resistance from Allan McGregor – to make it 2-2 before James Sands headed in the winner four minutes from the end.
THE PUNDIT…Chris Sutton views the action from the press gantry.
One-time England international forward Sutton was clearly at the wind-up when he mischievously asked if the Ibrox manager would have done the same in a match against Celtic.
Beale said: "Listen, there are pundits that are comedy acts. There are ex-players who are comedy acts. I don't even want to answer that question because they are comedy acts and they are there to create intrigue.
"They don't speak about the betterment of the game. They don't help our game at all. All they do is bring it back down to the gutter.
"There are a lot of good things we can speak about in our game at the moment, at other clubs as much as at my club. Why is that where they go? At the end of the day, we don't know, do we?
"If I had allowed that goal to stand and we had gone through in the Cup like that, what would that have done for Malik? What would that have said about me and our club?"
Beale, speaking to The Scotsman, added: "I think that day worked out about as well as it could have done when that situation happened.
"You see when people [react like]that I think we need to wise up in this country.
"There are people out there creating intrigue for intrigue reasons and those people, in my opinion, we need to mute them and quickly.
"Growing up, I was a fan of Chelsea. So, there is one pundit around here who is the worst-ever player to play for Chelsea. That is why I won't mention his name because I try to forget him."
Over to you, Chris. Seconds out, round three…
Click Here for Comments >