JOHN CLARK, Willie Wallace, Stevie Chalmers and Bobby Lennox all talking about Their Gaffer, Jock Stein…
"I got to know Big Jock a lot better when he put me on the coaching staff in 1974. We used to travel up and down Britain, taking in all sorts of games. I remember realising just how famous he was one night when we were travelling to Anfield to watch Liverpool in action. Big Jock was driving and we were running a bit late.
"Anyway, he jumped a red light. There was no chance of an accident or anything like that, we could see all a round us, and he took a wee chance. Suddenly, the sirens were going behind us and a motorcycle cop rode up beside us and motioned us into the side. This big English inspector appeared, looked in and said matter-of-factly: "Mr. Stein, how good to see you. Down for the game?"
""Aye," said Big Jock and, with that, the inspector called over the motorcycle cop and told him to give us an escort right to the front door at Anfield. Only Big Jock could have swung that. It was just another illustration of how famous the Big Man was. Everyone knew him and his high profile never did Celtic any harm." JOHN CLARK
"Big Jock knew a thing or two about a good player – he bought me, didn't he! We may have had a few run-ins during our time, but I always respected him. Funnily enough, I knew the Celtic trainer Neilly Mochan fairly well even before I joined from Hearts. I used to pick up Neilly's brother Denis in Falkirk on our way through to Stenhousemuir when we were both at Ochilview. So, I knew a few of the stories that were going around Celtic at the time.
"That was before Big Jock's arrival, of course, and everything changed when he took over. Naturally, I was delighted to sign for the club. As you may expect, I was fairly pleased with myself at being rated by the Celtic manager.
"Coaches seemed to be set in their ways back then, but Big Jock always believed in giving you some freedom to express yourself. His tactics were normally spot on and he had the honours to prove it. He also had the ability to make you feel super-confident. It got to the stage you didn't expect to lose – and, of course, we didn't lose many." WILLIE WALLACE
"I was an outside-right going through the motions until Big Jock took over. I remained out on the wing for a few games at the end of the 1964/65 season, but I was moved into a more central role after that and that is when my career really took off.
"The Boss saw me more as a striker and encouraged me to use my pace through the middle. I think he would normally favour Big John Hughes in the really heavy weather and, of course, Big Yogi could alternate between centre-forward and outside-left because he was so versatile.
"Jock just had that ability to get the best out of everyone. He always managed to get you playing at your peak. As far as team formations went, he tweaked things every now and again to keep you on your toes. The defence didn't change much, but Big Jock liked to manoeuvre his forward line around every now and again. When you look at the men he had as his disposal back then it is entirely understandable. He was the man who pulled it altogether." STEVIE CHALMERS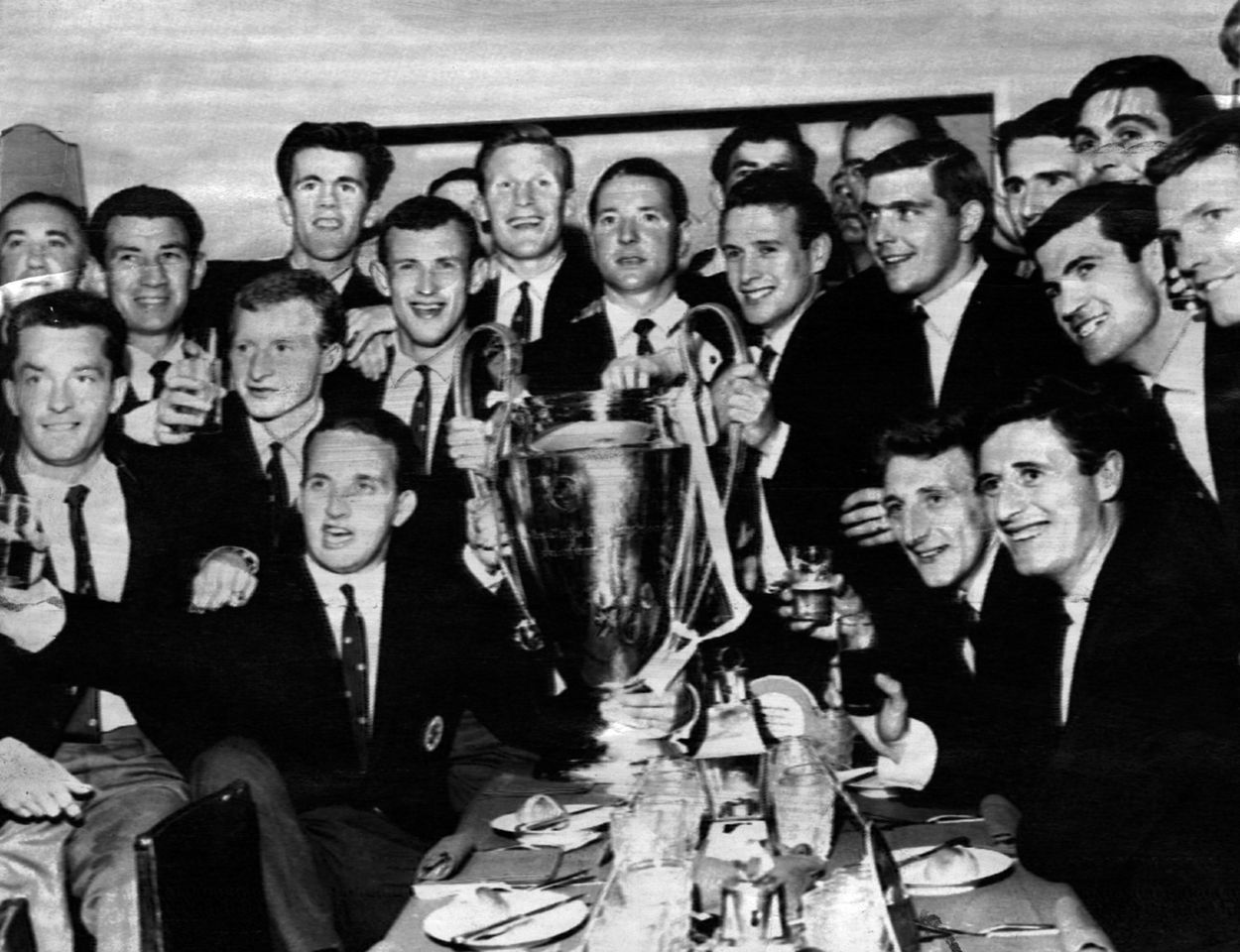 "I didn't know whether to be happy or sad when I heard the news that Big Jock was coming back to Celtic. I was having a run in the first team at the time and, of course, a new manager could have completely different ideas from the bloke who was in the dug-out before him.
"I needn't have worried, Big Jock worked wonders with me. I had always played as a schoolkid up beside the centre-forward, but Celtic started fielding me on the wings. I did as I was told, of course, and contributed as much as I could to the cause.
"But it was Jock who brought me inside and everything took off after that. I could never thank him enough." BOBBY LENNOX
*European Cup image by Barry McGonigle.
* John Clark, Willie Wallace, Stevie Chalmers and Bobby Lennox were speaking to Alex Gordon in 2007 for his best-selling book 'Lisbons Lions: The 40th Anniversary' – Alex's new book 'That Season in Paradise – Ten Months of Celtic Heaven' is out now on CQN Books and is available from Celtic Stores and online from 
www.cqnbookstore.com
Click Here for Comments >