CELTIC had a Christmas Day shock in store for club legend Jimmy McGrory, their unchallenged highest scorer in history with over 550 goals, when he made his debut as Kilmarnock manager.
The Hoops great, who had just quit playing at the age of 33 to take over as boss of the Ayrshire club, returned to the east end of Glasgow just seven days later for his first appearance as a team boss.
McGrory, who later managed Celtic in 1954 for 20 years before the arrival of Jock Stein, endured a miserable 90 Festive minutes in Paradise as his old club ran amok.
The tale is told in author Alex Gordon's latest Celtic tribute book, '50 Flags Plus One', which details each of the 51 seasons the team have been crowned champions.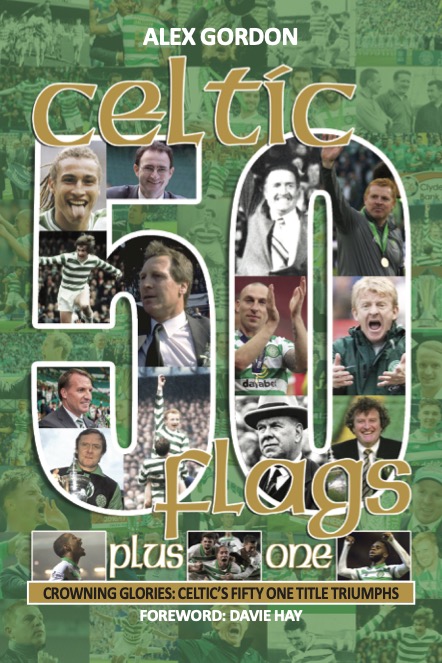 On their way to their nineteenth title, McGrory became the unwitting victim of a hammering from his former team-mates.
In another CQN EXCLUSIVE, here is an edited extract of the chapter that examined season 1937/38.
JIMMY McGRORY netted in the 4-3 win over Queen's Park on October 17 1937 and, in doing so, had claimed his last goal for the club. Ironically, his final strike came against Hampden keeper Desmond White who became chairman of Celtic in later years.
His effort also helped push the Parkhead side into fourth place in the First Division. The centre-forward's record was phenomenal and he is still second to none in the list of all-time Celtic goalscorers. It is doubtful if he will ever be removed from pole position.
In McGrory's absence, Celtic ran amok and scored a dozen goals in their next two games – a couple of 6-0 victories over St Johnstone and Partick, both at Parkhead. Joe Carruth, who led the line, fired in a hat-trick against the Perth side and added two against the Firhill outfit. Celtic remained in fourth position, two points adrift of leaders Motherwell and one behind joint-second Rangers and Hearts.
RECORD-BREAKER…Jimmy McGrory, Celtic's all-time highest goalscorer was on the receiving end on Christmas Day 1937.
Celtic then had back-to-back 1-1 draws with Third Lanark at Cathkin Park and Ayr United at Somerset Park before embarking on a breathtaking trail of success as they racked up thirteen victories before they were halted by Third Lanark in a 1-1 draw at Parkhead on March 19.
There were two notable wins in an emphatic run that pushed the club towards that season's crown. With cruel irony, Jimmy McGrory made his debut as Kilmarnock manager on Christmas Day 1937 at the ground he had graced for so many years.
The man who became the team's main punisher of visitors to the east end of Glasgow was on the receiving end on this occasion with his old club blasting their way to a stupendous 8-0 victory. Doubles for Johnny Crum, Frank Murphy and John Divers and singles from Jimmy Delaney and Malky MacDonald piled on the misery for McGrory.
MERCHANT OF MENACE…Jimmy McGrory terrorises another rival goalkeeper.
It was 6-0 at half-time and The Scotsman reported: "While Celtic scored eight goals, the score could have been bigger, as they eased up very noticeably in the second-half."
In front of 83,500 spectators at Parkhead on New Year's Day 1938, Celtic were still firing on all cylinders and enjoyed a 3-0 success over a routed Rangers. It was virtually one-way traffic as the home side dominated, but it still took them until seven minutes before the interval to claim the breakthrough goal after John Divers raced onto a clever pass from Johnny Crum, beat two players and slid the ball beyond the keeper.
In the fifty-first minute, the home side were awarded an obvious penalty-kick when Jimmy Simpson handled and Malky MacDonald drove in the award. Simpson's son, Ronnie, would later get used to using his hands in the Parkhead goalmouth during the halcyon days of Jock Stein. Divers hit the third seventeen minutes from the end.
I'M IN CHARGE…Jimmy McGrory at the Celtic manager's desk.
The report in The Scotsman spoke of Celtic playing in "hurricane fashion" and "laying siege" to the visitors' goal. It added: "Rangers were soundly beaten and from the time Celtic scored their second goal six minutes after the restart the Ibrox team were finished and never looked like pulling up."
There was an incredible slump in the Scottish Cup when Jimmy McGrory returned to Parkhead on March 5 with his Rugby Park outfit, thrashed three months earlier, and pulled off a startling 2-1 success. A crowd of 39,389 could only stare open-mouthed at proceedings as the Ayrshire team went 2-0 ahead and, although Malky MacDonald netted a penalty-kick, there was no way to prevent an all-time shocker.
There was a setback in the league, too, with Falkirk claiming an astounding 3-0 victory at Brockville on April 2, but, thankfully, Celtic picked up the pace again and won their next three contests, beating Motherwell (4-1) and Dundee twice in succession, 3-2 at Dens Park and then, three days later in Glasgow, by a more comfortable 3-0.
The silverware was ninety minutes away and Maley and his players knew a win against St Mirren in Paisley would bring the team their nineteenth flag.
SEVENTH HEAVEN…delighted Celtic boss Jimmy McGrory with the League Cup after the 7-1 hammering of Rangers in 1957.
Any pre-match nerves in the visitors' camp were dispelled when Johnny Crum opened the scoring inside the first minute and Jimmy Delaney doubled the advantage before the half-hour mark.
There was a slight hiccup when Bobby Rankin pulled one back before the interval, but Crum settled things fifteen minutes from time and the 3-1 victory assured green-and-white ribbons would once again adorn the league championship.
Celtic completed the season with a 3-0 win over Hibs in Glasgow to lift the title with three points to spare.
To round off a memorable season, Celtic lifted the Empire Exhibition Cup after beating Everton 1-0 in the Final at Ibrox when Johnny Crum claimed the winner.
CQN wishes all our readers the compliments of the Festive season. Have a wonderful Christmas and a Happy New Year, folks!
Click Here for Comments >