FORMER Celtic striker Chris Sutton has ripped into Hoops flop Tony Cascarino's crazy remarks about the team's historic 63-game unbeaten domestic record under Brendan Rodgers.
The dud frontman, who scored only four goals in 24 appearances for the club after being signed by Liam Brady for £1million in 1991, launched an ill-informed and factually-inaccurate blast at his old team this week.
Cascarino even labelled the outstanding sequence as "irrelevant".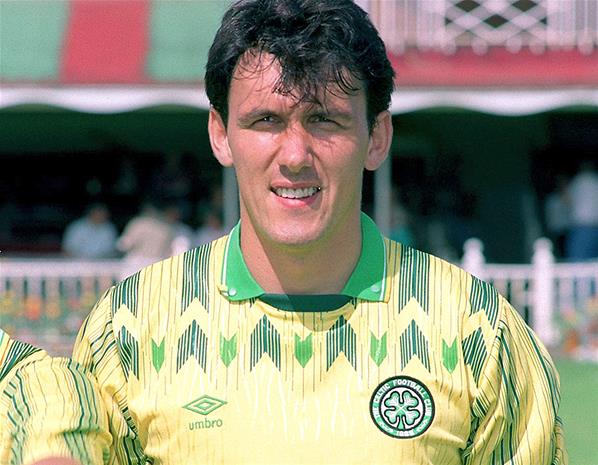 However, Sutton fired back: "Tony Cascarino has embarrassed himself with his statements about Celtic.
"It's a bit like me having an opinion on horse racing. I wouldn't have a clue what I was talking about when it comes to fences and furlongs and he's exactly the same when it comes to Scottish football.
"What makes his comments even worse is the fact Cascarino has admitted as much.
"He's miles off. Everyone is entitled to an opinion and you respect anyone who has thoughts on a game or a league they watch.
"But Cascarino has slaughtered Celtic's achievements at the same time as confessing he doesn't even watch Scottish football. It's utterly ridiculous.
"Between him and Joey Barton comparing the club's 63-game unbeaten domestic record to a Sunday League effort is comical.
"Here are two guys who couldn't cut it in Scotland's top flight yet are happy to come out and wham it.
"Well, the truth is Joey was arguably Rangers' worst signing and was part of the 63-game record in probably the most memorable game where he was humiliated at Celtic Park by Scott Brown.
"The only thing Sunday League were his performances for Rangers (sic)."
Sutton, Martin O'Neill's first signing for Celtic in the summer of 2000, continued: "At least, he knows the scene. Cascarino hasn't a clue.
"He's clearly been oblivious since his awful spell at the club in the early 1990s and his statements lack credibility.
"No-one is disputing Celtic should be beating teams like St Johnstone.
"This is despite the fact Cascarino played in a Celtic team that lost eight games in the season he was there, including Saints and the likes of Falkirk.
"Cascarino is right to say these are teams Celtic should be beating. No one is disputing that.
"But it's the consistency, the remarkable achievement to keep doing it for 63 games without blemish, that is being praised here.
"The gulf in spending between the likes of Celtic and St Johnstone, the last team to beat the champions, is massive.
"But it's the same in the English Premier League.
"Chelsea can massively outspend Crystal Palace and do so on a regular basis. Manchester United are easily able to spend fortunes more than Huddersfield. Watford could never get near the level of Arsenal's spending.Yet Palace have beaten Chelsea this term, Huddersfield have beaten United and Watford have beaten Arsenal.
"These things can happen in a one-off game. It has been proved at England's highest level. That's why Celtic are being praised – for the fact they have managed to avoid such a result since Brendan Rodgers arrived at the club."
Sutton added: "As I said, Barton should know better but there is no excuse for Cascarino.
"He's not got a clue about the standard of Scottish football as he doesn't even bother to watch the games.
"He admitted as much on the radio before being taken to task and backtracking."
The CQN Podcast: A Celtic State of Mind (EP21) Matchday Special v St Johnstone – When History Was Made…
Kevin Graham recorded the latest episode of The CQN Podcast at McDiarmid Park, as Brendan Rodgers' side extended their unbeaten domestic run to a record-breaking 63 matches against St Johnstone.
ORDER BRENDAN RODGERS – THE ROAD TO PARADISE WITH A FREE GIFT INCLUDED FROM CQNBOOKSTORE.COM
Brendan Rodgers – The Road to Paradise The Official Autobiography is available now from CQNBookstore.com – the first 100 orders received will come with a free gift.
From a small village on the north-east coast of Ireland to the treble-winning manager of Celtic, Brendan Rodgers' football journey has been a remarkable one of dedication, hard work, a desire to always keep improving and a determination to succeed at the highest level of the sport … and throughout his life there has always been a love of his team … Celtic Football Club.
In his own words, Brendan Rodgers tells his story – from a promising young footballer growing up in Carnlough and dreaming of playing for Celtic one day through to his professional career – as a player, a coach and now as one of football's top managers. And Celtic supporters will also enjoy an insight into a remarkable season – from the first competitive game in Gibraltar through to the thrilling Scottish Cup final, with plenty of highlights in between, including the manager's first trophy triumph and some unforgettable Glasgow derbies.
Click Here for Comments >