JOHN COLLINS insists the inspirational Scott Brown will continue to dominate in the champions' midfield for years to come.
The former Hoops star and assistant boss witnessed the 32-year-old skipper boss the 3-2 victory at Ibrox on Sunday.
Collins, who worked with Brown at the club during his two years as Ronny Deila's No.2, reckons the player will benefit from calling time on his international career.
The ex-Celtic, Hibs, AS Monaco, Everton and Fulham star, 50, said: "Scott has been a great servant for Scotland and for Celtic for a long, long time.
"But it is tough to play for both club and country in midfield when you get to 32 or 33.
"You are all over the pitch and it becomes hard.
"I watched every minute of the game on Sunday. It was just a typical Scott Brown performance.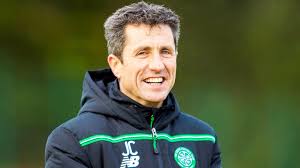 "He kept it simple and very rarely gave the ball away. He took the ball from the Celtic defenders and gave it to the wingers and No.10 ahead of him.
"Who knows what retiring from Scotland will do for Scott Brown? Every player is different. Every situation has got to be taken on its own merits.
"You never know what's around the corner with injuries at that age and at that stage in your career.
"But he is playing for a football team that is controlling games and enjoying 75 per cent possession.
"That is a lot easier for him than playing for a team that just gets 30 per cent possession.
"He's a good trainer. Every manager he's ever had will tell you that. He goes on the training pitch and works hard every day.
"That's why he's stayed at the top for a long time, by working hard and training properly.
"Scott can go on for another three years, at least, if he stays injury free."
Read more from Celtic Quick News …
Catch up with Pau67's Blog here …
Click Here for Comments >