KRIS COMMONS has revealed the partnership he insists will fire Celtic to the Champions League play-offs.
The midfielder believes Patrick Roberts and Leigh Griffiths will be the key men when the Hoops face Astana in the return leg at Parkhead on Wednesday.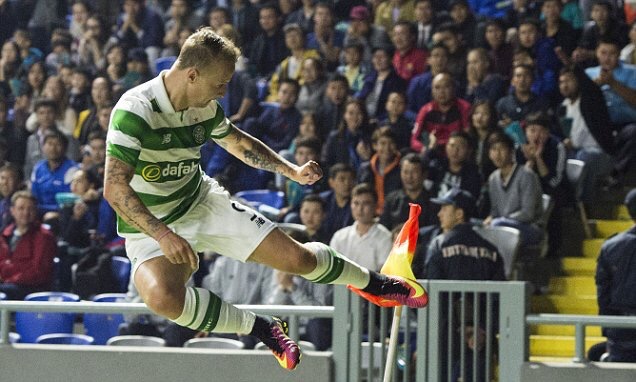 It was the on-loan Manchester City winger who set up last season's 40-goal man for the vital late equaliser in Kazakhstan.
Commons, who remained at home to work on his fitness, provided the co-commentary on Celtic TV as he watched the live transmission of his team-mates in action..
He said: "I was really impressed with the mentality and great work ethic of the team. It was a joy to watch them.
"Paddy Roberts was superb against a defender, Shomko, who looked out of his depth.
"Astana will now be looking ahead to next week and thinking: 'How are we going to deal with this guy? How do we stop him?'
"The experience will do the player the world of good and I'm sure he'll go up a gear at Parkhead next week.
"Roberts picked out Leigh Griffiths for what was a textbook goal to give us a draw.
"It was absolute instinct from Leigh. As soon as he gets the ball to his left foot you know he is going to have a go.
"That was a little bit of magic from Roberts and Griffiths and you know there is more to come.
"I wanted us to test their back four and to get their keeper working. I don't think he looked too comfortable.
"We were always going to get a chance and, at this level, you have to take them when they come along."
Commons, who scored and was the star of the show when the-then Kazakhstan champions Shakhtar Karagandy lost 3-0 in Glasgow three years ago, also praised the contribution of goalkeeper Craig Gordon.
He said: "Craig made some super saves, but, of course, there won't be a fixture in Europe where he won't be required to be involved.
"Look at the contribution from Fraser Forster, for instance, in Europe during his time at the club.
"You need a dependable keeper on these big-game occasions.
"I would say Craig Gordon has been there for the team on at least 99 per cent of the times he has been required.
"It was by no means a perfect performance, but it's a 1-1 draw away from home. So job done and now for the second leg in Glasgow."
Commons, 32, who underwent surgery on his back in the summer, has yet to figure under new boss Brendan Rodgers.
However, the talismanic playmaker, has scored 10 goals in Europe and is one of the Hoops' most experienced performers at this level.
He added: "I'm doing everything I can to get into the manager's plans for the game against Barcelona in Dublin at the weekend.
"The main thing, though, is to be at the top of my game when – or if – I get the call."

Have you read Once Upon a Time in the Kingdom of Govania yet? It is a hugely entertaining laugh at both Rangers – the dead one – and The Rangers and all the characters in their tale of woe are included with out Phil playing – as usual – a significant role as a thorn in their side.
It's only available from www.cqnbookstore.com and is selling fast. Remember to share with friends after enjoying yourself!
Click Here for Comments >