THE rail journey from Queen Street to Haymarket is a well-travelled path for 65-year-old Andy Lynch. It was in Scotland's capital where he made his first tentative steps as a professional footballer in 1969, when Johnny Harvey plucked the exciting outside-left from junior football and almost immediately threw him into the Hearts first team. Back in the late 60s, that Glasgow train might just as easily have been destined for Dunfermline, Coventry or Blackpool as all three clubs were keen on signing the apprentice compositor and he even starred in a trial match for the latter against Liverpool while still on the books at Kirkintilloch Rob Roy. However, the move to Tynecastle worked out well for Andy as he soon caught the eye of Jock Stein. The Celtic boss had already tried to swap Willie Wallace for the winger before eventually splashing out £35,000 for the life-long Celtic fan in 1973.
It is undoubtedly in the green-and-white hoops that Andy Lynch is most fondly remembered. An injury-plagued initial 18 months saw him almost disappear from the reckoning until an unexpected switch to left-back resulted in him picking up a Scottish Cup winner's medal in 1975. Two years later and he won another, when he scored the winning goal against Rangers from the penalty spot. His second Scottish Cup triumph completed a memorable League and cup double but it was to be Jock Stein's swansong as Celtic's orchestrator of success. The following season saw Andy's tenacity rewarded with the captaincy after Kenny Dalglish's departure and Danny McGrain's injury. 1977-78, however, was a season of abject despair and Stein was sensationally liberated of his duties at its barren conclusion. From the detritus of this trophyless campaign, the incoming Billy McNeill memorably led his ten men to a winner-takes-all victory over Rangers in his maiden season in charge. It was fantastical stuff but the Celtic story is frequently laced with such narrative and Andy Lynch was proud to be part of one of the club's unique successes.
For the last 18 months, Andy and I have been working on his autobiography between Glasgow and his home in Spain. We met for another interview session on the night that Sevilla defeated Liverpool to win the Europa League final. Ironically, the main subject of our Edinburgh discussion was the astonishing attempted takeover of the Merseyside outfit that saw Andy make global news in 2010 as he headed an Arabian consortium's multi-million pound bid to move into the English game. It is an insightful tale that Andy has never discussed in length until working on his memoirs and one that will intrigue and surprise in equal measure.
The sensational move to England's Premier League failed to materialise and Andy moved back to Spain where he has kept a low profile for the past few years. Still an avid Celtic supporter, he now watches the club's progress from afar and I was privileged to join him for a fortnight last year to work on his book. During our time together, we watched Ronny Deila's men on the big screen as they failed to win in back-to-back clashes against Aberdeen and Ajax. It was clear to me then that Andy was far from convinced with Celtic's Norwegian boss, so did his opinion change as the season progressed?
"There didn't seem to be a game-plan," mused Andy. "People speak about playing 'the Celtic way' and what that meant to me as a player was to approach every game like it was the last match you'd ever play for Celtic. It was about discipline and focus. 'The Celtic way' is to have a winning mentality. Ronny's team didn't even get near to that in Europe. Every time we played a European match we looked lost. We were being beaten home and away by teams who were hardly well-renowned.
"For me, it was very clear that one of the main problems this year was the central defensive area. Initially, Craig Gordon, Jason Denayer and Virgil van Dijk worked in a triangle and they were solid. They were the three best players in the team in my opinion. Whenever anything came over, the goalie was calm because he was confident in his centre-halves and they were all working well together. The centre-backs knew when to clear it, they could play with the ball at their feet, they could man-mark, they were strong. The three of them had that marriage. Deila didn't have that this season because he lost those two defenders. The scouting staff identified other players but none of them fitted the bill. It began to affect Craig Gordon's performances and it looked like he had lost his confidence. It takes time for a goalkeeper to work it out with his defenders and it was a nightmare start because that partnership was broken.
"You could have given Ronny Deila another three years in charge and nothing was going to change. The revolving door policy with transfers wasn't successful. He brought players in and then didn't know where and when to play them.
"One thing I will always remember Ronny Deila for at Celtic Park is that he insisted on playing with just one forward. That is how he lined up and it was the worst thing he could ever have done. Systems don't win football matches; players do. The players have got to buy into the manager and believe in him. You could see that he wasn't able to handle certain players. As a coach, you cannot allow players to dominate you and you need to keep a tight grip on them.
"Kris Commons never really featured this season. He's a very clever player and should have been playing most of the games but the manager didn't get the best out of him. When I was playing, we would never have got away with the way he reacted after being substituted against Molde. We would have been out the door, without a doubt.
"This level of football was new to Ronny Deila. He had done well in Norway but he didn't have the necessary insight into managing a club like Celtic. He didn't get it and now he's gone. I do have a bit of compassion for the guy and wish him all the best."
One of the legacies of Ronny Deila's reign will undoubtedly be the meteoric rise of 18-year-old Kieran Tierney. As a fellow left-back, was Andy surprised at the phenomenal contribution made by Scotland's newly-crowned Young Player of the Year?
"With a club like Celtic," Andy asserted, "it's not a huge surprise that they can produce a quality young player like Kieran Tierney. You would expect that an exceptional player should be produced through the youth development system every couple of seasons. He has certainly been a bright spark in what has been an otherwise disappointing season for Celtic. He looks a calm player, who plays the game as though he's been in the side for five years. He looks like the type of natural player who doesn't have to think too much about the game. He has been terrific, has a good temperament, decent balance, is decisive in the tackle and he knows when to overlap, which is so important for a Celtic full-back. I was pleased to see that he scored a goal with his right foot in the last match of the season. Like me, he is very left-footed but he has already gone one better than I did because I don't think I ever scored a goal with my right foot.
"I would place some caution on the euphoria that has surrounded him this season though, and that is due to the fact most young players tend to hit a ropey period at some point. The philosophy of the coaches that brought me up was that a good young player would be put into the first team for maybe 10, 12 or 15 games and they would then be pulled back out again for a rest. This also allowed the player to observe the game from the sidelines before going back into the fray. It has all been going so well for Kieran and I am not suggesting that he is going to have a loss of form. If he was to drop out of the first team for a spell, the only problem I could foresee would be that there is nowhere for a young player to go to continue their development. That was where the Reserve League was paramount to our game when I played. Many of my contemporaries would agree that it was the perfect platform for young players who are simply too good for the youth level. It also allowed first-team players to come back from injury and play at a competitive standard and those who were out of the picture had an opportunity to put themselves in the shop window. There was a really good blend there and we definitely miss the Reserve League in Scottish football.
"Kieran has all the attributes of a top-class player and I recently read that Arsenal were planning to whisk him away in a multi-million pound deal. I'd be bitterly disappointed if that happened at this stage of his career. Not just because Celtic would lose a good young player but also due to the fact that he still needs time to develop. When I was coming through, there were one or two exceptionally talented youngsters who went down to England and it never worked out for them because they probably made the move too soon. I hope he stays for a good few years at Celtic Park and makes a steady progression in his football career. If the day comes when he outgrows the Scottish game then the time would be right for him to move on to an even bigger club than Celtic. But for the time being it would be the wrong move for him and he should just remain settled at Celtic and enjoy his football.
"It's not easy for Celtic though because money talks and the sums of cash that are being used in the English game are simply immoral. Has it helped their game to develop? It's not as if we can say that it is really good to watch because it isn't. Many of those teams are spending ludicrous amounts and are getting no better but money is certainly dictating the game. Celtic don't have that level of spending power so we cannot compete in the transfer market but if we are able to continue to produce and develop a high standard of young player at Celtic Park then I hope we can gain some credibility back in Europe.
"It would also be a very positive message to the Celtic supporters if the club were to stand firm against any massive bids from down south. The fans would be very grateful if the powers-that-be did all that they could to hold on to their young talents. There is a real affinity between the supporters and young players like Kieran Tierney and this is because every Celtic fan in those stands has dreamed of playing for Celtic Football Club. When they see a young boy coming into the team and doing well they are delighted for them because they are living the dream; they are fulfilling the supporter's dreams."
In football, one man's successful introduction invariably leads to the downfall of a team-mate. The unfortunate player who has been edged out of the first-team picture as a direct result of Kieran Tierney's rise has been Emilio Izaguirre. Does Andy believe that the experienced fan's favourite has a future at Celtic Park?
"I do think it is time for Emilio to move on. Not because I don't rate him but because it is important for him to play first-team football at this stage of his career. There has been talk of him playing in America and I would say that's the right move for him. He has picked up great experience playing for Celtic and I'm sure that, when he leaves, he will look back fondly at his time here. He was a whole-hearted player but a lot of people questioned his defensive ability. I wasn't sure about that. He was a good player but young Tierney came in and took his chance and now it doesn't look as though Emilio will get his place back. If he was younger then I would maybe expect him to stay but, at his age, he should go and experience the fantastic set up of soccer in America. People don't realise how hot it gets on the park over there but Emilio will adapt. He adapted the other way when coming to Glasgow from Honduras and I think that, if anything, he will be more comfortable in the heat of the MLS. The game has boomed over there and it's a great time to be involved. A lot of people think it's a walk in the park but it's far from that.
"During my years in America and Canada, playing and coaching in the NASL, I was really impressed with the way they went about their business. It amazed me sometimes and I still watch the American game now. Some of the matches are getting capacity crowds and we shouldn't be surprised. There was always that possibility that soccer would end up as the number one sport in North America. The implications of that would be huge when you consider the amount of kids who play American football, baseball, ice hockey and basketball. But parents realise that it's one of the least dangerous sports compared with the others I've mentioned and they know it is enjoyed throughout the whole world so why not in America? In my time there was less focus on grass roots and more emphasis on getting in big names from all over the world. Pele, Franz Beckenbauer, Georgie Best, Johan Cruyff to name but a few. I set up the Montreal Manic's reserve side, Manic II, and it was a huge success. The Manic then started discussing setting up a third and fourth team and creating a structure that was similar to British football teams. Unfortunately, before we could see this through the NASL folded in the early 80s. I've not been surprised at the game's progression since the league was re-launched back in the 90s and it seems to just get better and better. If they have a weakness then they root it out and they have always had the Midas touch when it comes to sport. They really love their football over there now and I can only see it going one way. I truly believe that the U.S.A. will win the World Cup within my lifetime."
During the seven years that Andy Lynch spent at Celtic Park, he was educated by two of the club's most legendary figures. In Jock Stein and Billy McNeill, he had a pair of tutors who had shored up the Hoops' rearguard throughout the 50s and 60s and into the 70s and his own defensive qualities were identified by the former and utilised by the latter to great effect. Andy's back-line concerns with the current squad are well-founded and it will be a key area for Brendan Rodgers to strengthen before a competitive ball is kicked in this new dawn. Dedryck Boyata may have come from the same stable as Jason Denayer but he is clearly from a lesser class; Jozo Simunovic looked the part but has been an expensive addition to the treatment table; Efe Ambrose's cult status has run its course and his penchant for the abysmal means that he cannot be relied upon; and the influential Charlie Mulgrew is yet to sign a contract. So who will Rodgers team up with Erik Sviatchenko, who has shown all the hallmarks of a leader and general at the heart of the defence?
With Celtic's back-line in disarray 40 years ago, Jock Stein made an audacious signing in Hibernian's Pat Stanton. He is regarded by Andy Lynch as one of the finest centre-backs he ever shared a football pitch with. Should Brendan Rodgers source a man with half the class of Stanton, then Andy Lynch's defensive misgivings would be undoubtedly put to rest.
Written by Celtic author Paul Dykes who is currently working on Hoops, Stars & Stripes: The Andy Lynch Story is due for release in winter 2016.
——————————————
It's Father's Day in a few weeks. The special CQN offer is order the new Charlie Gallagher? What a Player! book, which will be signed by the Lisbon Lion, and you will get a copy of The Winds of Change, which covers the period from Liam Brady taking over as Celtic manager to Martin O'Neill leaving, for FREE.
Only available at cqnbookstore.com, just order the Charlie Gallagher book and we will do the rest.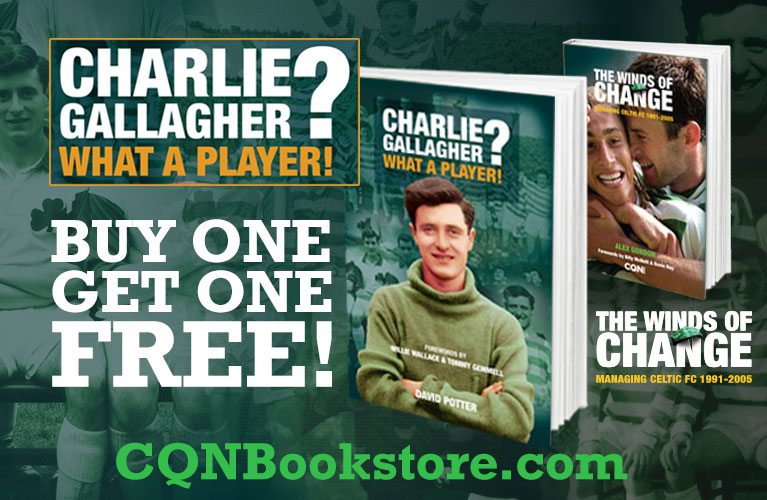 Click Here for Comments >