Next up for our #FanOfTheWeek #10IAR is Carol Boyd from Ayr.
Carol was born and raised in Ibrox in Glasgow, Carol has been a Celtic supporter for over half a century and has had a season ticket for the last 30 years. She currently sits in Section 113 at Celtic Park where she rarely misses a match. She has travelled the length and breadth of the country to follow Celtic and also venturing to Europe when she can as well to support her beloved Bhoys. It would be fair to say Celtic Football Club is in her heart.
Carol is also a shareholder in the Club. She takes holidays from her work to travel to the AGM's just to feel part of the club. Times are great at Celtic Park just now, but not always so. Through all those good times and the bad times, the level of support for Celtic has never wavered. Here is Carol's Ten In A Row. #10IAR…
What's your first memory of Celtic?
My first memory of Celtic is from when I grew up in the southside of Glasgow. I used to watch the Celtic supporters going to Ibrox. I remember the noise and I loved being in amongst them. At half time when the gates were open, my friends and I went in to watch Celtic play. When I couldn't watch Celtic play I used to listen to the games on the radio. I still do today.
What's the first Celtic game that you went to?
My first full game watching Celtic was the Scottish League Cup final at Hampden, against Rangers in 1965. Celtic won the match 2-1.
Who are your 3 favourite Celtic players and why?
John Collins – Because of his footwork, movement on the ball and flair. Scott Brown – Because of his strength, his excellent positional sense and his leadership on the park. Chris Sutton – Just because….
Best game you've ever seen involving Celtic in your time?
It is tough to narrow down, as I have been fortunate enough to see many great games involving Celtic in my time. But, I would say it would have to be Celtic v Barcelona in the Champions League in 2012. To have witnessed Celtic beating Barcelona was incredible, and the atmosphere inside the stadium was amazing. in all honesty, with the financial gulf between the two clubs, it is something I may never witness again. It was a special night.
Worst game you've ever seen involving Celtic in your time?
The worst game for me was the Scottish Cup Final in 1999 against Rangers at Hampden. I had been unsuccessful in being allocated a ticket for the game. I didn't want to miss it and was offered a ticket from a woman that knew a guy. It was an over inflated price. it was only one ticket so I would have been going alone, but I was desperate to go, so decided to head to it. I met the guy in a side street to buy it, after which I started to worry that it was a bit dodgy and maybe the ticket was a fake. Looking back, I wish it was then I wouldn't have had to watch the hope turn to despair. Rod Wallace scored the only goal in them winning 1-0. It secured them the Treble. A tough day.
Pick your best Celtic XI from what you have had the pleasure of witnessing?
Artur Boruc
Danny McGrain
Kieran Tierney
Johan Mjallby
Virgil Van Dijk
Scott Brown
Stillian Petrov
Lubo Moravcik
John Collins
Henrik Larsson
Chris Sutton
Give us a funny or surreal, moment from your time supporting the Hoops?
I'd say one of the most surreal moments from being a Celtic supporter was the magic of Seville. I had been entered automatically into the ballot for tickets, as I had travelled to Europe to watch Celtic play. I hadn't had much luck in recent ballots until then and I honestly couldn't believe it when I found out I had tickets.
I had been offered astronomical money for those tickets, but there was only one outcome for me – which was to go. My daughter and I travelled to Malaga on the Tuesday night (night before the game). Originally it was supposed to be direct into Seville but, it was altered due to the volumes of people.
We had the whole match day in Seville, which for anyone fortunate enough to have been there would agree that it was something else.
Wall to wall green and white, the atmosphere generated by the fans in that sunshine is something that I will never forget. When I got to the Stadium I had bought some programmes (which were to compensate for the fake ones I had to bin which I had previously bought at the airport).
The atmosphere inside the stadium was amazing, and we were so very close to making it even more memorable, but sadly it wasn't to be. As the match had been to extra time and we had the bus journey to the airport now as well, we were now late for the flight home. It had been a mad rush from there and after being rushed through security and ushered onto the plane, we were for home.
I had got sat next to a young woman, and through conversation with her, she had said she hadn't managed to get a programme. I gave her one of the ones I bought at the stadium and she told me she had auditioned for a talent show. Her name was Michelle McManus.
Despite the score and the rush, it was a magical and quite surreal experience. it was a genuine privilege to be there.
Give us your assessment on how the season has gone so far?
I have probably been slightly underwhelmed with some of the performances this year. Although we have had some very good ones and still being in Europe after Christmas, which is excellent for the club, it feels a little inconsistent for me this season so far.
In all honesty it would have been very difficult to maintain the level of performances from the treble winning year before. Teams figure out ways to play against you and it becomes a lot more difficult to have the same impact on games.
Combined with the fact, we have had some big players not up at the level that they were the year previous. It all adds to it feeling a bit less fluent than it was before.
But due to qualification for the Champions League starting so early the players didn't get much of a time to recover and reflect, and as the first half of the season progressed they looked pretty shot of confidence and a little tired towards the end of 2017.
So hopefully they have had a nice break and Brendan has the Bhoys back feeling refreshed for the 2nd half of the season. Still a lot to play for.
Money isn't an option, which 3 players would you sign for Celtic just now and why?
Due to defensive frailties of the late, I reckon I would shore up those areas to get the team more consistent.
Manuel Neuer – Exceptional goalkeeper, very comfortable with the ball at his feet and a huge presence.
Virgil Van Dijk – Would need money to be no object to have Virgil back, but what a player. He is on the way to being something special.
Thiago Silva – One of the best defenders I have seen in the flesh. Exactly the type of player I would love us to have
Finally explain to us what Celtic means to you?
It is not just about supporting a football team for me, it is about being part of something special.
That was excellent Carol. You've certainly had some experiences as a Celtic fan over the years. You hold Chris Sutton in high esteem and we can see that with your beaming smile when you met him. Chris will love that haha. The story about Michelle McManus is very surreal also. Thanks for your input and hopefully we'll continue to see you at Celtic Park for the next 30 years as well Ma'am. HH
Interview by Scotty Alcroft for CQN
#FanOfTheWeek
#10IAR
@Scotty10IAR on Twitter
NEW CQN PODCAST OUT TONIGHT WITH THE ORIGINAL HOLY GOALIE, JOHN FALLON
Paul John Dykes and Kevin Graham are joined by Lisbon Lion, John Fallon, at The Penalty Spot in Glasgow.
The Original Holy Goalie discusses pay disputes, bonus rows, cigarettes & alcohol at Seamill, breaking up The Lisbon Lions and The Quality Street Gang, the battle of Montevideo, his volatile relationship with Jock Stein, and he finally tells the full story behind his European Cup winners' medal.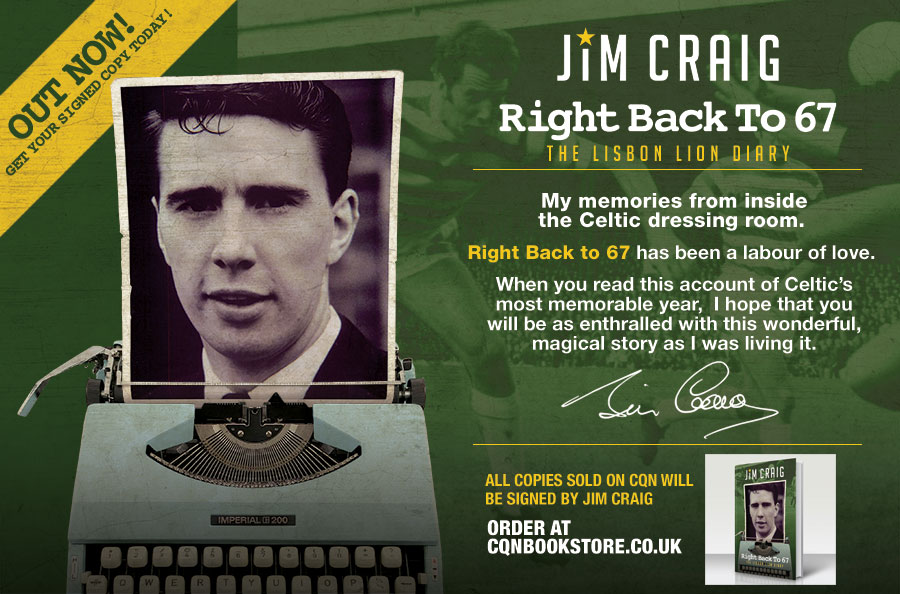 Order Jim Craig's new Lisbon Lion Diary – Right Back to 67 from CQNBookstore.co.uk and you will receive a signed copy from the man himself plus a FREE copy of That Season in Paradise – Ten Months of Celtic Heaven signed by fellow Lisbon Lion Bertie Auld! Simply order Jim Craig – Right Back to 67 and the second book will be sent automatically. Stocks are running very low so hurry!
Click Here for Comments >