IT is sometime since I wrote anything of any substance containing any analytics of what happened over at Ibrox during the Murray years.
Over a period of time the details of the Ibrox business operation during David Murray's tenure has been analysed repeatedly on forums like this and on blog pages which are aimed at football fans of all clubs. so it is not just a matter of interest to Celtic fans.
Not only that, but interest in the entire affair should not be restricted to football fans as there is clear evidence of conduct which must alarm the professions in general, banking in particular, those who are interested in proper sporting governance and last, but not least, the Government and the British tax payer.
Beyond that, we also have to face the reality that in Scotland we have a sporting press which dances to the editors tune and the media proprietors profits and losses. It is in the financial interests of those who control, have invested in and who work for the media to report all footballing matters through the tinted (and indeed tainted) glasses of a Celtic & Rangers vista with little heed being paid to other clubs or indeed the truth.
The fact is that Celtic & Rangers, or "The old firm" if you like, sells.
Any story must be sesationalist if possible and designed to appeal to or outrage one set of fans or another. If you can get a story which appeals to both sets of fans — whether it piques their interest or causes outrage is immaterial — then you have struck gold.
It is against this background that no one in the "Sports Establishment" or in the media circus really wants to focus on what is a clear and evidenced set of facts.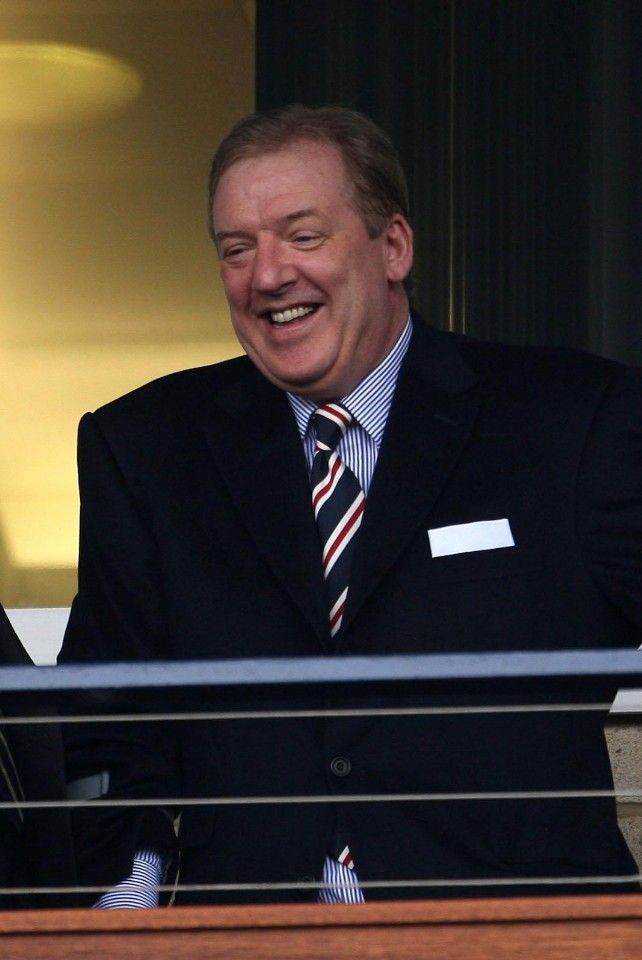 Those facts include the following:
1. Between 1989 and 2011 Rangers Football Club (Rangers PLC) amassed losses which in real terms came to over £180 Million.
2. During that period, the club were directly or indirectly (via MIH) funded by the absolutely disgraced management of the Bank of Scotland.
3. During the same period, the same bank financed the majority of the other senior football clubs in Scotland, and during that time they reigned in the available finance to those clubs whilst continually extending further credit lines to Rangers until such times as it became plain that the club was operating at an unsustainable level of debt. Eventually they sought to reduce their "book" damage by funneling money through MIH which allowed Sir David Murray to shore up a totally failed share issue in 2005.
4. Throughout this period, the governing body of Scottish Football and the body which regulated premier league football failed to take any steps which would safeguard the interests of small individual investors in Rangers Football Club. There was little, if any, attempt at real club financial regulation by the Scottish Authorities nor any detailed, or even cursory, examination of the strange and unsettling financial model and practice which was enveloping Scottish Football as a whole where the contrast between the one bank's attitude towards Murray and Rangers was in stark contrast to their practice everywhere else.
5. Despite having a written mandate from all clubs which allowed them to make independent enquiries, The SFA failed to make any enquiries whatsoever as to the status of paid or unpaid taxes by the football club concerned at any juncture even when it became plain that there was a major and life threatening dispute between HMRC and RFC. There was no clarification sought about the nature and the practices behind EBT schemes employed by Rangers PLC nor was it ever questioned as to why one club would employ such a scheme while all others did not.
Thursday night's BBC program gave a clear explanation for this corporate malaise and failure.
Alex McLeish – a man for whom I have a fair amount of respect – made a plain and honest statement when he said that he was well aware that without the ability to operate at a certain level, by whatever means, Rangers would not have been able to compete with Celtic.
And it is apparently essential for Scottish Football that Celtic and Rangers should be able to compete.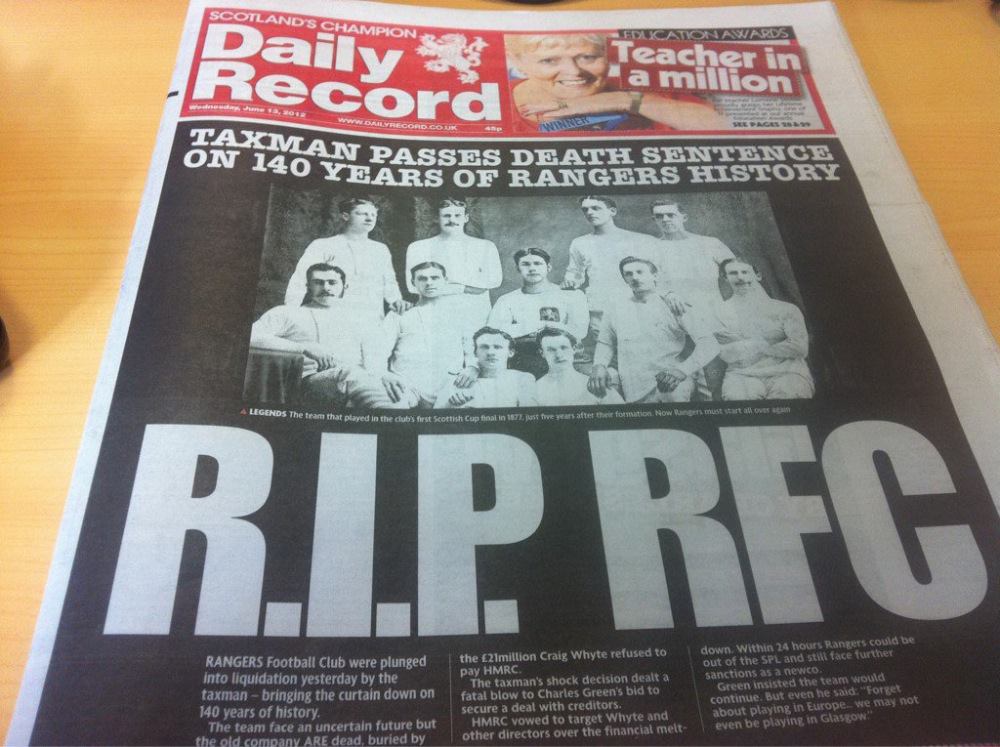 McLeish's confirmation of both his knowledge and the accepted need to compete with Celtic absolutely matches the statements given in evidence by Sir David Murray to the First Tier Tribunal when that forum heard the details of the big tax case.
It is the only official "on the record" statement from the man who controlled Rangers throughout the period.
The entire business model and business practice deployed at Ibrox was designed to gain as much an advantage as possible and to enable the Ibrox club to compete with and beat Celtic.
Confirmation from the owner and sometime chairman and director, and confirmation from a respected football manager (a former Scotland manager and captain) both of whom were privy to and beneficiaries of the scheme concerned.
It is to be remembered that the failure to disclose side letters and secondary contracts has been admitted as being a practice which was followed to avoid any POSSIBLE sanction from the football authorities for potential breaches of the rules, and that later a judicial panel would describe such conduct as "as close to match fixing" as could be imagined.
There is every possibility and probability that many who worked at Ibrox, who invested in the club, and supported the club with their season ticket money were completely oblivious to the poor business governance and decision making that was leading the club to disaster.
However, the same cannot be said for those in charge at the SFA and those who were in the know at the Bank of Scotland.
Both of these bodies have supervisory roles when it comes to its members or its borrowers.
The SFA has a duty to ensure that all clubs play by and adhere to the same rules. They have checks and balances to ensure this and they have the powers to make enquiry and seek clarification. The fact that while armed with accountants, lawyers and compliance specialists they allowed Rangers to run up huge debts and employ an unlawful tax scheme for years, and to avoid proper player registration consistently without question is a matter of corporate failure and professional shame.
The Bank has a duty to shareholders and savers to invest in businesses wisely and prudently with proper due diligence and business management being employed to protect investors funds and to ensure that the banking decisions reached are based on solid knowledge and proper business compliance.
It doesn't always work out of course, no one and no business is perfect, but repeated losses totalling £180 Million over a thirteen year period is hard to support especially when the business concerned fails to adhere to professional governance essentials and embarks on at least two questionable, challengeable or unlawful tax schemes with catastrophic financial consequences if deemed unlawful.
However, for the sake of Scottish football and for the benefit of media sales and press access, much of this detail will be ignored, brushed under the carpet and forgotten about.
The attempts to preserve the "Celtic and Rangers thing" was scuppered when fans absolutely rejected any new club (following the liquidation of Rangers PLC) being shoe horned into the premier or first divisions and forced club chairmen to think again.
Had it been left to the clubs themselves, at least at the outset, then " normal service" would have been resumed as quickly as possible.
Many media outlets will simply say "let's move on" and many Rangers fans will argue that anyone who wishes to investigate and learn from this abject business failure is no more than a Rangers hater.
However, as can be seen from the recent changes afoot at UEFA, Scottish Football is being left behind financially and is perhaps considered a backwater which contains two big clubs and a shower of "diddies".
Even Fergus McCann recently stated that having any kind of Rangers out of the top league was "bad for business" and that the other teams were fed by Celtic and Rangers and went on to imply that they should just toe the line.
With respect to Fergus, that is not acceptable to this football fan.
I welcome Celtic playing against any football club but only if the same rules, on field and off field, apply to all.
Other football clubs are to be respected no matter what their financial or playing strength and there is far more to Scottish Football than just Celtic and Rangers.
However, until there is a full examination of just what happened at Ibrox, how it happened and the effect it had on clubs beyond Celtic then we will collectively have learned nothing.
That is not good for fans of either Celtic or Rangers, and it is sure as hell is not good for football fans who are hell bent on supporting other clubs without whom we have no league, no cup competitions, no farmework and no justifiable case for maintaining a league which falls within the ambit of UEFA.
If we can't run and supervise football properly in Scotland (both on the pitch and off it) why should UEFA continue to have us come under their umbrella at all?
Written by BRTH for CQN.
Click Here for Comments >