CELTIC legends Davie Hay and Tom Boyd have been named as new Ambassadors of the club and will join all-time Hoops great Billy McNeill, who received the honour in 2009.
Hay made 293 appearances for Celtic and lifted five League Championships, two Scottish Cups and one League Cup as a player. As manager, he brought the League Championship and Scottish Cup to Celtic Park in 1986 and 1985 respectively.
Former captain Boyd made 407 appearances for the club and played his part in winning three League Championships, three League Cups and two Scottish Cups. 
Both men have had a long and close association to the club. They already have important connections to Celtic FC Foundation and Celtic Pools and will now also join Celtic as Ambassadors, where they will represent the club at a range of events.
Celtic Chief Executive Peter Lawwell said: "Everyone at the club is delighted that Davie and Tom have accepted our invitation to become Ambassadors for the club. Both men have made such huge contributions to the club over so many years and we wanted to recognise this in some way.
"Davie and Tom are figures who have such stature and command great respect and I am sure our supporters will welcome them to the club in these roles as they join Billy McNeill, another of Celtic's greatest-ever servants."
Hay, a close friend of CQN, said: "It is a tremendous honour for me to be recognised in this way by Celtic and I am very grateful to the club for making this gesture. I have always been a Celtic supporter and Celtic has been such a big part of my life for so many years.
"I have tremendous memories from my playing days and those times in management where I was fortunate to bring some success to the club. I have made sure that I always tried to remain close to the club and I am very much looking forward to continuing this close association in this role."
Hay is already in the history books as the first individial to be a player, manager, Chief Scout, Assistant General Manager and be associated with the Foundation and Pools.
He joked: "Seriously, I am thrilled to receive this recognition from Celtic. You could say I've had more comebacks than Frank Sinatra!"Boyd, who, like Hay, also had a spell with Chelsea, added: "Celtic will always be my club and will always be one of the greatest institutions in world football. It was an honour to represent Celtic as a player and as captain and, of course, to now take on this role as Ambassador is something I am also extremely proud of.
"It is very humbling to be recognised in this way and I am looking forward to representing and serving the club in any way I can."
Celtic icon McNeill said: "I was delighted when I heard that the club were appointing Davie and Tom as Ambassadors.
"I have known both of them for many years and I am sure they will represent the club with the same pride and dignity as they showed when wearing the Hoops.
"Celtic has a rich history and is renowned throughout the footballing world, so it is very fitting to have ambassadors such as Davie Hay and Tom Boyd who personify everything the club stands for."
CQN Bookstore has a very limited number of copies of Caesar & The Assassin remaining. To get your copy order
HERE.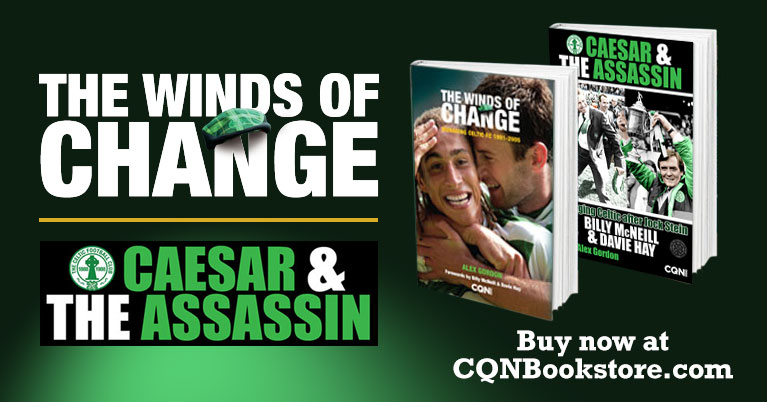 Click Here for Comments >