CHRIS DAVIES, who followed Brendan Rodgers to Leicester City last week, has revealed he will be a Celt for LIFE after his 33 months at the Hoops.
The former assistant boss also admitted he was cheering on the Hoops in their games against Hearts and Hibs before he took his place in the Vicarage Road dug-out on Sunday to watch the mid-table Midlands outfit lose 2-1 to Watford.
Davies made his remarks after an emotional few days following the swift and unexpected decision by Rodgers to walk out on the champions at such a crucial stage of the campaign.
Before the loss against Watford, the Englishman kept up to speed with events at Parkhead although his manager chose to watch his new team's Under-18 side on Wednesday instead of the Hoops' game in Edinburgh.
Davies hopes Neil Lennon can get the team over the line to complete a third successive clean sweep of domestic trophies and cement their place in the history books.
The ex-No.2, speaking to the Daily Record, said: "I watched both of Celtic's games against Hearts and Hibs and I was cheering them on.
"I was hoping they'd win and thankfully that's what happened.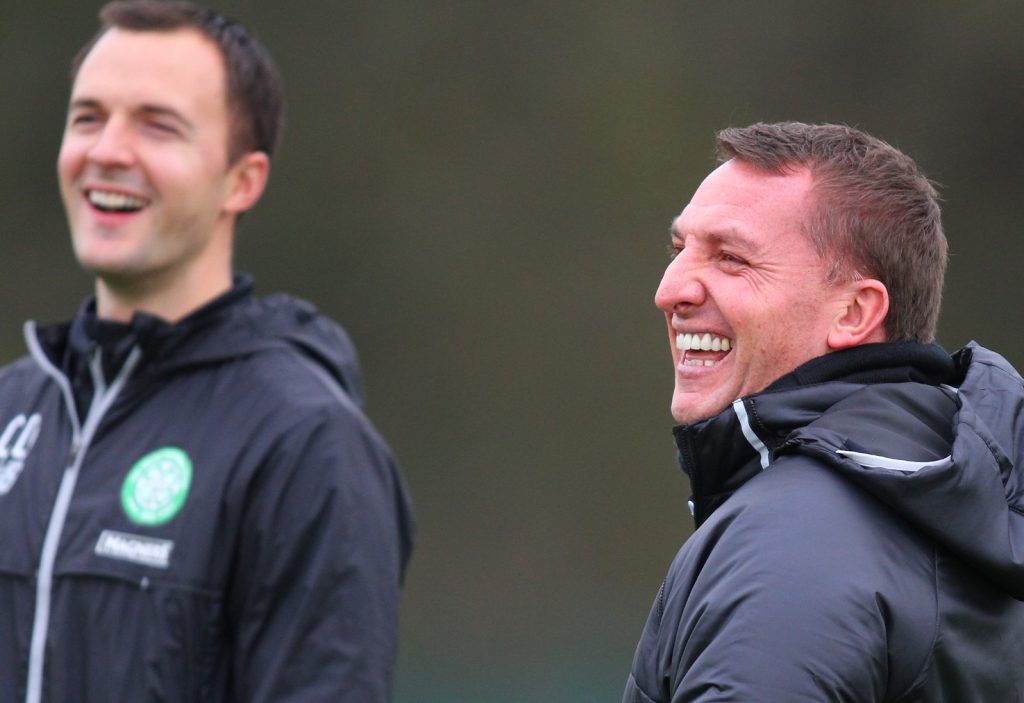 LAUGHING BHOYS…Chris Davies and Brendan Rodgers in happier times at Celtic.
"Celtic are now in a great position in the Cup and in the league and those were two important games.
"Hopefully, they can now finish the job and win another treble. I am a Celtic supporter for life now. It was a fantastic experience.
"It's a fantastic club and I had a great time there, with memories that will always stay with me. I really did warm to the club and I had such a great time there.
"I am going to miss being part of the club and I will always be watching their results. I wish Celtic all the best for the future.
"I loved everything about my time at Celtic – the club itself, the players, the fans – and it was a tough week with a big change for us all.
"It's been an emotional week overall and it wasn't easy to leave Celtic.
"We just felt this was the right move for us and, hopefully, in time people will realise what a good, successful period we had at Celtic."
Click Here for Comments >