RONNY DEILA reckons anger will continue to spur on 39-goal Leigh Griffiths throughout his Celtic career.
And the departing Hoops boss insists there is more to come from the 25-year-old Scotland international hitman.
Deila has got the best out of the striker this season, although he has maintained that whoever is coaching the payer in the future needs to understand what drives him.
He said: "Leigh is an emotional guy and he feeds off of that. He got angry on Saturday against Hearts, he got booked and then he scored a great goal straight afterwards.
"His anger has to be controlled and channelled, but, at the same time, you cannot take it all away from him because he lives off of it at times.
"It will be a pity for him if he misses the match against Motherwell through suspension. He has been so important for us this season that to miss the last game is a little bit tough on him.
"But I did not do anything will Leigh. It is not me who deserves credit for the goals he has scored this season. It is down to the player himself. He changed things, he worked hard, he did it all himself and he deserves all the glory he is getting now."
Kieran Tierney, too, has been labelled one of the success stories of Deila's reign. The 18-year-old left-back has dominated the Young Player of the Year awards and the Norwegian believes the defender will keep on improving – because he has the hunger to do so.
He said: "Kieran has to keep on developing next season. And he will. I am quite sure of that because he is a boy who just loves playing football and if he keeps that spirit and philosophy then he will keep getting better.
"It has pleased me so much this season to see him improve. When he first came into the team he struggled a little bit with challenges in the air, but you can see now that he is getting stronger there. Technically, he can still be better, but with experience he will be a great Celtic player.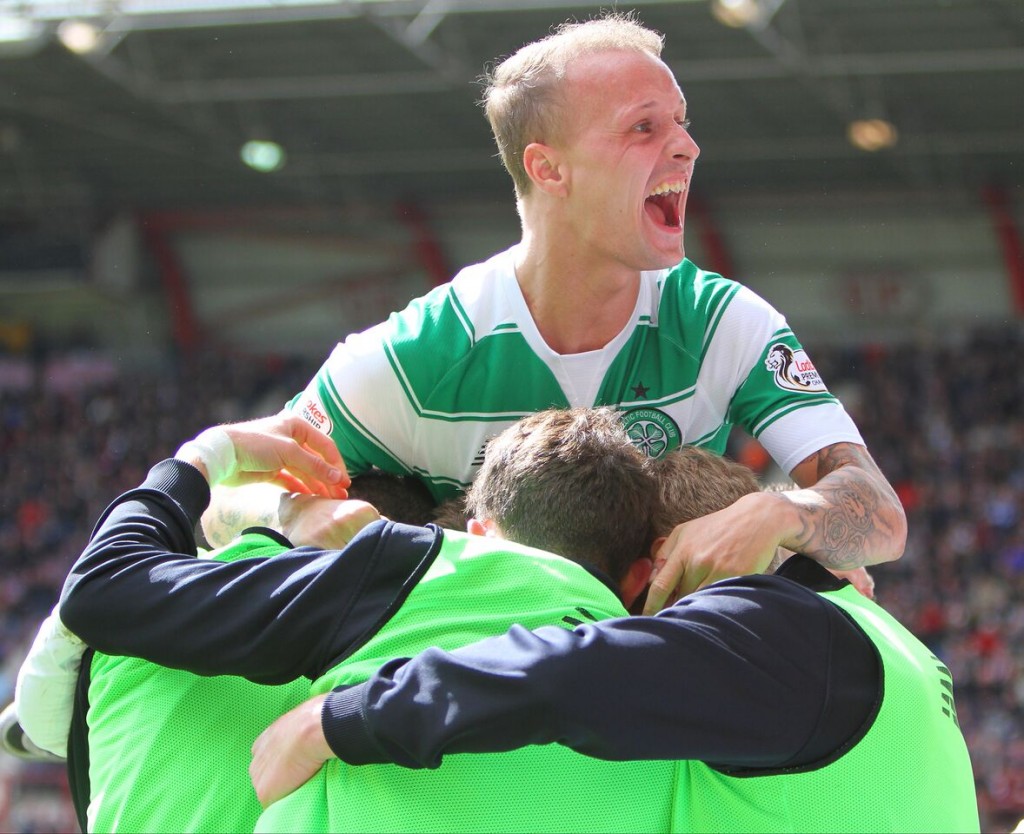 "I will watch him next season because I love to see players getting better. But I love all my players here. I love the club, I love the supporters and I will always look for what they are doing and how the club is doing. That will never leave me."
Deila added: "I don't know if we have had the credit we should get for winning the league, but I don't care about that. I know that what we have done is an achievement and when you read the history books it will stand as another league title that this club has won and that is the most important thing.
"People can say what they want. It is up to them. But what you find is that there are always people who want to drag you down in football and there are always people who want to build you up. But I have done my best, I can look myself in the mirror in the future and know that I came here and I gave my all.
"I gave it everything I had and devoted myself to the job. It is not my place to say whether it was bad or good, but I believe I gave my best. Were there things I would have differently? Of course, there were. But I took a big challenge here, I learned a lot about myself and I can honestly say that I tried my hardest to make it work. It has been tough, but I have been a happy man this week."
Deila is now preparing for the visit of Aberdeen to Parkhead on Sunday, the trip to St Johnstone in midweek and the grand finale against Mark McGhee's Motherwell side.
He added: "I would like to maybe have a look at one or two youngsters because there are a few players in there who have caught my eye. But I also want to win these last three games. I don't just want to play them out. I want us to win by playing the way that we did against Hearts.
"We look forward to the game against Aberdeen and we will go into it on the back of a good week. I want us to produce the same kind of energy and fight that we showed against Hearts. I don't want to stop now."
—————————————–
ORDER your signed copy of CQN's latest book CHARLIE GALLAGHER? WHAT A PLAYER! now from
CQNBookstore.com
and receive a signed copy and a FREE gift!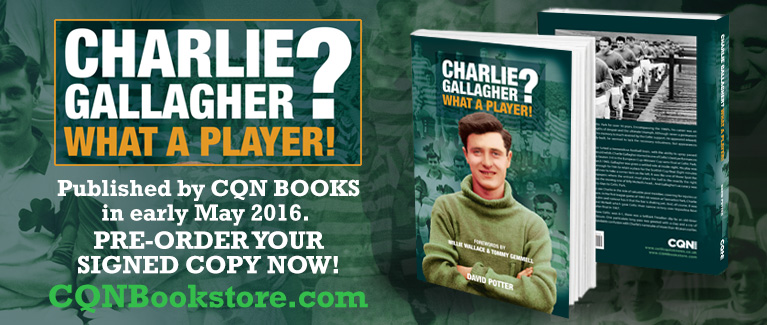 Click Here for Comments >