MANCHESTER UNITED, CHELSEA and the other big hitters can forget about luring Celtic's sensational young striker Moussa Dembele away from Paradise anytime soon.
That's the view of Celtic manager Brendan Rodgers who this morning was asked if he was expecting moves for the player in the January transfer window.
Dembele has been sensational for Celtic this season and earlier this week scored a brace for France's Under 21's in a 3-2 victory over an inform England side, thus ending their 15 match unbeaten run.
The 20 year old has also scored three times in the Champions League for Celtic, including two against Manchester City in that memorable 3-3 draw at Celtic Park. His wonderful goal against  Comedy Club Sevco Rangers took Celtic to the League Cup Final and he'd already scored a hat-trick in the 5-1 triumph that Celtic are calling the DEMBELITION DERBY. The club have even released a DVD with this as the title!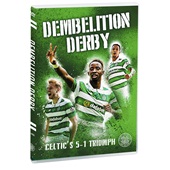 Speaking on radio this morning the Celtic gaffer was frank in his assessment of holding onto the player, now regarded as one of the hottest young prospects in European football.
"We are realistic here, that was part of my role coming in here, accepting that if we have top talents they will move on," Rodgers explained.
"We have seen it with Victor Wanyama and Virgil van Dijk to Southampton and Ki to Swansea.
"Dembele is just a young kid, he has only just come in and he loves it here.
"It's a huge club, there's the support, he gets idolised here, he has Champions League football and he is really really enjoying this process of learning and playing for a big club," Rodgers continued.
But Celtic fans should enjoy Dembele while they can. The player, who arrived in the summer from Fulham in a £500k deal, is unlikely to see out his four year contract and in all likelihood will be sold in a year or two.
"I'm sure that at some point later down the line it might happen but it's certainly not something that we are looking at just now," revealed the Celtic boss.
Meanwhile Kenny of the Celtic is out now on cqnbookstore.com – you'll love it!
Click Here for Comments >