KIERAN TIERNEY had a ball during one of the most memorable European nights in recent Celtic history.
The exciting left-back prospect got a close-up view of the Hoops' awesome 2-1 Champions League triumph over Barcelona in a special evening under the floodlights in the east end of Glasgow.
Tierney could practically reach out and touch his heroes as Victor Wanyama and Tony Watt scored the goals in a fabulous win over Messi and Co.
Making the evening even more dramatic was the date – November 7, 2012, the day after the club's 125th anniversary.
The 18-year-old was a ball boy as the Spanish superstars were turned over by Neil Lennon's men.
Now Tierney, who has made a wonderful early impression in his top team appearances, wants to play his part in these marvellous occasions.
He got the nod to start in the 2-2 draw with Fenerbahce last month and has a real chance of facing the Norwegians of Molde at Parkhead on Thursday night in another crucial Europa League tie – a must-win situation for Ronny Deila's outfit after the 3-1 loss in the first game.
Tierney, who was born in Douglas on the Isle of Man before his parents moved to Scotland when he was 10 months old, said: "My favourite memory from a European night was when I was ball boy the night the team beat Barcelona 2-1. You can't look past that. It's up there.
"I was behind the goal, just at the corner when Wanyama scored and started to run over.
"You would never have thought at that point that I would have played for the club in Europe by now.
"It's what I wanted, but you never think it might happen. You just need to keep believing and working hard.
"You go through different stages when you are younger. You might go a month or two when you are not even getting a game at the age level you are playing and you are only the bench.
"But you can't let that affect you at all. You just have to keep working as hard as possible. If you do that and the manager believes in you, then you will get a chance.
"I was still at school when that Barcelona game took place. To then be playing in European games three years later feels incredible."
Tierney, who took over from Emilio Izaguirre during the 3-1 win over Aberdeen at the weekend, admits he is living the dream, but the teenager insists he will remain grounded.
He said: "I don't mind it if the fans want pictures or autographs. It's actually a good thing because when you are younger that's what you want.
"You want people to know who you are and that you play for Celtic.
"I was out there all the time when I was younger. I would be trying to get autographs and pictures with the likes of Henrik Larsson and Bobo Balde.
"I'd always hassle my dad to wait behind. I know what it's like to be out there so it's a dream come true to be on the other side now.
"It also means I'll always stop if anyone wants anything, because I know what it's like.
"Yes, it's been brilliant. The older lads have made me feel welcome.
"Obviously, when you first go in you are a bit nervous yourself. But that is just because you are looking at all these first-team players. But you quickly join in."
Tierney has fired himself right into the frame for Molde and, looking back at the victory over the Dons, he added: "I was delighted. Overall, the team performance was great and that was the most important thing. We got the win.
"We bounced back really well last week from the Molde game. Beating Dundee United and Hearts away and then Aberdeen at home was great.
"I was delighted with the opening goal. It was a good cross, but Leigh still had plenty to do to get in between two big defenders. He rose well and it was a great header from him.
"Getting forward is probably one of the most important parts, especially the way the manager wants to play.
"You need to be up and down, up and down. I am just trying to do that as much as I can.
"I have always defended, but I used to play in midfield, I used to play left-mid, so I kind of know the attacking part as well.
"When I played there it probably helped me. I know what to do going forward when I am playing left-back.
"Leigh has been in great form this season. He is very dangerous with any half-chance.
"He is one of the best finishers around. He is not the tallest, but he can get up above defenders to get his head on the ball as he showed on Saturday.
"He has also scored a few goals in Europe, which has been great. It also gives real confidence to the people who are setting him up, because you know he can take the chances."
      ——————————————————-
B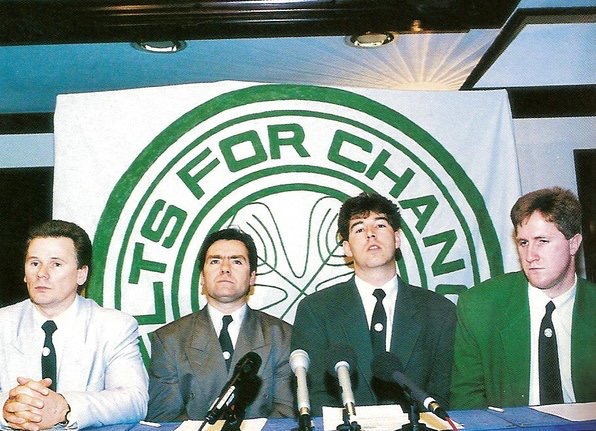 rendan Sweeney's masterpiece Celtic; The Early Years is now an essential item in every Celtic family's bookcase. Your grandchildren will want to read this book and they will pass it on to the next generations. No wonder it it selling so fast!
You can order direct from
CQN HERE
or click on the image below.
We were trying to find a photograph of Brendan and came across this one from 1994. He's on the far right and as you can see was involved (as a founding member) in the Celts For Change campaign which did so much to remove the old board and save our club.
We've invited Brendan onto CQN for a Q&A next week to talk about the early years of our football club. Anyone who attended the book launch last week at the Jock Stein Lounge will know just how interesting this is going to be.
We loved the story about how Rangers after losing 5-2 in Celtic's very first game, claimed that it 'didn't count' as they played some reserves and so on.
So Celtic went to Ibrox to play them and beat them 6-1.
Because of what Brendan did for Celtic, when it came to publishing the book that he worked on for five years, CQN refused to take any fee whatsoever from this Celtic hero, for our publishing services. So close your eyes for a minute and try to envisage your life without Celtic….
CELTIC; THE EARLY YEARS is written by Brendan Sweeney and published by CQN Books and you can order your copy
HERE
.
Click Here for Comments >