CELTIC skipper Scott Brown has warned Motherwell they need to sort out the home support before a serious incident occurs.
The Scotland international midfielder joked that he collected a £1 coin and a packet of Chewits in the midweek 1-1 draw, but maintained it is only a matter of time before a player or fan is injured by missiles being thrown from the stand.
Brown said: "You don't hear anything about coins launched in people's direction and trying to injure people.
"That all gets thrown under the carpet and they focus on two decisions.
"I made a pound. There was a coin, strawberry Chewits – I picked them up, too! It isn't showing a great example, especially when there are kids there.
"If they misplace that coin and it hits a kid or someone else on the head and you don't want that, but eventually someone will get hit.
"There was a few times it happened. It was at throw-ins and a few times with Griff taking a corner.
"It is always from that same section. You think they would eventually move those fans around to stop it happening.
"It is starting to become part and parcel of going there now. It is a great place to go and play football because the fans are on top of one another, but you can't be launching things.
"If we do anything then we would have a bad reputation if we had to throw something back, but they can do it for 90 minutes.
"Eventually someone will get injured. Until that happens, no-one will do anything about it."
Motherwell, as you know, last night crashed the internet when the released their statement before minutes later Grant Russell's former employer, STV carried the story. CQN had been trying to contact Grant regarding the missive throwing and the unacceptable behaviour of the Motherwell supporters, and yeah we were at the game.
There were no broken seats in the rear of the stand and we were among the last to leave the ground as we were perched way up at the back where remarkably you struggle to see the goals below you.
Here is the Motherwell statement for those who haven't see it yet:
A word or two about the penalties that Celtic got in the last two games. Davie Hay describes both as "soft penalties" but still penalties.
Both referees, Thomson and Collum, were correct to award them and equally both could have decided against pointing to the spot, perhaps if their position on the park was different.
For example the referee at the recent game in Dingwall failed to award a penalty kick when Callum McGregor was about to score because from the angle he saw it the ball changed direction. However it was clear that this happened as a consequence of the foul as McGregor's foot made contact with the ball as he was falling.
It was a penalty but you could see why the referee wasn't sure enough.
Celtic could also have had a penalty in Paris when Dembele wad bought down just before half-time.
So from four claims in recent games Celtic got two and probably should have had more.
The media on Wednesday night apparently were hysterical about the fact that Celtic had been awarded a spot kick – again! Few had seen enough of the incident to judge and to be fair the Celtic fans I spoke to at the game didn't think it was a pen.
However Willie Collum, from his angle, was 100% sure and it turned out to be the correct decision.
So the point of the Motherwell statement is what?
They failed to appeal the red card on Sunday, the route that was open to them to make their point wasn't taken. We know why.
And now the hacks are one by one having to eat their Wednesday words when shown the footage that clearly shows that McGregor was barged from behind by a reckless opponent who effectively threw away two points for his side and helped preserve Celtic's unbeaten run.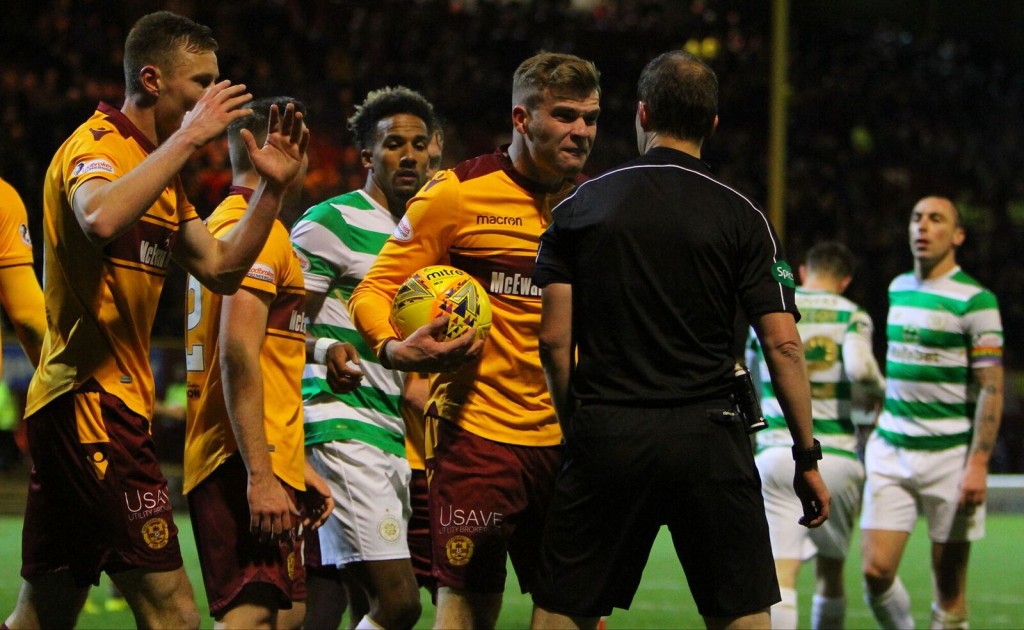 Motherwell were over physical all night on Wednesday and it eventually cost them two points.
Sports Sound on BBC Scotland last night was a remarkable listen as their usual line-up of ex-Rangers players, one by one, were forced to watch the incident again and grudgingly accept that it was a penalty. The first penalty Celtic had been awarded in the league all season.
And if ex-Rangers players, who were vocal in calling out the dodgy refereeing and Celtic diving on Wednesday could now accept that Willie Collum got it right then we can pop over to, of all places, Follow Follow, the hardcore Rangers forum for a similar perspective.
They had worked themselves up into a frenzy thinking that Callum McGregor was offside, clearly oblivious to the rules of the game.
Remember this id from Follow Follow:
"Saw it on Twitter. McGregor is the last filth player to play the ball before he crosses the byline.
"He then comes back on and gets the penalty without a team mate getting a touch so he can't be offside.
"It's a clear penalty when you see it from the viewpoint Collum had.
"A f.king stupid barge by the Motherwell player. McGregor was heading away from goal and it was a totally needless challenge."
I think we can rest our case.
ORDER YOUR SIGNED COPY OF JIM CRAIG – RIGHT BACK TO 67, A LISBON LION DIARY TODAY!

Click Here for Comments >