A while back, Brogan, Rogan Trevino & Hogan's mum had a long overdue chat with Celtic legend Dixie Deans…
The drive down to the Lodge on the Loch was beautiful with the sun shimmering on Loch Lomond. It had been cloudy and a little dark grey throughout the day but just as we hit Balloch the sun was attempting to break through the clouds.
I was going to my second cousin's wedding and knew that I would be meeting up with other members of my family including my mum who, I thought, might struggle to last the day given her age and her health. This would be her first family outing since the death of my dad in March and while she was looking forward to the day, I also knew that she would feel his absence terribly on such a fun family occasion.
My cousin was the bride, a lovely lively girl, with great parents and two great sisters. Her mother, my godmother, was the only member of that immediate family who was a Celtic fan with the bride, her sisters and her father all having an allegiance to the team who play at Ibrox.
As soon as I got out of my car in the hotel car park, I saw someone else who I knew would be a guest. He had been at one of our family weddings before — almost 40 years ago — but today he was there because he was the uncle of the groom who was a strident Celtic fan and who I believe even reads these pages from time to time.
Irrespective of who had invited him, there was no mistaking the suited figure of John Kelly Deans – although, of course, to many his is simply called  by his nickname –"Dixie".
My late father was a great admirer of Dixie's and I remember him telling me more than once of Dixie's first European trip with Celtic when the team travelled to Malta to play Sliema Wanderers.
" You should have seen Dixie Deans" he would say " He was just beaming from ear to ear. He was just so proud to wear the team blazer with that crest on the breast pocket. He was like a kid in a sweetshop."
As we went through the hotel door at just about the same time, I introduced myself to Dixie and his wife. The last time I had seen him was at the league cup final against Kilmarnock a few years ago when I stopped for a chat at half time with Dixie, Bobby Lennox and the late Joe McBride.
None of the ex players personally knew me well, but I had introduced myself and talked about a couple of things which took them back to many years ago when I had been in their company as a wee boy — and they all knew who my mum and dad were.
Once inside the wedding reception I met up with my mother who was sitting in her wheelchair and holding audience with other family members.
" Who was that you were talking to she said? I recognise him I think."
"That was Dixie — Dixie Deans."
" Oh – go over and tell him I want to speak to him. I have something to tell him." She said in true schoolteacher voice — mixed with a hint of Gestapo like only old teachers can.
With a little hesitation, I walked across to the other side of the room where Dixie was chatting with others and when the time was right I said that when he had a moment my mum wanted a word — about what I didn't know – but I had my suspicions.
I felt a bit embarrassed about delivering this summons and made it plain that he should not feel obliged to go out of his way to come and speak to her at all – and at that I moved on and went to speak with others.
However, sure enough, about 5 minutes later I saw Dixie work his way round the room stopping to talk to my cousin George. He and Dixie had been great friends back in the day and it had been George's wedding Dixie had been at all those years before.
A few minutes later, and there was Dixie down on his haunches to bring himself level with the wheelchair having a chat with my mum. Ten minutes later he was still there and someone said  " Jim, you had better go and rescue Dixie — he has been trapped by your mother!"
Of course, I knew what she would be talking to him about and I was pretty certain it was the one thing that Dixie Deans hates talking about.
THAT PENALTY SHOOT OUT AGAINST INTER MILAN!
Now everyone knows that Dixie's penalty went over the bar and over the years just how high it went has been exaggerated.
He actually didn't miss the goal by too much but because of the way the shot was hit, it sailed onwards and upwards forever and so the myth has grown that the ball almost left the stadium completely.
That night, Dixie had come on as a substitute and had been disappointed not to play from the start. However, as he left the dugout to make his entry into the game Jock Stein had sad to him " Dixie! Are you ready to go on and win this game for us?"
Just like the kid in the sweet shop, or the feeling he had when he first wore the blazer, Dixie puffed out his barrel chest and said "Yes Boss" with huge pride.
In training, he had never missed a penalty. Not once. And so when it came to the spot kicks he was everyone's choice to take the first one.
However, as he said himself, taking them in practice is not the same as taking them in the European Cup Semi Final.
When the time came he was still confident of scoring, but then he had to start the walk — and he had never figured on or experienced anything like that walk.
He has described the journey, from the half way line to the penalty spot to place the ball, as the longest walk of his life. Time just slowed and seemed like an eternity, and in that eternal few moments the weight of all the history weighed down on the young man who had been so proud to wear that blazer. All the history of the club, all the history of the 75,000 fans — fathers, sons, grandfathers, nephews, uncles, aunts, mothers, daughters, friends, relatives, ancestors — all the spirits that haunt Celtic Park on European night were all haunting Dixie Deans.
Of course the result was the same for all of us — the ball sailed over the bar.
Worse still, was the fact that this was the very first UEFA penalty shoot out in history. It was a phenomenon that no one had ever seen or experienced before. Whatever the outcome, the television pictures would be sent all around the world to show the first ever major game decided by penalty kicks and of course the one person who missed and cost Celtic a place in the final was John Kelly Deans.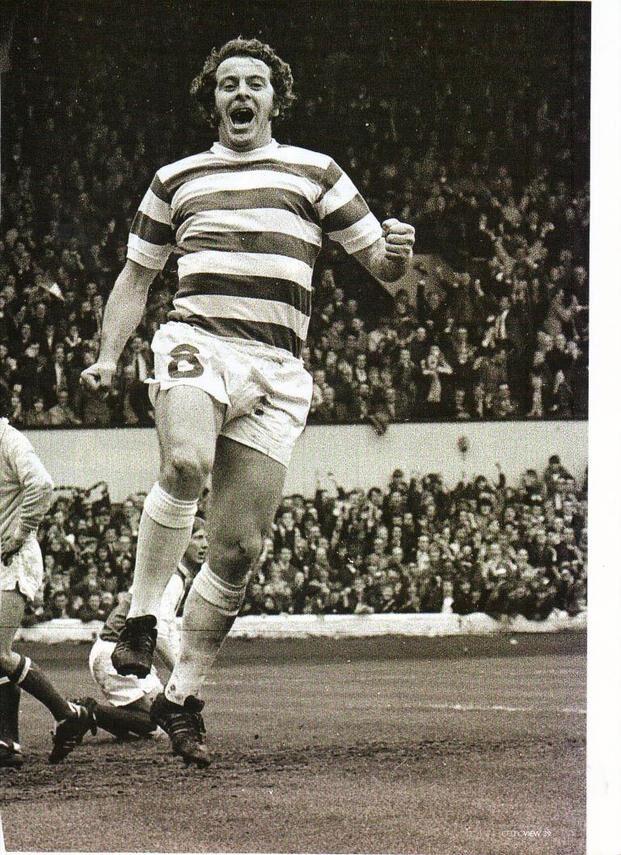 In those days, all ten penalties had to be taken, and so even with the score at an unassailable 5-3, Bobby Murdoch had to step up and take the last penalty. Had he missed it, even deliberately missed it, it might not have been so bad, but Chopper didn't know how to try and miss a penalty and he rammed the ball into the back of the net — and the world just closed in around Dixie Deans on a night and with a feeling he would never forget or be allowed to forget.
For my dad, who was sitting in the stand, Dixie's miss cost him a fortune. He had provisionally booked planes and reserved over 30,000 hotel beds in Rotterdam, Amsterdam and the Hague for the final which was due to be played in the Dutch sea port. Had Celtic won that match, the financial consequences for my family were huge and potentially life changing.
But it was not to be, and eventually at a meeting in the Central Hotel the next day, my mother and father formally assigned all their rights and hard work over to the representatives of Inter Milan and Ajax for nothing as no one else from any other club had been able to book any hotel beds in any of the Dutch cities. My dad has effectively reserved them all and created a monopoly, which he (stupidly) handed away for nothing because Celtic were not in the final.
The Dutch hoteliers had all been happy to do business with him and were desperate for Celtic to win as they believed, like my dad, that the Milan fans would not travel in the numbers that Celtic could generate.
The President of Inter Milan recognised that this was a huge financial loss for my mum and dad, and that essentially they were giving away a huge amount of hard work and expertise for nothing. Accordingly, he invited them to Rotterdam for the final as guests of the Italian club. However, my dad said no — it would be just too painful and besides he couldn't go and watch the match or support anyone other than Celtic. For him it was Celtic or nothing.
It is little known that Dixie Deans felt so bad after that momentous semi final that he never went home. He left the ground lying down in the back seat of my Cousin George's car and booked himself into an hotel and hid. He didn't want to go home and face his family he just wanted to be alone.
The following day, and for the days afterwards, the newspapers blazed his face across the front pages with headlines like " The loneliest man in the world" which didn't help. For Dixie the next days would be horrible — truly horrible.
Yet a few days later he would take all his frustration and hurt out on Hibernian Football Club with some of the most remarkable goals ever scored in a Celtic shirt and an impromptu roly-poly in the Hampden sun.
For my mum and dad — Well I recall the disappointment they felt. There were tears in the house at what might have been and what could have been for them personally, and mum occasionally told the story of the man from Milan looking at all their booking schedules, all the bed lists, names, reservation numbers and all that it meant and saying:
"I am so sorry Signora – so sorry."
With my mother replying ruefully:
"No, You're not!"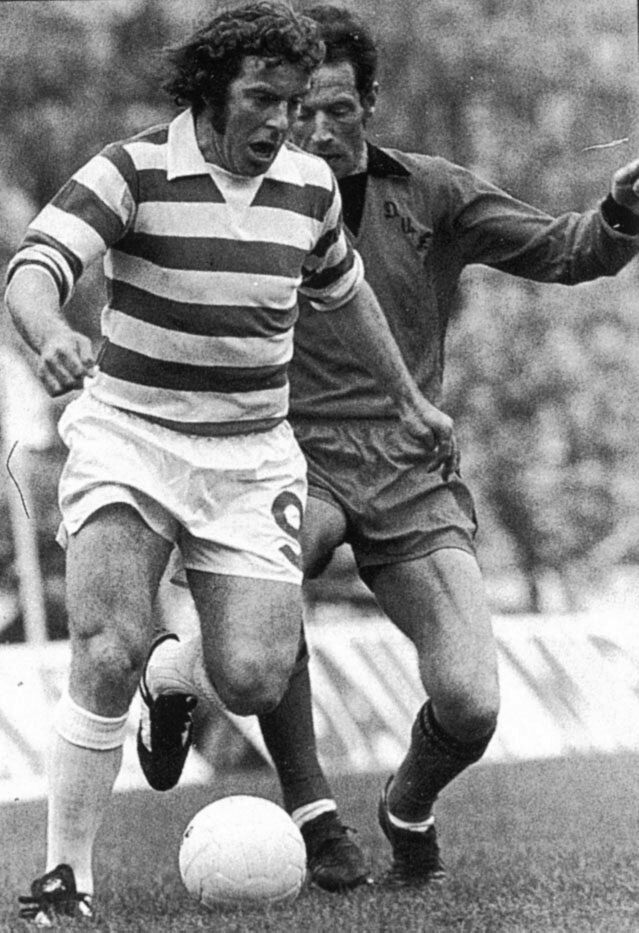 I just knew that this was what my 82 year-old mother was talking to Dixie Deans about at this wedding reception and I was certain that it would be the last bloody thing he would want to talk about.
Accordingly, I marched over and jauntily interrupted:
"What are you two talking about then?"
"The game against Inter Milan" said the mother and as soon as she said it I immediately interjected:
"Oh Dixie doesn't want to talk about that! Talk about him beating the entire Hibs team in the penalty box, or heading in wee Jimmy's shot from 2 inches off the ground, or when he scored six against big Roughie and the Jags — anything but that bloody game"
Dixie looked at me and at my mother and the back at me and said:
"No, honestly I am happy to have talked about Milan and I really appreciate you telling me that Kathleen (my Mother) that story means a lot, It honestly does."
I had no idea what he was talking about and looked puzzled.
And that was when my mother told me that days before my father had died she was sitting with him in the hospice in Clydebank. Both knew he was dying and he would not last the week. He had been given some heavy drugs for the pain and so he had lucid moments and not so lucid moments.
One of his regular visitors had been his lifelong friend, Jack McGinn and as always there was constant chat of Celtic.
Anyway, on this day, my mum and dad were talking, as they often did, about the great days they had enjoyed with Celtic. They were in the course or reminiscing when my dad suddenly said:
"If I could go back in time there is only one thing that I would want to change, and that is Dixie's penalty"
"Yes well, what happened happened" said my mother "It was an opportunity lost. Such is life"
"No, I don't mean about us losing the beds in Rotterdam and the money and all that. I mean Dixie — the way he was so proud to wear the Celtic shirt and the blazer — and the weight of all that expectation and the press hounding him afterwards and all that. I think about that often. That was terrible, absolutely awful: that should never have happened to any footballer but especially Dixie – and he felt terrible about it for years and years. I wish that had never happened and I honestly wish I could change that because nobody should ever be made to feel like that."
And then he paused and said
"Or at least I wish I could tell Dixie Deans never to dwell on that. It didn't matter, He still scored over 100 goals for Celtic and he should never forget that. He had a phenomenal scoring record Milan didn't matter in the end"
And that was what my mother had wanted to tell John Kelly Deans at a wedding reception on the shores of Loch Lomond…
P.S
Since writing this story I have since spoken to my mother about her chat with Dixie at the wedding and she added a new twist to the tale.
Apparently, Dixie admitted that he had known just what the penalty miss meant to everyone who followed Celtic and because of his knowledge of my mother and father's business, and their connection to Celtic and the travel arrangements of the fans, he openly admitted that he avoided my mother and father for years as he just could not bear to meet them and look them in the eye.
That is why he was so appreciative of being cornered by an 82 year-old woman in a wheelchair to chat about one of the worst days of his life.
Written by Brogan Rogan Trevino & Hogan for CQN
WING AND A PRAYER…DIXIE, DIXIE, DIXIE DEANS!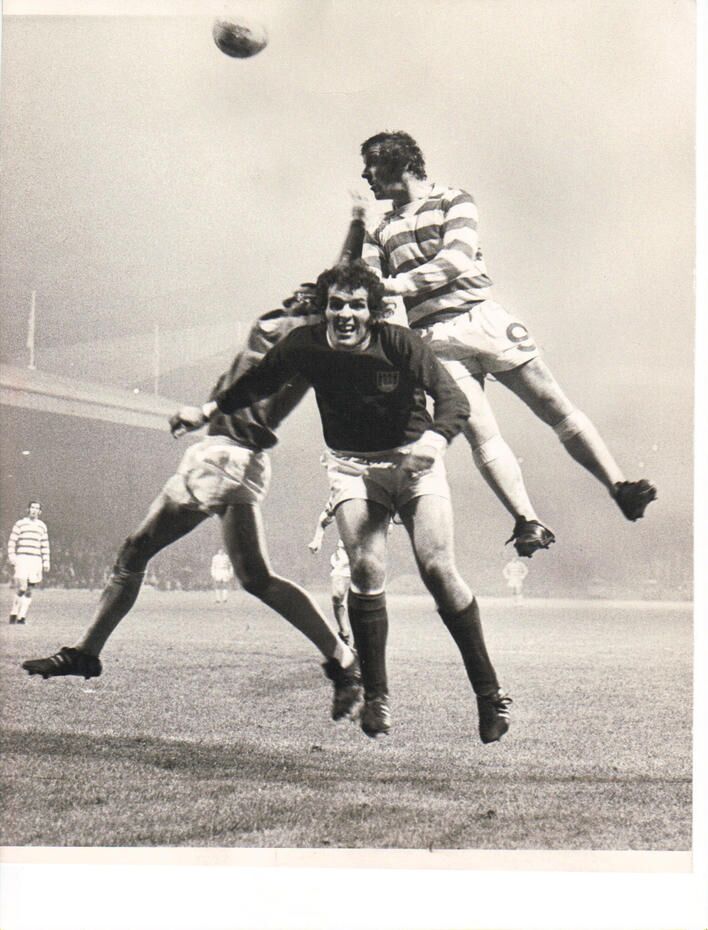 Celtic were on the brink of their third European Cup final in six seasons. All they had to do was negotiate continental football's first ever penalty shoot-out. Dixie Deans was to take the first spot-kick. "Still okay with this, Dixie?" said Jock Stein. "Aye boss," replied Dixie. And Jimmy Johnstone, the only person ever to address Deans thus, said: "Big man, I'm going to say a prayer for you."
"I had to walk from the halfway line to take the kick, something I hadn't thought about beforehand. That took forever. My feet felt like lead. I broke into a wee jog, then stopped. What was I thinking about? Dear knows." The 75,000 inside Celtic Park, possibly sensing his nervousness, fell silent. They didn't know how to react – this was new for everyone – and Dixie didn't know how to walk without thinking he was in a cowboy film that was headed for a bad ending.
"There was mud on the ball so I wiped it off. I was going to hit it low to their goalie's left but he moved so I lifted it." Over the bar and, in legend, over the Parkhead roof and the furthest high flats. "I didn't miss by much but because it kept on rising there were cartoons in the papers about the Apollo 16 astronauts informing Mission Control: 'Tell Dixie we've found his ball.'"
Being the first shootout villain made Deans front-page news and a hack-pack with attendant paparrazi was waiting for him as he birled his car into his driveway, long after his team-mates had commiserated with him and he'd quizzed Jinky: 'What about that effing prayer?"
"I turned right round and booked into a hotel in Sauchiehall Street to drown my sorrows." The journos wouldn't give up the chase, though, and Deans was eventually flushed out by the Scottish Daily Express who stunted up a photo at a desolate bus-stop and headlined their exclusive: "Dixie Deans – the loneliest man in the world." Then the next game, against his old club Motherwell, Celtic got a penalty. "The chant went up 'We want Dixie!' but no way was I taking it. Bobby Murdoch, God rest his soul, stepped up and scored. But that just summed up the Celtic fans; they were brilliant to me."
————————————————————–
CQN SPECIAL OFFER!
We have reduced the price of a selection of our Celtic books on CQNBookstore.com
The Winds of Change and Caesar & The Assassin are reduced to £13.99 each, Seville The Celtic Movement and The Quality Street Gang are now only £9.99 each. The Jock Stein book, Willie Wallace & Tommy Gemmell's books are all just £6.99 each.
Order ANY book or DVD and we'll send you a copy of the 2015 CQN Annual absolutely free and we will add a wee dram for you to enjoy when you're reading!
We also have the Neilly Mochan book and DVD from Paul Dykes available and much more.
Order now at www.CQNBookstore.com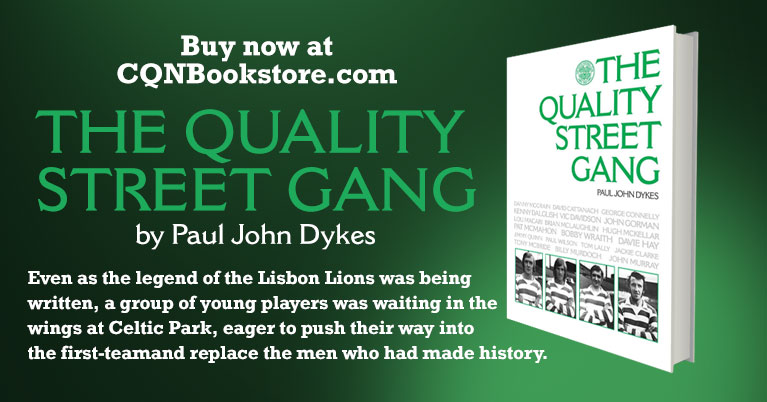 Click Here for Comments >