KRISTOFFER AJER, who has just arrived from Norwegian outfit FK Start, is already preparing for life after football – as a doctor!
The versatile 18-year-old player, who signed a pre-contract in February, is currently going into his third year of training to become a doc.
Ajer, normally a midfielder but who played at centre-half alongside Erik Sviatchenko in the first-half against Celje, admitted he is looking forward to juggling his studies as well as the pursuit of football success at the five-in-a-row champions.
He said: "I finished my second year at the school and will finish my third year while I'm here in Glasgow.
"I will complete my third year at college then I'll study medicine after at the University of Glasgow. One day when I end my career I'll be a doctor, hopefully."It may be unusual, but you have so much time after training every day. You can use it on Playstation and sit back and watch movies, or you can study. I want to study."Brendan Rodgers has turned to the teenager because he is currently without Dedryck Boyata, Efe Ambrose, Jozo Simunovic and Charlie Mulgrew as he gears up for the Champions League qualifiers in under two weeks.
The Hoops boss will have been encouraged by what he saw from Ajer on Thursday night. In a 2-2 draw in Slovenia.
Ajer added: "It's been great coming back with Brendan Rodgers as manager. It's been really exciting and all the boys are working really hard in the first week."I'm good, happy and looking forward to the rest of the trip in Slovenia."Of course, it was a nervous time when I wondered who the new manager would be. But when I saw it was Brendan Rodgers I was really excited.
"He's a big manager and I couldn't wait to meet him and start to impress him.
"The first week with him has been great, all the players have done well, it's really good."
ONCE UPON A TIME IN THE KINGDOM OF GOVANIA
Let's all laugh at Rangers, let's all laugh at Sevco…the story of the two Ibrox clubs told brilliantly by CQN poster Mea Culpa and illustrated by Cartuja. This is a fantasy story book for grown-ups and is the funniest thing you will read all year!
Once Upon a Time in the KINGdom of Govania is an Escape Goat Production for Celtic Quick News and Internet Bampots.
Available to order now exclusively from 
www.cqnbookstore.com 
– copies arrive this Friday! If you're going on holiday soon take this to read on the beach…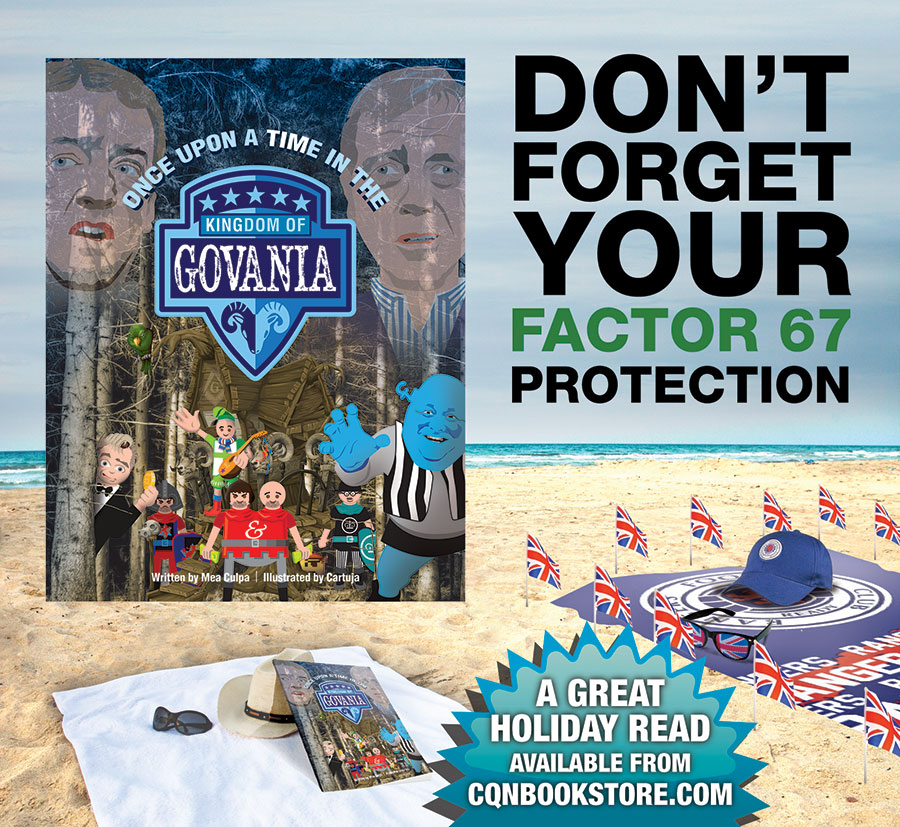 Click Here for Comments >