The Centenary Season was memorable for many reasons, not least the brand of skilful, attacking, football we played. The title was destined for Celtic Park after a win at Ibrox, but Hearts at Tynecastle would be our first opportunity to officially become champions.
Two tickets were secured, but for the Hearts end, so title celebrations were planned without colours. We were in the ground early – the enclosure in front of the stand. As the place filled up there was the occasional Hearts scarf, but the majority were also without football colours. By kick off it was clear there were more Celtic than Hearts fans in the section. Both sets of supporters were free to express their feelings without any trouble.
The game was forgettable. Celtic, who had run teams ragged all season, were unable to craft a goal and left pointless. It was disappointing, but a week later, 63,000 (over) packed Celtic Park in the sunshine as the league was won in a more appropriate environment.
My preference would always be to win a title before our own season ticket holders at Celtic Park, but if we can't do that, Tynecastle comes pretty close as an ideal alternate venue. Hearts fans sang "We're only here for the party" when we lost the title seven years ago.
Let's remind them who the champions are tomorrow, as we celebrate the 30th anniversary of the Albert Kidd title in 1986. Albert Kidd, a Celtic fan, was a Dundee player at the time. On the last day of the season he was on the bench against Hearts, who needed a point to win the title. They were 32 games unbeaten. Albert hadn't scored a single goal all season.
He was introduced with 15 minutes remaining. Five minutes later he opened the scoring at a corner kick. He then scored the goal which inspired Diego Maradona to run through the England team and score at the World Cup a few months later. Diego's goal was brilliant, but Albert's was far more astonishing.  It was utterly astonishing.
We did something to Hearts that season.  They never recovered and never will. That 15-minute cameo from Albert, with Celtic's five goal mauling of St Mirren, finished them.
The Celtic Foundation's 'Heroes of '86 – 30 years on' dinner takes place on Sunday. Albert Kidd is guest of honour, as are Celts from that team (not all of them!), including our captain, Paul McStay. I hear the Kidd family will be very well represented on the night. It should be something special.
Enjoy your weekend, especially if you're going to Tynecastle, or the Foundation dinner.  These moments are precious.
30 years later, I'm still astonished.
Charlie Gallagher, What a Player

Charlie Gallagher was at Celtic Park for over 10 years. Encompassing the 1960's, his career was an eventful one, touching the depths of despair and the ultimate triumph. Slightly-built, he seemed to lack the necessary robustness. But appearances can be very deceptive. Behind the easy-going exterior lurked a tremendous football brain, with the ability to spray passed which fast-running forwards would relish.
Charlie starred in one of Celtic's best performances in years as MTK Budapest were beaten 3-0 in the European Cup-Winners' Cup semi-final at Celtic Park. When Jock Stein arrived in March 1965, Gallagher was given a settled role at inside-right. His play was quiet but effective and good enough for him to retain a place for the Scottish Cup final. Eight minutes remained when Charlie trotted over to take a corner kick on the left. It was like one of those Spot the Ball competitions in the newspapers where the entrant must place the ball in the exactly the right spot. In this case, the target was the moving one of Billy McNeil's head… And Gallagher's accuracy was to signal the return of the glory days to Celtic Park.
The next two seasons were to see Charlie in the role of valuable pool member, covering for injuries or being used as a surprise weapon. In the first league game of 1965-66 season at Tannadice, Charlie hit the bar in the first two minutes and rumour has it that the bar is shaking yet. And, of course, it was the action replay from him and McNeill which gave Celtic their narrow victory over Vojvodina Novi Sad in the European Cup quarter-final in 1967.
One day at Muirton Park, where Celtic won 6-1, there was a brilliant Freudian slip by an old-timer standing near me in the enclosure. One particulate long pass was greeted with a clap and a cry of "Well done, Patsy", an understandable confusion with Charlie's namesake of more than 40 years earlier.
CHARLIE GALLAGHER? WHAT A PLAYER! by David Potter is published today by CQN. You can order your SIGNED copy HERE.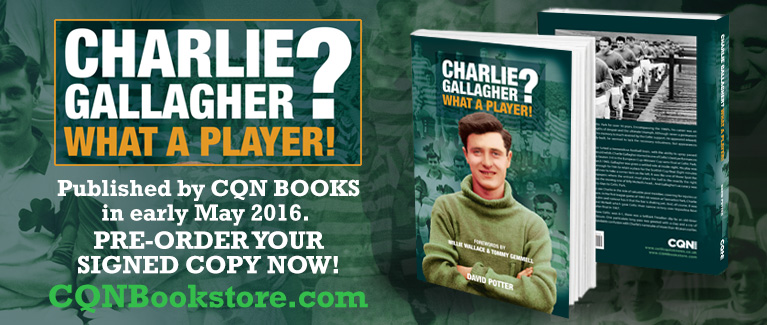 Click Here for Comments >