CALLUM McGREGOR has urged Moussa Dembele to ditch any thoughts of quitting Celtic this season.
The French Under-21 striker has been linked with Premier League outfits Brighton, Everton and West Ham during the current transfer window.
However, McGregor wants Dembele to remain at the Hoops as they try to make history by winning back-to-back domestic trebles.
The midfielder said: "That's obviously going to be a big draw for players like him. It's just about him wanting to be here to kick on, work hard and be part of this group.
"Obviously, all the boys love him and want him to stay and to be part of it. I don't think he'll be thinking of going anywhere.
"You think back to the Aberdeen game up there where he was unplayable. He looked like a real top player.
"If we can get him playing like that every week it's obviously great for the group going forward and to win things."
Speculation concerning several of Brendan Rodgers' players is rife at the moment and McGregor said: "You hear wee bits and see things in the paper. You come in the next day and maybe make a passing comment or a bit of banter about it.
"In the main, everyone is focused on being here and I don't think they are thinking about getting away.
"They just want to keep being successful and staying part of this group.
'We've been so successful until now because we have a good group. We're all good lads who want to do well and work hard for each other.
"That's important, that when you have a group like this that you all stick together and we keep pushing on.
"Last season was so special that it brought the boys even closer together.
"If we can kick on then we could potentially do it again. But we need the group to stay focused and stay hungry.
"When you feel part of a successful team that's where you want to stay, you want to keep being successful.
"For me, there's more to come and we're striding on to get better."
The Scotland international added: "It would be an incredible achievement. I think back to last year and how big an achievement that was, winning the treble.
"If we could go and do it again that would be something really special.
"But we can only look at the next game when we're back. We'll be looking to take all the hard work we're putting in this week into the second half of the season when we go back.
"We want to really kick on. We don't to mention trebles and all that again – the way we got success last season was by preparing properly for every game and taking them as they come."
The CQN Podcast: A Celtic State of Mind (EP28) with former Celtic director Tom Grant
Paul John Dykes and Kevin Graham are joined by Celtic's ex-director, Tom Grant, who offers a fascinating insight into the running of the club in the 1980s and 1990s.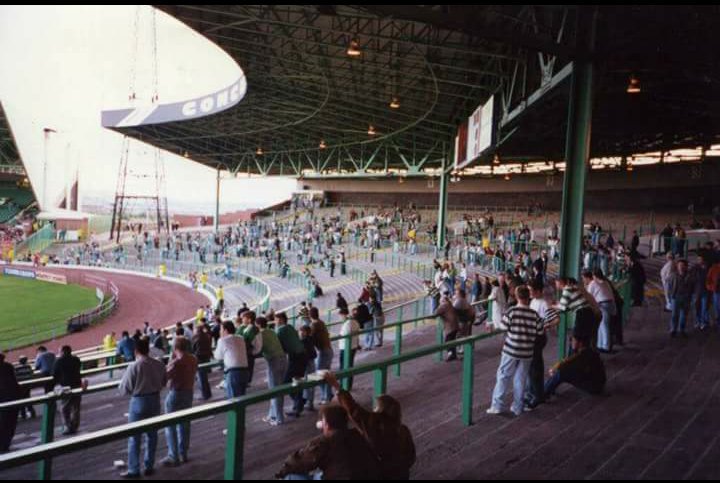 Tom Grant explains exactly why Celtic refused to complete the Mo Johnston transfer in 1989, and lifts the lid on audacious efforts by Billy McNeill to recruit Peter Beardsley and Steve Bruce.
Tom Grant also dissects his relationship with Fergus McCann, and the impact of the 'Celts For Change' movement in overturning the 'family dynasty' board in 1994.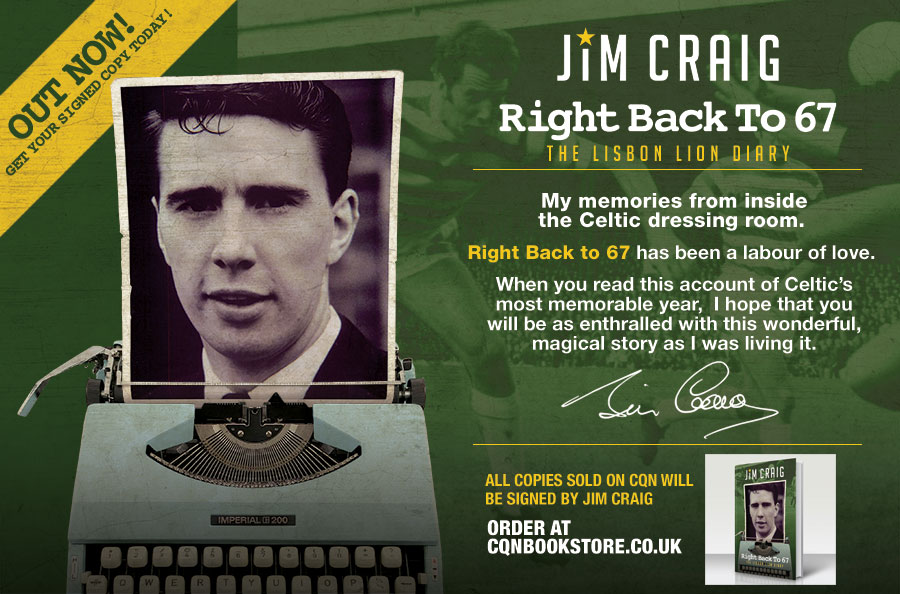 Jim Craig made two of the three goals in the 1967 European Cup Final. There's a great wee video below for you to enjoy. Get Jim's new Lisbon Lion Diary – Right Back to 67 from CQNBookstore.co.uk and you will receive a signed copy from the man himself plus a FREE copy of That Season in Paradise – Ten Months of Celtic Heaven signed by fellow Lisbon Lion Bertie Auld! Simply order Jim Craig – Right Back to 67 and the second book will be sent automatically.
Click Here for Comments >