DAMIEN DUFF will quit Celtic at the end of next month to work full-time with the Republic of Ireland.
Neil Lennon confirmed the Hoops' coach will leave to take over as an assistant to Stephen Kenny who replaced Mick McCarthy as international manager last month.
The champions' boss, who celebrated the team's ninth successive title during the week, admitted that losing Duff was "a blow", but stressed he would take his time identifying a replacement.
Lennon, speaking to The Scotsman, said: "Damien's at home in Ireland, but his contract doesn't run out until the end of June. So, if we come back on the 10th we might have him until the end of the month which might buy us time to look to bring someone in or promote from within.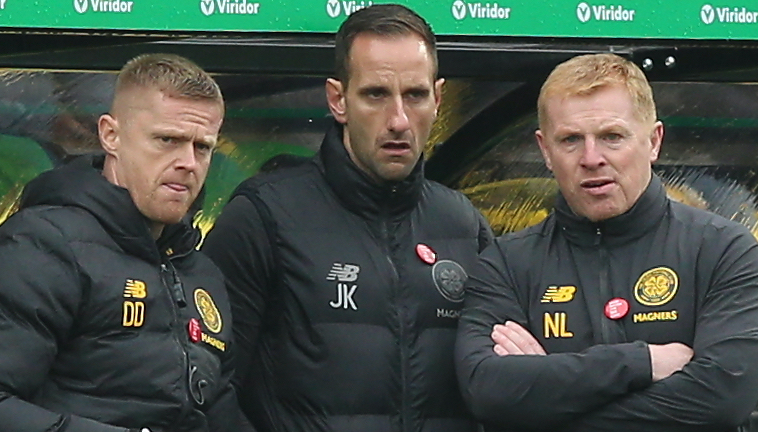 "I spoke to him on Monday and he was in good spirits, but he'll join the FAI. It's a blow because he contributed immensely and I got on great with him.
"He's still in his formative years as a coach, but he made a huge contribution and there was a real good chemistry there so he'll be difficult to replace, that's for sure.
"We were waiting on everything getting called first and then we'll look to replace him, but it's not at the forefront of our minds as we'll have plenty of time to see what we'll do."
Forty-one-year-old Duff, who won 100 caps for Ireland, was brought to the Glasgow club by ex-gaffer Brendan Rodgers in January last year.
He was brought in to look after the youth set-up, but won rapid promotion after Rodgers left abruptly to take over at Leicester City the following month.
Lennon returned, John Kennedy was named as his assistant and the former Chelsea, Blackburn Rovers and Fulham winger made the swift step up to No.3.
Click Here for Comments >