FRANK McAVENNIE reckons Odsonne Edouard will NOT be going anywhere this month.
The former Celtic goal hero insists the French ace still has to contribute to this season's efforts – and believes he will do that with the help of Leigh Griffiths.
Edouard has suffered a mystifying and alarming drop in his goalscoring form since the start of the campaign after being involved in some intense transfer speculation throughout the previous extended transfer window.
The fans' favourite kicked off the Premiership campaign with a hat-trick in the 5-1 victory over Hamilton Accies on Flag Day in the east end of Glasgow on August 2. Amazingly, he didn't score another league goal from open play until he lobbed in the third in the 3-0 win against Dundee United last week.
Edouard, who will be 23 this month, has scored a measly seven league goals – and three of those have come via the penalty spot. Overall, last season's 28-goal marksman has claimed 11 strikes.
NICE AND EASY DOES IT…Odsonne Edouard lobs in his goal in the 3-0 win over Dundee United.
It's not exactly the stunning shooting power that will have Europe's big spenders beating a path to the Parkhead front door and the club's record £9million buy from Paris Saint-Germain in June 2018 sparked more debate on his Hoops future by switching agents to the Stellar Group, as CQN reported yesterday.
They were the agency behind Kieran Tierney's £25million exit from the champions to Arsenal in the summer of 2019.
McAvennie, speaking to the Scottish Sun, said: "It doesn't bother me too much that Edouard's changed agents now.
"The one good thing is that to get a move you have to produce regularly on the park.
"Edouard back scoring goals every week would be great news for Celtic in the second half of the season.
"Everyone at Celtic has got to seriously raise their game if the team's going to somehow win a tenth title.
"None of the players being talked about for big moves are going to get that with the way they are playing just now.
"Edouard's a top player who can go to the highest level. I've got no doubts about that.
"But he's got to be doing the business on the park and, for one reason or another it's not been a great season for him."
Edouard is under contract at Parkhead until 2022, but it is highly unlikely he will stay until the conclusion of the deal.
THE MENACE OF MACCA…Frank McAvennie puts pressure on the rival goalkeeper.
McAvennie continued: "People will come up with their own conclusions. He can play to the end of the season and do what he wants.
"I honestly think he's happier right now because he's got Leigh Griffiths up beside him again in attack. Edouard prefers to play in a two rather than on his own.
"In recent weeks, he's started to look like he's getting back to his best and a lot of that is to do with having a partner again.
"I've no problem with Edouard at the moment. He won't be going anywhere in January because clearly Celtic still feel they have got it all to play for.
"In fact, he won't be going anywhere while he's still under contract if the club don't want anything to happen. That's the bottom line.
"The price would certainly have to be right and during this pandemic I don't see him leaving Celtic until the end of the season.
"Neil Lennon will have spoken to Edouard, so will Peter Lawwell. They have probably told him he can go at the end of the season — IF he's wanting a move.
"It's all ifs and buts at the moment. You hear very little from the player."
McAvennie added: "Celtic have to look to win every game now and Edouard and Griffiths firing together would be ideal.
"They like playing together, it's easy to see that. I think they enjoy their double-act. And the fitter Griffiths gets, the more dangerous he's going to be for opposition defenders.
"Edouard and Griffiths know where each other is on the pitch. Their link-up play is very good. A year ago, they were on fire and Celtic quickly pulled away from Rangers.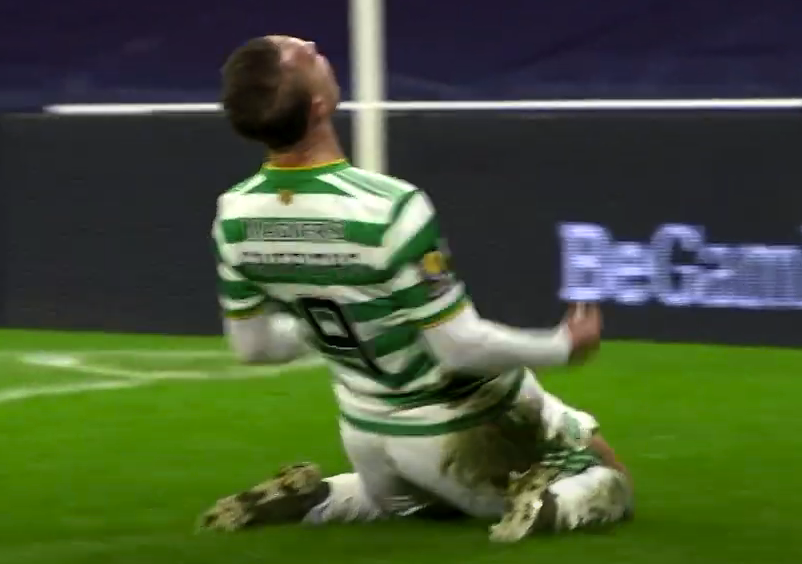 HAMPDEN HERO…Leigh Griffiths celebrates his Scottish Cup Final strike against Hearts.
"For most of this season, though, Edouard's been up top on his own and hasn't looked happy. I've always preferred a front two for Celtic.
"As a player I was always happy with a partner. I had Tony Cottee at West Ham, then Andy Walker and Mark McGhee at Celtic.
"I could play as a lone striker if asked, no problem. I'd harass the defenders, run the channels, hold the ball up, just work my a*** off.
"But the most satisfaction I got, the happiest I felt, was when I had a strike partner.
"For me, Edouard's the same. I don't like seeing him starved of service and toiling on his own.
"Griffiths brings the best out of him. They spark each other."
The duo are likely to be paired again when the champions take on Hibs in the rearranged Premiership fixture at Parkhead on Monday evening.
Click Here for Comments >