BRENDAN RODGERS has scoffed at England links and insisted he'd never walk away from his dream job at Celtic .
The new Hoops boss has been installed at 10/1 by the bookies to take over from Roy Hodgson who resigned amid the wreckage of his nation's shambolic Euro 2016 bid in France.
Former Liverpool gaffer Rodgers held informal talks with the FA in the past over the position, but admitted there is NO way he would turn his back on the five-in-a-row champions after just 42 days in charge – and without a ball being kicked in anger.
The Northern Irishman joked: "I haven't put a foot wrong here! Brilliant.
"It shows you what the world of football is now, the gossip and speculation that goes on.
"I've just landed my dream job. The team I've supported all my life. I haven't even walked out for my first game.
"Imagine me as a Celtic supporter having walked out on the job at Parkhead!"
Rodgers added: "It's a tough job, England. They've got a lot of good players, but there is huge pressure, huge expectancy. It has been like that for a few years now.
"I see Jose Mourinho has also been linked with it. He's unbeaten, too!
"I'll be at Celtic, that's for sure.
"For me, it is what it is in football. You're up, then you're down. But if people think I can do jobs at a high level, then that's fine.
"But I'm busy here, worrying about what I have to do here."
Rodgers admitted his delight at making Moussa Dembele his first signing and he is plotting to land more new recruits ahead of the Champions League qualifiers in two week's time.
Experienced Ivorian international defender Kolo Toure, released by Liverpool at the end of the season, is one option being considered. Republic of Ireland centre-back Shane Duffy, of Blackburn Rovers, is another – as CQN revealed on Saturday.
The Parkhead boss is also awaiting the outcome of contract talks with Charlie Mulgrew, who has remained in Scotland, but he admitted a deal is far from a formality.
Rodgers said: "If there is not an agreement, that will obviously just run out.
"If it happens, we'd like him to be with us sooner rather than later. But he's out of contract and within his rights.
"There is always obviously a fear for a player when they come out of contract, if they train and get injured, they could be snookered. So, I respect that and understand that completely.
"He seems a good guy, I've talked to him on the phone and people I've talked to around the club like him.
"But, obviously, it's probably the last contract of his career, so he has to make sure he's making the right choice for him and his family."
Rodgers has settled in to Celtic's Slovenia base and he admitted he's relishing his chance to get down to work with the players.
He said: "I'm been pleasantly surprised by the whole team. I've had one of the most enjoyable weeks I've had in football for a long, long time working with this group.
"There are no egos. They are straight guys who want to learn and develop. We'll give them the structures and perameters.
"There are obviously players I was more aware of than others. Then there are ones like Kristoffer Ajer, 18 years old and 6ft 5in, but athletic and can play football.
"I have been pleased by the standard and how they take on board what we give them."
Rodgers is keeping tabs on Celtic's potential Champions League opponents and received reports on Tallinn's 2-1 first leg win against Lincoln Red Imps.
He said: "I think the Tallinn team were pretty comfortable, could have scored four or five in the first half – and they maybe then took the foot off the gas in the second-half.
"It leaves it a bit tricky for them at 2-1, but we had people there watching them and analysing. We will be ready for whoever we have to play."
ONCE UPON A TIME IN THE KINGDOM OF GOVANIA
Let's all laugh at Rangers, let's all laugh at Sevco…the story of the two Ibrox clubs told brilliantly by CQN poster Mea Culpa and illustrated by Cartuja. This is a fantasy story book for grown-ups and is the funniest thing you will read all year!
Once Upon a Time in the KINGdom of Govania is an Escape Goat Production for Celtic Quick News and Internet Bampots.
Available to order now exclusively from 
www.cqnbookstore.com 
– copies arrive this Friday! If you're going on holiday soon take this to read on the beach…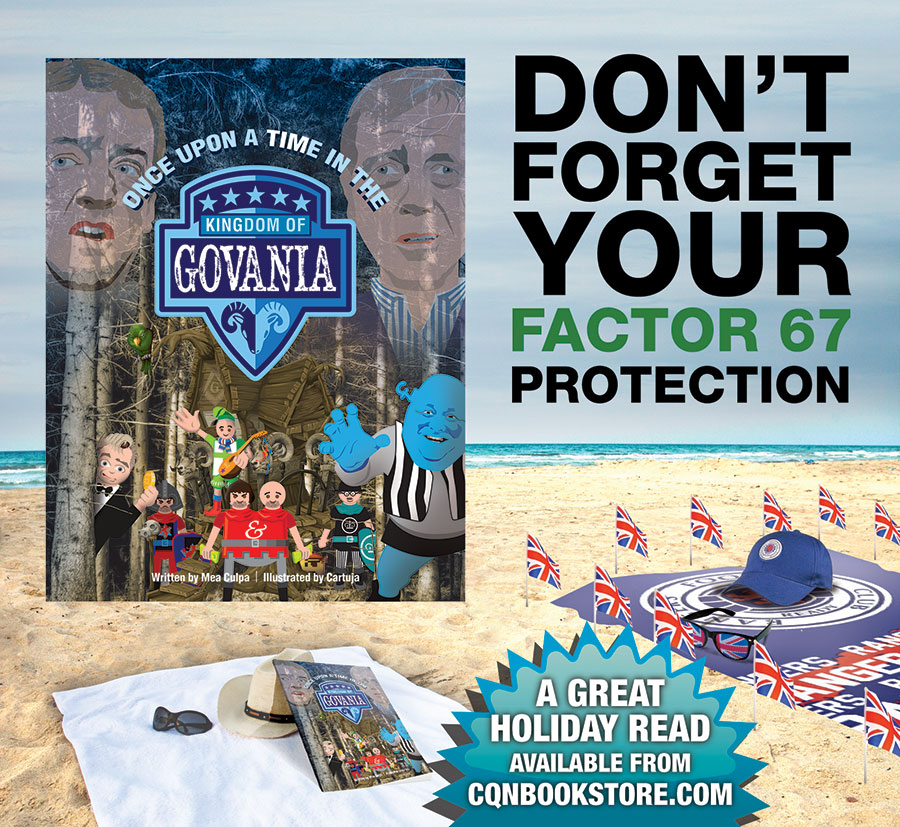 Click Here for Comments >