CELTIC'S First ever encounter with an English side ended in controversy as a late Bobby Lennox goal at Anfield in 1966 was wrongly ruled out for offside by a Belgian referee, meaning that Liverpool and not Celtic progressed to the final of the Cup Winners Cup to face  Borussia Dortmund. You can read Hugh Gallagher's account of the two semi final ties HERE.
Four years later and Celtic and Leeds United were drawn against each other. It was again a semi final but this time, it was the European Cup. Celtic  were a major force in European Cup and were  competing in their 4th consecutive European Cup campaign. Celtic had, of course, won in 1966-67 and, in 1968-69, were narrowly eliminated, at the quarter final stage,  by an excellent AC Milan team, who went on to win the trophy by beating Ajax 4-1 in the final.
In reaching the semi final stage, Celtic had eliminated Benfica and Italian champions, Fiorentina. Despite their impressive CV, the English media wrote off Celtic's chances of beating 'invincible' English champions Leeds United.
It was Leeds' first tilt at the European Cup and they had reached the last 4 without conceding even 1 goal and scoring 24. Don Revie had built a team who were universally feared  and respected. They were ruthless, cynical and didn't care how they won games. They had intimidated many teams in England and had a  tough, physical team. Leeds had become known as 'the hammer of the Scots', as they had, in recent years, eliminated Kilmarnock, Rangers, Dundee and Hibs from Europe.
The teams lined up at Elland Road with the English team overwhelming favourites . The odds offered by Glasgow bookmaker Tony Queen were- Leeds 4-
6 and Celtic 4-1. Celtic's team cost £44,000 to assemble. Leeds had spent £300,000, with striker Allan Clarke, who cost £165,000, laying claim to the title of Britain's most expensive signing.
It was April 1st and the 'April Fools' turned out to be wearing white. With 40 seconds gone, a high ball bounced through the middle, was missed by Paul Madeley and put past goalkeeper Gary Sprake by Celtic's talented 21 year old, George Connelly. With 50 seconds of the second half on the clock, George Connelly repeated the dose, when he despatched a Jimmy Johnstone cross  past Sprake. Luckily for Leeds, the referee, West German Gerhard Schulenburg, came to their rescue as he chalked off what seemed like a perfectly good goal. It was assumed that he had given offside against Jimmy Johnstone, yet Leeds' defender Terry Cooper looked to have played him onside.
During the game, Celtic gained 12 corners to Leeds' 1, and had 16 shots on goal with Leeds having 6. After the game, Jock Stein gleefully rounded on the English press. He said that 'they have laughed at our football long enough down here' adding that 'maybe tonight's result will stop them laughing'. Liverpool manager Bill Shankly, who had been at the game, said that 'every manager in England should have been here … for an object lesson in how the game should be played'.
On April 15th, I was one of the  136,505 fans who  crammed into Hampden Park for the 2nd leg. It was moved from Celtic Park in order to satisfy demand for tickets. It was a record attendance for a European club match; it is still the record and is unlikely ever to be beaten. Celtic had been hopeful of another quadruple, just as in 1967, when all 3 domestic trophies were won.
However, just 4 days before the Leeds encounter, Celtic had lost the Scottish Cup Final 3-1 to Aberdeen. That game, incidentally, saw, possibly, the most inept ever display of refereeing, the culprit  being Bobby Davidson. Bizarrely, Leeds were unable to sell their allocation of 4,000 tickets. They returned some, leading to a scramble for them among Celtic fans.
Before the game started, Jock Stein sensibly warned that the tie was far from won, despite  the valuable away victory. Don Revie, renowned for his arrogance, was told that no  team who were a goal down from their home game in a semi final  had never reached the European Cup Final. His reply at that, "we wont let that worry us because we are history makers, we are record breakers. And if ever a record can go, then this one can."  
Stein's  was a sensible warning, as Billy Bremner shocked Celtic with a thundering 30 yard shot in the 14th minute. It was completely against the run of play as Celtic had forced 6 corners in the first 8 minutes, with Murdoch, Connelly and Auld having taken complete control of the midfield. Celtic's first leg advantage had gone and Celtic continued to dominate for the remainder of the first half. Cooper and Madeley both cleared shots off the line but, as the half time whistle sounded, the tie was even.
Celtic were totally focussed as the second half got underway and it took only 2 minutes for John Hughes to head the ball past Gary Sprake from an Auld cross. Hughes had missed the first leg but Willie Wallace had picked up an injury in the Scottish Cup Final and Hughes was played at centre forward. It was an excellent decision to play 'Yogi' as a striker, instead of giving him his usual left wing role. Leeds' central defenders were notoriously physical and intimidation was their hallmark. However, Hughes was not a man who succumbed to intimidation and Charlton and Hunter found they were, for  a change, up against a player who could easily outmuscle them.
Sprake had to be carried off a few minutes later. He was replaced by future Scottish International, David Harvey. He had no time to settle before he was picking the ball out of the net. Murdoch played a clever one-two  with Johnstone before Murdoch hammered the ball past Harvey. There was no way back for Leeds, as Celtic turned on the style. Terry Cooper was regarded as one of Europe's best left backs but was given a nightmare time against Johnstone who absolutely tormented him.
The much vaunted Leeds' hard men, like Bremner, Charlton, Hunter, Giles and Jones were more like sheep as they came face to face with 'real' hard men – Gemmell, Murdoch, Brogan, Hughes and Auld – who could also play a bit.
After the game, Jock Stein, modest as ever, put the successful night down to physiotherapist Bob Rooney. Billy McNeill had been injured in the Scottish Cup Final. Stein said that it was a 'miracle' that McNeill had been able to play and that the miracle worker was Rooney.
Having convincingly won what was widely regarded as  'the final before the final', Celtic approached the final against Feyenoord in a very confident mood. However, we  were probably too confident and it was Lisbon in reverse, with the favourites losing.
What very few people had realised was  that Dutch football was at the gates of a new era that was to be their most successful ever decade. After Feyenoord beat Celtic 2-1 in 1970, Ajax Amsterdam  won the European Cup for the next 3 years. At international level, Holland reached the final of the World Cup in 1974 and 1978.
Next up is Nottingham Forest.
Written by High Gallagher for CQN.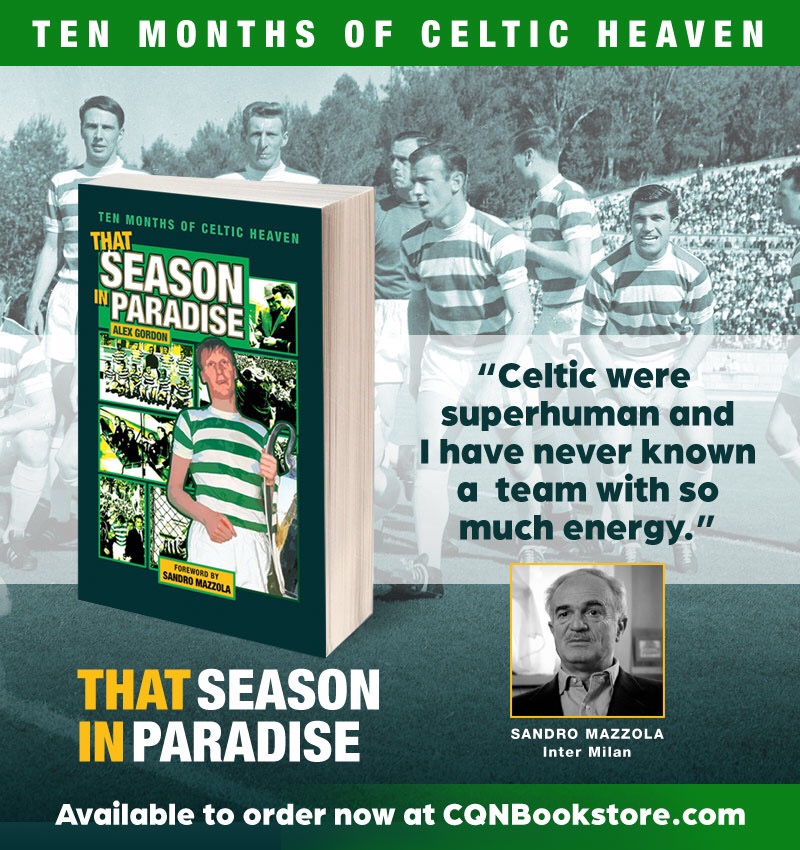 Click Here for Comments >