CELTIC'S impending European Champions' League clashes with Manchester City bring back memories of many Celtic matches against English opposition in Europe over the last 50 years.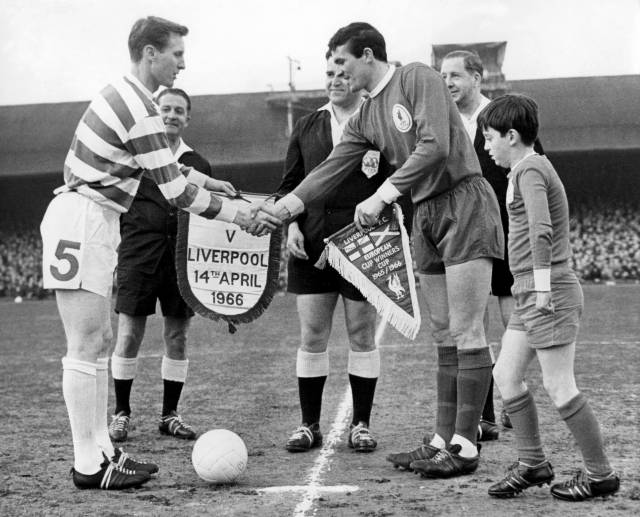 The first such clash was the Celtic-Liverpool European Cup Winners' Cup semi final  in April 1966.
Both teams were in fine form going into the ties, which were  played within a 5 day period. Celtic had been completely transformed in Jock Stein's first full season. The first League Championship since 1954 was almost clinched and the League Cup had been won with a 2-1 victory over Rangers. Celtic were awaiting a Scottish Cup Final against Rangers, which gave real hope of our first ever domestic treble. In Celtic's 4 matches in Scotland before the game, Celtic had 4 wins, scoring 12 and losing none in the process.
Bill Shankly had built a much feared Liverpool machine, which was on course for the English League Championship. Just 12 months earlier, they had reached the semi final of the European Cup and were very unlucky to have been eliminated by Inter Milan, who went on to win the trophy for the second consecutive season.
Celtic received a pre match
blow before the Parkhead 1st leg on Thursday April 14, with the news that John Hughes' injury would keep him out. Liverpool had a very strong Scottish spine to their team, with Tommy Lawrence in goal, Ron Yeats at centre half and the clever Ian St John up front. Yeats was a colossus and Hughes' power and strength was seen as vital.
The game was not as thrilling as had been expected, with Liverpool making little attempt to open up. They seemed content to play for a scoreless draw or a narrow defeat. Much of Celtic's play involved high balls into the Liverpool penalty area, which the towering Yeats gratefully devoured. Despite this, Celtic's normally deadly strikers, Stevie Chalmers, Bobby Lennox and Joe McBride, each missed golden opportunities.
Early in the second half, Bobby Lennox finally grabbed the goal that Celtic deserved. Liverpool opened up slightly after this but still showed little attacking ambition. Celtic failed to create any more clear cut chances.
Five days later and the action resumed on Merseyside. In the wake of the first game, most of the media seemed very pessimistic about Celtic's hopes. This was based largely on Anfield Park's feared reputation as a citadel that could not be breached. John Hughes was back but Jock Stein surprisingly left the magical Jimmy Johnstone out. A huge number, more than 10,000, travelled south to cheer on Celtic.
The game was played in monsoon like conditions and the first half comprised almost non stop Liverpool pressure. Liverpool's attacking style was a complete contrast to their negativity of the previous week. However, Celtic held firm and were thankful to veteran goalkeeper, Ronnie Simpson, who had a succession of excellent saves. Liverpool's Tommy Smith saw a 30 yard shot crash off the bar. Half time came and Celtic survived. The second half brought a repeat of the first 45 minutes. However, Celtic held firm. Just as Liverpool were looking as if they would never break through the Celtic rearguard, they were awarded a very soft free kick just outside the penalty area. Smith's shot was deflected past the heroic Simpson and Celtic's slender lead was gone. Liverpool's confidence increased and 5 minutes later, a clearly injured Geoff Strong was left unmarked to head in an Ian Callaghan cross.
Liverpool realised that just one Celtic goal would still eliminate them and really went for the jugular. In  the words of the Evening Times newspaper  of the following night, Celtic faced 'the biggest onslaught seen since the Post Office siege in Dublin in Easter  1916' (this was topical at the time as the 50th Anniversary Commemorations of the Easter Rising had been held a few weeks previously.) However, in the closing minutes of the match, Celtic staged a late rally. Celtic broke away  a few times, with Chalmers hitting the bar and Lennox missing a chance he would normally have put away. With just a minute remaining, Lennox seemed to have scored the goal that would put Celtic in the final. A trademark, inch perfect pass from one of Scotland's finest midfielders, Bobby Murdoch, found Lennox who put the ball past Lawrence. The referee, controversially and incorrectly, chalked the goal off  for offside so Celtic were out.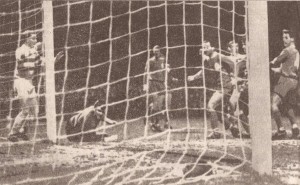 The final that year was due to be held at Hampden, with Borussia Dortmund as the opposition. It would have been like a home game for Celtic but  the referee, Belgian Joseph Hannet, ensured that it was not to be. In a perverse way, Hannet perhaps did Celtic a favour. During Celtic's  glorious run to Lisbon the following season, Celtic were an unknown quantity and possibly went under the radar. If we had gone into the 1966-67 European Cup as holders of the Cup Winners' Cup, other teams might have been more aware of just how good the Celtic team of that era were. However, at the time, Celtic fans were united in disgust at the refereeing decision.
Next up, Leeds United.
Written by Hugh Gallagher for CQN.
Click Here for Comments >